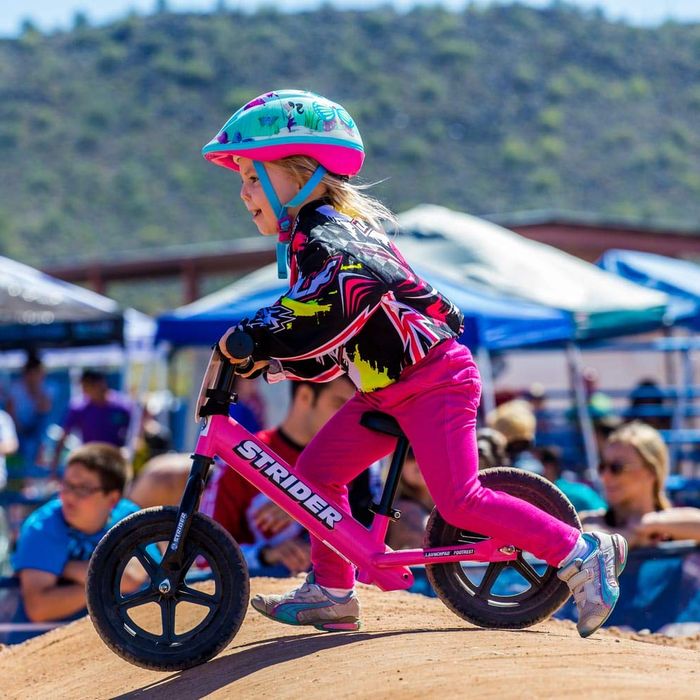 Here at the Strategist, we like to think of ourselves as crazy (in the good way) about the stuff we buy, but as much as we'd like to, we can't try everything. Which is why we have People's Choice, in which we find the best-reviewed products and single out the most convincing ones. (You can learn more about our rating system and how we pick each item here.)
And while we've written about lots of bikes — including the best bike lights, the best commuter bikes for beginners, and expert-recommended bike helmets — here, we've rounded up the best balance bikes for kids and toddlers, as praised by the most enthusiastic reviewers on Amazon. 
Best-rated balance bike
"Skip the tricycle and the training wheels and get a balance bike," one confident reviewer writes, explaining how quickly their two-year-old took it: "In only a few months she is already gliding around like a pro." More than 85 percent of reviewers agree that this bike is great for kids who are just learning how to ride, and many specifically call out how lightweight the bike is. "It's super lightweight so he doesn't have to maneuver a big chunky bike around," one reviewer explains, adding, "That's also great for me when I have to carry him and the bike."
Others also praise this for the foam tires, like one customer who writes, "The foam tires are really durable and make for low maintenance (no pumps, don't worry about running over thorns, etc.)." Overall reviewers are convinced that this bike is prepping their kids for the real deal, and at least one reviewer has already seen results when transitioning to a big kid bicycle: "Bought this for my 4-year-old who used it during the summer of 2017. By the summer of 2018 was very confident with his balance, riding down small hills and zipping around. Because of this he easily transitioned to a bike with pedals (no training wheels) and started confidently riding on his first try."
Best-rated (less expensive) balance bike
"This bicycle was one of the lowest priced I found but, in every way shape and form as good as the balance bikes costing upwards into the 120s and higher," one customer attests, adding that they, "Assembled it in 10 minutes and I found that it was surprisingly sturdy and well made for the price." Beyond the price, customers are impressed with how much this bike helped their kids learn how to ride a bike. One pediatric physical therapist even says, "I am absolutely sold that this is the best way to teach a kid to ride a bike." They continue, "Two of my kids learned in one day (yes, one!) how to ride a bike. Have bought this as a gift for others and recommended it to my patients parents who have also given me rave reviews about it." One even compares it to "magic" because of how quickly their six-year-old learned how to ride: "After two 30 minute practice sessions, she got on her big bike and rode it immediately without the training wheels." Parents only concern at this point is keeping up with their kids as one says, "Now before he gets his own pedals, mom and dad need pedals because he's FAST on this thing."
And now for some micro-picks for every type of balance bike you might be looking for.
Best balance bike with rubber tires
"I'll admit I was a little hesitant at purchasing this bike as it's a balance bike and has no pedals," one user admits before exclaiming, "I went for it though and I'M SO GLAD I DID. It's kinda like a scooter. At first he was a little wobbly and it took him a second to get going but once he did there was no stopping him." One of the biggest selling points among reviewers are the rubber wheels. "I like that the Schwinn has real tires vs foam rubber, and it's made just like a regular bike, in a small form factor," one reviewer writes. Another points out, "The frame is quite long and the real tires are a plus," while another explains, "This bike is very sturdy and the tires are regular air filled rubber which makes it ride well over bumps and traction on hard surfaces." In addition to the tires, customers also praise this balance bike for being adjustable. One user says, "Most bikes require a screw — if the seat adjusts at all," but notes, " An awesome feature of this bike is you can adjust the seat with the clamp."
Best adjustable balance bike
This adjustable balance bike is suitable "for any height," according to one reviewer. Another describes it as "highly adjustable," which makes it good for both their daughters. And lots of reviewers who are trying to cater to multiple kids with this balance bike appreciate the adjustability. "For anyone hesitant about what age this bike really fits, our 'small for his age' 3-year-old grandson fits it well with seat lowered, as does his tall for his age 5-year-old tall for his age' cousin, with seat raised," one customer writes. Dozens of reviewers describe how easy it is to adjust as well. "The seat and handlebars are so easy to adjust even on the fly," one reviewer notes, adding, "We just keep the Allen wrench in the car and can easily make it usable for both children in the same outing." Another standout feature is this bike's footrest. One explains, "I like this style balance bike more than others due to the footrest in the middle of the bike, he can put both feet on the 'foot' rest while he glides down a small hill."
Best lightweight balance bike
"They are lightweight, sturdy and easy to use," one reviewer writes, echoing dozens of the more than 550 five-star reviewers who use the word "lightweight" to describe this bike. "This bike is super light-easy for an 18-month-old to maneuver around and light enough for me to carry it home when the kids get tired," one reviewer explains. Another even says, "It's light enough that when my toddler would get tired I could pick it and carry him, his baby brother (in a baby carrier) and the bike home." Customers attest that this balance bike is also durable. "We have accidentally run over my son's Strider with our car two times," one parent explains. "Twice! We had to replace a few things on it, and have had to get new bearings for the wheels, but it is still going." Another writes, "Not to mention his has been left outside for going on three years and while faded is still in great condition." Overall however, reviewers are very impressed by this bikes main function — teaching their kid how to ride a real one. One even claims, "We've had three kids riding pedal bikes WITHOUT TRAINING WHEELS before the age of 3.
Best balance bike with footrest
"As an experienced baby and toddler bike buyer, THIS IS THE BIKE YOU WANT," writes one customer who says this bike's footrests set it apart from others on the market. "The selling point to me was the foot rests, which he uses easily," one parent says of their son. "He takes a little run and then puts his feet up and glides down the sidewalk." Another says, "The center footrest is a blessing especially when you want to control the bike in traffic or crossing." Others also talk about the tires, which many say hold up great. "The tires are made out of foam (which seemed to be a complaint by some), but my son has ridden this indoor and outdoor and hasn't had any issues with the tires, " one reviewer claims. Another notes, "the tires have held up great over gravel, pavement, dirt and grass."
Best retro-style balance bike with bell