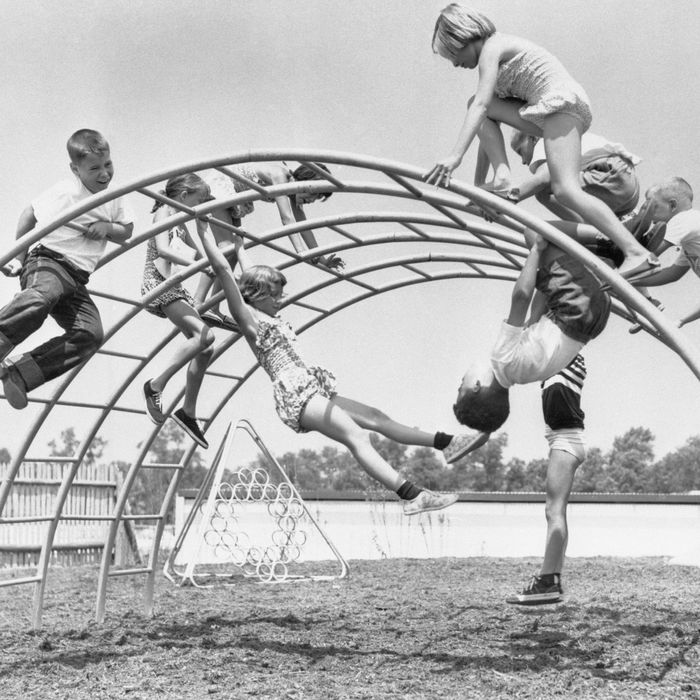 Photo: Bettmann/Getty Images
There's a lot to consider when shopping for kids' sneakers. Your child's age, for one, as well as comfort — how shoes fit on their feet — and ease of wear, both for you and your little one. (It's no secret that kids can be very fidgety, and while putting on a pair of shoes may seem like a simple task for adults, it can feel like an entire process when your tot insists on doing it herself.) To find out what parents should look for, we enlisted the help of three kids'-shoe experts who shared their picks for new walkers, elementary schoolers, and budding athletes. We also consulted a panel of stylish parents who gave us the lowdown on the cutest and coolest styles, which we've organized by age group, based on general criteria the experts said you should consider when shopping for your kiddo. Some styles are available in multiple age categories, so we've noted that where applicable.
Best sneakers for kids 4 years old and younger
For beginning walkers, Jennifer May, a children's footwear consultant with more than 25 years in the business and founder of Kidshoeology, likes the Jamie sneaker from Stride Rite. She says the rounded edges provide increased stability and reduce stumbles and falls. The simple style that encourages natural movement and is available in three different widths also lines up with the criteria outlined by Shevaun Mackie Doyle, a pediatric orthopedist at the Hospital for Special Surgery, for choosing kids' shoes. "The best shoes for a growing child stimulate being barefoot," says Doyle. She advises parents look for a "shoe that fits well, that's breathable, has flexibility, and just enough support and protection from the elements."
At Brooklyn kids' shoe store Runnin' Wild, Old Soles high-top sneakers are popular for little ones, according to store owner Stacey Fauci. "They have soft leather and nice styles," she says. The Velcro closure and rubber sole make them easy to put on and move around in. Mika Oakes, the founder of maternity swim brand Moloco, also loves Old Soles shoes for new walkers, too, and recommends this shiny, silvery pair.
Fauci says canvas shoes from the Seattle-based brand See Kai Run are among her best sellers year after year. "They have a functional soft sole and the styles are very nice," she says. "The colors are more muted and it's a good first walker shoe. They're also cut a little wider." According to May, many children have wide feet so it makes sense that these roomier shoes are comfortable on kids' feet.
These two pairs both recall Bensimons, those dainty French Converse-like shoes. The KaMiaos come recommended by PR agency Project MM's Meredith Winfrey, whose 2-year-old has gone through several pairs since he started walking. "They are cheap, easy to slip on and off, fine with no socks in the summer, cute with socks in the winter and look like new after going through the washing machine," she says. They're available in a bunch of fun colors and patterns. Ashley Melone, the co-founder of nursing friendly clothing line Madri Collection, recommends the similar-looking pair from Cienta Distressed after buying them for her daughter. "I love the Cienta Distressed Canvas Slip Ons for my toddler. Slip-on shoes that she can wear comfortably without socks make getting out the door that much simpler." Melone adds that they have a "timeless" look and goes with just about every outfit.
Here's another pair of sneakers that offer solid support for young walkers, which came recommended by Peggy Economou of maternity brand Teat & Cosset. She told us she prefers quality over style for children's shoes, and particularly loves this pair because it offers both. "They are great quality, ergonomic, have a leather breathable insole — and also cute," Economou says. The quilted, patent-leather-like sneakers have a side zipper, allowing for easy-on-off.
Moloco also recommends these Nike sneakers with velcro, saying, "I always found them the most supportive." In addition to being easy to take on and off, the Tanjuns have a mesh upper for breathability. "We loved these and wore various pairs through lots of different sizes." They're also available in little kid and big kid sizes — but without the velcro closure.
Here's another pair from Nike that got shouted out as a comfortable choice for little feet. "My favorite sneakers for my kids are Nike Air Maxs," says Tara Foley, founder of non-toxic beauty company Follain. "I have the same ones, so I know from personal experience that they're super cushy and have the perfect amount of height." She likes that the kid's version have "great elastic laces that I find way better than velcro straps or regular laces." They're also seriously cute. Nike also makes Air Maxes for all ages and sizes (albeit in slightly different styles), so the entire family can match.