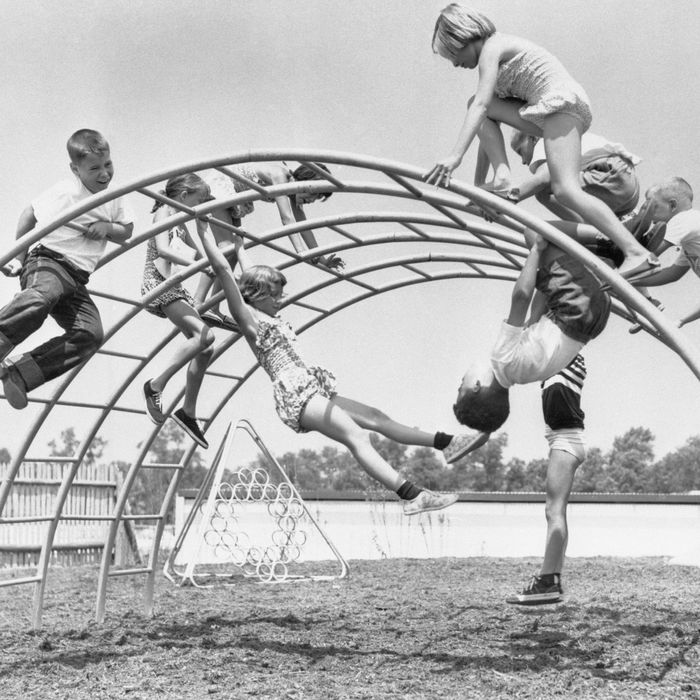 Photo: Bettmann/Getty Images
There's a lot to consider when shopping for kids' sneakers. Your child's age, for one, as well as comfort — how shoes fit on their feet — and ease of wear, both for you and your little one. (It's no secret that kids can be very fidgety, and while putting on a pair of shoes may seem like a simple task for adults, it can feel like an entire process when your tot insists on doing it herself.) To find out what parents should look for, we enlisted the help of three kids'-shoe experts who shared their picks for new walkers, elementary schoolers, and budding athletes. We also consulted a panel of stylish parents who gave us the lowdown on the cutest and coolest styles, which we've organized by age group, based on general criteria the experts said you should consider when shopping for your kiddo. Some styles are available in multiple age categories, so we've noted that where applicable.
Best sneakers for kids 4 years old and younger
For beginning walkers, Jennifer May, a children's footwear consultant with more than 25 years in the business and founder of Kidshoeology, likes the Jamie sneaker from Stride Rite. She says the rounded edges provide increased stability and reduce stumbles and falls. The simple style that encourages natural movement and is available in three different widths also lines up with the criteria outlined by Shevaun Mackie Doyle, a pediatric orthopedist at the Hospital for Special Surgery, for choosing kids' shoes. "The best shoes for a growing child stimulate being barefoot," says Doyle. She advises parents look for a "shoe that fits well, that's breathable, has flexibility, and just enough support and protection from the elements."
At Brooklyn kids' shoe store Runnin' Wild, Old Soles high-top sneakers are popular for little ones, according to store owner Stacey Fauci. "They have soft leather and nice styles," she says. The Velcro closure and rubber sole make them easy to put on and move around in. Mika Oakes, the founder of maternity swim brand Moloco, also loves Old Soles shoes for new walkers, too, and recommends this shiny, silvery pair.
Fauci says canvas shoes from the Seattle-based brand See Kai Run are among her best sellers year after year. "They have a functional soft sole and the styles are very nice," she says. "The colors are more muted and it's a good first walker shoe. They're also cut a little wider." According to May, many children have wide feet so it makes sense that these roomier shoes are comfortable on kids' feet.
These two pairs both recall Bensimons, those dainty French Converse-like shoes. The KaMiaos come recommended by PR agency Project MM's Meredith Winfrey, whose 2-year-old has gone through several pairs since he started walking. "They are cheap, easy to slip on and off, fine with no socks in the summer, cute with socks in the winter and look like new after going through the washing machine," she says. They're available in a bunch of fun colors and patterns. Ashley Melone, the co-founder of nursing friendly clothing line Madri Collection, recommends the similar-looking pair from Cienta Distressed after buying them for her daughter. "I love the Cienta Distressed Canvas Slip Ons for my toddler. Slip-on shoes that she can wear comfortably without socks make getting out the door that much simpler." Melone adds that they have a "timeless" look and goes with just about every outfit.
Here's another pair of sneakers that offer solid support for young walkers, which came recommended by Peggy Economou of maternity brand Teat & Cosset. She told us she prefers quality over style for children's shoes, and particularly loves this pair because it offers both. "They are great quality, ergonomic, have a leather breathable insole — and also cute," Economou says. The quilted, patent-leather-like sneakers have a side zipper, allowing for easy-on-off.
Moloco also recommends these Nike sneakers with velcro, saying, "I always found them the most supportive." In addition to being easy to take on and off, the Tanjuns have a mesh upper for breathability. "We loved these and wore various pairs through lots of different sizes." They're also available in little kid and big kid sizes — but without the velcro closure.
Here's another pair from Nike that got shouted out as a comfortable choice for little feet. "My favorite sneakers for my kids are Nike Air Maxs," says Tara Foley, founder of non-toxic beauty company Follain. "I have the same ones, so I know from personal experience that they're super cushy and have the perfect amount of height." She likes that the kid's version have "great elastic laces that I find way better than velcro straps or regular laces." They're also seriously cute. Nike also makes Air Maxes for all ages and sizes (albeit in slightly different styles), so the entire family can match.
"I absolutely love Reebok's Classics for my pre-schooler," says Danielle Walish, Madri's other co-founder. "For the spring I ordered her a pair of the Classic Leathers in white and for the fall we changed to black with the gum bottoms." She says that the retro look is especially cute on tiny feet. Like Nike, Reebok makes this style for older kids and adults as well.
Best sneakers for kids between 4 and 8
Like infants and toddlers, little kids also benefit from easy-on shoes, as May notes: "Sneakers should be easy to put on and take off. Stretch and Velcro closures make it easy for kids." She like these pull-on shoes from Nike with two elastic straps that hold the shoe in place, a feature that Doyle also recommends, saying that parents should always look for a "shoe that keeps the foot in it and is secure." We're a fan of the adult version as a women's athletic shoe, and the kids' model comes in just as many fun colorways.
For kids with wide feet, May likes that New Balance offers well-made shoes in a variety of widths, like this pair, which could pass as a grown-up shoe, sans velcro.
Oakes and Eunice Byun, the CEO and co-founder of direct-to-consumer kitchenware company Material, both swear by Stan Smiths for their kiddos — but with velcro, of course. "It's so easy for kids to manage the new task of putting on and taking off shoes without bothering with tying laces," says Byun. Oakes agrees that no-tie shoes are the way to go, saying, "I was never the mom who wanted to deal with typing up laces." Stan Smiths of course come in styles with just laces, which may be a better fit for older kids.
Another on-trend velcro option, especially if you want to get your kid in on the Veja cult. These delightful high-tops are part of a collaboration between the French brand and children's site Smallable, and come recommended by Ariane Goldman, the founder and CEO of maternity brand HATCH, who says "the pinks are as cool as it gets." Goldman also loves the velcro straps, "so my girls can get in and out of them by themselves." If this particular pair doesn't work for you, there's a ton more available for both boys and girls ages 2 to 8.
For a no-fuss shoe, Maisonette co-founder Sylvana Ward-Durrett loves Vans slip-ons because, as their name implies, they're so easy for kids to slip on and off. She also notes that "they're the perfect price point for the wear and tear of the week." They're available in all sizes, so you can wear the adult version to match your little one when you feel like twinning.
Best sneakers for kids between 8 and 12
Unlike the unstructured, barefoot style shoes Doyle recommends for younger kids, she says that "as they get older and closer to their adult body weight, it's okay to have a shoe that equally distributes load and absorbs shock" like a traditional running shoe. As kids enter middle school and pick up track, cross country, or other sports that involve running, she says these more specialized shoes help prevent stress fractures and calluses. With the same cushioning technology found in the brand's adult shoes, Asics shoes are a good choice for active kids in this age group. Fauci calls the Gel-Contend "a very stable shoe."