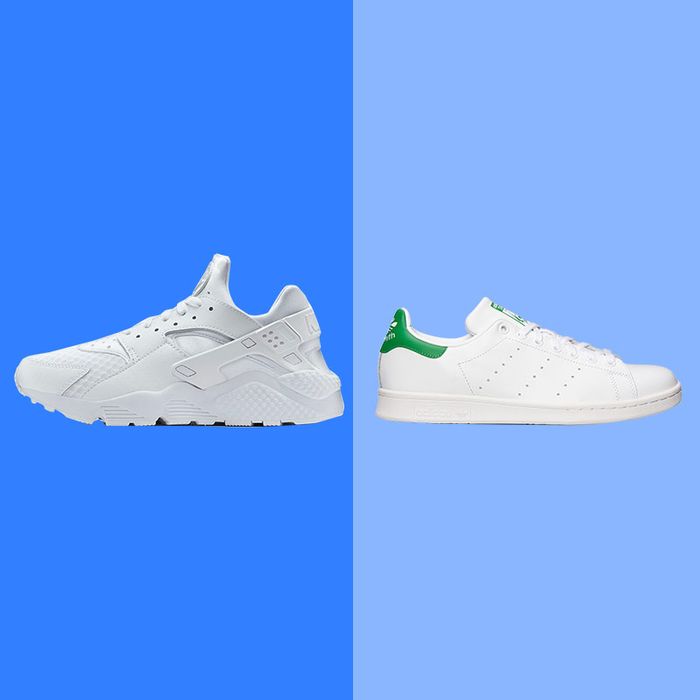 Photo-Illustration: retailers
A simple white sneaker has always been an essential part of any man's shoe collection. Yes, their timeless appeal comes in handy when you're putting together an outfit for the office or a date, but even if you're only "getting dressed" to get groceries or take a walk, white sneakers can be just as much a go-to. So having the right pair in your arsenal may even force most other shoes out of your rotation. "They will never not be in style," says Cory Ohlendorf, an editor of men's style site Valet. "When you think of all the eras of menswear, a basic white sneaker remains something you simply must own."
Underlying white sneakers' versatility is the fact that, like black sneakers, they look good with almost all clothes. But, unlike black sneakers, white ones can be worn year-round, according to our cool guys, because while sunny days scream for bright kicks, many white sneakers also look better when weathered (which is why they're just as fall- and winter-appropriate). "That's the beauty of a simple white sneaker," says Nicolas Lazaro, a community specialist at menswear-resale platform Grailed. To find the best white sneakers for men, we talked to Ohlendorf, Lazaro, and seven more stylish guys (then went through our archives to make sure we didn't miss any other pairs recommended by cool men). Read on for their favorites, including canvas styles, classic leather pairs, slip-ons, sneakers you can skate in, and more.
Best overall white sneakers for men
Photo: retailer
Named for the tennis player who wore them, Adidas's Stan Smiths aren't the only tennis shoes we heard about that made this list. But as the sport is known for its often all-white uniform, it's not too surprising that it has led to the creation of many white sneakers that now hold space in discerning men's closets. Stan Smiths received the most endorsements of all white sneakers we heard about, with Strategist writer Jordan Bowman, hairdresser Mark Miguez, and Chris Black all telling us that these have been in their sneaker rotation for years. Bowman, who has been wearing Stan Smiths for eight years, says their appeal is simple: "If they're good enough for legendary designers like Phoebe Philo and Raf Simons to wear," they're good enough for him. Black agrees, saying the "classic" leather sneakers "absolutely serve their purpose." Bowman adds that he thinks Stan Smiths look "the best when they are a little lived-in," which is why he likes to wear them all year long. Miguez seconds that, telling us he also likes his Stan Smiths to have "the worn look" when he wears them with denim or chinos.
Best less-expensive white sneakers for men
Photo: retailer
While you can occasionally find Stan Smiths on sale (like we have above), these Vans slip-ons that two guys recommend are generally going to be a bit more affordable. Ohlendorf told us that he has "gone through many a white sneaker" in his time, but that Vans slip-ons are the pair he always returns to. "It's a classic that always looks right — whether it's crisp and new or all beat-up and dingy," he explains. And not just for errands or a day in the park: "They're simple enough to swap in for dress shoes and sturdy enough to lift weights in," says Ohlendorf, who adds that "you can't ask for much more from a $50 shoe." Miguez is another fan, noting he keeps a pair of these in his closet alongside his Stan Smiths. "They go with everything and age great," he promises of the canvas sneakers.
Best less-expensive (lace-up) white sneakers for men
Photo: retailer
If you're looking for a slightly more affordable white sneaker that isn't a slip-on, these canvas Supergas are just as timeless and versatile as Stan Smiths or Vans, according to former Strategist deputy editor Jason Chen, who has cycled through "at least 10 pairs of Superga Cotus in my lifetime." That's partly because the Italian brand's sneakers are "incredibly comfortable, with no breaking-in necessary or weird footbed to contend with." But Chen also loves these because they're a little less common than Vans or Converse, while still sworn by among a group of super fans. Whenever one sees another Superga-wearer, Chen says they "feel like they're part of some secret tribe."
Trendiest white sneaker for men