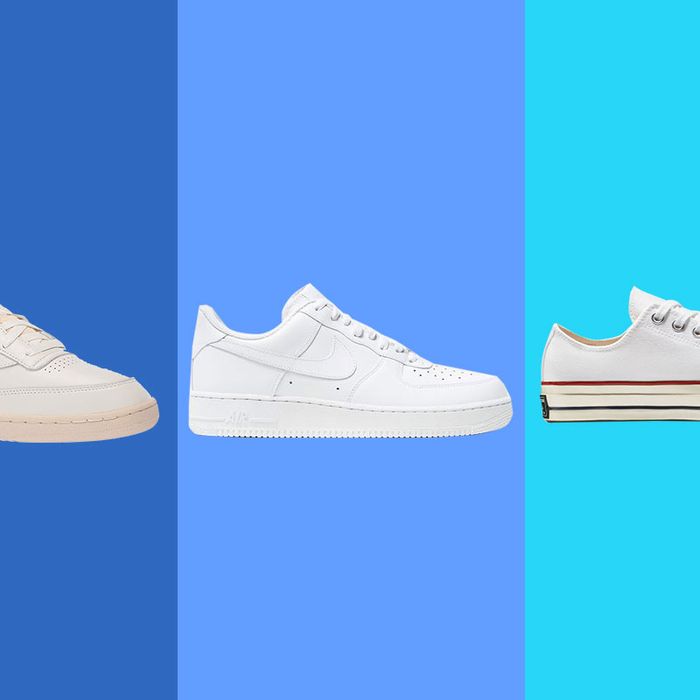 Photo-Illustration: retailers
A simple white sneaker has always been an essential part of any man's shoe collection. Yes, their timeless appeal comes in handy when you're putting together an outfit for the office or a date, but even if you're only "getting dressed" to get groceries or take a walk, white sneakers can be just as much a go-to. So having the right pair in your arsenal may even force most other shoes out of your rotation. "They will never not be in style," says Cory Ohlendorf, an editor of men's-style site Valet. "When you think of all the eras of menswear, a basic white sneaker remains something you simply must own."
Underlying white sneakers' versatility is the fact that, like black sneakers, they look good with almost all clothes. But, unlike black sneakers, white ones can be worn year-round, according to our cool guys. "That's the beauty of a simple white sneaker," says Nicolas Lazaro, a community specialist at menswear-resale platform Grailed. While sunny days scream for bright kicks, the best white sneakers also look better when weathered, making them just as fall and winter appropriate. As stylist Bryant Simmons puts it, the more wear they show, the more they suggest their wearer "has a life." To find the best men's white sneakers, we talked to Ohlendorf, Lazaro, Simmons, and ten more stylish guys (then went through our archives to make sure we didn't miss any standout pairs recommended by other cool men). The 12 pairs below include something for most everyone, from canvas styles, to classic leather pairs, to slip-ons, to sneakers you can skate in, and more.
Best overall men's white sneakers
Three of our cool people say that Nike's Air Force 1 is a classic white sneaker that hasn't lost its cool in the decades its been around (cool teens, athletes like Kevin Love, and celebrities like Fab 5 Freddy have told us they feel the same way). According to Simmons, they're perhaps even more relevant today than they've ever been: "The last couple of years have seen a move away from skinny jeans toward wider-legged pants, and the Air Force 1's balance out that wide silhouette really well. If you wear smaller shoes with a wider leg, your feet can look swallowed up." Other fans include designer Edgar Gonzalez (of rising bootleg T-shirt brand AndAfterThat) and Strategist writer Jordan Bowman, who simply says, "It's hard to look bad in them."
Best less-expensive men's white sneakers
Photo: retailer
Named for the tennis player who wore them, Adidas's Stan Smiths also came recommended by three folks: Bowman, hairdresser Mark Miguez, and Chris Black told us that these have been in their sneaker rotation for years. Bowman, who has been wearing Stan Smiths for eight years, describes their appeal this way: "If they're good enough for legendary designers like Phoebe Philo and Raf Simons to wear," they're good enough for him. Black agrees, saying the "classic" leather sneakers "absolutely serve their purpose." Bowman adds that Stan Smiths look "the best when they are a little lived-in," which is why he likes to wear them all year long. Miguez seconds that, telling us he also likes his Stan Smiths to have "the worn look" when he wears them with denim or chinos.
Best even-less-expensive men's white sneakers
Photo: retailer
The third and final white sneaker to receive three nods, Vans Classic Slip-ons are even more affordable than the pairs above (though we've seen Stan Smiths with similar price tags when they're on deep sale). Ohlendorf told us that he has "gone through many a white sneaker" in his time, but that Vans slip-ons are the pair he always returns to. "It's a classic that always looks right — whether it's crisp and new or all beat-up and dingy," he explains. And not just for errands or a day in the park: "They're simple enough to swap in for dress shoes and sturdy enough to lift weights in," says Ohlendorf, who adds that "you can't ask for much more from a $50 shoe." Miguez is another fan, noting he keeps a pair of these in his closet alongside his Stan Smiths. "They go with everything and age great," he promises of the canvas sneakers. Leon St. Heron, the fashion designer behind clothing brand Heron Hues, also wears the slip-ons, calling them his "go-to pair of white sneakers" because of their "classic look and legendary silhouette."
Best splurge-worthy men's white sneakers
You (still) can't talk about white sneakers without mentioning Common Projects, which two guys say proves worth the investment over time. Christopher Echevarria, the founder of loafer brand Blackstock and Weber, says they're his "all-time favorite white sneaker" and that he owns two pairs of the Achilles Low — one is brand new, the other he's owned "for seven or eight years has just gotten better with time." (He "prefers the pair that's beat to shit.") Simmons likes them for the same reasons. He says the minimal Achilles Low "is designed to really mold to your foot" and that the quality of the sneakers construction is noticeable. For example, you can see "that the leather is stitched right into the rubber sole," he explains. Simmons adds that the distinctive gold lettering around the sneakers' heel means that even "beat up Common Projects can work with a nice, formal outfit."
Best men's white sneakers that are a Common Projects dupe
According to the guys who recommended them, these sneakers have a similar appeal to the Common Projects ones above — they're long-lasting and thoughtfully designed, but less ubiquitous and also less expensive. They come recommended by August Bard Bringéus and Jakob Dworsky, the co-founders of Swedish menswear brand Asket. Both men own a pair and tell us the sneakers are unlined and less structured, which gives them more of a broken-in, casual feel from the get-go. Bringéus and Dworsky add that they use CQP Racquet Sneakers "for all of our photo shoots, because they set off any outfit perfectly." Bringéus says the sneakers have a "clean minimal design with precise details that allow the materials and craftsmanship to do all the talking." Like our Common Projects fans, Bringéus and Dworsky admit these are pricier than lots of other white sneakers, but promise that the "quality leather only gets better with time, so they're worth the investment."
Trendiest men's white sneakers
Photo: retailer
"The sneaker of the year" is how Gonzalez describes Reebok's Club C, which is another of Simmons's all-time favorites. According to him, "we're moving into weird era between '70s and '80s style, and the Club C is a great sneaker to slot into that period." But Simmons adds these are worth considering even if you couldn't care less about trends, because the sneakers have a lot of qualities that make them wearable at any time. "They're inexpensive, so cushioned and comfortable, and they also have a European, understated feel to them," he says.
Best men's white lace-up sneakers made of canvas
As our Vans-wearing experts have noted, canvas can age particularly well. If you're into the material but would rather a sneaker with laces, Simmons tells us he loves this pair of Converse — a brand we've written about countless times before. (This extensive coverage is why we're including these here, even though Simmons is the only person who recommended this specific style.) They come from the brand's 70 line, and he describes them as "more cushioned," adding that you can wear them in any number of ways: "To add a cool factor to a button-down and pants, a classic touch to some shorts and socks, or even as part of a more skaterish outfit." Simmons prefers them in crisp white over the more typical off white, because it "looks sharper and wears in better."
Best (less-expensive) men's white lace-up sneakers made of canvas
Photo: retailer
Lazaro recommends this pair of white sneakers from Tretorn, calling them a "Scandi staple." He's not the only fan: We spotted these sneakers in a number of cool men's fit pics last summer. Says Lazaro: "Tretorn first made waves on tennis courts and at prep schools in the 1970s, but a recent revival was spurred in the late aughts when Ivy style saw a small resurgence in the cult-menswear community." While the sneakers' look didn't change in the decades between their debut and renaissance, Lazaro notes the ones sold today have an "upgraded sock liner that provides superior comfort, and a robust canvas upper that provides an uncompromised balance of breathability and durability that can be hard to find with other tennis shoes." According to former Strategist deputy editor Jason Chen, the thought behind even the smallest details in these sneakers is a big part of their appeal. "The vertical hash lines near the front sole are so distinct, and even the way the canvas upper is put together (its lines running almost parallel rather than perpendicular to the shoe) is specific and charming: You always know a Tretorn when you see it." If you're considering buying a pair, Lazaro says they run narrow and recommends going up a half size to allow enough room for socks.
Best men's white high-top sneakers
Less ubiquitous than the high-tops from Converse, this pair from Novesta comes recommended to us by Alex Drexler, the founder of clothing brand Alex Mill. He describes them as a "rare find" because the sneakers manage to be "minimal, comfortable, and classic" at once. Drexler adds that the sneakers are "not overly designed, which I appreciate."
Best white sneakers for men with skinny legs
Lazaro explains that, "with a narrower silhouette than other Nike sneakers," the leather Cortez is one of the "most flattering styles if you have slim legs and small ankles, like I do." He goes on to explain that the Cortez has always been popular on the West Coast, particularly in Los Angeles, where, "for decades, area locals from Farrah Fawcett to Shia LaBeouf have depended on its versatility and classic appeal." Lazaro also notes that these come in different colors; he says that while the white-and-red combination may be the most recognized iteration, he now wears the all-white style and calls them one of his most favorite pairs of white sneakers that he's ever owned. Unfortunately, the all-white style is no longer in-stock (beyond resale platform GOAT), but Nike has three other styles available, including the popular white-and-red combo above.
Best sustainably made men's white sneakers
Photo: retailer
Cariuma's all-vegan canvas sneakers, which the brand says are made via a fair-trade, carbon-neutral production process, come recommended to us by Peter Hunsinger, a former Condé Nast executive and the founder of sock brand Kane 11. But their eco-friendliness is just one reason to love them, according to Hunsinger, who says the sneakers have received lots of compliments and queries of "where did you get those?" since he bought them. "They're lightweight and comfy, and great for hanging around and casual wear," he says, noting the sneakers are extra unique thanks to the fact that they were designed in collaboration with Pantone. "The partnership gives them a special provenance," says Hunsinger.
Best chunky men's white sneakers
Photo: retailer
Up until now, the styles of sneakers on this list have what you could call minimal silhouettes. But if you're looking for a white sneaker that makes a statement other than simple, Kiyoshi Martinez, the lead fit specialist at men's tailor Hall Madden, has become an unlikely evangelist for Nike's Huaraches after buying and falling in love with his own pair. "I wanted a sneaker that would go well with an obsession I was getting into with Hawaiian shirts and shorts, but it still needed to have a modern edge and be comfortable for walking and standing in," Martinez told us of the criteria that led him to this style. "I like how they look a bit futuristic and structured," he explains, noting that their structured look "is actually very comfortable and stretchy because of its design."