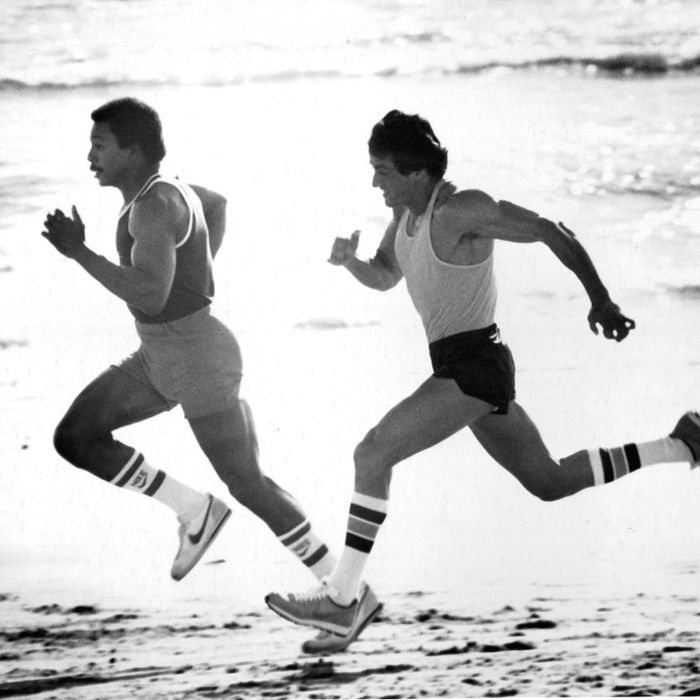 Photo: courtesy Chartoff-Winkler Productions
Finding the right pair of shoes for your workout can be a tricky enterprise — not only should they feel comfortable, but they should look good enough that you'll actually want to wear them (although there is something to be said for comfortable ugly shoes). The line between form and function is sometimes blurry, though, with many opting for marathon-grade running shoes to walk around the city and run errands. That's totally fine if style is your main concern, but if you're looking to do a more vigorous workout, it's important to have a shoe designed for that specific task. In order to find the best options out there for every type of use, we reached out to 19 cool fitness pros and general exercise enthusiasts to find out what workout shoes they use for running, cross training, weightlifting, and more active pursuits.
B

e

s

t

w

o

r

k

o

u

t

s

h

o

e

s

f

o

r

r

u

n

n

i

n

g
For running outdoors, the only shoe name-checked twice was the Nike Vaporfly. It has a wild futuristic look, with bold bright colors and a translucent upper, but these are famous for their high-tech and lightweight construction. "These are my go-to for road running and everyday wear," says Taka Kasuga, the creative director of fashion-forward outdoors line, Arc'teryx Veilance. He highlights their "great cushioning," noting that, since they're so flexible, they're very "packable for traveling." They're also a favorite of Amanda Freeman, the owner and founder of SLT and SLT Tread (a studio that combines a treadmill workout with the Megaformer machine used in standard SLT classes). Freeman told us that the "incredibly lightweight" shoes have a sole that "incorporates carbon-fiber plates that act like springs." That sole has allowed "professional and amateur runners alike to shave time off of their personal records," she adds.
When we reached out to fitness influencers and experts to find the next status gym sneaker for men, On Running's Cloud line was the clear choice when it came to both style and substance. Master personal trainer Ariel Brill told us these "are my favorite for running," adding, "I ran a marathon in this exact pair and I felt like I was truly running on a cloud, when in reality, I was on hard pavement." While these are branded as a running sneaker, many find they also make a great all-purpose gym and training shoe. As style editor Ted Stafford told us when we asked him about status gym sneakers, "guys who are looking for a training sneaker with the latest innovation for comfort and performance should try On Running training sneakers as soon as they can. They'll be hooked."
If you're looking for a shoe that delivers equal parts speed and stability, Matt Taylor, the founder and CEO of running-gear brand Tracksmith, recommends the classic Adidas Boston for its versatility. Taylor, who runs in "major races" as well as recreationally, has tried "hundreds of shoes, but always find myself coming back to the Adidas Boston," he told us. "They're light enough you feel like you can get some speed going, but supportive enough for higher mileage."
Men's Health associate fitness editor Brett Williams told us he loves Brooks running shoes because, like On Running, the brand "only makes running shoes, so it's focused on doing one thing well." Williams is a fan of this pair in particular because the midsole is made of a special Nitrogen-infused compound that, according to him, is designed to increase energy return. Because of that construction, Williams says keeping a quick pace is more efficient. "I eat up miles wearing these and feel light on my feet doing it."