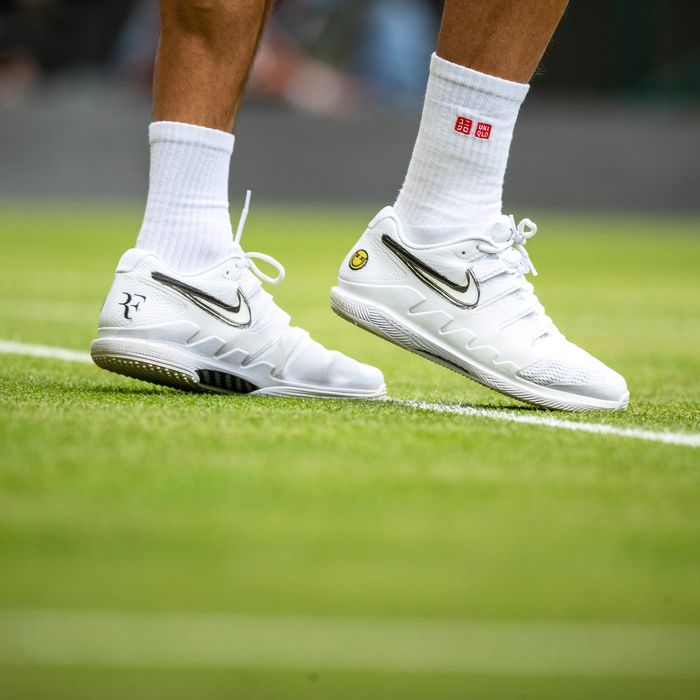 Tennis star Roger Federer's feet in a pair of (custom) NikeCourt Air Zoom Vapor X's, a shoe that made our list.
Photo: Getty/Corbis via Getty Images
Unlike many sports, tennis has social distancing built in. (Even when you charge the net, your opponent isn't likely to be within six feet of you.) But like all sports, the shoes you wear (and equipment you use) can really affect your performance on a tennis court. If you're serious about playing, you won't be wearing just any old sneakers. "Tennis shoes are typically a little bit heavier than running shoes and have better lateral support on the inside and outside of the shoe, making them more solid around the whole perimeter," explains Mike Layton, the owner and CEO of Westside Tennis in California. Karen Moriarty, a co-owner of the Tennis Professionals store in Rye Brook, New York, agrees. She told us tennis shoes generally "provide more support and stability, and are a little bit more structured" than other sneakers. Layton says to think of it this way: "If you start changing directions in a running shoe, you might hurt yourself because you are not going to be able to pivot on the ground as easily as you will with a tennis shoe."
To find the best men's tennis shoes, we spoke to Layton, Moriarty, and seven other tennis experts — including players and retailers — from around the country. While we heard about roughly two dozen styles, none came up more than the eight below, most of which got mentioned multiple times (the one pair that did not is from a brand we heard about a lot, making it feel vetted enough). All are designed for playing on hard courts, and our experts say that shoes suitable for hard courts will work if you play on any other surface, too. (The only no-no when it comes to tennis shoes, they add, is using a pair designed for clay courts on a hard court.)
Best overall men's tennis shoes
Five experts call the Asics Resolution 8 a fantastic option that — unlike many of the pairs on this list — should fit anyone comfortably, regardless of the width or volume of their feet. Layton is one of them, telling us these would work for "a majority of people, regardless of skill level." Frank Green, a high-performance tennis coach based in Philadelphia, adds that right now, these are "probably the top tennis shoe because of their comfort, style, toughness, and because they're suitable for every kind of court." Moriarty says the shoes are consistently a top pick among her customers, and NYU's head tennis coach Horace Choy says the Resolution 8 is also "very popular" with his team, in part because the shoe's low profile means you're "closer to the ground, which I personally think makes you feel a little faster." Layton adds that he has had "foot issues in the past, but not with these," promising that they "hit all of the requirements for a good tennis shoe, including good lateral support and stability."
Best men's tennis shoes for narrow feet
Photo: retailer
Reporting this story, we repeatedly heard that with the exception of Asics, different shoe brands are known for designing with particular feet in mind. "Nike has a reputation for narrower feet; others, like New Balance or K-Swiss, are known for wider feet," says Choy. While five experts (and one tennis-obsessed rock star) also recommend the Vapor X, Nike's reputation suggests these shoes seem slightly better suited to players with narrower feet, which is why they don't lead our list. Harry Tong, the host of Tennis Spin on YouTube and a buyer at California Tennis Club, told us that "the Vapor line has been a staple of Nike's for more than 15 years" and calls this pair a "no-frills shoe with enough support for the all-around player." Moriarty says these are another top pick among Tennis Professionals customers, and Phil Parrish, the tennis director at the Longfellow Sports Club in Wayland, Massachusetts, says he sees a lot of people wearing them at his club. Tennis coach Jonathan Raude wears them, too, telling us the shoes are not only "suitable for all surfaces," but also "towards the bottom of the price range for Nike tennis sneakers." And Bush lead singer Gavin Rossdale, a self-described "obsessive tennis player," previously told us he's found the newer Vapor X to be even "more dynamic than the previous Nike Zoom models."
Best men's tennis shoes for wide feet
Photo: retailer
For players with wider feet, four of our experts call out this shoe from K-Swiss that's also designed for playing on any surface. Moriarty says K-Swiss has been "a strong tennis brand for years, with consistent production quality," and that this "important shoe" is another of the most popular models she sells. Parrish adds that the shoes can accommodate heftier feet as well as wider ones. "You've got the width," he says, "but the shoe also has a good amount of volume from top to bottom."
Best (less-expensive) men's tennis shoes for narrow feet
Nike's line of Vapor shoes falls within its Air Zoom collection; those looking for something a little less expensive from the brand should consider the Air Zoom Zero, which got nods from three experts. "The Zero has great cushioning and flexibility for a quick change of direction," says Tong, who adds that "the attached-tongue design and heel insert keep you in the shoe for secure stop-and-gos." Eric Cole, a two-time Philadelphia Championship winner, says the Zero's support and flexibility make it a "great shoe for folks coming to the court for the first time" because it has that "nice cushion around the ankle, but isn't heavy" like other tennis shoes can be. Cole actually wears these himself and says the shoes have "helped me maneuver a lot quicker."
Best (less-expensive) men's tennis shoes for wide feet
Photo: retailer
As Choy and other experts note, New Balance is another brand known to be better for wider feet. ("They have good wide foot action," Green says of the brand's shoes.) Longtime tennis player David Wilfert, the founder of CBD muscle rub Weed Sport, told us that "as much as I want to wear Nikes, I have a wide foot, so I have to lean into New Balance." He's worn the brand's 696 shoes to play tennis for years. While you can "feel the technology is there" as you play in them, Wilfert says the shoes are "just so comfortable — they really feel like Crocs." He adds that these were his first "real tennis shoes," noting they made him realize how little heel support, mobility, and comfort he'd been getting from the Rod Lavers he previously wore on the court.
Bounciest men's tennis shoes
Tong says these, which are available in both wide and regular sizing, are "the softest, most cushiony, most bouncy shoe you can have in tennis." To anyone interested in trying them, he notes that "it took me a couple of minutes to get my feet into the shoes the first time because they are so firm when brand-new." But Tong says that firmness is a sign of a good tennis shoe: "You want them to hold on to you and be tight around the whole foot; you can't have too much movement in a shoe or else you will get blisters and a black toe." He compares the feel of these to wearing "a soft, comfortable ski boot." They have a second fan in Greg Pearson, the owner of Tiki Tennis in Islamorada, Florida. "I have worn all brands of shoes, but these are the most comfortable to me," he says.
Most state-of-the-art men's tennis shoes
Photo: retailer
"You know when a car changes its design from a 2020 to 2021 model and they change the hood? That's kind of what Nike did with this shoe," Green explains. Nike claims that it used years of data to create what the brand calls this "next-generation" tennis shoe that balances cushioning and traction. While Green is the only person to recommend it, we know plenty of people who want to upgrade to the latest model of anything when it comes out, which is why we gave the pair a spot on our list. (That and because Nike as a brand came up over and over again.)
Most stabilizing men's tennis shoes
Photo: retailer
Green also told us about what he calls this "classic shoe" that, like the Asics Resolution 8, is designed to fit a variety of foot types. Parrish, who has worn the shoes, also recommends them, noting they have a "mid-foot shank" (the piece of plastic with triangles all over it) that "takes some weight out of the shoe but gives you more stability." He explains this design element comes in handy because "tennis has become a game with more side-to-side movement, so you really need a shoe that can handle that."
The Strategist is designed to surface the most useful, expert recommendations for things to buy across the vast e-commerce landscape. Some of our latest conquests include the best acne treatments, rolling luggage, pillows for side sleepers, natural anxiety remedies, and bath towels. We update links when possible, but note that deals can expire and all prices are subject to change.