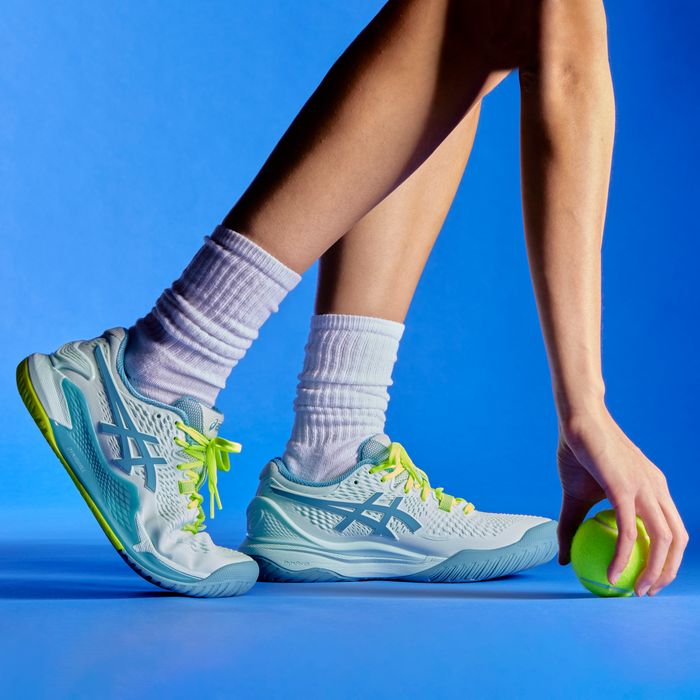 Tennis requires a huge range of movement: running backward, lunging, sidestepping, and even sliding (for Francesca Schiavone wannabes), which is why running shoes and other nonspecific sneakers won't cut it on the court. Proper footwear will give you support for 360 degrees of movement and even a mental boost, which writer Emilia Monell can attest to. As Monell, who trained at IMG Academy under coach Nick Bollettieri and played for Columbia University's varsity team, explains, "My coaches always said I had more energy the first day I got new shoes."
There are also external factors to take into account, such as the surface: Are you partial to clay courts or hard courts? Do you toggle between surfaces based on the season? With so many considerations, it can be difficult to determine which tennis shoes are ideal for your playing style and your feet: Maybe you have wider feet and need a shoe with more toe room, or maybe you're one of the many who suffer from plantar fasciitis. We spoke to a host of tennis experts, including tennis-store buyers, college coaches, and club directors about their top women's tennis-shoe picks. If you already have an idea of what you want, skip directly to the type of shoe you're looking for in our table of contents. Otherwise, read on for ten options that will suit all types of players, from serve-and-volleyers to baseline loyalists.
Tennis training involves so many repetitive movements that you'll likely find you damage your gear in the same places time and time again. We burned through many pairs of tennis shoes as captains of our respective high-school teams, and both of us always wore holes in the toe of our shoes: the right shoe for Sanibel, because she dragged her foot when she served, and the left shoe for Jeremy, because he dragged his foot on his backhand. Mike Layton, owner and CEO of Westside Tennis in Santa Monica, California, explains that tennis shoes need to withstand a specific type of pivoting and start-stop wear and tear, so they "are more solid around the whole perimeter of the shoe." While this construction may seem clunky at first, the bulk is necessary for the shoe to last a reasonable amount of time. Monell recommends a test to see if you need to replace your pair: "Place the two ends of one shoe between your hands and apply pressure — if the shoe caves in on itself, it's lost support, and it's time to get new ones." Depending on how often you play, your shoes will degrade at varying rates. Monell offers a general guideline of a three-month shoe lifespan for players training at a competitive level. In comparison, recreational players can stay with one pair for a year. Below, we've specified durability for each pair of shoes, ranging from "moderate," which is the least durable, to "enhanced," or medium durability, to "maximum."
It's not uncommon to see players (like Serena Williams) on court with tape around their ankles. Tennis is a joint-heavy sport that involves tons of lateral movement and frequent changes in direction, so the structure and support of a tennis shoe are designed to handle this demanding sort of action. According to Layton, tennis shoes "are typically a little bit heavier than running shoes" and "have better lateral support on the inside and outside of the shoe" to protect the ankle, so you don't strain or twist it when you're moving side to side. For players who are newer to the sport, this can be an adjustment, says Karen Moriarty, co-owner of the Tennis Professionals — Sportech in Rye Brook. "You might be shocked when you put a tennis shoe on and think, Oh my God, these feel so much stiffer than my running or walking shoes," she says.
Woody Schneider, co-owner of NYC Racquet Sports, says the best shoe is "the one that fits your foot the best." The term explosive is often used to describe the movement in tennis matches, and you'll feel that explosiveness in a bad way if your shoes aren't the right fit. A wide toe bed is necessary for stability, but you don't want so much room that your toes are jamming and bruising. The fit of the shoe will depend on your feet (wide, narrow, injuries, etc.), so we've done our best to articulate which type of foot the shoes cater to in each entry below. If you can, try the shoes on in person first to see if they're a good fit, or if you're shopping online, make sure the store has a good return policy.
Best overall tennis shoe
Durability: Enhanced | Support: Heavy | Fit: Versatile
The Asics Gel Resolution came highly recommended by four of our experts and is a safe bet if you're not sure where to get started. Layton has worn the Resolution for years and says, "It hits all of the requirements for a good tennis shoe, including good lateral support and stability. I've had foot issues in the past but not with these." He adds that they are durable and very comfortable. "I think you would fit a majority of people with this shoe regardless of skill level," he says. Claire Ann Pollard, head coach of Northwestern University's women's tennis team, calls the Asics Gel Resolution her favorite, and Moriarty says they are consistently a top pick for her customers. We also picked the Gel Resolution as the best overall men's tennis shoe. (Its support and stability made it a top choice in our roundup of the best women's workout shoes, too.)
Best less-expensive overall tennis shoe (and best for plantar fasciitis)
Durability: Enhanced | Support: Maximum | Fit: Slightly wide
The SFX 3 is not only the best least-expensive pick but also our recommendation for players with plantar fasciitis. If you have plantar fasciitis, the most important qualities to look for in a tennis shoe are extra cushioning in the heel, thick soles, and extra padding to reduce shock. This Babolat shoe checks all three boxes because it is designed with thermoplastic rubber, a memory foam insole, and a tube compression system beneath the heel for exceptional shock absorption. Schneider says this shoe has a "wow factor" because it offers "about as much comfort as you're going to find in a tennis shoe" that still has enough stability to be functional. Mason calls this the "best-fitting tennis shoe" in the Sisterhood of the Traveling Pants sense — i.e., a wide range of players with different foot types (narrow, wide, high arched) have said this model fits perfectly. Schneider adds that these shoes are cut slightly on the wider side, which is great if plantar fasciitis requires you to fit custom orthotics, extra-cushioned socks, or inserts. Anthony Evrard, founder and CEO of tennis club and school Court 16 in New York, says Babolat shoes are especially durable and long lasting because the outsoles are made from Michelin rubber.
Most comfortable tennis shoe
Durability: Enhanced | Support: Maximum | Fit: Standard
The Torneo 2 comes recommended by both Dana Mason, buyer at Mason's Tennis, and Pema Yangzom, a sales associate at Mason's. "It has a really thick sole around the heel, which gives you lots of cushioning on the court," says Yangzom. Mason calls it one of the most popular models at the shop. The usual trade-off with more cushion in a tennis shoe is a lack of responsiveness and speed — traits you'd find in a nimbler, lighter model. But that's not the case with the Torneo. Despite its thicker heel, it's not that much heavier than other models on this list. (For comparison, the Asics Solution Speed FF2, which we picked as the most responsive tennis shoe, weighs just 10 ounces, which is 1.5 ounces less than the Torneo 2. The most durable shoe on this list, the Adidas Barricade, weighs about 12.4 ounces.)
Best less-expensive comfortable tennis shoe
Durability: Maximum | Support: Heavy | Fit: Wide
Harry Tong, host of Tennis Spin on YouTube and a buyer at California Tennis Club, says this New Balance pair is "the softest, most cushiony, most bouncy shoe you can have in tennis." (We also selected the Fresh Foam Lav as the most comfortable men's tennis shoe.) Tong compares the cushion level to the springy, super-popular Adidas Ultraboost and describes the fit as "a soft, comfortable ski boot." "You want tennis shoes to hold on to you and be tight around the whole foot," Tong says. "Because of all the stop-and-go, you can't have too much movement in the shoe, or else you will get blisters and a black toe." Greg Pearson, owner of Tiki Tennis in Islamorada, Florida, says of all the brands he has tried, "New Balance is the most comfortable." This shoe is particularly durable because it comes outfitted with a toe-drag tip (to prevent excessive wear on the toe) and New Balance's NDurance rubber outsole, which has a six-month limited-warranty guarantee.
Most responsive tennis shoe
Durability: Moderate | Support: Flexible | Fit: Standard
Whether you're returning a serve, shuffling at the baseline, or scrambling for a drop shot, it helps to have responsive shoes so you can react as quickly as possible. Dana Mason's pick for the most responsive shoe is the Asics Solution Speed FF 2, which is lighter and more flexible than the Asics Resolution (our best overall pick). The FF 2 has a little bit less cushioning, which is ideal for players who like to feel fast on the court. Mason says it's her personal favorite (and the one she wears) because it's so lightweight and has a roomy toe box; it's also her top pick for clay courts.
Best tennis shoe for narrow feet
Durability: Moderate | Support: flexible | Fit: Narrow
Phil Parrish, tennis director of the Longfellow Health Club in Wayland, Massachusetts, recommends this pair for people who have trouble finding a snug fit in other brands since Nikes tend to run narrow in general. (That's why we recommended the Nike Vapor 11 as the best men's tennis shoe for players with narrower feet.) This model is designed with reinforced mesh for extra support, and the outer mesh has a thin, flexible overlay for added durability. Mason notes that in comparison with the NXT model described above, this pair is "also lightweight but slightly narrower." There is no rubber in low-wear areas, making this shoe even more streamlined. Mason adds that this is a great shoe for clay, on which you can get away with a lighter, less cushioned shoe because the surface is more forgiving. This shoe is also sliding friendly because the medial eye-stays closest to your toes are covered for added durability.
Best tennis shoe for wide feet
Durability: Enhanced | Support: Heavy | Fit: Wide
This is a great shoe for players with wider feet, according to Tong and Parrish, while Moriarty and Dana Mason both say this is one of the most popular shoes with their customers. Mason says in the standard women's B width (D is a women's wide, which translates to a men's regular), "it's going to be a wider shoe all over," so it may be a good choice if your foot is slightly wider than average but not wide enough to need a D-width shoe. (If you do end up needing something wider, she recommends the New Balance 1006, featured below.) "It's really nice on a hard court because of the durable sole," Mason says, though it is a great all-court shoe. The K-Swiss Hypercourt Express is also known for a minimal break-in period thanks to its Durawrap Flex technology, which offers support without stiffness.
Best tennis shoe for older players
Durability: Enhanced | Support: Extra-cushioned | Fit: Extra-wide
It's often the case that older players are looking for a wide tennis shoe that is lightweight and extremely cushioned. If this set of criteria sounds familiar to you, the New Balance 1006 is a great choice. It has extra-plush cushioning and offers tremendous support for players with foot issues. Dana Mason notes that this model comes in a D width and that its light weight makes it popular among the older set. This shoe is especially light because it's designed with the New Balance REVlite foam compound, which weighs 30 percent less than standard foams yet maintains the same level of cushioning and stability. This is a great option for more mature players because extra-cushioned shoes are often extra-heavy and can impede mobility, but with this New Balance model, you get the best of both worlds.
Most durable tennis shoe
Durability: Maximum | Support: Intense | Fit: Standard
When I think back to playing juniors and going to tennis camp, I remember every other kid (boys and girls both) wearing the Adidas Barricade. The current version of the Barricade is worn by Greek player Maria Sakkari, and the shoe has come a long way from its first iteration in 2000. The beauty of the current model is the lock-in construction of the lacing, which molds the tongue to your foot to create maximum stability and makes for a great fit regardless of foot type. As its name suggests, the Barricade is a remarkably tough shoe that's on the heavier side and designed to last. Though he hasn't tested the women's model specifically, Strategist writer Jeremy Rellosa grew up playing in the Barricade, and he abused them on the court for years. "I drag my toes more than anyone I play with, and my Barricades have held up. In other shoes, I'd drag so much that I would develop literal holes in the toes, but never in the Barricade." To see what condition your shoes are in, Monell recommends frequently checking the treads: "If you've got wear and tear around the heels, you're not on the balls of your feet enough during play. You should have the majority of your wear and tear around the ball of the foot if you're keeping up with proper footwork."
Some more tennis gear we've written about
Our experts
• Anthony Evrard, founder and CEO of tennis club and school Court 16
• Mike Layton, owner and CEO of Westside Tennis
• Dana Mason, buyer at Mason's Tennis
• Mark Mason, owner of Mason's Tennis
• Emilia Monell, writer and former junior and college player
• Karen Moriarty, co-owner of the Tennis Professionals — Sportech
• Phil Parrish, tennis director of the Longfellow Sports Club
• Greg Pearson, owner of Tiki Tennis
• Claire Ann Pollard, head coach of Northwestern University's women's tennis team
• Woody Schneider, co-owner of NYC Racquet SportsWoody Schneider, co-owner of NYC Racquet Sports
• Harry Tong, host of Tennis Spin and a buyer at California Tennis Club
• Pema Yangzom, sales associate at Mason's Tennis
The Strategist is designed to surface the most useful, expert recommendations for things to buy across the vast e-commerce landscape. Some of our latest conquests include the best acne treatments, rolling luggage, pillows for side sleepers, natural anxiety remedies, and bath towels. We update links when possible, but note that deals can expire and all prices are subject to change.