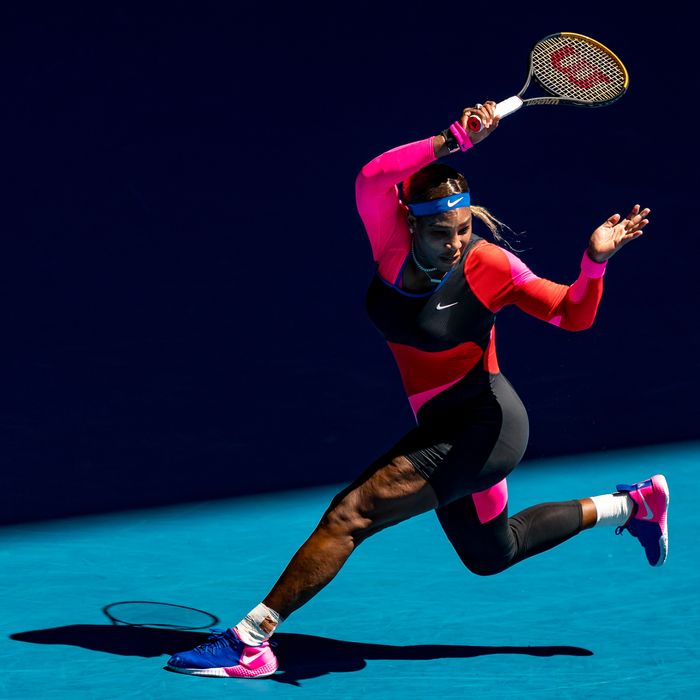 Photo: Andy Cheung/Getty Images
Although we often refer to sneakers as tennis shoes, if you're at all serious about tennis, you don't want to wear your sneakers on the tennis court. One distinction between your casual tennis shoes and shoes specifically made for tennis is their tread. According to Mike Layton, owner and CEO of Westside Tennis, "running shoes have more of a one-direction tread." They're not made for 360-degree movement like tennis shoes. While they may have pretty good grip, "if you start changing directions in a running shoe, you might hurt yourself because you are not going to be able to pivot on the ground as easily as you will with a tennis shoe." Most tennis shoes also have non-marking soles that won't scuff or damage the surface of a court (and lots of courts require non-marking shoes).
The other big difference is the structure and support of a tennis shoe, which are essential for handling those quick changes of direction. Because of that, "tennis shoes are typically a little bit heavier than running shoes, and they have better lateral support on the inside and outside of the shoe," he says. "They are more solid around the whole perimeter of the shoe." This added lateral support protects the ankle so you don't strain or twist it when you're moving side to side on the court. To novice players, this can be an adjustment, says Karen Moriarty, co-owner of the Tennis Professionals — Sportech. "You might be shocked when you put a tennis shoe on and think, 'Oh my God, these feel so much stiffer than my running or walking shoes,'" she says. Tennis shoes are also a must-have if you're planning on taking up pickleball, which writer Rachel Khong predicts will be the "sport of the year." To find the best tennis shoes for women, we asked Layton, Moriarty, and seven more experts for their picks.
Best overall women's tennis shoes
As Woody Schneider, co-owner of NYC Racquet Sports, says, the best shoe is "the one that fits your foot the best," but with rave reviews from three of our experts, the Asics Gel Resolution is a safe bet if you're not sure where to get started. If possible, try the shoes out in person first to see if they're a good fit, or, if you're shopping online, make sure the store has a good return policy. Layton has worn the Resolution for years and says, "It hits all of the requirements for a good tennis shoe, including good lateral support and stability. I've had foot issues in the past but not with these." He also says they are durable, long lasting, and very comfortable. "I think you would fit a majority of people with this shoe, regardless of skill level," he says. Claire Ann Pollard, the head coach of Northwestern University's women's tennis team, calls the Asics Gel Resolution her favorite, and Moriarty says they are consistently a top pick for her customers.
Best (less-expensive) overall women's tennis shoes
This is "the viewers' choice and the critics' choice of the year," says Harry Tong, the host of Tennis Spin and a buyer at California Tennis Club. "It is supercomfortable all around and fits all types of feet," Tong says. "I've tried it on myself, and they have done a very very good job with this shoe. It's a shoe that 90 percent of people will love." It's also a crowd-pleaser at Schneider's store. "It's one of those shoes that's cut more in the middle of the width range," he says, adding that it has "great stability" and "holds up very nicely," even for tough players who are hard on their shoes. Tennis magazine named it 2020's shoe of the year.
Most responsive women's tennis shoes
Compared to the Asics Resolution (our best overall pick) the Solution Speed is a lighter, more flexible shoe, with a little bit less cushioning for players who like to feel fast on the court. Dana Mason, a buyer at Mason's Tennis, says it's her personal favorite because it's so lightweight and has a roomy toe box. In general, she says, "Asics is by far my No. 1 best-selling brand for shoes for men and women."
Best hybrid women's tennis shoes
For a comfortable, durable shoe at a good price, Phil Parrish, tennis director of the Longfellow Sports Club in Wayland, Massachusetts, suggests Lottos. "They are lightweight but still have some cushioning to them," he says. "It's great to be low to the ground and light, but [sometimes] you need something more than that."
Most comfortable women's tennis shoes
Both Tong and Greg Pearson, owner of Tiki Tennis in Islamorada, Florida, recommend these shoes. Tong compares them to Adidas Ultraboost. They're "the softest, most cushion-y, most bouncy shoe you can have in tennis," he says. "You want tennis shoes to hold onto you and be tight around the whole foot. Because of all the stop-and-go, you can't have too much movement in the shoe or else you will get blisters and a black toe." He compares the feel to "a soft, comfortable ski boot," and says, "I would recommend it to anyone." And Pearson says, of all the brands of shoes he's tried, "New Balance are the most comfortable."
Schneider says this shoe from French brand Babolat (the world's oldest racket-sports company) has a "wow factor" because it offers "about as much comfort as you're going to find in a tennis shoe" that still has enough stability to be functional. He says that the shoe is also cut on the wider side, in case you have wide feet. Anthony Evrard, founder and CEO of tennis club and school Court 16, says Babolat shoes are especially durable and long-lasting because the outsoles are made from Michelin rubber.
Best tennis shoes for women with wide feet
Because of the extra support and stability they provide, it's important to remember that "tennis shoes, in general, are not as comfortable as running shoes," Moriarty says. But of course, that doesn't mean you have to settle for a bad fit. If you find many tennis shoes to be too narrow, Tong says the Wilson Rush 3.0 is "the go-to shoe for people with slightly wider feet."
This is another great shoe for players with wider feet, Tong says. Parrish agrees, and Moriarty says this is one of the most popular shoes with her customers. It's also one of Mason's top picks. Even in the standard women's B width (D is a women's wide and men's regular), Mason says "it's going to be a wider shoe all over," so it may be a good choice if your foot is slightly wider than average — but not wide enough to need a D-width shoe. (If you do end up needing something wider, she recommends the New Balance 1006.) Plus, Mason says, the K-Swiss Hypercourt Express is lightweight with plenty of cushioning.
Best tennis shoes for women with narrow feet
Moriarty says this shoe is consistently a top pick at Sportech. According to Tong, the shoe's low profile lets players really feel the ground: "You can call it a minimalist shoe for players looking for a no-frills shoe with enough support for the all around player." Parrish adds that "a lot of people wear them" and, since "Nikes tend to run narrow in general," he recommends these for people who have trouble finding a snug fit in other shoes. Tong agrees that this is a great option for players with narrow feet.
According to Schneider, the Babolat Jet is another good option if you find most shoes to be too wide. "I've seen some people with feet that are just so narrow that they're beside themselves trying to find a shoe that really fits them properly," he says. "But this one really does help."
The Strategist is designed to surface the most useful, expert recommendations for things to buy across the vast e-commerce landscape. Some of our latest conquests include the best acne treatments, rolling luggage, pillows for side sleepers, natural anxiety remedies, and bath towels. We update links when possible, but note that deals can expire and all prices are subject to change.