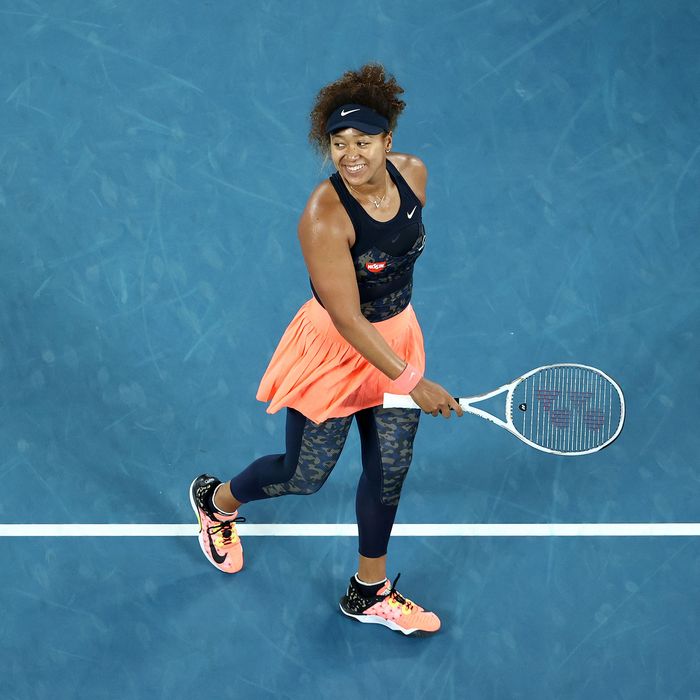 Photo: Cameron Spencer/Getty Images
Tennis-inspired fashion, from pleated skirts to retro tube socks, seems to be everywhere these days. The trend likely has something to do with the huge surge of interest in the sport during quarantine. Tennis is a perfectly suited pastime for a pandemic, after all: You're outside and physically separated from your opponent. So if you're one of the many new players who picked up a racket and new pair of tennis shoes recently (or just want to look like one), you might be wondering what you should be wearing — especially now, when you might be heading out to brunch or drinks afterward and want to look good, too.
As with any other sport or workout, you're going to want your gear to be moisture-wicking, breathable, and easy to move around in, but tennis attire also has its own functional and sartorial standards. Ivan Krcelic, a former professional player who is currently the head director at Tennis Prime in Fort Lee, New Jersey, explains that "tennis was the sport of kings and queens," so there's more of an emphasis on style and formality on the court than you'd expect at the gym. Of course, most tennis clubs have relaxed their rules since the days when you could only wear white — whites symbolized the sport's roots as a leisure pursuit of the upper class (who could afford all that dry-cleaning) — but the sport has maintained some of its stylish legacy. As Chris Olberding, president of Gitman Vintage and an avid tennis player, says, "fashion has always been inexorably linked to tennis." From Stan Smith's crisp polo shirts and white sneakers to Serena Williams's one-leg catsuit, clothing has long been a way for tennis players to show off their personality.
Even if a Grand Slam isn't in your future, you still have plenty of options for nice-looking tennis gear. To round up some of the best pieces from both heritage brands and exciting startups, we asked six players and coaches to share their favorites.
Best men's tennis clothes
Nike was one of the top-recommended brands among our experts. When it comes to blending performance and style, Krcelic says Nike's tennis styles are leading the way. He's tough on his clothes, as he plays practically every day, and says that Nike pieces have lasted longer than any other brands he's tried over the years. Plus, he likes how the brand is always a step ahead in setting trends with style and color. "​​I love to play with color palettes, and Nike has it all," he says, pointing to bright and "powerful" hues in the brand's collection. Walter Giacometti, director of Tiger Tennis Academy, agrees that Nike's polyester-blend fabrics are great for wicking away sweat, and tennis pro Lendale Johnson also tells us he wears Nike.