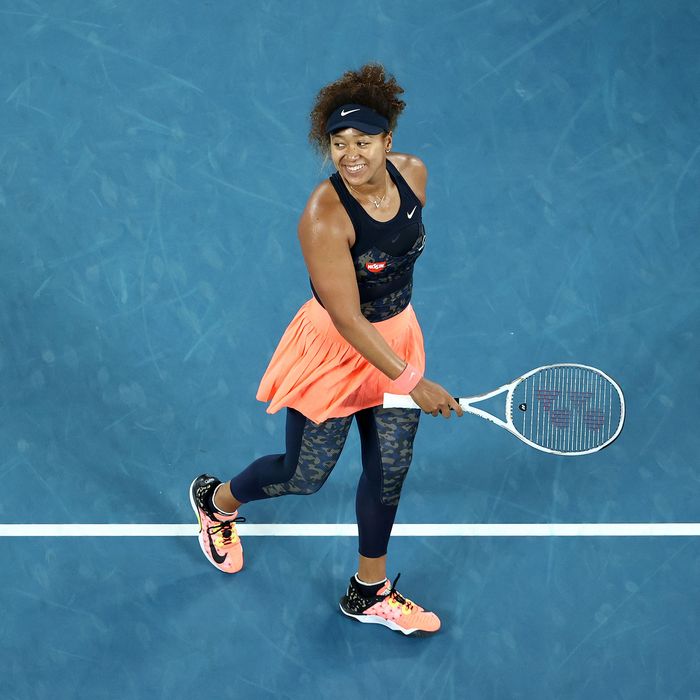 Photo: Cameron Spencer/Getty Images
Tennis-inspired fashion, from pleated skirts to retro tube socks, seems to be everywhere these days. The trend likely has something to do with the huge surge of interest in the sport during quarantine. Tennis is a perfectly suited pastime for a pandemic, after all: You're outside and physically separated from your opponent. So if you're one of the many new players who picked up a racket and new pair of tennis shoes recently (or just want to look like one), you might be wondering what you should be wearing — especially now, when you might be heading out to brunch or drinks afterward and want to look good, too.
As with any other sport or workout, you're going to want your gear to be moisture-wicking, breathable, and easy to move around in, but tennis attire also has its own functional and sartorial standards. Ivan Krcelic, a former professional player who is currently the head director at Tennis Prime in Fort Lee, New Jersey, explains that "tennis was the sport of kings and queens," so there's more of an emphasis on style and formality on the court than you'd expect at the gym. Of course, most tennis clubs have relaxed their rules since the days when you could only wear white — whites symbolized the sport's roots as a leisure pursuit of the upper class (who could afford all that dry-cleaning) — but the sport has maintained some of its stylish legacy. As Chris Olberding, president of Gitman Vintage and an avid tennis player, says, "fashion has always been inexorably linked to tennis." From Stan Smith's crisp polo shirts and white sneakers to Serena Williams's one-leg catsuit, clothing has long been a way for tennis players to show off their personality.
Even if a Grand Slam isn't in your future, you still have plenty of options for nice-looking tennis gear. To round up some of the best pieces from both heritage brands and exciting startups, we asked six players and coaches to share their favorites.
Best men's tennis clothes
Nike was one of the top-recommended brands among our experts. When it comes to blending performance and style, Krcelic says Nike's tennis styles are leading the way. He's tough on his clothes, as he plays practically every day, and says that Nike pieces have lasted longer than any other brands he's tried over the years. Plus, he likes how the brand is always a step ahead in setting trends with style and color. "​​I love to play with color palettes, and Nike has it all," he says, pointing to bright and "powerful" hues in the brand's collection. Walter Giacometti, director of Tiger Tennis Academy, agrees that Nike's polyester-blend fabrics are great for wicking away sweat, and tennis pro Lendale Johnson also tells us he wears Nike.
Olberding says Lacoste has always been a go-to for him, as its pieces are classic looking but also incorporate high-tech fabrics that make them ideal for performance. The brand is best known for their polo shirts (embroidered with a crocodile, the nickname of its founder and tennis player René Lacoste), and Olberding particularly likes the raglan-style polos with a seam that goes around the shoulder instead of right on top. "​​It gives you a little bit more mobility in your shoulder when you're playing, which makes a big difference," he says. He says Lacoste's basic tennis shorts "couldn't be more simple, clean, and streamlined," and he's had pairs that lasted for years. Krcelic is also a fan of Lacoste's "very French style" and says "the fit is perfect."
The Italian brand Ellesse is another favorite of Johnson's. He says their Cala shorts and Vanetti top are stylish and comfortable for playing in. The brand's been around for decades and is easily recognizable by its logo, an abstract half tennis ball.
Best women's tennis clothes
Like several of our other experts, Racquet magazine founder Caitlin Thompson embraces the aesthetic aspects of tennis. "If you feel like you look good, you will play well," she says. She's especially excited about startup brands that are putting as much focus into how their gear looks as they are on how it performs on the court. She says the British brand Jupp Sport offers "amazingly cute, fitted tennis whites." Although most courts no longer require players to wear white, Thompson likes this nod to the sport's tradition. Along with Jupp's tennis dress, she says she "constantly" wears the Maverick shirt and Maui skirt. "The top has a three-quarter-length sleeve that comes down right above the elbow, which is very flattering on most women's arms, and both pieces have built-in spandex material to keep you dry," she says. "They allow you to look buttoned-up in a way that's not stuffy, and they look great on all silhouettes."
Johnson appreciates the thought that goes into Venus Williams's line, EleVen. "With her being a professional athlete in the sport, she knows exactly what women's tennis clothes need to feel and be like," he says. The collection includes high-performance dresses and separates inspired by the star's on-court looks.
Tennis skirts and dresses might feel more classic, but plenty of women prefer to play in shorts. Stephanie Downes, associate director of audience growth at the Strategist, played tennis competitively for decades and likes these two-in-one shorts that have pockets for storing spare balls. "I would never consider playing in shorts or a skirt without shorts underneath since that's the best place to shove tennis balls," she says. "Shorts with a short inseam won't have pockets that keep balls as secured, and compression shorts alone would be too tight for tennis ball storage."
"I really like what Nike is doing with the Naomi Osaka collection," says Thompson. "They've really given a lot of thought to pushing the boundaries and making clothes that are certainly meant to be played in but also have functionality and appeal off the court." For something a little edgier, she likes these cargo-style utility shorts. Downes seconds the recommendation: "I would wear anything Naomi Osaka wears."
For pieces that are "amazingly of the moment" and "a little bit unexpected," Thompson turns to New Balance. She says they're one of the few brands creating pieces that look good on professional athletes as well as recreational players who to wear their tennis gear casually, too. She points to New Balance's matching sets that are a favorite of pro player Danielle Collins, but would also, according to Thompson, work for lounging "poolside at the Soho Beach House." Thompson also likes how the brand is playing with color in its men's department, as seen in this bright-mint polo and these neon-orange shorts.
Best tennis socks
Lendale loves Thorlos socks because they're moisture-wicking and cushioned enough to handle his fast-moving feet. "They're great for fast stops and starts," he says, "and they give you maximum protection against the stress you know of the lateral movements of your feet. That really helps if you're having any blisters, pain, or discomfort."
Even if you prefer a no-show sock for running or other activities, Downes says it's important to get something with more height for tennis to prevent blisters, because you'll be pivoting around a lot in your shoes. She and Giacometti both like these Nike socks that wick away sweat and also have plenty of cushioning.
For socks that look good on and off the court, Thompson recommends this pair from Palmes that feature a tiny embroidered dove. For guys, she also suggests checking out the brand's "thoughtfully tailored and really well-constructed" tennis clothes.
Best tennis accessories
A hat or visor is helpful for keeping the sun out of your eyes on bright days. Olberding buys branded hats from different tennis clubs he visits on his travels since they serve as useful souvenirs and conversation starters among fellow players. In the same spirit, Downes bought this cap from the Courts, a newly restored tennis club near Palm Springs. "Full disclosure: I've never been but love the concept and had to have the hat," she says.
Thompson agrees with Olberding that Lacoste makes some of the best traditional tennis attire, and she personally loves their basic visors. "You can never ever go wrong with a plain, solid color visor with a little crocodile front and center," she says. "It's just such a classy look."
Wristbands are an important part of your tennis kit because you can use them to wipe sweat off your face and out of your eyes. As Olberding mentions, wristbands — like socks — have the tendency to "go wandering" in the wash, so it's not a bad idea to stick to one color or style for all your pairs so you don't have to worry about mismatches if you lose one. Johnson sticks with basic white bands from Nike.
Thompson's favorite wristbands are from the Adidas x Stella McCartney line because, as she puts it, "​​they do sweatbands better than anybody else." She says the extra fuzziness of these bands help absorb more sweat, but they also have a slim silhouette, so they're actually nice looking on your arm.
"If you want to be a stylish person on the court, a towel is a good look," says Thompson, who uses hers to wipe away sweat and even as a makeshift seat cover if she ends up sitting down between games and doesn't want to dirty her tennis whites. This is another item you can easily pick up on your tennis travels. Thompson uses this one from the Wimbledon shop, which she says makes beautiful, fluffy towels.
The Strategist is designed to surface the most useful, expert recommendations for things to buy across the vast e-commerce landscape. Some of our latest conquests include the best acne treatments, rolling luggage, pillows for side sleepers, natural anxiety remedies, and bath towels. We update links when possible, but note that deals can expire and all prices are subject to change.