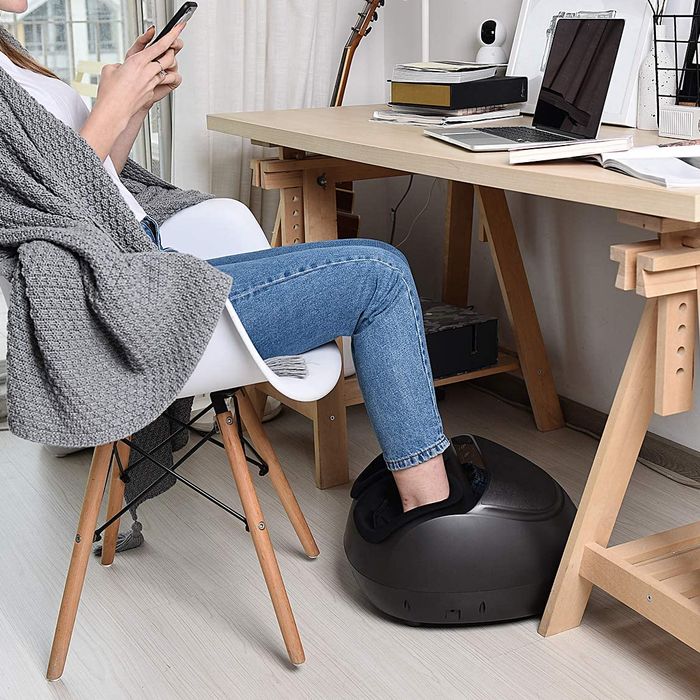 Photo: Courtesy of the retailer
Here at the Strategist, we like to think of ourselves as crazy (in the good way) about the stuff we buy, but as much as we'd like to, we can't try everything. Which is why we have People's Choice, in which we find the best-reviewed products and single out the most convincing ones. (You can learn more about our rating system and how we pick each item here.)
And while we've covered massage chairs and recliners, and back massagers (plus this power tool that does double duty as a massager), here, we've rounded up the best foot massagers, as praised by the most enthusiastic reviewers on Amazon.
Best-rated electric foot massager
Nearly 70 percent of reviewers give this electric foot massager five stars. "Feels like my toes are being massaged by human hands, feels so good, it takes away greatly from any discomfort," one writes. Another says the relief is almost immediate. "Just using this product twice, the pain relief was incredible," they say. "The settings are all adjustable and I found just the right ones for me. Additionally I wear a size 11 shoe, and this massager comfortably fits my feet with plenty of room." And those adjustable settings come up over and over in the reviews. "I chose this one because it's the only one that lets you control kneading and air compression separately," one reviewer notes. Plus, "It has heat, air, and shiatsu massage functions," says another user. They continue, "The heat just has the on/off option (it gets pretty warm but not too hot), while the air massage and shiatsu massage options have L low, M medium, and H high options. You can also choose between 15 or 30 minute sessions." An added bonus according to this reviewer, is that "the inserts where you put your feet can be removed and washed."
Best-rated (less expensive) electric foot massager
"This is worth every bit of your money," writes one reviewer, who like many thinks this is a great electric foot massager for the price. "I think this one does just as good of a job as the more expensive ones. It is definitely good to use on your feet and legs. It does make the swelling in the legs get better, and it does massage the feet well," one reviewer writes. Another likes it because "it has both heat and non heat options," while another describes the foot massage as, "intense and touches the key spots on the feet and has made me feel better." One thing this model lacks is different settings, and there's only one speed of massage. But lots of reviewers say you just get used to it: "A little ticklish at first, but once my feet got used to the sensation, the massage became very relaxing."
Best electric shiatsu foot massager
Thanks to the heating function and 18 rotating massage heads, reviewers agree that this powerful foot massager can soothe even the sorest of feet. "After a few minutes on this machine, my feet feel like new," says one reviewer, and another writes, "after just the first use, I could feel relief in my feet." A reviewer who suffers from plantar fasciitis loves that "you will find yourself grinding that sore foot into the spinning balls, knowing that your pain in each step is a fading memory." And one who says she spends all day on her feet writes, "it has me moaning in pleasure the minute my feet are on it."
Best electric shiatsu foot and calf massager
If you're looking for a massager that extends up the calf, this one left a reviewer "over-the-top thrilled," and many other share the sentiment, writing that it "hurts so good," "felt like fingers were gently massaging my legs and feet," and "is a game-changer for me." Several reviewers agree with this one who calls the massager "honestly one of the best purchases I've ever made." Another reviewer writes, "I slept good without restless legs which I suffer from every night," and a former personal trainer says, "it literally turns your feet to rubber, it's that complete."
Best electric shiatsu foot massager for large feet
One of our all-time favorite gifts for moms and dads, this heated shiatsu massager is also beloved by Amazon reviewers because it can accommodate feet of all sizes. One reviewer, who gifted this to her fiancé, writes "the foot beds are large enough for his size 12 feet and someone with smaller feet can use it as well." Another reviewer, who says a different machine "could not massage the whole foot at the same time," writes, "I wear a size 10 women's shoe and there is room to spare for larger feet." Overall, no matter your foot size, as one satisfied owner says, "This massager gets an A++ for being easy to use and feeling good."
Best electric foot massager for pain and numbness
"If you have circulation problems or nerve damage to your feet, you can't find a better remedy than this massager," claims one reviewer, and many others — some with circulation issues linked to diabetes or chemotherapy — agree. "This device has completely solved my foot numbness, bone-chilled feeling, and discomfort," writes one reviewer with chronically cold feet, and goes on to say, "I'm hooked and I LOVE the feeling of aliveness in my lower legs, feet and toes!" Interestingly, it doesn't use any heat, but rather warms the feet by increasing circulation. Another user with leg swelling reports, "since receiving my unit, 95 percent of the swelling is gone and I no longer feel that turning-to-wood or stone feeling in my lower legs."
Best electric foot massager with air compression
"My old foot massager (a.k.a. my husband) would find excuses not to rub my feet, lose concentration, forget he was rubbing my feet if the football was on, and swear he'd been rubbing my feet 'for hours' when he'd only been at it a minute and a half," writes one reviewer. "By contrast, THIS foot massager is brilliant. It does 15 minute sessions without complaining and asking if it can stop; it has 3 different styles and 3 different intensity settings, AND a heat function, and it doesn't demand hours of praise afterwards." Some reviewers even say that this machine provides a better massage than the real thing: "This massager really hits the various muscles and tendons in a way that only a well-paid human hand can," one writes, while another says, "It feels like soft hands caressing your feet." Dozens chalk it up to the air compression, which "squeeze away tension and stiffness," one writes, so much so, "This gives me a better night sleep." Another adds, "It even feels great around the ankles with air massage." However, one does warn, "It does make quite a bit of noise when the air is compressing and being released inside the massager," but they solved this problem by listening to music while they get their at-home massage.
Best electric foot massager for increased circulation