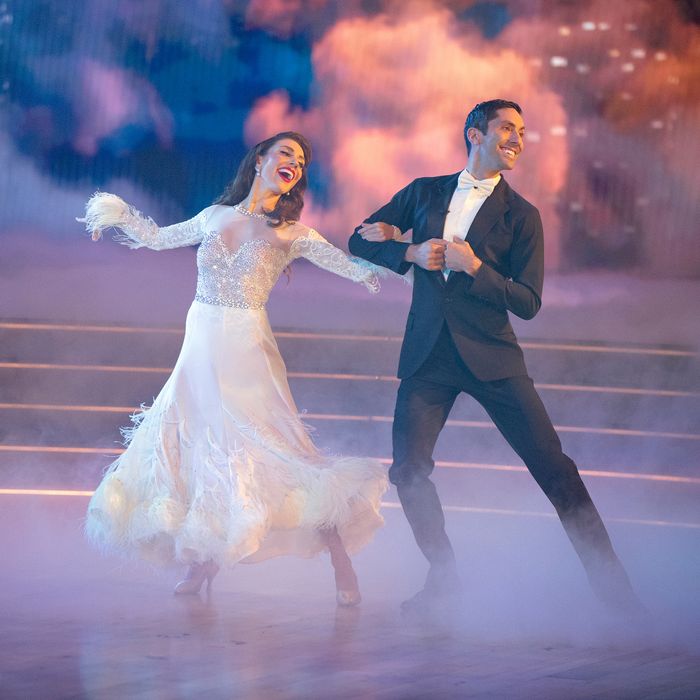 One of our experts, Jenna Johnson Chmerkovskiy, on
Dancing With the Stars
.
Photo: Eric McCandless/ABC via Getty Images
Like many athletes, dancers can be pretty particular about their gear. The wrong shoes cause painful blisters, and a bad massage tool will hurt more than heal. To help you unearth the best gift for the dancer in your life, we consulted some serious experts — including ballroom dancers Val and Jenna Johnson Chmerkovskiy from Dancing With the Stars; James B. Whiteside and Thomas Forster, principal dancers for American Ballet Theatre; professional tap dancer Maud Arnold; and Harper Watters, a soloist for Houston Ballet. Below, the highly recommended rehab equipment, warm-up gear, and relaxation products that any dancer would love.
"It is so important that dancers hydrate," says Johnson Chmerkovskiy. "Our muscles need it, our brain needs it, and our whole body functions better when we are constantly drinking water." Johnson Chmerkovskiy particularly likes Zulu's water bottle because it's affordable and functional. It comes in four different colors — white, black, cashmere pink, and ice blue — and each bottle contains an anti-microbial technology to prevent odor and bacteria growth. It also has a one-touch flip lid, so you can easily open it with one hand.
"Muscle aches and soreness is a beautifully painful reality for all dancers," says Chmerkovskiy. To remedy that, he recommends gifting your dancer a Theragun, which he calls a "brilliant little machine." Because it's "easy to handle and use," you're able to "give yourself a massage anytime anywhere." And Forster and Whiteside also suggest massage tools. As Whiteside says, "Dance is such a demanding athletic art form that we're always looking for ways to keep our bodies in peak physical condition." Forster likes the Hypervolt more than the Theragun because it's a bit less expensive, but says both gadgets help "relieve muscle soreness and stiffness at the end of a long day."
This system is very pricey, but if you can swing it, Arnold swears by it — "especially for the very dedicated dancer who is dancing many hours a week," she says. Chloe Arnold — Maud's sister and founder of their all-female tap-dance group the Syncopated Ladies — got one for her birthday, and they both love them. It looks a little wacky, but these compression sleeves massage sore muscles to help dancers recover faster by reducing any soreness and boosting circulation.
While they undoubtedly make great gifts, the Theragun, Hypervolt, and NormaTec Recovery System are all quite expensive. If you don't have the funds right now, Arnold suggests some classic recovery tools, like a foot-massage ball and foam roller. She recommends the Rubz brand to roll feet out. Because they're spiked, they have acupuncture-like benefits. The TriggerPoint foam roller is our best-rated foam roller — and beloved by celebrities, too — so it's a good choice. But if you'd like some lower-budget options, we have more in our roundup here.
Steven Houser of the Grand Rapids Ballet likes the TriggerPoint roller for his back and uses lacrosse balls for his calves and shins. But for more targeted work, he recommends this "strange little tool," as he describes it, because it's "great for accuracy." You place it directly on the spot that needs attention and apply pressure. These would also be great for a dancer on the go — because they're so small, they won't take up too much room in your bag.
Forster's mother actually bought him this Polar watch as a Christmas gift last year — proof that it's very giftable for dancers. "What I really like about the Ignite watch is that it tracks my physical activity during the day and then also tracks my sleep at night," he says. From there, the watch provides him a "nightly recharge score," which helps him "judge how hard I should push that." He explains, "Dancers work incredibly long hours, so it is very easy to overtrain." With this watch, he can better balance his training and keep his body in check.
"Booze is a great gift for a dancer because most dancers love to unwind after a performance with a good meal and a glass of their favorite tipple," says Whiteside. His favorite drink is a Manhattan with Whistlepig Whiskey, but if you need more drink options, we have roundups for wine lovers and canned-cocktail fanatics too.
Dance & Co comes recommended by the Chmerkovskiys, who — full disclosure — founded the company and appear in a number of videos. The online subscription service offers different virtual dance classes from Latin to hip-hop to jazz, and even some nondance classes, like yoga and full body workouts. For about $40 a month (much less than in-person classes), you can have access to all the videos online and pretend you're dancing with the Dancing With the Stars cast right in your living room.
According to Houser, one thing dancers "need but will rarely splurge on — or really even put that much thought into" is a sweat towel. He suggests that any gifter "consider the needs of the specific dancer" before buying. "Acne-prone? Maybe something microbial. Someone who sweats more? Get something that's superabsorbent," he adds. Not only are they helpful, but for him, "The moments we have to take a breath and wipe sweat away can often feel like a brief oasis from all of the hard work we're doing." So, a good sweat towel can "do wonders" aside from keeping their face slightly dry. This one from Athleta promises to be quick-drying and boasts a soft texture, so it's comfortable to use on your face.
"As a dancer you never want to feel cold and stiff," says Forster, which is why he recommends this "superlight vest that will get you warm fast." It's made with down, so it will "trap in your own body heat" to keep you cozy, but it's not superheavy, so it won't weigh you down. Strategist newsletter editor (and former professional ballerina) Mia Leimkuhler says the theaters you perform in can get pretty chilly, so it's nice to have something to wear on the sidelines when you're not onstage. Dancers also tend to wear them at the start of rehearsal while they're still warming up and then take them off midway through. Leimkuhler notes that vests are especially great for dancers, too, because "they keep your torso nice and toasty while your arms are free to move around."
A lot of our experts say warm-up gear is particularly great as a gift because — as we mentioned with the vest — it's important to keep the body warm during rehearsals and classes. But as Watters puts it, "Why not have warm-ups that are equally functional as they are fabulous?" He adds that "dancers love a little drama when it comes to revealing the outfit they picked to dance in." He's currently into Ivy Park x Adidas's collaboration, but since it's all currently sold out, might we recommend these two options from Black-owned athleticwear brands Damihow and Tranzfit instead?
If your dancer is into hip-hop, Carr recommends something a bit more baggy. "When doing hip-hop, you want to not only feel cool and saucy, but baggier clothes give you more room to get down low and really use your plié," he says. These Entireworld sweats are a Strategist favorite and would make a great gift.
Audrey Malek, a dancer with the Washington Ballet Studio Company, recommends "getting a dancer some leg warmers and/or warm-up boots," because they "help your muscles" and can look pretty stylish. These classic-looking ones from Capezio come in four different colors and will keep you warm.
If you're shopping for a budding ballroom dancer, Johnson Chmerkovskiy suggests a pair of Aida Dance Latin heels, which she calls "the most gorgeous shoe on a foot." You can customize different elements of the shoe — like the heel height, width, toe-box shape, material, and sole color — so your dancer will get exactly what she wants. "This shoe is by far my favorite Latin heel, and the only one I ever wear," she says.
Both Carr and Watters say a great dance bag is essential — and no dancer can have too many of them. Carr explains, "Our days can be very long, so to have a dope backpack or even large purse really goes a long way and gets us through a long audition or rehearsal." Watters likes this Ralph Lauren Pride tote because of its over-the-shoulder style. "It makes me feel like I'm on the go, getting stuff done," he says. "It's really durable and classically chic."
"My absolute No. 1 gift would be Baggu reusable bags," says Houser. He uses them for "everything" — going to work; moving his things from the studio to the theater, such as clean laundry to store in his locker, and dirty laundry in his locker; keeping organized; and more. Houser suggests buying different colors and patterns, too, so it's easy for the dancer to organize their belongings and, say, not get their dirty and clean laundry mixed up. And you can even buy them in very giftable three-packs.
Because stretching is such an integral part of a dancer's routine, Johnson Chmerkovskiy recommends making sure your dancer has a great pair of resistance bands. "Not only are resistance bands good for strength training and conditioning, but I love to use them for stretching before and after rehearsals as well," she says. This pack offers three different difficulty levels — easy, medium, hard — for whichever level you're at, and they're made from a layered material, so they won't slide or roll up during your workout.
Have we mentioned that dancers' bodies get really sore? Although it may not be the most exciting gift, Forster suggests giving a dancer bath salts that actually help heal the body. "A nice hot bath at the end of the day aids relaxation before bed and reduces muscle soreness," he adds. His favorite is the activated charcoal and black lava salt, but thinks that "you can't go wrong with any of their products."
Forster admits that it's easy to "become all consumed by the profession" of dancing, so he recommends gifting a great book, which "can help you relax and take your mind off work for a little bit." He just finished reading Genius Life, which "has some really helpful tips to help you live a longer, healthier life," he explains, and Night Over Water, which is by one of his favorite authors, Ken Follet, and takes you through a "fictionalized account of the final Pan American Clipper passenger airplane flight during the first few days of World War II." In case these two books aren't speaking to you, we have plenty of other reading lists for you to pull from too.
The Strategist is designed to surface the most useful, expert recommendations for things to buy across the vast e-commerce landscape. Some of our latest conquests include the best acne treatments, rolling luggage, pillows for side sleepers, natural anxiety remedies, and bath towels. We update links when possible, but note that deals can expire and all prices are subject to change.