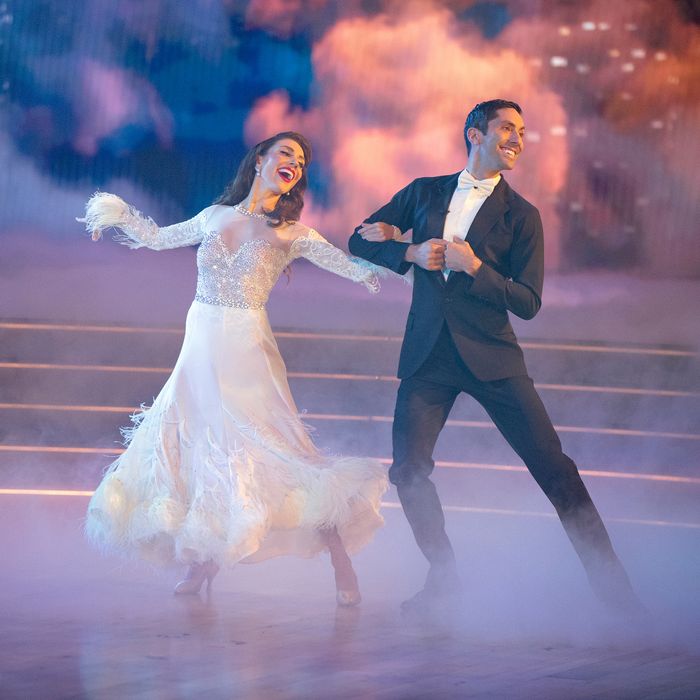 One of our experts, Jenna Johnson Chmerkovskiy, on
Dancing With the Stars
.
Photo: Eric McCandless/ABC via Getty Images
Like many athletes, dancers can be pretty particular about their gear. The wrong shoes cause painful blisters, and a bad massage tool will hurt more than heal. To help you unearth the best gift for the dancer in your life, we consulted some serious experts — including ballroom dancers Val and Jenna Johnson Chmerkovskiy from Dancing With the Stars; James B. Whiteside and Thomas Forster, principal dancers for American Ballet Theatre; professional tap dancer Maud Arnold; and Harper Watters, a soloist for Houston Ballet. Below, the highly recommended rehab equipment, warm-up gear, and relaxation products that any dancer would love.
"It is so important that dancers hydrate," says Johnson Chmerkovskiy. "Our muscles need it, our brain needs it, and our whole body functions better when we are constantly drinking water." Johnson Chmerkovskiy particularly likes Zulu's water bottle because it's affordable and functional. It comes in four different colors — white, black, cashmere pink, and ice blue — and each bottle contains an anti-microbial technology to prevent odor and bacteria growth. It also has a one-touch flip lid, so you can easily open it with one hand.
"Muscle aches and soreness is a beautifully painful reality for all dancers," says Chmerkovskiy. To remedy that, he recommends gifting your dancer a Theragun, which he calls a "brilliant little machine." Because it's "easy to handle and use," you're able to "give yourself a massage anytime anywhere." And Forster and Whiteside also suggest massage tools. As Whiteside says, "Dance is such a demanding athletic art form that we're always looking for ways to keep our bodies in peak physical condition." Forster likes the Hypervolt more than the Theragun because it's a bit less expensive, but says both gadgets help "relieve muscle soreness and stiffness at the end of a long day."
This system is very pricey, but if you can swing it, Arnold swears by it — "especially for the very dedicated dancer who is dancing many hours a week," she says. Chloe Arnold — Maud's sister and founder of their all-female tap-dance group the Syncopated Ladies — got one for her birthday, and they both love them. It looks a little wacky, but these compression sleeves massage sore muscles to help dancers recover faster by reducing any soreness and boosting circulation.
While they undoubtedly make great gifts, the Theragun, Hypervolt, and NormaTec Recovery System are all quite expensive. If you don't have the funds right now, Arnold suggests some classic recovery tools, like a foot-massage ball and foam roller. She recommends the Rubz brand to roll feet out. Because they're spiked, they have acupuncture-like benefits. The TriggerPoint foam roller is our best-rated foam roller — and beloved by celebrities, too — so it's a good choice. But if you'd like some lower-budget options, we have more in our roundup here.
Steven Houser of the Grand Rapids Ballet likes the TriggerPoint roller for his back and uses lacrosse balls for his calves and shins. But for more targeted work, he recommends this "strange little tool," as he describes it, because it's "great for accuracy." You place it directly on the spot that needs attention and apply pressure. These would also be great for a dancer on the go — because they're so small, they won't take up too much room in your bag.