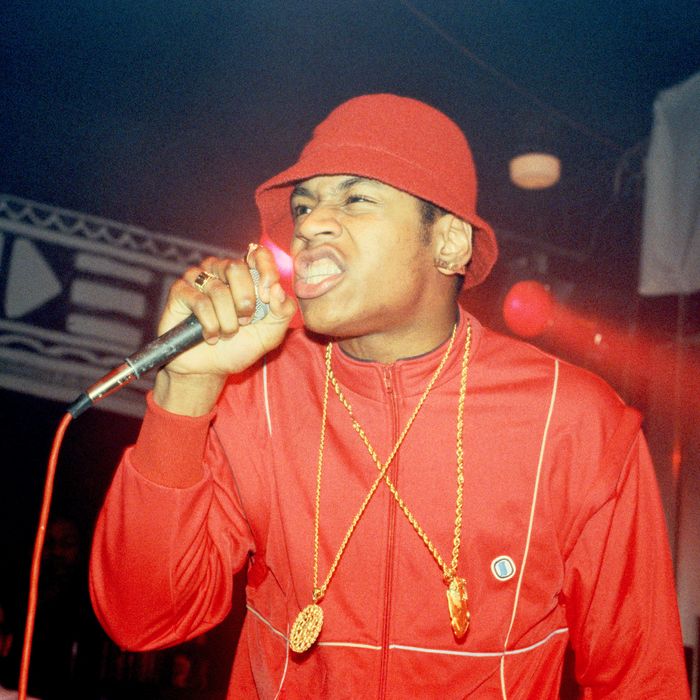 Photo: Terry Lott/Getty/Sony Music Archive via Getty Ima
If you're going to talk about bucket hats, you need to talk about LL Cool J, the rapper (and now actor and founder of his own hip hop site, Rock the Bells) who started rocking Kangol bucket hats in the '80s, cementing their iconic hip-hop-style status. And the more I thought about talking about LL Cool J, the more I wanted to talk to him. So I reached out to his publicist, and LL was nice enough to hop on the phone.
"That was the vibe in my neighborhood, you know. That was the vibe in Queens," LL says. B-boy culture was all over the streets of New York at the time. "B-boy style influenced me and I influenced the style. We were merged at the hip," he says. "I would be inspired by things, but you know how the streets are: People always put their original spin on things if you're being authentic. So that's how I did it. I loved the way I looked in it and the way it framed my face. It felt like Superman's cape."
LL rarely showed up anywhere not wearing his Kangol. Even for a ceremony in the Ivory Coast. "They make you a chief in a village," he says. "And I decided to keep my Kangol. It was that serious for me. It's one of those things that really just, you know, was a marriage made in heaven."
Although LL may have brought the bucket hat to prominence, he wasn't its first hip-hop devote. Or its last. Back in 1979, Big Bank Hank of the Sugar Hill Gang wore a bucket hat during a recording of the popular disco show, Soap Factory. Run-DMC were known to rock bucket hats as well their classic fedoras and Adidas tracksuits. And both Kurtis Blow and MC Shan wore them on their album covers in the late '80s.
In the '90s, the New Era fitted cap knocked the bucket hat off its pedestal. It continued its run as the dominant mainstream hip-hop headwear of the 2000s, but the bucket hat refused to disappear. Jay-Z wore one in his "Big Pimpin'" video. Missy Elliot wore a bucket hat on her classic album, Under Construction, in 2002. And then there was BET's Rap City: On an early-2000s episode, Cam'ron and Dipset came on to freestyle. Cam'ron stood in the back, waiting his turn to approach the mic, with stacks of money in his hand and a bucket hat tilted ever so slightly on his head. His entire look was as timeless as it was iconic.
To this day, the bucket hat is a perfect capsule of that time in hip-hop fashion, and rappers like Schoolboy Q are keeping the legacy alive. During an interview with Complex in 2013, Q says, "I was walking through the mall, saw a bucket hat, put it on, looked in the mirror, and told my homie, 'This motherf*cker's hard.' I wore it for a week, never took it off. I kept buying bucket hats. Next thing I knew, I felt like I didn't look right without one."
In the past few years, bucket hats have made their way back onto the heads of people in the street. If you're looking to join the trend — or just acknowledge the past — here are 12 of the best options available now, according to style experts, designers, and photographers.
Best bucket hat for LL Cool J acolytes
LL wore a Kangol on the cover of his second album, Bigger and Deffer, and his third, Walking With a Panther. "There was a point when I wouldn't take my hat off, no matter what," he says. "I went to the Dominican Republic for a wedding and got hit by a wave and wouldn't come up until I found my hat." LL never expected the bucket to become such a huge part of his legacy. "I had no idea that the impact would be that and the influence would be that strong," LL says. "You may have a specific item you wear that you just feel good in. You know how confident and how good you feel in something. I think that that's important."
Best streetwear bucket hat
Matty Friedman, a merchandiser at Dover Street Market who "started balding when I turned 20 (thanks dad)," and thus "never really leaves the house without a hat on," says it's impossible to talk about the best bucket hats without mentioning Stüssy. Jian DeLeon, editorial director of Highsnobiety, agrees: "As far as streetwear bucket hats go, the classic Stüssy script is a no-brainer, and when paired with a traditional summer menswear fabric like this exploded madras, you channel the brand's original appeal — a mix of grown-up style, youthful rebellion, and a bit of a flip on the iconic checks of something from Burberry."
Best outdoorsy bucket hats