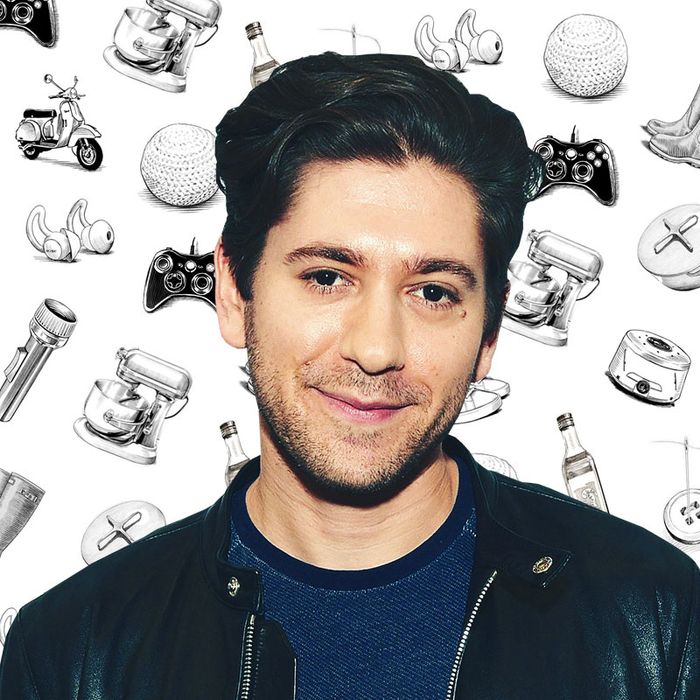 Photo: J. Kempin/Getty Images, Illustration: Joe McKendry
If you're like us, you've probably wondered what famous people add to their carts. Not the JAR brooch and Louis XV chair but the hairspray and the electric toothbrush. We asked actor Michael Zegen — a star of Amazon Prime's The Marvelous Mrs. Maisel — about the sweatpants, fruit, and workout gear he can't live without.
I had been wearing the same three pairs of workout pants all the time, just rotating them, so I was looking for a new option on Amazon. I bought one pair of these sweatpants and then I kind of spiraled and now I have eight pairs. When I find something that really fits me, I'm the type of person who has to get a bunch of it. These come in lots of colors and they're so comfy. Since I started quarantining, I feel like I've spent twice as much on clothes as I usually do, even though I'm not really going anywhere.
I have sensitive skin, so I'm prone to getting rashes and breakouts from makeup, especially stage makeup. I'm not going to name names, but some actors I work with get weekly facials because the makeup really gets into your pores. I always make sure that for me, the makeup artists are using organic products made for sensitive skin. One of the makeup artists on The Marvelous Mrs. Maisel told me to use this Eminence product every morning in the shower. It's an exfoliant and the ingredients are really good. It definitely clears my skin and helps keep the reactions down.
My older brother has a friend who I think runs this company, and they sent me a box of their different dried fruits to try. I got hooked on the kiwi. They're so good and healthy, and part of the proceeds go to a COVID relief fund, so they're doing some good work. I probably eat some every day. I love Doritos and stuff just as much as the next person, but I've always tried to eat healthy — we never had sugary cereals when I was a kid. It's tough nowadays because I just want to pig out when I'm home all the time, but these snacks have helped. They taste really, really good.