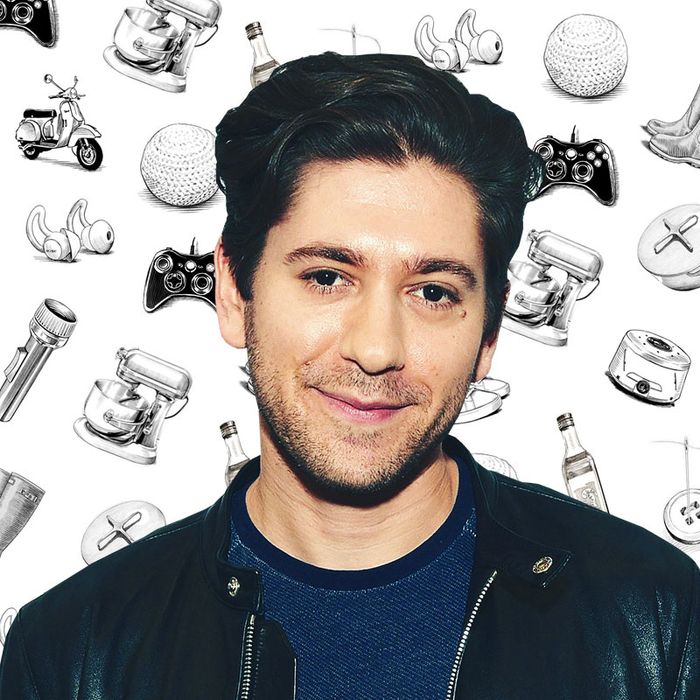 Photo: J. Kempin/Getty Images, Illustration: Joe McKendry
If you're like us, you've probably wondered what famous people add to their carts. Not the JAR brooch and Louis XV chair but the hairspray and the electric toothbrush. We asked actor Michael Zegen — a star of Amazon Prime's The Marvelous Mrs. Maisel — about the sweatpants, fruit, and workout gear he can't live without.
I had been wearing the same three pairs of workout pants all the time, just rotating them, so I was looking for a new option on Amazon. I bought one pair of these sweatpants and then I kind of spiraled and now I have eight pairs. When I find something that really fits me, I'm the type of person who has to get a bunch of it. These come in lots of colors and they're so comfy. Since I started quarantining, I feel like I've spent twice as much on clothes as I usually do, even though I'm not really going anywhere.
I have sensitive skin, so I'm prone to getting rashes and breakouts from makeup, especially stage makeup. I'm not going to name names, but some actors I work with get weekly facials because the makeup really gets into your pores. I always make sure that for me, the makeup artists are using organic products made for sensitive skin. One of the makeup artists on The Marvelous Mrs. Maisel told me to use this Eminence product every morning in the shower. It's an exfoliant and the ingredients are really good. It definitely clears my skin and helps keep the reactions down.
My older brother has a friend who I think runs this company, and they sent me a box of their different dried fruits to try. I got hooked on the kiwi. They're so good and healthy, and part of the proceeds go to a COVID relief fund, so they're doing some good work. I probably eat some every day. I love Doritos and stuff just as much as the next person, but I've always tried to eat healthy — we never had sugary cereals when I was a kid. It's tough nowadays because I just want to pig out when I'm home all the time, but these snacks have helped. They taste really, really good.
I got this because my trainer told me to. When I did A View From the Bridge on Broadway a few years ago, I had to gain a lot of muscle. In the play, my character was described as this big and strong guy — and I was not. So I did a lot of heavy lifting, which was not pleasant, and I put on eight pounds of muscle in three weeks. I had never used a foam roller before. I always noticed people using them, but I didn't really know what the deal was. My trainer told me you have to roll out your legs and quads and chest and everything before working out because it softens everything and loosens your body. I've been using it ever since that time. I got this specific brand because it seemed like the most popular one at Equinox. I love it. I use it every day just to roll out my back. I really feel the pop, pop, pop of my spine.
A few years ago, in Costa Rica, I tried passion fruit for the first time. It was mind-blowing. I was raised on fruit — my parents were big into pomegranates — so I've always been a pretty big fruit connoisseur. My brother pointed me to Miami Fruit company. I ordered some passion fruit; it was amazing, so I started getting other stuff that I had never even heard of, like monstera fruit and guanabana. Everything is more delicious than the last. I'm hooked on this company. I order a few boxes — at least four — every month. They're not cheap, but it's totally worth it. Miami Fruit Company has very clear pictures; when you order fruit online, you want to see it before you buy it. So it's legit in that way. Everything is fresh and picked the day before it's shipped. Sometimes there's wait lists for fruit — like bananas, for example, but you can preorder. They have all different types of bananas, some you've probably never even heard of. I had one that tasted kind of like an apple. It was so weird, but delicious.
I've never been a coffee person — it makes me jittery. For some reason, matcha doesn't make me jittery, even though I've heard that it has more caffeine than coffee. Whatever the case, I definitely feel awake after drinking this and there's no crash. Before the quarantine, I never made it myself. There's a place I went to regularly, but desperate times call for desperate measures. I was doing a play before everything went south and one of my castmates gave me a box of this matcha because I would always get matcha before the show to wake me up. It kind of stayed in my cabinet for a month or two, then when quarantine happened, I decided to make it myself. It has become my morning ritual. I'm going to continue to make it myself because if I save money, I can put that money into Miami Fruit Company.
I've been staying in a house upstate, but I miss the sounds of life from my home in the city. It's not that my apartment is that loud — I'm in the West Village, so it doesn't get too crazy — but I just got used to it and really liked the ambient noise. Before I bought this, I downloaded a few apps on my phone thinking that would help, but it wasn't the same. I've never had a sound machine before, so I got lucky that this one from Amazon did the trick the first time. It's really good. It's tiny but it works really well.
I watch Jeopardy! on Hulu every day while I eat lunch. I actually used to DVR Jeopardy!, but now it's on Hulu and Netflix — they both have like 100 episodes or so. There are so many, so it's not like I'm watching reruns of ones I've seen. I've always been into trivia games, but Jeopardy! is definitely my favorite. I love Alex Trebek. I think he's a saint. I also think watching Jeopardy! makes you smarter. I've definitely learned a lot.
My style is pretty much just a T-shirt and jeans. That's it. I keep it simple. I don't like to get too fancy. These Rag & Bone jeans fit perfectly. I have five pairs. They're not magic or anything, but they fit really, really well. And they're comfy. But I don't wear them around the house — that's what my sweatpants are for.
It actually took me a while to find a pair of sneakers that I like because I have wider feet. I think Adidas has kind of a wider fit than Nike? When I got these, my first thought was, "Oh, they are really nice." Then I was like, "Oh, they actually fit really well — I should get a few more as backups." Now I have five pairs. I like that they're breathable, and their simplicity. They're not all kinds of wacky colors. They're just black with different colored stripes.
The Strategist is designed to surface the most useful, expert recommendations for things to buy across the vast e-commerce landscape. Some of our latest conquests include the best acne treatments, rolling luggage, pillows for side sleepers, natural anxiety remedies, and bath towels. We update links when possible, but note that deals can expire and all prices are subject to change.