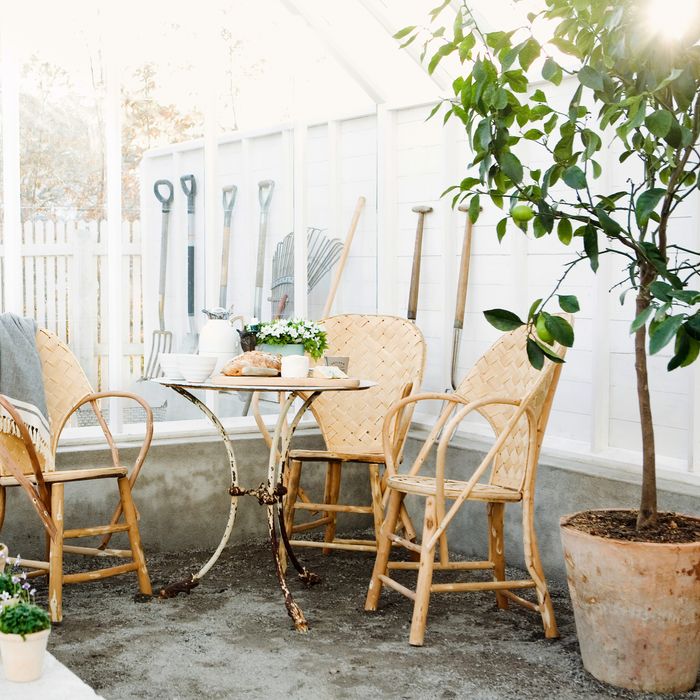 Indoor fruit trees are both pretty and practical houseplants, if you can master their care.
Photo: Lisa Bjˆrner/Getty Images/Johner RF
If you already share your home with a fiddle-leaf fig, rubber tree, anthurium (whether fake or real), and other popular indoor plants, chances are you're in the market for something that really stands out. That something could be an indoor fruit tree — if you can master its care. "The trick is getting fruits to finish. If they do, there's no reason they won't be edible," says Daryl Beyers, a gardening instructor at the New York Botanical Garden and the author of The New Gardener's Handbook, out next year from Timber Press.
The biggest challenge to keeping fruit trees indoors is getting them enough light (some need as many as 12 hours of direct sun a day). "If you can't at least provide unobstructed south or west light, you have no chance," according to interior landscaper Will Creed, whose company Horticultural Help specializes in growing indoors. Limit your search to dwarf citrus trees that yield sour fruits, which require less sun to produce than sweeter fruits, according to Aaron Dillon, the general manager at Four Winds Growers, and Laura Ferrara, Westwind Orchard co-owner and stylist (who both also advise regularly feeding trees using organic citrus-tree-specific fertilizer). Below, seven varieties of dwarf sour-citrus trees that the experts say have the best chance of thriving in the right indoor space.
Lemon trees
A Meyer lemon is the "classic" indoor fruiting tree, according to Beyers and the rest of our experts. These trees can flower and fruit throughout the year, making it more likely you'll get some lemons — which you can use for cooking, or making lemonade, according to Kathy Tatem, who manages Fragrance Plants in New York City's flower district. A general rule of thumb: Buying a more mature plant is far less risky than growing it from seed, says Beyers. "If it's blooming, awesome. If it has little fruits on it, even better." All Four Winds trees (like the Meyer lemon shown here) come in plastic nursery pots — which Creed recommends leaving a tree inside. "Don't repot it if it comes in a nursery pot, that will upset the flowering and fruiting cycle."
[Editor's note: All Four Winds trees shown in this article are the company's two- to three-year-old "premium" size trees, which are more mature than its less-expensive, one- to one-and-a-half-year-old "entry" size trees.]
Amazon also sells dwarf Meyer lemon trees in three sizes: one to two feet (shown), three to four feet, and four to five feet. All are young trees, according to the retailer, and advises buyers not to expect a mature plant to arrive on their doorstep.
Williams Sonoma sells a dwarf Meyer lemon tree inside a classic terra-cotta pot (for those looking for a nicer-looking vessel than a plastic nursery pot). All dwarf citrus trees generally need more water in warmer, higher-light environments, and less in cooler, lower-light spaces, and prefer temperatures between 55 and 85 degrees, according to Ferrara, who says 65 degrees is ideal. (You'll know a tree is thirsty if you stick your finger or a wooden skewer five inches into its pot, and it comes out with no sign of moisture.)
Lime trees
The Bearss or Persian lime is what most people find at the grocery store, according to Dillon, who says the fruit is great for making lime juice or cocktails. But if you grow it at home, the famously green fruit will actually turn yellow at its ripest.
Three experts recommend the Kaffir or Thai lime tree for growing indoors, because the plant's leaves — not its fruit — are what most people pluck from it to use. "The leaves are used in cooking," explains Karla Chandler-McCord, the curator of the Warm Temperate Pavilion at the Brooklyn Botanic Garden. Dillon likens the tree's leaves to bay leaves, noting they're often used in tom yum and other Thai soups, and that you could toss a few in a pot of rice to give it "incredible flavor."
Chandler-McCord and Dillon also suggest the Australian finger lime to indoor growers. "It's somewhat acclimated to lower-light conditions and doesn't need bright, direct sunlight," according to Dillon, who cautions the plant can be "a bit more temperamental," and that its branches are very thorny. The tree's chili-pepper-like fruit is filled with tiny vesicles that Chandler-McCord says are like caviar eggs — and are often used the same way (such as toppers on oysters or crostinis).
This lime tree produces fruits that look like sour oranges, but are more like limes in taste and use, according to Dillon. "It's something you can grow that you won't find at the grocery store." If you can, you should give any citrus tree some time outdoors during warmer months. "Leave it outside unless it's raining a lot — because then you'll rot the tree," says Ferrara, who says trees can be left outside for days or weeks at a time as long as you check on them.
Other citrus trees
Calamondin fruits also look like little oranges, but function more like limes. "They're super-sour — really good for drinks that would use a lime or lemon, or you can make marmalade with them," Chandler-McCord says. Ferrara, Tatem, Beyers, and Dillon also recommend these trees, which can flower and fruit multiple times a year. "They're very pretty," Tatem says.
"Kumquats have the same look as calamondin trees, and you can also eat the fruit," according to Tatem.
Amazon's kumquat tree is between two- and three-feet tall, and two- and three-years-old (the same age as Four Winds's "premium" kumquat tree). All of these citrus trees can attract pests, but Creed says drenching any of them in a solution of water and dish soap (for spider mites) or one that's five parts water, one part rubbing alcohol, and a squirt of dish soap (for scale and mealy bugs) will usually do the trick. "The key is to spray every surface so a tree is literally dripping wet."
The Strategist is designed to surface the most useful, expert recommendations for things to buy across the vast e-commerce landscape. Some of our latest conquests include the best acne treatments, rolling luggage, pillows for side sleepers, natural anxiety remedies, and bath towels. We update links when possible, but note that deals can expire and all prices are subject to change.