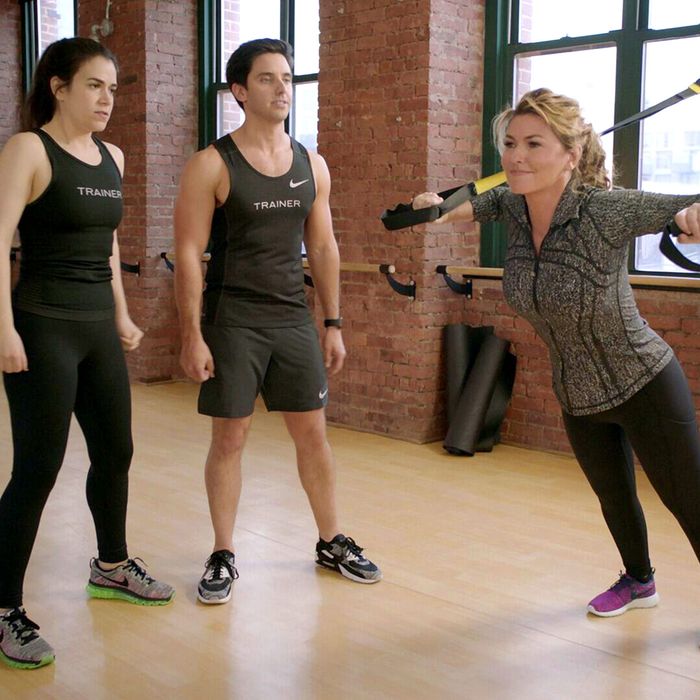 Photo: Courtesy Comedy Central
Lately, you may have found that leggings are a more frequent part of your wardrobe rotation than ever before. And while there are plenty of pairs out there that are perfectly suitable for bumming around the house, leggings you wear to actually exercise are a whole other game. Depending on what exercise you favor, you likely have specific requirements: Perhaps you want a soft and stretchy pair for pilates, or some that will keep you dry during a high-intensity workout, or ones that won't slide down your legs during downward dog in your next vinyasa flow. Finding ones that fulfill these stipulations and are still nice-looking (and better yet, actually affordable) is not such an easy task. To learn about the best pairs of leggings for all kinds of workouts, we consulted with 14 fitness pros and class instructors (who teach everything from sweaty HIIT to meditative yoga) to find out their favorites.
Best overall leggings
Arguably the leggings that started it all, Lululemon's longtime best-selling Wunder Unders still get praise from fitness pros — and four of the experts we spoke to. They're available in a technical, supposedly quick-drying fabric called Nulex, but experts agree that the slightly thicker version (originally designed for yoga) is the best option. Kate Posch, a yoga instructor at Sky Ting, says the Wunder Unders are her "go-to everyday legging," and praises the high-waisted fit in particular. "I live for high-rise and for not having to keep pulling up my pants while practicing or teaching," she says. Ashley Rosenberg, a modelFIT instructor, calls the style "the forever classic" that's "just unbeatable." Katherine Gundling, a coach and programmer at ICE CrossFit NYC and Oculus CrossFit, agrees that they stand out among a sea of imitators. "I love the way they fit and feel on my body, and the way they allow me to perform in my workouts," she says. "They will last you years and stay in great condition." Plus, if you're not a fan of the color-blocked and patterned leggings that have proliferated as of late, good news: the Wunder Unders only come in three basic colors: "garnet," navy, and black. As Tiffani Robbins, who teaches a total body conditioning class at FitHouse, says, they're "not overwhelming — no patterns or cutouts."
Best leggings for high-intensity workouts
For a high-waisted legging that never needs adjusting, even during a dance cardio workout, Rosenberg prefers Ultracor. While other leggings sometimes feel droopy at the waist or in the legs, in these she "forgets they are on throughout the entire workout." She thinks the black-on-black star print is "the coolest," and the best for masking sweat. The extra-high waistband, she says, is also quite flattering.
For a pair with an even higher waist, try these All Access leggings, recommended by Sydney Miller, who teaches at SoulCycle and leads the livestream (and very sweaty) workout class Housework. "They probably have the highest waist of any leggings I've ever owned," says Miller. The bright color options and smooth texture are part of the appeal, too: "I have them in several colors, and I love the shiny finish," she says. "They're super sleek and flattering, and best of all, very comfortable to move in."
If you want something with some real shine, Miller told us about these metallic leggings from Heroine Sport. "These leggings straight up make me feel like I'm a super hero," says Miller. Like the All Access pair, they have a very high waist. And the metallic fabric is extremely opaque. "The fabric is thick enough that no one will ever see any skin you don't want them to see, but light enough to still be comfortable to work out in," says Miller.
For something in a more neutral finish, Tatiana Lampa, who teaches HIIT classes at Fithouse, and Dianna Falzarano, director of TRX programming at Flex Studios, are both fans of Nike Pro leggings, which hold up well in intense, high-impact workouts. As Falzarano says, "They're super compressive, so they're nice and tight and never fall down." Both instructors mention appreciating these leggings' mesh panels and cropped length, which keep things cool during sweaty workouts.
Miller also recommended these from Splits59, which she says are her "favorite pair of leggings, period." They're made of a soft, stretchy material and come in a variety of colors, with a comfy high waist. "I love how high waisted and soft these are," says Miller. "The pale pink is my favorite color — it's flattering and doesn't show sweat, even though it's pink." And while she loves the pale pink, the black are Miller's most reliable go-to pair.
Best leggings for barre and low-impact workouts
For barre or other lower-intensity classes, Falzarano counts Outdoor Voices as one of her top picks. Though they're not quite as sweat-proof as the Nike Pros, there are still plenty of reasons why you might want them in your workout wardrobe. Hannah Jean Hildreth, an instructor at 305 Fitness, says, "They allow me to move freely and look svelte as heck. They're also great for yoga because I find they stretch in all directions and wick sweat quickly. The band at the top reminds me to engage my core, but they're not so tight that they're uncomfortable." The brand's rotating seasonal color palettes gives them a limited-edition feel, as well.
Best leggings for yoga and pilates
For a slower-paced yoga class that isn't going to leave you dripping in sweat, instructors agree that Lululemon's lightweight and flexible Align leggings are the way to go. Saya Tomioka, a yoga instructor at Fithouse, says, "I eat, sleep, breathe … in my Lululemon Aligns pants. They're the most comfortable and are great for wider-mobility workouts." Lampa agrees that they're "so soft," and stretch with you when you move. Falzarano calls them a "second skin."
If you prefer a pair of leggings with a slightly looser fit and a soft, cottony feel, Bryn Chrisman, founder and owner of Yogamaya, says she loves Ripple leggings, which use natural fibers and dyes. "The pants feel very good on my skin," she says. "They allow air flow and do not restrict my movements, while at the same time making me feel hugged in." The length of the pants is a draw for Chrisman, as well. "I just love a long cotton pant and there is a lot of freedom to move at the hips," she says. "They bunch up a little around the ankles, and that feels really supportive and good." Ripple's leggings and yoga pants come in a range of muted natural tones — "They have beautiful colors and designs," Chrisman says — that will appeal to those who'd rather skip bright color-blocking. Chrisman also notes that Ripple is a small, woman-owned company, a plus for conscientious shoppers. BodyTonic Pilates instructor Merav Cidor is a fan of Ripple's line, as well. "I own the leggings, shorts, and jumpsuit, in all colors," she says.
For those who want natural-fiber leggings without sacrificing the bright colors and patterns you generally find in synthetic pairs, Deborah Bagg, owner of Juniper Yoga, recommends Nooworks, a Los Angeles–based brand that produces limited-edition prints and fabrics with artists each season. "They're fun and they're playful, and I just love the way I can live in them," says Bagg, who says that she has a pair of tiger-print leggings from the brand that she has "worn to death." Bagg, who is also a psychotherapist, says the leggings take her through the whole day: "I can teach in them, I can practice in them, and I can wear them when I'm seeing my clients. They make it so I can easily move through the day." The fit is especially practical for doing yoga. "I like high-rise pants, but I also don't like anything that squashes my belly because I'm a big belly breather," she says. "They give me the right amount of containment, but it doesn't suck me in — I don't like that feeling at all."
Best leggings for high-intensity yoga
"If I know I'm taking a sweaty or more intense class, I always wear K.Deer leggings," Posch told us. "The fabric doesn't show sweat at all." Posch says the brand has plenty of "really fun colors" that make a good antidote to her usual black yoga clothes, and calls the striped collection "a long-standing favorite." (Lately, Posch likes the "colorful, bright, and cheery" Josephine stripe, pictured here.) Another draw in Posch's book: "K.Deer is a female-run company, and is a size-inclusive company as well," she says.
Best leggings for CrossFit and weightlifting
When it comes to CrossFit training and weightlifting, FitHouse strength instructor Nina Marchione prefers the Powervita leggings from Athleta. "They're supersoft and move well with your body, and they also give light compression and support so they look awesome on most every type of figure," she says. Some of that support comes from a three-layer waistband lined with mesh that keeps the leggings in place — and they're totally seamless, which makes them especially comfortable.
Best leggings for women with curves
"Leggings are a huge issue for curvy femmes," according to Jessamyn Stanley, yoga teacher and author of Every Body Yoga. Her favorites are from Bombsheller, which offers extended sizes and prints from independent artists. She likes that they "use fun printed fabrics that don't stretch into literal sheer oblivion over fat asses [and] have high elastic waistbands that stay up even when your belly is hell-bent on pulling them down."
The Strategist is designed to surface the most useful, expert recommendations for things to buy across the vast e-commerce landscape. Some of our latest conquests include the best workout leggings, gym bags, workout gear, flattering sweatpants, running shorts, and sports bras. We update links when possible, but note that deals can expire and all prices are subject to change.
If you buy something through our links, New York may earn an affiliate commission.