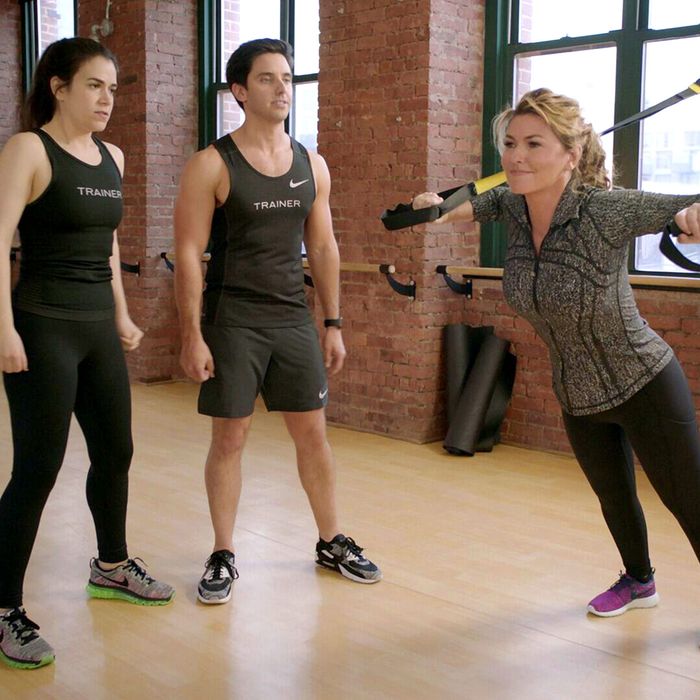 Photo: Courtesy Comedy Central
Lately, you may have found that leggings are a more frequent part of your wardrobe rotation than ever before. And while there are plenty of pairs out there that are perfectly suitable for bumming around the house, leggings you wear to actually exercise are a whole other game. Depending on what exercise you favor, you likely have specific requirements: Perhaps you want a soft and stretchy pair for pilates, or some that will keep you dry during a high-intensity workout, or ones that won't slide down your legs during downward dog in your next vinyasa flow. Finding ones that fulfill these stipulations and are still nice-looking (and better yet, actually affordable) is not such an easy task. To learn about the best pairs of leggings for all kinds of workouts, we consulted with 18 fitness pros and class instructors (who teach everything from sweaty HIIT to meditative yoga) to find out their favorites.
Best overall leggings
Arguably the leggings that started it all, Lululemon's longtime best-selling Wunder Unders still get praise from fitness pros — and four of the experts we spoke to. They're available in a technical, supposedly quick-drying fabric called Nulex, but experts agree that the slightly thicker version (originally designed for yoga) is the best option. Kate Posch, a yoga instructor at Sky Ting, says the Wunder Unders are her "go-to everyday legging," and praises the high-waisted fit in particular. "I live for high-rise and for not having to keep pulling up my pants while practicing or teaching," she says. Ashley Rosenberg, a modelFIT instructor, calls the style "the forever classic" that's "just unbeatable." Katherine Gundling, a coach and programmer at ICE CrossFit NYC and Oculus CrossFit, agrees that they stand out among a sea of imitators. "I love the way they fit and feel on my body, and the way they allow me to perform in my workouts," she says. "They will last you years and stay in great condition." Plus, if you're not a fan of the color-blocked and patterned leggings that have proliferated as of late, good news: The Wunder Unders in Luon are only available in black and grey. As Tiffani Robbins, who teaches a total body conditioning class at FitHouse, says, they're "not overwhelming — no patterns or cutouts."
Best leggings for high-intensity workouts
Another Lululemon staple our experts swear by is the Invigorate legging. Vanessa Chu, the co-founder of Stretch'd, knows a thing or two about leggings — "I probably have over 50 pairs" — slides these on for any running, cardio, or HIIT workouts. "I need sweat wicking for cardio and love if they have pockets in the back for stashing my credit card or a side pocket for holding my cell phone," Chu says. "This way I can have all I need when I'm literally on the run." These leggings are made in the brand's Everlux fabric, which is sweat wicking, breathable, and fast drying, and they have pockets on the side so you're never without your essentials. They're also high-waisted and have the added no-roll protection of a drawstring in the waistband so you don't have to worry about constantly pulling them up.
These Fast and Free tights from Lululemon also won't roll down on you. That's a must for Ediva Zanker, founder of intense boxing workout GRIT BXNG. "The last thing I would want is to have to take off my gloves to adjust my leggings," she says. So she looks for "leggings that hug snuggly against your body and don't show every drop of sweat." She says you can't go wrong with these. They look like the pair above with the same high waist, drawstring and side pockets. But uniquely these have an additional five pockets in the waistband, come in a longer length, and are made in a slightly more weightless fabric. The Nulux fabric promises to be sweat-wicking, quick-drying, and pass the squat test.
For a high-waisted legging that never needs adjusting, even during a dance cardio workout, Rosenberg prefers Ultracor. While other leggings sometimes feel droopy at the waist or in the legs, in these she "forgets they are on throughout the entire workout." She thinks the black-on-black star print is "the coolest," and the best for masking sweat. The extra-high waistband, she says, is also quite flattering.
Photo: retailer
For a pair with an even higher waist, try these All Access leggings, recommended by Sydney Miller, who teaches at SoulCycle and leads the livestream (and very sweaty) workout class Housework. "They probably have the highest waist of any leggings I've ever owned," says Miller. The bright color options and smooth texture are part of the appeal, too: "I have them in several colors, and I love the shiny finish," she says. "They're super sleek and flattering, and best of all, very comfortable to move in."
Photo: retailer
If you want something with some real shine, Miller told us about these metallic leggings from Heroine Sport. "These leggings straight up make me feel like I'm a super hero," says Miller. Like the All Access pair, they have a very high waist. And the metallic fabric is extremely opaque. "The fabric is thick enough that no one will ever see any skin you don't want them to see, but light enough to still be comfortable to work out in," says Miller.
For something in a more neutral finish, Tatiana Lampa, who teaches HIIT classes at Fithouse, and Dianna Falzarano, director of TRX programming at Flex Studios, are both fans of Nike Pro leggings, which hold up well in intense, high-impact workouts. As Falzarano says, "They're super compressive, so they're nice