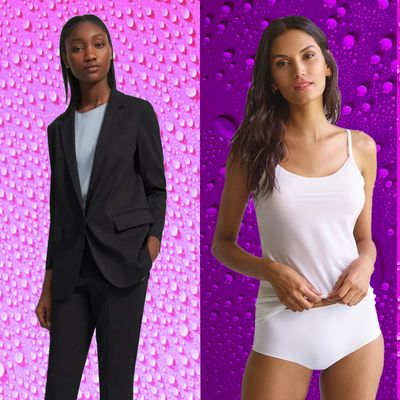 Photo-Illustration: Courtesy HBO
Although Labor Day is quickly approaching, summer's unofficial end (or its later official end, for that matter) doesn't mean an end to worrying about sweat stains. Putting together outfits that can withstand heat and humidity is really more of a year-round challenge for many reasons, including hot offices, traveling, and living in a warm climate, to name a few. Wherever you are, you obviously don't want to show up drenched in huge, wet blotches — nor, we suspect, do you want those to emerge halfway through whatever you're getting dressed for, either.
According to the seven experts we spoke with — including stylists and bloggers, one of whom calls herself an excessive sweater — there's a two-step approach to dressing for hiding sweat. The first step is finding pieces designed to keep you cool — to prevent sweating in the first place — and from there, looking for ways to minimize the appearance of sweat you can't avoid. As stylist and personal shopper Dina Scherer puts it: "If it's hot, you're still going to sweat, and you're still going to see the sweat sometimes. But there are a couple of ways to minimize it and be able to feel more comfortable." When dressing for any hot place where pumping up the air conditioning isn't an option, Scherer says to generally look for loose, breathable pieces made from natural fabrics like linen, cotton, and even silk. "Natural fibers always breathe more," she explains. "They will allow your skin to get rid of the sweat as opposed to condensing it inside and turning it into a puddle." Below, she and our six other experts share their picks for styles that'll keep you looking cool — even when you may be feeling anything but. We've conveniently broken them down by type of clothing, to make it even easier to find the exact sweat-hiding garments you need.
Best undergarments for hiding sweat
Although it's not on display to the world, an undershirt can be a workhorse in helping you stay dry. If you're wearing a button-down or another top with sleeves, Numi's undershirt will keep you free from unsightly pit stains, according to Valerie Halfon, a stylist and the founder of Shop With Val. She says Numi "patented a technology to help absorb underarm perspiration" and lines the underarms of its tops with a proprietary sweat-wicking material to keep moisture from showing though. "I've been recommending this product to my female clients for years," Halfon says. Plus, "they're incredibly soft and have a reversible neckline — crew or scoop," that makes them easy to pair with any type of shirt. Scherer told us she likes Numi's undershirts too because they're seamless for extra comfort.
Like the Numi undershirt, this one uses anti-sweat pads under the armpits to absorb sweat before it can seep into your top. Maria Thomas, founder of the blog My Life As a Puddle and a spokeswoman for the International Hyperhidrosis Society, told us she suffers from excessive sweating and relies on Thompson undershirts to stay dry. "I do notice a little bit more thickness underneath my arms," she says, "but it's nothing that's uncomfortable or would make me not want to wear the shirt." These are also cheaper than the Numi top, making it even easier to stock up.
We've written about how these Knix shorts guard against thigh chafing before, but Scherer told us they're just as useful for keeping your lower half dry thanks to their moisture-wicking materials. Thomas agrees that wearing shorts like this can help keep outer layers sweat free; she told us she'll often wear similarly fitted men's boxer briefs under dresses or skirts to catch any sweat that runs down her legs before it seeps into her other clothes.
For more minimal undergarments that still help hide sweat, Halfon likes Uniqlo's AIRism line. She says its underwear styles "use the type of technology found in activewear" to wick away moisture and avoid a swampy feeling. When it comes to tops, she recommends the AIRism undershirt with built-in bra as a way to prevent embarrassing underboob sweat.
Stylist Gaelle Paul told us this "whisper-weight" tank from Commando is among the lightest garments the brand makes. While its nylon-spandex material isn't natural, she promises it's plenty breathable — enough so that the cami can be layered under "an open shirt or lightweight jacket" without having to worry that sweat will seep through. Shown in white, it also comes in nude and black and has a raw-edge hem that lies flat against the body.
Paul says these VPL-free, lightweight briefs from Spanx help stop stomach sweat from showing through clothes because of their higher rise. While they do have a smoothing control top, the non-shaping briefs aren't compressive, and they mold to your shape, making them supercomfortable, she adds. Made of a stretchy nylon-elastane blend, they come in four skin-tone-matching shades as well as black and a snakeskin print, if that's your vibe.
Stylist Julia Gudova reminded us that period underwear — which is designed to "trap moisture and fight odors" — is a great option when it comes to hiding sweat, too. Her favorite pair from Knix is made with "comfortable fabric" (another nylon-spandex blend) and has a "timeless look" that's neither bulky nor ill fitting (in other words, it doesn't look like period underwear).
Underboob sweat can seep through a shirt, too, but this bra Gudova recommends can help prevent that. She likes this one from Proof that's made from a nylon-spandex blend and has removable inserts designed to wick away moisture. The bra is also wireless so, should any sweat form, you don't have to worry about an underwire rubbing against your skin and causing chafing. (Proof also makes period underwear that Gudova says has "super-heavy absorbency" powers.)
Best dresses for hiding sweat
Not surprisingly, several of our experts mentioned breezy, flowy dresses as a great way to prevent (and hide) sweat, since they won't cling to your body. For a sophisticated take on the summer dress, stylist Sheyna Imm loves this versatile black silk number. She admits that wearing a silk dress in the heat "sounds crazy," but she says this one is "superchic, and even when you're sweating like crazy, the fabric doesn't seem to be affected by it." Grana's silk is both lightweight and soft, and this loose-fitting style with slits on each side seems especially airy. Imm likes that it works for both a day at the beach and going out to dinner. And when it's not as hot out, this can easily be layered with a sweater and tights.
Imm also likes Los Angeles–based Lacausa, which she says "has the best dresses and loose-fitting cotton-linen blends." Its bohemian, California vibe lends itself to comfortable and breezy styles, like this flowy maxi dress that's great for staying cool and hiding sweat. "It's loose, for the most part, to offer comfort," Imm explains, "and has a pattern to mask any sweat marks that might sneak in." Plus, it's made from 100 percent cotton, so it'll be more breathable than a synthetic fabric. Imm also told us she likes Lacausa for its high environmental standards and commitment to ethical production. "They have a great moral compass as a business and a company competing in the world of fast fashion," she says.
With the lines blurring between workout wear, athleisure, and everyday clothing, it's possible to find wear-to-work pieces that use the same moisture-wicking, quick-drying fabrics as athletic gear. Halfon says Athleta makes "attractive, non-sporty-looking pieces" in technical fabrics, which are good choices when you want something tighter fitting that would otherwise stick to your skin and show sweat. This sleeveless dress is one of her favorites. Thanks to its spandex-and-nylon blend (a combo often seen in performance wear), it has the added bonus of being wrinkleproof.
The Exercise Dress from Outdoor Voices is also made of a nylon-spandex blend and has less fabric around the neck, allowing more skin to breathe. Although it wasn't mentioned by our experts, it does come recommended by Strategist editor Maxine Builder, who has called the dress "surprisingly excellent" because it's "very hard to stain with coffee or wine and remains supportive and comfortable, not constricting, all day long."
Best shirts for hiding sweat
Paul says these performance tees from Lululemon and Beyond Yoga, much like the dresses from Athleta and Outdoor Voices, are nice-looking enough to wear casually and are good at hiding sweat because they're designed for more active pursuits. Lululemon's is made of nylon and elastane and has a neckline Paul says is particularly flattering. The T-shirt from Beyond Yoga, meanwhile, is a blend of polyester and spandex and has a loose, flowing cut that she says makes it even more breathable.
"Linen is made for the heat," according to Halfon, who explains that "the natural fiber and light weave allow for maximum breathability." And because linen is a relaxed fabric, "it doesn't cling to the body." She especially likes Eileen Fisher's linen pieces since "the price point is high, but the quality is great." This classic short-sleeved top, which can be dressed up or down, is one of her go-to choices for hot days. "The boxy fit provides ease and ensures the fabric won't stick to your body," she adds. "When the fabric isn't touching your body, there's more room for air to get through, keeping you cool and perspiration to a minimum." Some very summery linen pieces may not work year-round (since the fabric lends itself to looking relaxed and often intentionally wrinkly), but this simple T-shirt can easily transition to fall and winter. And don't let the word jersey in the tee's name fool you: It is 100 percent linen (we checked).
Jennifer Yedid, a stylist with Harrison Style, says this affordable linen button-down would be "great with work pants or jean shorts on the weekend." She advises picking one up in white or black, since they're the best colors for masking sweat.
Like Imm, Scherer recommends silk pieces for beating the heat (and not showing sweat), even though they can be more expensive. "There's a reason a silk blouse costs more than a polyester blouse," she says, "but this is one of those cases where upgrading your wardrobe to something a little bit better is actually going to pay itself forward." Rebecca Taylor makes some of Scherer's favorite silk tops. This shirt's billowy sleeves and open eyelet texture will keep you cool and hide any sweat stains.
It's no secret that we're big fans of striped tees here at the Strategist, and stylist Bree Jacoby says Frame makes some of the best linen options out there. Along with the highly breathable fabric, she says the pattern makes sweat less visible.
Best pants for hiding sweat
While jeans may be a wardrobe staple, Halfon advises switching to chambray for occasions when you're worried about showing sweat, as the fabric is cooler and lighter than denim. She explains that, compared with denim, chambray "comes in a higher thread count, which means it's a finer weave and more breathable fabric, keeping you cool in dry heat and humidity. I love recommending it to clients because you get the look of denim without the weight and stiffness." For a polished look that still feels easy, consider these lightweight joggers from J.Crew.
Halfon told us Athleta also has pants that, like the dress she recommended, are made from fabrics that will help prevent and hide sweat. She likes the brand's linen joggers for looking put together while staying cool. Even though these are designed to function like athleticwear, they are a little nicer looking than the joggers you'd wear to the gym.
Although they're harder to wear year-round, loose-fitting palazzo-style pants are something Thomas often opts for in warmer months because the roomier cut makes them more breathable and better able to hide sweat. Scherer is also a fan of the cut, saying Vince is one of her go-to brands for easy, 100 percent cotton culottes. Their wide cropped legs won't stick to your skin, and the natural fibers will keep you cool.
Here's a significantly cheaper pair of culottes that offer the same sweat-beating cut, are also all cotton — and boast more than 400 five-star reviews on Amazon.
Best jackets for hiding sweat
If you have to wear a blazer to work, choose a summer style that won't leave you sweltering. This Theory number is one of Gudova's and Scherer's favorites because its linen fabric "is super-breathable and has stretch," according to Scherer, so you can move around comfortably.
Gudova also told us Theory's linen blazers are a good option if you're looking for a stylish, breathable jacket that isn't prone to revealing sweat. Made of the same fabric as the style above, her favorite double-breasted blazer has the added benefit of looking a little different — a bit more distinguished — than most.
For a more budget-friendly linen blazer, Gudova suggests this option from Zara. Like the Theory blazers, it's made from 100 percent linen, but it has a looser fit, which always works in your favor when trying to hide sweat. If a blazer is lined, Gudova advises to "make sure to pay attention to the fabric used for lining." The lining on this jacket is 100 percent viscose, which she says won't make you overheat.
Gudova explains that this linen blazer from Madewell has a cotton lining that only makes it breezier in the heat. It's not cut as loose as the blazers above, but the belt is removable so you can wear it open if you're worried you'll get too hot.
Best insoles for absorbing sweat
People may generally not worry as much about showing sweat in their shoes, but anyone who has skipped socks when it's warm knows foot sweating can be a big problem — especially when it leads to sliding around in a pair of flats or sandals. To keep her shoes dry, Thomas lines them with these peel-and-stick insoles. "My feet still sweat but the Summer Soles absorb the sweat and prevent that 'slip-and-slide' feeling," she says. They're durable enough to last a whole season, and inexpensive enough to replace when it's cold enough for tights or real socks again.
With additional reporting by Karen Iorio Adelson.
The Strategist is designed to surface the most useful, expert recommendations for things to buy across the vast e-commerce landscape. Some of our latest conquests include the best acne treatments, rolling luggage, pillows for side sleepers, natural anxiety remedies, and bath towels. We update links when possible, but note that deals can expire and all prices are subject to change.