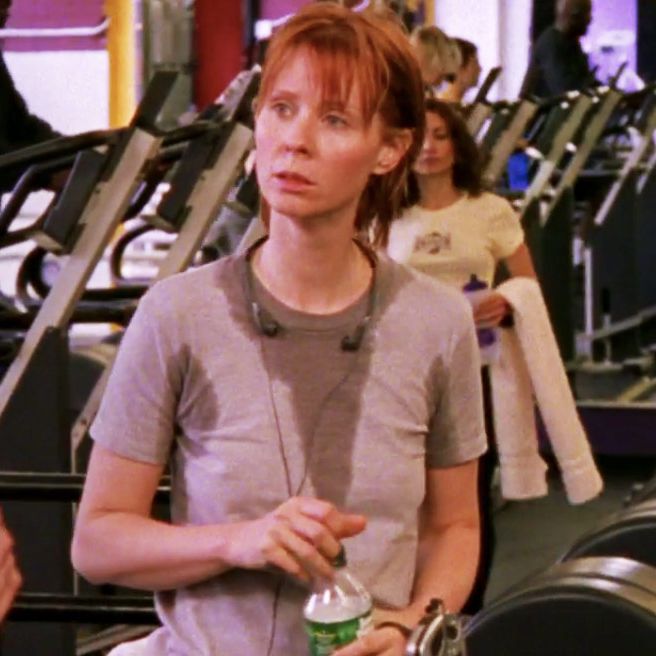 Although Labor Day is quickly approaching, summer's unofficial end (or its later official end, for that matter) doesn't mean an end to worrying about sweat stains. Putting together outfits that can withstand heat and humidity is really more of a year-round challenge for many reasons, including hot offices, traveling, and living in a warm climate, to name a few. And wherever you are, you obviously don't want to show up drenched in huge, wet blotches — nor, we suspect, do you want those to emerge halfway through whatever you're getting dressed for, either.
According to the five experts we spoke with — including stylists and bloggers, one of whom calls herself an excessive sweater — there's a two-step approach to dressing for hiding sweat. The first step is finding pieces designed to keep you cool — to prevent sweating in the first place — and from there, looking for ways to minimize the appearance of sweat you can't avoid. As stylist and personal shopper Dina Scherer puts it: "If it's hot, you're still going to sweat, and you're still going to see the sweat sometimes. But there are a couple of ways to minimize it and be able to feel more comfortable." When dressing for any hot place where pumping up the air conditioning isn't an option, Scherer says to generally look for loose, breathable pieces made from natural fabrics like linen, cotton, and even silk. "Natural fibers always breathe more," she explains. "They will allow your skin to get rid of the sweat as opposed to condensing it inside and turning it into a puddle." Below, she and our four other experts share their picks for styles that'll keep you looking cool — even when you may be feeling anything but. We've conveniently broken them down by type of clothing, to make it even easier to find the exact sweat-hiding garments you need.
Best undergarments for hiding sweat
Although it's not on display to the world, an undershirt can be a workhorse in helping you stay dry. If you're wearing a button-down or other top with sleeves, Numi's undershirt will keep you free of unsightly pit stains, according to Valerie Halfon, stylist and founder of Shop With Val. She says Numi "patented a technology to help absorb underarm perspiration," and lines the underarms of its tops with a proprietary sweat-wicking material to keep moisture from showing though. "I've been recommending this product to my female clients for years," she says. Plus, Halfon adds, "they're incredibly soft and have a reversible neckline — crew or scoop," that makes them easy to pair with any type of shirt. Scherer told us she likes Numi's undershirts, too, because they're seamless for extra comfort.
Like the Numi undershirt, this one uses anti-sweat pads under the armpits to absorb sweat before it can seep into your top. Maria Thomas, founder of the blog My Life As a Puddle and a spokeswoman for the International Hyperhidrosis Society, told us she suffers from excessive sweating and relies on Thompson undershirts shirts to stay dry. "I do notice a little bit more thickness underneath my arms," she says, "but it's nothing that's uncomfortable or would make me not want to wear the shirt." They're also cheaper than the Numi tops, making it even easier to stock up.
We've written about how these Knix shorts guard against thigh chafing before, but Scherer told us they're just as useful for keeping your lower half dry, thanks to their moisture-wicking materials. Thomas agrees that wearing shorts like this can help keep outer layers sweat-free; she told us she'll often wear similarly fitted men's boxer briefs under dresses or skirts to catch any sweat that runs down her legs before it seeps into her other clothes.
For more minimal undergarments that still help hide sweat, Halfon likes Uniqlo's AIRism line. She says their underwear styles "use the type of technology found in activewear," to wick away moisture and avoid a swampy feeling. And she recommends the AIRism undershirt with a built-in bra as a way to prevent embarrassing under-boob sweat.
Best dresses for hiding sweat
Not surprisingly, several of our experts mentioned breezy, flowy dresses as a great way to prevent (and hide) sweat, since they won't cling to your body. For a sophisticated take on the summer dress, stylist Sheyna Imm loves this versatile black silk number. She admits that wearing a silk dress in the heat "sounds crazy," but she says that this one is "superchic and even when you are sweating like crazy, the fabric doesn't seem to be affected by it." Grana's silk is both lightweight and soft, and this loose-fitting style with slits on each side seems especially airy. She likes that it works for both a day at the beach or going out to dinner. And when it's not as hot out, this can easily be layered with a sweater and tights.
Imm also likes Los Angeles-based Lacausa, which she says "has the best dresses and loose-fitting cotton-linen blends." Its bohemian, California vibe lends itself to comfortable and breezy styles, like this flowy maxi-dress that Imm specifically recommended for staying cool and hiding sweat. "It's loose, for the most part, to offer comfort," she explains, "and has a pattern to mask any sweat marks that might sneak in." Plus, it's made from 100 percent cotton, so it'll be more breathable than a synthetic fabric. Imm also told us she likes Lacausa for its high environmental standards and commitment to ethical production. "They have a great moral compass as a business and a company competing in the world of fast fashion," she says.
Photo: Courtesy Athleta
With the lines blurring between workout wear, athleisure, and everyday clothes, it's possible to find wear-to-work pieces that use the same moisture-wicking, quick-drying fabrics as athletic gear. Halfon says Athleta makes "attractive, non-sporty-looking pieces" in technical fabrics, which are good choices when you want something tighter-fitting that would otherwise stick to your skin and show sweat. This sleeveless dress is one of her favorites. Thanks to its spandex and tencel blend (a combo often seen in performance wear), it has the added bonus of being wrinkle-proof.
Best shirts for hiding sweat