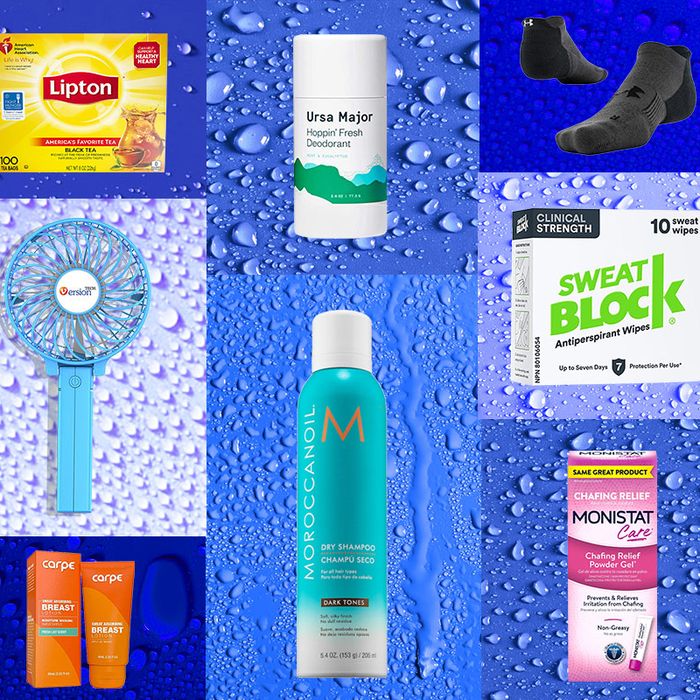 Photo-Illustration: retailers
Step outside on a sweltering summer day and you know that keeping perspiration in check requires far more than a daily swipe of deodorant. Sweat is a full-body affair. It leaves our hair greasy, melts our makeup, and makes us hot and uncomfortable in even our most intimate areas. As we enter the steamy days of late summer, we're devoting an entire week to all the ways sweat affects us — and all the best products for dealing with it.
We tackled the body from nose to tail, solving problems ranging from thigh chafing to foot sweat, and consulted a wide range of experts, including dermatologists and podiatrists, endurance athletes, makeup artists tasked with keeping clients shine free under stage lights, and even TikTok perspiration sage Madame Sweat. And while our exploration of all things sweaty goes far beyond deodorants, we've got plenty of those, too, from clinical-strength anti-perspirant wipes so powerful you need to apply them only once a week to all-natural, aluminum-free formulas that absorb sweat using ingredients like baking soda and charcoal.
Whether you sweat a little or a lot, check back here daily, as we'll be adding stories on all the ways to manage perspiration, no matter where it pops up. Welcome to Sweat Week at the Strategist.
Writer Dominique Pariso, a self-described "very hot sleeper," tried all manner of keeping herself cool at night: breathable linen sheets, a temperature-regulating duvet, cranked-up AC. So she decided to test this more advanced sleeping system, which circulates cold water to the mattress pad to keep it as low as 55 degrees Fahrenheit. Her verdict: "From the very first night, I never had to toss and turn to find the cool side of my mattress — the system really did keep my bed feeling cool all night long. I could even keep my comforter on."