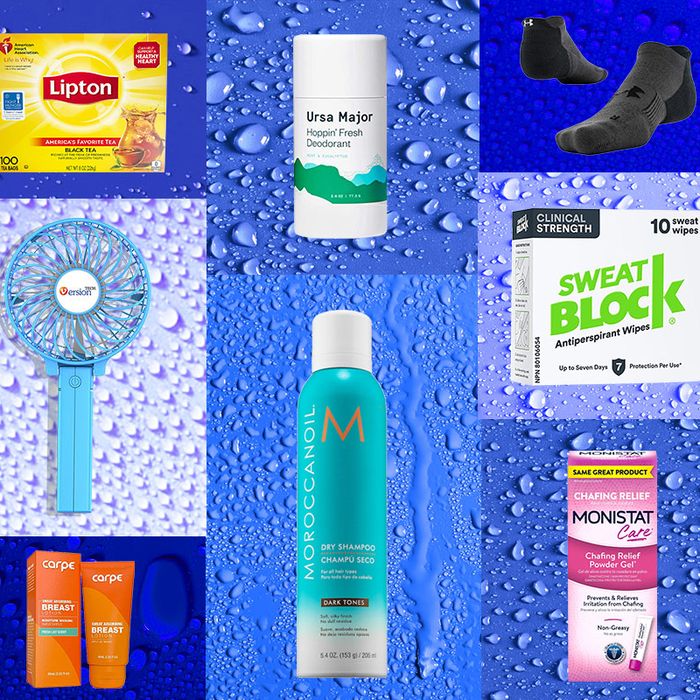 Photo-Illustration: retailers
Step outside on a sweltering summer day and you know that keeping perspiration in check requires far more than a daily swipe of deodorant. Sweat is a full-body affair. It leaves our hair greasy, melts our makeup, and makes us hot and uncomfortable in even our most intimate areas. As we enter the steamy days of late summer, we're devoting an entire week to all the ways sweat affects us — and all the best products for dealing with it.
We tackled the body from nose to tail, solving problems ranging from thigh chafing to foot sweat, and consulted a wide range of experts, including dermatologists and podiatrists, endurance athletes, makeup artists tasked with keeping clients shine free under stage lights, and even TikTok perspiration sage Madame Sweat. And while our exploration of all things sweaty goes far beyond deodorants, we've got plenty of those, too, from clinical-strength anti-perspirant wipes so powerful you need to apply them only once a week to all-natural, aluminum-free formulas that absorb sweat using ingredients like baking soda and charcoal.
Whether you sweat a little or a lot, check back here daily, as we'll be adding stories on all the ways to manage perspiration, no matter where it pops up. Welcome to Sweat Week at the Strategist.
Writer Dominique Pariso, a self-described "very hot sleeper," tried all manner of keeping herself cool at night: breathable linen sheets, a temperature-regulating duvet, cranked-up AC. So she decided to test this more advanced sleeping system, which circulates cold water to the mattress pad to keep it as low as 55 degrees Fahrenheit. Her verdict: "From the very first night, I never had to toss and turn to find the cool side of my mattress — the system really did keep my bed feeling cool all night long. I could even keep my comforter on."
Most conventional sunscreens melt away little by little as you sweat, making them less effective at protecting your skin from harmful UV rays. There is no official label to look for that proves whether a sunscreen is sweatproof or not, but you can look for ingredients like perlite and silica that give sunscreen more sticking power. To save you time, we talked to dermatologists and athletes who spend a lot of time working out in the sun about the sweatproof sunscreens they use and love.
By far the most popular kind of sweatproof sunscreens we heard about were stick sunblocks like this one from Blue Lizard, which comes recommended by two dermatologists: Dr. Hadley King and Dr. Orit Markowitz. King says that mineral sunscreens in stick form work better because they tend to go on thicker, meaning they "provide good coverage and don't come off easily with sweat."
Professional beach volleyball player, Traci Callahan recommends this mineral sunscreen from Skinceuticals. "I wear sunscreen every day when I am outside on the sand. I apply it 15 minutes before I arrive at practice, which lasts around two hours. This sunscreen is my favorite because it's easy to apply, goes on smooth, doesn't run into my eyes, and I never get a sunburn," she says.
A few months ago, writer Chloe Anello noticed lots of brands posting about boxer shorts for women. "Temperatures had already hit 90 degrees. Suddenly, even my sweat shorts and bike shorts felt too heavy and sticky," she writes. She gave into the pressure and picked up a pair of on-sale boxer shorts at J.Crew to see if they could keep her cool while looking cute, and they did. She's since worn them out to dinner, to doctor's appointments, on dog walks, and more. "Not only have I received more compliments on them than any other (actual) shorts I own," she says, "but they are also easier and breezier to wear in heat than any other shorts I own."
For this special Sweat Week edition of senior writer Karen Idorio Adelson's On the Run column, she spoke with pro mountain runner and coach Sally McRae, the winner of this year's Badwater ultramarathon. Known as "the world's toughest footrace," Badwater is a 135-mile race through Death Valley, where the daytime temperature can top 120 degrees. McRae breaks down everything she wore and brought to get her through this very sweaty, 30-hour journey.
McRae found this hat on Amazon back in 2018 when she ran Badwater for the first time and needed a way to cover up the exposed skin on her face and shoulders. "It really took away the intensity of the heat," she says. "Obviously, I'm still feeling it, but not having that sun beat down on my face was key."
Replacing electrolytes lost through sweat is incredibly important in a race like this, and McRae relied on Nuun for maintaining the right blend of these essential salts like sodium, potassium, and magnesium.