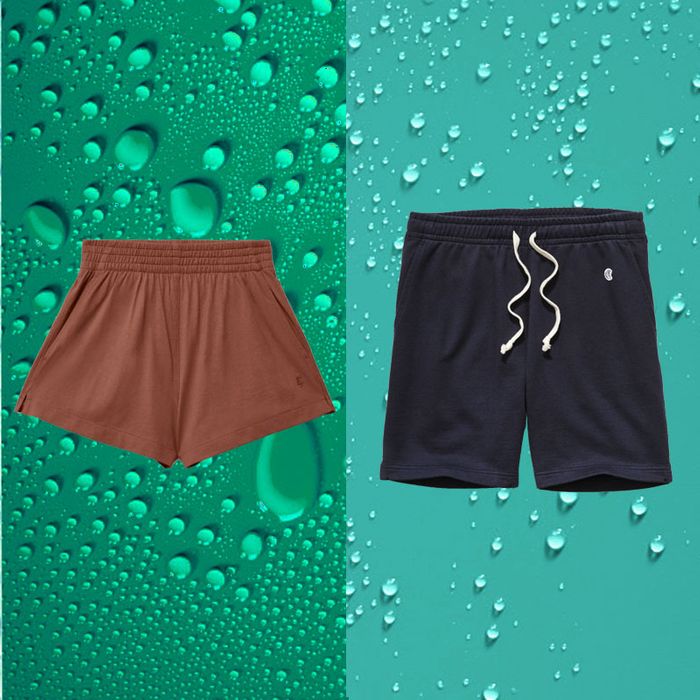 Photo-Illustration: The Strategist. Photos: Courtesy of the Retailer
When it got too hot to work from home in sweatpants, many of us turned to an equally comfortable but far less suffocating solution: sweatshorts. Like your favorite cutoffs, sweatshorts should be supercomfortable and make your butt look great. And right now, they're crazy popular. Nearly every clothing brand you can think of makes a version of the loungewear basic in a wide array of colors and lengths. To find the best sweatshorts for men and women, we talked to a bunch of stylish people about the ones they wear and love as well as a few they're looking to pick up.
The best men's sweatshorts
Several people mentioned Todd Snyder x Champion sweatshorts, including stylist Donnell Baldwin and Brian Davis, owner of vintage-clothing store Wooden Sleepers. Davis has them in navy with a seven-inch inseam. "They're comfy enough to lounge around at home but considered enough for an emergency ice-cream run," he says.
Baldwin also told us about these more luxe sweat shorts from British menswear brand Sunspel, which is mostly known for its impossibly soft T-shirts worn by the likes of John Mayer. Like the tees, Baldwin says its sweatshorts are supersoft. "Before owning anything from Sunspel, I was like, What's the big deal? Then I got to test them out and I was like, Oh, never mind. This is something different.'"
Steve "Sweatpants" Irby told us this green pair is his current favorite. "Right now, I think Daily Paper sweatshorts are the best. The cut, the material, and just how clean they are with pretty much any fit easily makes them my favorite pair out," he says.
Irby also likes this option from Carhartt WIP. "I'm more of a classic New Yorker, so basketball shorts will always be my go-to. But I do own a couple of Carhartt WIP sweatshorts, mainly because they are too cozy to be denied," he says.
Dustin Winegardner, partner and managing director of sustainable-clothing brand Arvin Goods, has these shorts in two iterations. "I have an older, pre-sustainability version of these that I wear often. Then I got the new and improved version that's part of Nike's Move to Zero collection. It's made from a recycled-poly–organic-cotton blend. They took an already great item and made it better," he says.
Winegardner's colleague Harry Fricker also opts for sweatshorts made from sustainable mate