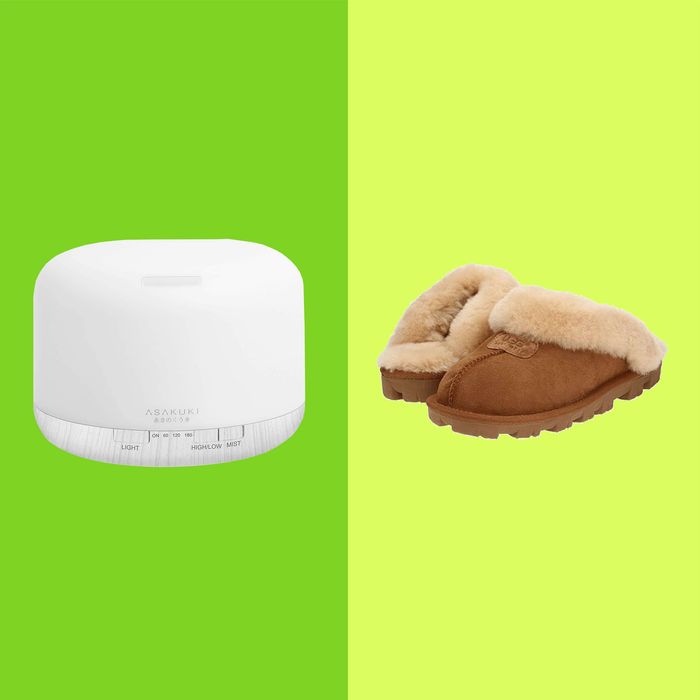 Gifts for all kinds of moms.
Photo-Illustration: Courtesy of the retailers
Needless to say, there's no one-size-fits-all gift for moms. Some moms are in their 20s; others are in their 90s. Some moms like to cook; others like to drink. Some like linen; others prefer a hardy pair of slippers. So coming up with the best gifts for a mom can feel like an impossible task. (Gifts for dads can be equally tricky.) What we've attempted to do below is to find gifts for dozens of specific mom archetypes that we hope will at least spark some ideas.
While almost all of the things on this list are available on Amazon, we've found many of them elsewhere, too, for those who like to shop around. Click here to jump to gifts under $25, under $50, under $100, under $200, and under $500.
For the mom who loves RHONY
For the mom with a green thumb
For the mom trying to kick her caffeine habit
For the mom who needs to step up her skin-care routine
For the mom who needs a bit more help falling asleep
If she needs total darkness and a little padding for her eyes, you can't go wrong with this memory-foam sleep eye mask that Rio loves. "It forms perfectly to your eyes, sealing them from any outside light," she promises. The mask, Rio adds, is "thick, bouncy, and cushiony," like a tiny pillow for your face.
For the mom with cracked heels
For the mom who always writes notes
The Moleskine Volant is one of our favorite notebooks, and it provides the ideal place for Mom to jot down any notes, to-do lists, or daily musings. It's also the perfect size to fit in a bag, and the pages are detachable.
For the mom who golfs
According to Brian Golden, PGA director of golf at Sandy Burr Country Club in Wayland, Massachusetts, these gloves have the benefit of being slightly thicker than your typical golfing glove, meaning fewer blistered thumbs.
For the mom who's hosting Zoom cocktail parties
She'll love to (virtually) show off these lovely "museum quality" napkins in front of her friends.
For the mom who likes a warm scent
This sandalwood body lotion has an incredibly cozy scent and is thicker than your average body lotion, making it ideal for the driest winter days.
For the mom who's tired of traditional lotion
We hear lotion bars make great gifts for moms (and grandmothers, too), and this one is full of nourishing ingredients like cocoa butter and essential oils.
For the mom with a thing for snail mail
If she hasn't quite caught on to the whole virtual-greeting-card thing, help replenish her inventory of cards with this colorful pack she can mix and match.
For the mom who birdwatches
Whether she has a bird feeder or prefers to do as illustrator Liana Finck does and simply sprinkle treats on the window sill, she'll enjoy this sack of Deluxe Blend birdseed.
For the mom who could use a massage
Since it may be a while before she can get a massage at a spa, gift her this acupressure mat, which is one of our favorite things for relieving stress.
For the (dog) mom who likes to multitask
If she's the kind of dog mom who has so many emails to respond to she's practically too busy to take the dog for a walk in the first place, this hands-free SparklyPets leash can be worn as a belt for hands-free walking.
For the mom who runs outside