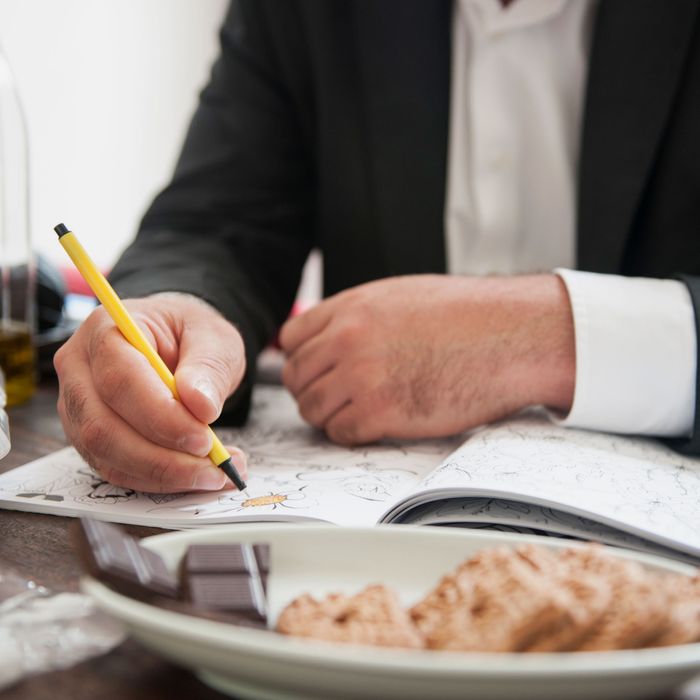 Photo: LUCY LAMBRIEX/Getty Images
Here at the Strategist, we like to think of ourselves as crazy (in the good way) about the stuff we buy, but as much as we'd like to, we can't try everything. Which is why we have People's Choice in which we find the best-reviewed products and single out the most convincing ones. (You can learn more about our rating system and how we pick each item here.)
And while we've written about lots of things that help you reduce stress — including the best CBD products, the best items for calming anxiety, and a highly-effective stress-treatment oil, — here we've rounded up the best adult coloring books, as praised by the most enthusiastic reviewers on Amazon.
Best-rated adult coloring book
"So, you may have read about the new trend in 'Adult Coloring Books.' THIS is THE book that started it," writes one shopper, who adds, "There are plenty of publishers who have tried to emulate what this book offers, (and I've been stupid enough to try others), and trust me, NO other book compares to Johanna Basford's coloring books." It's so beloved, over 80 percent of reviewers gave it five stars, and many highlight the quality of the paper. "I would say this is by far the highest quality coloring book I have," one reviewer writes, describing the paper as "amazing. It's heavy weight and holds markers and colored pencil well." Others praised the clarity of the coloring patterns. "Clearly defined shapes. It sounds basic, but I've used coloring books where the shapes aren't finished. That makes for a frustrating color," one customer writes. "The shapes in this book are all really well drawn." And many reviewers liked the intricate patterns in the designs. "The drawings are intricate and wonderful. Real drawings, not just repetitive patterns. there is something for everyone here," says one reviewer. Another writes, "The patterns are gorgeous and very intricate."
Best-rated (less expensive) adult coloring book
Reviewers were pleasantly surprised by the quality of this coloring book, even at its low price. "I bought this book originally expecting to get what I paid for as the price is so low, but my expectations were exceeded the second I opened it," says one. Another writes, "Very cheap price, lots of great designs, good quality paper." Shoppers liked the variety of patterns in the book, too. "Different styles of coloring pages from paisley to mandalas and beyond," writes one. Another says, "This book is a really good stress reliever, especially for the price! There is a great variety of patterns. Out of the 48 patterns, some of them are mandala like, others are just really nice designs. Some take longer than others, so I like that I can pick a design that I have time for."
And now for some micro-picks for every type of adult coloring book you might be looking for. 
Best adult coloring book for stress relief
"It is very much a stress reliever," writes one. "Once I pick up the colored pencils and start coloring the world around me just fades away as I watch the pattern come alive on the page." And many other reviewers looking to lower their stress levels loved this coloring book, with many saying that using it helped them relax. It also gave shoppers a sense of nostalgia. "Love this book…It is a stress reliever. I loved to color as a child so it also brings back memories of a time without stress," writes one. Another says, "Childhood's best memories and time passing recreated for our hectic adult lives. It's great." And one reviewer notes that the book's layout lets you improvise, if you so choose: "The designs are simple to color but I love that they have a lot of space on each page outside of the design allowing you to do your own scribbles if you so see fit."
Best adult coloring book for animal lovers
Animal lovers praised this coloring book highly, with one writing, "This is a wonderful coloring book with artistic drawings of animals that will delight any animal lover." Another says, "I absolutely love this book. I am an animal lover so I knew this would capture my interest. I was not disappointed. Not only were there many different animals to choose from but the style was perfect." Shoppers noted that the patterns in the book are intricate, which helped focus their minds as they colored. "I chose this one over the others because I really liked the animal theme. The patterns are a lot more intricate, so it required a lot more focus, which is important because it doesn't give my mind any room to wander," says one customer. "If you put in the effort, the final product is beautiful, so I always feel pretty accomplished even though I didn't draw the picture myself."
Best adult coloring book with hidden objects
Reviewers loved the addition of hidden objects and mazes in the pages of this coloring book. "Beautiful pictures, hidden objects, mazes and a surprise behind the castle doors. Highly recommend," one raves, while another says, "The artwork is whimsical, detailed, and absolutely gorgeous. There are a few mazes, and a few pages which allow you to add something of your own creation." Other shoppers praised the thick pages of the book. "I love that the pages can handle markers, too. They're thick and of the best quality paper you can find in a coloring book," one reviewer writes, adding, "The price you pay for this coloring book is about that of a child's coloring book, so it is more than worth it!" Another says, " The illustrations are on the front and back of each page, but the paper is a nice heavy quality so there is no bleed-through."
Best adult coloring book for owl lovers
Several shoppers bought this as a gift for bird-loving friends and family, including one who says, "I got this book for my mom, for her birthday, and she loves it! The drawings are very intricate, so you can really have fun creating your own thing. Also, if your a bird lover, which my mom is, you'll get a kick out of the owls. Owls are cool." Another writes, "Bought for an owl enthusiast. She loved it." And an owl fan weighed in, too: "I absolutely love this coloring book. It has some strange characters in it such as wizard owls, peace owls, wedding owls, love bird owls, priest/priestess owls, farmer owls, witch doctor owls and many more."
Best fashion adult coloring book
"Great adult coloring book, especially interesting as a former costume curator. The fashion plates are wonderful," writes on pleased customer. Other fashion lovers praised this book highly, too. "Gorgeous designs. I very much enjoy coloring these lovely fashions, and really like the quality of the paper as well as the pictures themselves," says one. Another writes, "The person who drew these did a nice job researching the fashions of each era." It even appealed to one reviewer who isn't interested in fashion: "I really like this book, which surprised me because I am not into fashion…I colored 5 drawings straight away, and I intend to complete them all."
Best swirl-style coloring book for adults
Shoppers found that the swirl patterns in this book were especially helpful for reducing stress. "As a colorist, I find that there is something extra-fun and relaxing while working on 'swirls' in designs," writes one shopper. "If you've done it before, you know how much fun it is to create with those patterns. If you haven't tried it, start with this book." Another says, "If you don't want to waste a lot of time with tiny detailed books, then this is the one for you. Graceful swirls are not only pretty, but non stressful. After all, you are doing this to relax, right? This is a nice starter set and would make an excellent gift." This book even converted a nonbeliever: "When adult coloring books came out I thought that was soooo stupid! Darn things, now I'm hooked. I have 4 now, and this is my favorite one. Those darn swirl patterns have me in a trance."
Best nature-inspired adult coloring book
Butterfly and flower lovers praised this one highly for its lovely garden prints. "I LOVE butterflies and flowers. So truly realistic. Pictures are true to life," writes one shopper. "Sometimes you can almost imagine the butterflies flitting from flower to flower. A joy to color in and display. Simply, loved this book. Highly recommend it to others who enjoy coloring natures blessings." Another reviewer says, "These butterflies are fun to color with the set of colored pencils I bought. There are endless color combinations so I'm having fun doing it occasionally when I'm 'watching' TV." One shopper also notes that the patterns in this book can be enjoyed by colorists of all skill levels. She calls it a, "Fabulous book for butterfly lovers. Includes fine, intricate designs for seasoned artists as well as large, easy to color designs for beginners. It truly is stress-relieving to sit and color these beautiful pictures, creating your own unique look."
Best swear words adult coloring book
Colorists looking for a laugh enjoyed this coloring book. "This is super fun," writes one. "These had funny sayings and I giggle every time I work on one." One shopper gave this to a "snarky, quick-witted, proud vulgarian" friend, who has been dealing with depression and PTSD. It was a hit: "He absolutely loves it, and seeing his face light up, and watching him giggle and exclaim over the different pages was priceless. This is a real winner," she says. And another reviewer found that this coloring book became a fun way to blow off steam at the end of a long day. "When I saw this book, I had an immediate laugh," they write. "When it arrived yesterday I was having a bad day and it was awesome to be able to open the book and pick a page that fit the mood and start coloring."
Best motivational adult coloring book
Shoppers loved the cheeky and positive messages in this book. "I got this for a friend of mine who loves dirty language," writes one. "What really attracted me to the book is that it's filled with positive and motivational messages which somehow makes the swearing even funnier." Dozens of reviewers also raved about the "black-out" style pages, which made their coloring pop, and held the ink from their coloring utensils without bleeding through. "I love coloring books that have a black background, that way the colors pop. But what made this one stand out, aside from the lovely cursing, is that the pages are thick enough that even marker doesn't bleed through," comments one reviewer. "As I was coloring, I kept checking the back of the page and the page below, but no bleed through so far." And those looking for a coloring book that is a little less intricate liked the layout of this one. "If you love reading fun phrases and cursing up a storm this is the coloring book for you," comments one person. "Another aspect of this coloring book that I love is that it doesn't have the teeny tiny details of other 'adult' coloring books. I'm not a great colorer by any means so those drive me crazy. Highly, highly recommend!"
The Strategist is designed to surface the most useful, expert recommendations for things to buy across the vast e-commerce landscape. Some of our latest conquests include the best acne treatments, rolling luggage, pillows for side sleepers, natural anxiety remedies, and bath towels. We update links when possible, but note that deals can expire and all prices are subject to change.
Every editorial product is independently selected. If you buy something through our links, New York may earn an affiliate commission.