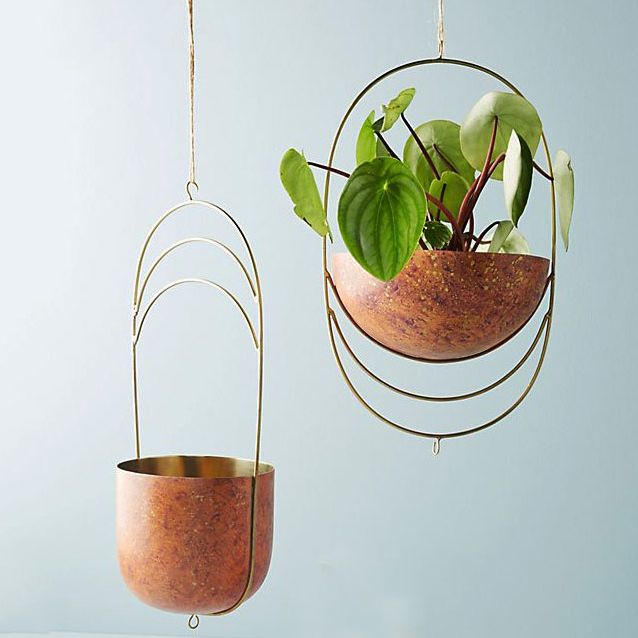 Photo: Courtesy of the retailer
Step into any nursery or farmers market and you'll find rows upon rows of plants hanging overhead in the green plastic pots with the chunky hook. According to Jessie Waldman of Pistils Nursery in Portland, Oregon, those pots signal which plants might do well hanging in your home. "That's the growers saying, 'Hey, this is a good hanging plant, so here's a little hanger for you.'" But they're not necessarily meant to be the hangers you use.
The best plant hangers check multiple boxes: They're easy to use, eye-catching, and sufficiently roomy. Just as there are millions of hand-thrown, artfully splattered ceramic planters or minimal, modern ones, the hanging-planter market is chock-full of choices. We talked to Waldman and other plant experts — George Pisegna, deputy director chief of horticulture at the Horticultural Society of New York; Ariana Tanabe, a Los Angeles–based "plantfluencer"; and Baylor Chapman, a plant stylist and author of Decorating With Plants — to help you find the best hanging-plant situation for your living room, kitchen, office, or bathroom (assuming there's sufficient sunlight).
The best hanging straps
To get started, Baylor and Waldman both stressed their love of low-maintenance plants and hangers. That means planters that can accommodate many different pots and plants that don't mind low light and won't die if you forget about them for a week or two (more on the best plants to hang later). Waldman's advice: Choose something that can grow with your plant and that you can easily detach from the pot. "At some point, you're gonna have to repot your plant, and you might not wanna change the spot where it lives. You should be able to take your plant down, put it into a pot that's two inches bigger, and then the hanger you already have in place can immediately accommodate that." If you have a pot you like, all you need is a set of these leather straps.
Strategist writer Karen Iorio Adelson is a fan of Mkono plant hangers for their mix of ceramics and simple ropes that call to mind macramé without going all in.
Tanabe likes these minimal fabric straps that let the plant take center stage. "Personally, I prefer clean lines, such as strappy hangers, instead of knotty, bead-embellished macramé. I prefer to let the plant be the star."
The best wall-mounted plant hangers
Chapman, who dedicated a section of her book to bathroom plant design, uses suction cups to hang small plants like air plants or succulents on her shower wall or bathroom mirror. "I use some sort of soap dish with suction cups. You can put a little suction-cup planter against your mirror or wall. You can put a plant in that soap dish or any little contraption that hangs that way." These self-watering planters hang from suction cups and come in a three-pack of multiple sizes.
This pod planter also uses suction cups to hang from a window, tile wall, or mirror.
The best macramé plant hangers
When asked about their most popular plant hangers Waldman said "macramé is probably one of our best sellers." The craft can bring as much or as little 70s flare to your home depending on your personal preference.
"Sometimes macramé can be a little loud for people." said Waldman. But if you're not afraid of going big with your hanger, this elaborate woven hanger is great for highlighting your most dramatic plant.
The best decorative plant hangers without drainage holes
For those who want to make a statement but aren't into the look of macramé, handmade ceramics and sculptural pieces are great options. Many decorative plant hangers, however, require layering another pot inside to make watering easy and mess free. Everyone we spoke to advised using a cachepot to prevent hanging plants from dripping on your rug or furniture. "A cachepot is essentially a decorative exterior container that doesn't have a drainage hole. So you keep your plant in its plastic pot and just kind of pop it in there," said Waldman.
When it comes to her own houseplants, Tanabe tries to match specific ones to specific types of hangers. "I have a Hoya that I've never taken out of it's six-inch grower's pot. I have it hanging in a cachepot with no drainage. So I water directly into the grower's pot and make sure it's not sitting in water afterwards." This set of copper cachepots can be hung separately or together and their large size makes layering a grower's pot inside simple.
Editor's Note: These hanging pots from Anthropologie are out of stock, but you can find similar minimalist cachepots at Bloomingdale's and Amazon.
The best shelf-style plant hangers
Chapman let us in on her favorite DIY solution for displaying plants vertically: "I use these rectangular planting boxes that I just literally set on bookshelf brackets I get at the hardware store and rest my plants right in there in their little pots." Small hanging shelves or shelf-style hanging planters achieve the same effect and have the added benefit of simple drip-free watering.