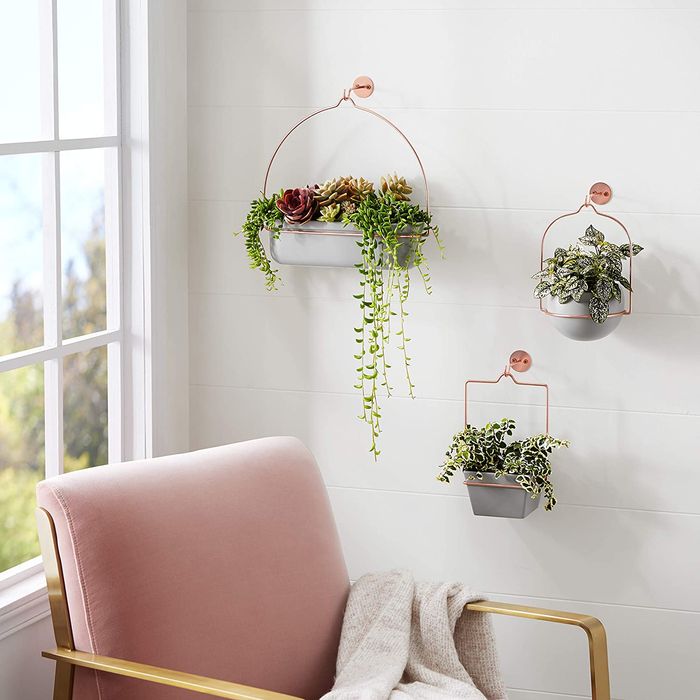 Photo: Courtesy of the retailer
We love plants here at the Strategist. We've written about low-light plants, off-the-radar indoor plants, status plants, pet-safe plants and more. (Much more.) The right plant can practically transform an interior space, but not if you leave them in those plastic nursery pots they're sold in at plant stores — or when they're shipped to your door through one of the many online plant sellers.
Leaving plants in those plastic pots isn't necessarily a disaster, but it's a missed opportunity. A simple ceramic pot can make that big Bird of Paradise or Monstera look less like an impulse purchase on your way out of Ikea, and more like a thoughtful addition to your living room décor. And if you're nervous about repotting, don't worry. You can leave your plant in that plastic pot for now. (You'll need to repot it eventually once it grows enough, but we can worry about that later.) Just get a slightly larger decorative pot and slip the plastic pot inside as a liner. As a bonus, this makes watering even easier because you don't need to worry about drainage and you can easily do everything in the sink if you want.
If you want to upgrade your indoor greenery (and zhuzh up your décor at the same time), all you need is the right pot or planter. To save you some time from looking at a lot of wrong pots, we scoured Amazon to find some of the best options for any sort of plant: Trios of tiny pots for windowsill mini-succulent gardens; colorful and patterned containers that work on home-office desks, coffee tables, and end tables; plant stands for the crown jewel of your plant collection; along with hanging planters, outdoor planters, vases and more.
For your plant that's not quite as tall as you'd like it to be yet, this 20-inch tall planter will give it the boost it needs.
At first glance, this planter might look like delicate cane, but it's actually made from ceramic, making it both trendy and sturdy. It's the perfect size for a window sill but would also add a nice touch to a home office desk.
This bright blue is exactly the pop of color your home needs this spring.
If you have a backyard, patio, or generously sized fire escape, this rectangular wooden planter is the perfect basin for starting a vegetable or herb garden.
Amazon has no shortage of cute planter sets to choose from, but we appreciate the modern design and playful colors in this bright-blue trio.
This even more of-the-moment set is perfect for a collection of mini succulents.
If your plants are on the bigger side, the largest pot in this trio of black planters with elegant gold stands is 12-inches wide, making it perfect for your ever-growing bird of paradise.
A slight variation on your traditional round planter is this tall and narrow one. It would make a nice compliment to the shape of a snake plant, or get two for a stately entryway display on the front porch.
A hexagonal rose-gold pot may be predictably millennial, but the bold geometric shape should make any succulent pop. It's practically asking to be placed on a windowsill where the angled sides can catch the light.
[Editor's Note: You can order this planter now, but it won't ship until after it's back in stock on April 30.]
Just as metallic but a little more streamlined are the pots in this twofer, each of which has a brushed-brass finish. The set comes with a larger 6-inch and a smaller 5.25-inch pot.
These tiny, marble pots include bamboo trays to capture water and soil leakage. Fill the pastel set with a trio of mini succulents.
Sold with their separate bamboo trays, these ceramic mini-pots would be right at home at an all-day café.
For slightly medium-size plants, like this royal-purple bougainvillea, go with one of these clean-lined ceramic planters with delicate gold accents.
The scalloped edge and green color add playful touches to this otherwise minimalist planter.
If you like the look of terrazzo, this set of three ceramic pots for your succulents will allow you to add small hits of it throughout your house.