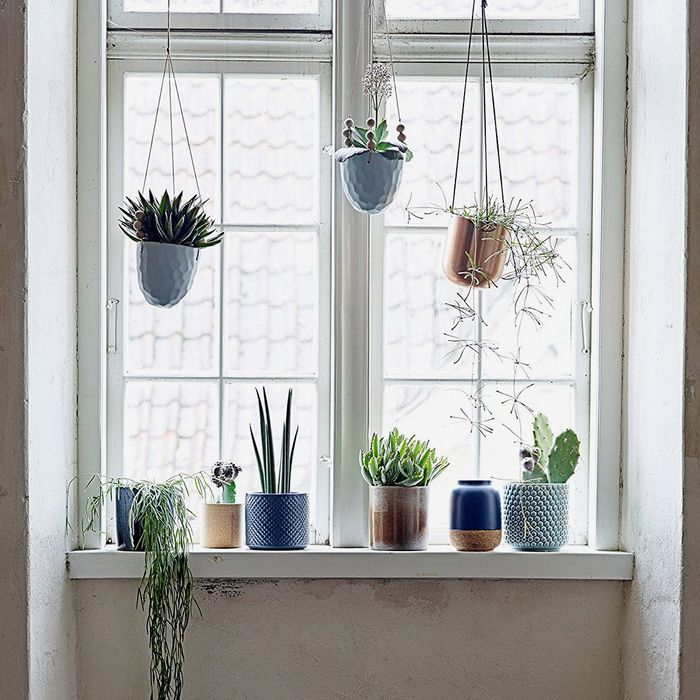 Photo: Courtesy of the retailer
We love plants here at the Strategist. We've written about low-light plants, off-the-radar indoor plants, status plants, pet-safe plants and more. (Much more.) The right plant can practically transform an interior space, but not if you leave them in those plastic nursery pots they're sold in at plant stores — or when they're shipped to your door through one of the many online plant sellers.
Leaving plants in those plastic pots isn't necessarily a disaster, but it's a missed opportunity. A simple ceramic pot can make that big Bird of Paradise or Monstera look less like an impulse purchase on your way out of Ikea, and more like a thoughtful addition to your living room décor. And if you're nervous about repotting, don't worry. You can leave your plant in that plastic pot for now. (You'll need to repot it eventually once it grows enough, but we can worry about that later.) Just get a slightly larger decorative pot and slip the plastic pot inside as a liner. As a bonus, this makes watering even easier because you don't need to worry about drainage and you can easily do everything in the sink if you want.
If you want to upgrade your indoor greenery, all you need is the right pot or planter. We found some of the best options, all conveniently available on Amazon, for any sort of plant: Trios of tiny pots for windowsill mini-succulent gardens; colorful and patterned containers that work on desktops, coffee tables, and end tables; plant stands for the crown jewel of your plant collection; along with hanging planters, outdoor planters, vases and more.
A hexagonal rose-gold pot may be predictably millennial, but the bold geometric shape should make any succulent pop, and it's practically asking to be placed on a windowsill where the angled sides can catch the light.
These tiny, marble pots include bamboo trays to capture water and soil leakage. Fill the pastel set with a trio of mini succulents.
Sold with their separate bamboo trays, these ceramic mini-pots would be right at home at an all-day café.
Okay, one more set with bamboo trays, but this time they're terrazzo pots.
For slightly medium-size plants, like this royal-purple bougainvillea, go with one of these clean-lined ceramic planters with delicate gold accents.
A playful scalloped-edge keeps this bright white pot from feeling plain. It's the perfect blank canvas for displaying a favorite plant.
We also love the simplicity of these minimalist terracotta pots. They're about 5-inches wide, and since terracotta is naturally porous and breathable, they would make a nice home for a small-ish snake plant or ZZ plant (or really any plant that likes to dry out completely before being re-watered).
This simple, wide-mouth planter certainly works as a vase too, but it would be perfect for a colorful, flowering plant like an anthurium or a bromeliad. It's also a nice choice if you're gifting a plant and want to pot it on your own to save the recipient some trouble.
Plant some mellow-smelling lavender in this bronze planter and put it near the bathtub for a spa-like experience, or on your nightstand, since science suggests that it may help you sleep.
Another terrazzo option, we know, we know. But this one is pink. And at 6-inches wide, it would be perfect for showing off a small ZZ plant on a tabletop or desk.
Display all three of these white-and-black vases on a windowsill together, or scatter them throughout a room or apartment for a unifying theme.
The muted rose color and textured geometric print give this planter an almost-handmade look.
This vintage-style planter looks like something you'd find at a yard sale. In a good way.
This stoneware pot is about 8-inches wide, so it's big enough to hold a standard-sized plant in a 6-inch nursery pot, but not so big that it still has a relatively small footprint. It make for a nice accent on a desk or end table, and the hand-painted bands of color are a fun and subtle touch.
Another plant hanger from Mkono. This one, made from jute rope with wooden beads, has more of a hippie feel. Swap in any pot to customize the look.
This leather plant hanger was one of the top picks in our article on how to hang plants. Do note that the only things for sale here are the genuine leather plant-hanging straps — the pot is not included. The company says the straps "comfortably fit" pots ranging from 4 to 12 inches, so this should work with pretty much anything.
A simple, clean, modern planter in a Yeezy Season 2–approved nude color palette.
A mid-century modern living room deserves a mid-century modern planter. This freestanding wood stand comes with its own 11-inch planter, so you don't need to worry about whether or not it will fit. This would be a great choice for showcasing any sort of statement floor plant like a fiddle-leaf fig or a monstera.
Another nice planter/stand combo that comes in a few different colors and sizes. This pinkish-red option has a Southwestern feel and would be a good home for desert-dwelling cacti and succulents.
On the softer side of the style spectrum, try this large woven basket with a large cactus or palm. You can use a simple plastic pot as a liner since no one will see it.