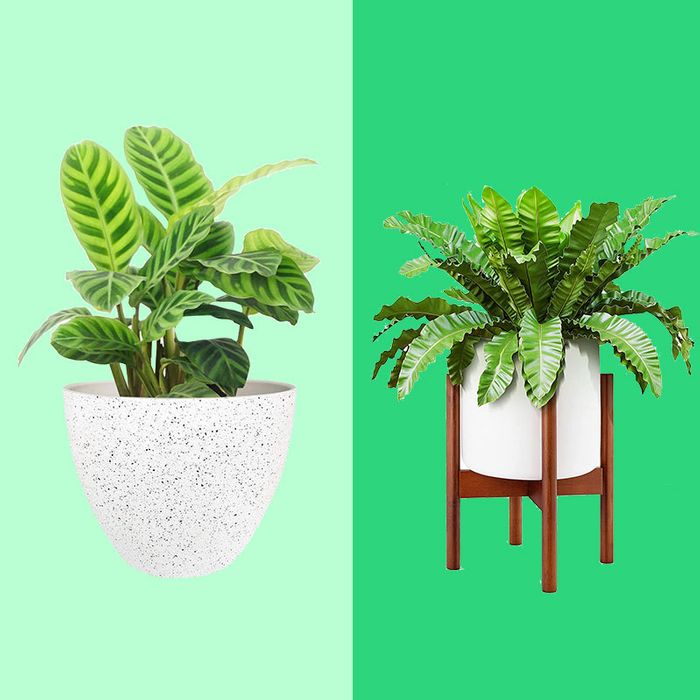 Photo-Illustration: Courtesy of the retailer
We love plants here at the Strategist. We've written about low-light plants, off-the-radar indoor plants, status plants, pet-safe plants and more. (Much more.) The right plant can go a long way toward transforming an interior space, but not if you leave it in the plastic nursery pot many are sold in at plant stores — or shipped to your door if you order your plant online. Leaving plants in those plastic pots isn't as much a disaster as it is a missed opportunity. A simple ceramic pot can make that big bird-of-paradise or monstera look less like an impulse purchase on your way out of Ikea and more like a thoughtful addition to your living room décor. And if you happen to have purchased a rare or exotic plant — say, one that has been compared to a Hermès handbag — you'll obviously want to show it off in style.
If you're nervous about repotting, don't worry: You can probably leave your plant in that plastic pot for now; just get a slightly larger decorative pot and slip the plastic pot inside as a liner. (You'll need to repot it eventually once it grows enough, but we can worry about that later.) As a bonus, this makes watering even easier because you don't need to worry about drainage and you can easily do everything in the sink if you want.
If you want to upgrade your indoor greenery (and zhuzh up your décor at the same time), all you need is the right pot or planter. To save you some time, we scoured Amazon to find 40 of the best options for any sort of plant, including trios of tiny pots for a windowsill succulent garden; colorful and patterned options that work on home-office desks, coffee tables, and end tables; stands for the crown jewel of your plant collection; and hanging planters, outdoor planters, and vases.
At first glance, this planter might look like delicate cane, but it's actually ceramic, making it both trendy and sturdy. It's the perfect size for a window sill but would also add a nice touch to a home-office desk.
This planter has a windowpane design that gives it more of a made-by-hand feel. Little feet on the bottom are another thoughtful touch. Available in two sizes (the price shown is for the smaller size), we love it in chambray blue, but it's available in white and a reddish clay color too.
On the opposite end of the spectrum is this pattern-free planter that has clean lines and comes in a Skims-approved shade of nude.
Each of this plant stand's three tiers is designed to look like black marble, making it appear a lot pricier than it actually is.
Here's a two-tier stand that's slightly more subdued thanks to its slimmer profile. (If you have a lot of plants, there's also a style with four tiers.) Its legs are made of bamboo, giving it a more natural look.
While we wouldn't advise pairing plants with live llamas or goats, putting some small succulents in these ceramic animals would only make them more pleasing to look at.
The sea-foam-green hue on this textured pot would add a subtle touch of soothing color to any room.
A mid-century modern planter will match just about any décor, and this larger one is perfect for showing off a mature plant you've been cultivating over the past couple of years — or that you cheated and purchased full size. (We won't tell.)
Here's another mid-century option — but instead of wood, the stand is made of iron, giving it a more industrial look.
Finally, if you just dig the look of a mid-century-modern stand, here's one that won't set you back as much because it doesn't include a pot. (You could use the money you save on more plants?)