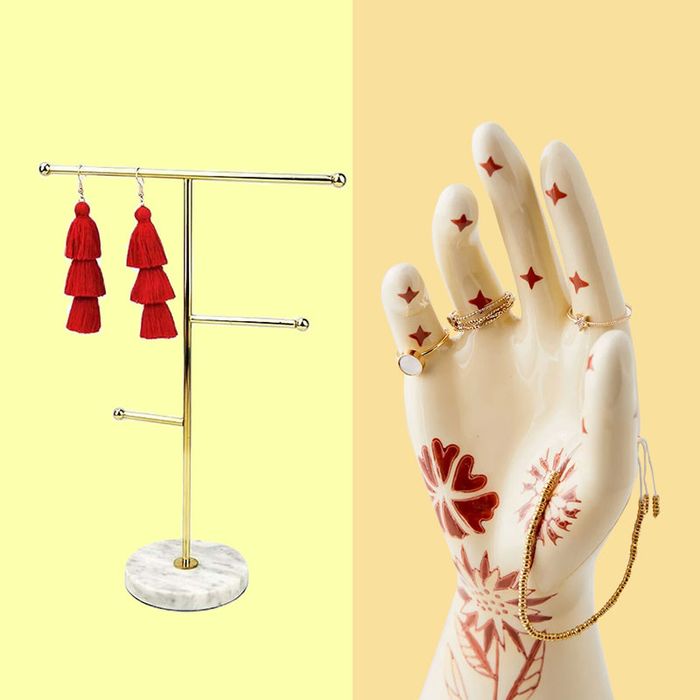 Photo-Illustration: The Strategist; Photos: Retailers
If there's one thing I've learned in my decade of jewelry collecting, it's that you need some sort of storage solution to avoid scuffed-up gold, shattered stones, and peeling pearls. This becomes even more crucial the more pieces you have, as the potential for damage — and the chance of one-half of a pair going missing — increases.
That's why collectors make up their own strategies to separate their holy grails (like a vintage Christian Lacroix cross choker) from everyday essentials (the Mejuris, Missomas, Ana Luisas & Co.). I keep most of my jewelry — 200 pieces and counting — on a three-tiered stand, in several trinket trays, and in a mini curio cabinet. This helps me know, say, where my special-occasion shrimp earrings are (a gilded tabletop tray next to a checkered cocktail ring). But there are those who prefer the "all in one place" direction (think of celebs' jewelry "islands," as seen on their closet tours). Whichever works best for you will largely depend on what you have. Take stock of your jewelry first, and then check out the boxes, trays, and catchalls down below. These are the picks the pros use, recommended to us by jewelry designers (plus an honorable mention of my own).
Best overall | Best box | Best for necklaces | Best for rings | Best stackable | Best travel case
Design: Jewelry organizers fall into two categories: open storage (stands, catchalls, trays) and closed storage (boxes, drawers, cases). The general guidance is that the finer the jewelry, the more careful you want to be.
Pieces with semiprecious stones or precious metals (silver, especially) should be stored in a soft, lined box (velvet is popular). Costume jewelry is a little more forgiving, so it can be left out in the open. Two caveats, though: (1) Beware of dust bunnies, and (2) keep stones away from the sun, as shine fades. Use small catchall trays as resting places for rings and anything you take on and off frequently. A jewelry stand — usually meant for bracelets and necklaces — prevents tangles and knots.
Then there's the presentation to consider. "Storage is really about compliance," explains Ope Omojola, founder of Octave Jewelry. "If there's a really amazing piece of storage that is perfect and works really well in the abstract, but you're never going to use it or you hate how it looks, then it's not for you." There's an argument for clear organizers to get a glimpse of everything you own (but these can feel a little crafty) — a see-through lid might be more than enough to see your most-used pieces. Meanwhile, a mirror makes trying on easy, like you're sitting at a jeweler's counter.
Division of storage space: We've covered the exterior, but the interior's just as important. Sure, you can do what Jennifer Behr, founder of an eponymous accessories line, does: Keep pieces that are fine or demi-fine in the boxes they came in and tape a small picture of the contents to the outside to know what's what. Or follow Jill Martinelli of Lady Grey's example: She stores her treasures individually in tiny plastic bags. But the best jewelry organizers will do this job for you with different compartments, tiers, rows, and partitions — the goal is to have each piece in its own place. As we considered which of the below organizers deserved which titles, this is what separated the ones that earned the top spot from others that were included as options. For each pick, we made sure to mention if the organizer has earring slots, necklace hooks, sections for bracelets, and so on.
Size: For practicality's sake, a jewelry organizer should be able to hold a lot without taking up a whole lot of space. Here's where I have to confess that I'm anti-armoire. They seem smart in theory, but the problem is that they're full-on pieces of furniture, meaning an armoire is hard to move around (and even harder to match with the rest of your furnishings). Instead, free up floor space with a wider, wall-mounted organizer. Also take into consideration that your dresser countertop might need rearranging if you choose a box, while catchalls can sit on top of anything. To help you choose between our picks, we included the measurements for all the organizers on this list.
Best overall jewelry organizer
Cabinet, wall-mountable | 84 ring slots, 32 necklace hooks, 48 stud holes, 90 earrings slots | 14.49" x 3.94" x 47.24"
Remember my anti-armoire stance just above? That position still stands, but this armoire is (so far) the one and only exception to the rule. That's because the organizer has the option of being wall-mounted or hung over a doorframe — no floor space needed. This makes the amount of storage space you do get all the more impressive: This armoire has 84 ring slots alone. In comparison to other cabinets just like it, the price tag is pretty reasonable. (Boxes less than half this size can cost the same.) The armoire includes a mirrored front that doubles as a full-length mirror, LED lights on one side of the cabinet, and separate shelves that aren't just for jewelry. We'd be remiss not to point out that it comes with a lock and two keys (it's way cheaper than a vault).
The armoire was the most-mentioned jewelry organizer we heard about as two designers name-checked it. Christina Tung of SVNR once belonged to the ceramic-dish camp, but this has become the most "functional, practical option that feels really organized," especially compared to having catchalls lying around all over. Another advantage? It helps Tung rein in her collection: "That's my new rule for things — if it doesn't fit in the organization system that I put together, then I know I have too much." Martinelli is another convert, arranging hers using a "like with like" system. Statement earrings stay together, as do studs. The effect is "like an Excel spreadsheet with alternating shaded rows" that make it easier to play dress-up. That's another reason this organizer took the top spot: It can accommodate a growing collection.
Those with large collections who do happen to want a furniture piece might consider this Ikea drawer unit. The pick comes courtesy of Behr, who uses them in her studio and showroom. She has an "extraordinary" number of pieces between her brand's archives and her personal collection, so she's "graduated to jewelry boxes that are actual pieces of furniture." The units are "like modern flat files — narrow drawers to help keep everything organized," Behr explains.
Best jewelry box
Box | Four trays with compartments in each | From 15" x 10" x 7.5"
Most of our panel recommended boxes over other styles of organizers. One of them is Jessica Tse, founder of NOTTE, who keeps her heirloom pieces in this modest box from CB2 that "doubles as home décor [since] it looks like a beautiful marble block on my table." Another box believer is Tina Xu, the designer behind I'MMANY. Xu uses something similar to this acrylic box from Amazon with a lining that's "really kind to gold, silver jewelry, or jewelry made from natural stones."
But the one that won out was Pottery Barn's Stella Jewelry Box. It has the most traditional look of any of the recommendations we heard about, but the minimalism you see on the outside hides the maximalism of the inside. There are two sizes to choose from: The large features four drawers and a top tray with three compartments and a separate ring holder. The even larger "ultimate" size opens up to reveal a mirror and even more compartments hidden underneath the lid. Juliana Ramirez, former brand manager at Lizzie Fortunato who now works at Loeffler Randall, points out that the velvet-lined drawers makes finding and caring for her pieces much easier. "My days of awkwardly sifting through a ton of clunky dust bags are officially over," she explains. The construction is another reason the box is a favorite. It's sturdy, spacious, and durable enough for her ever-expanding collection. The box comes in white, too.
Best jewelry organizer for necklaces
T-bar stand | Three separate bars |  about 9" (height) x 3" (base)
Of all the pieces in a jewelry collection, necklaces are the trickiest to organize. Laid out, they tend to get tangled up by themselves or with other chains. Your best bet is to get a dedicated stand. Jewelry designer Melinda Maria uses this one, switching out necklaces in her current rotation. It's an affordable alternative to some of the other stands out there, with room for bracelets, watches, and earrings with hooked backs. There are three tricks to know about these holders: (1) Space out necklaces to prevent tie-ups; (2) keep your most-worn pieces on the ends for an easy out; and (3) don't keep all your heavy, statement-making treasures on one row, as there's more of a chance the entire holder will topple over. These can get dusty, so you'll want to wipe down occasionally with a microfiber cloth (using strong cleaners can damage the jewelry and the holder).
Best jewelry organizer for rings
Holder | Each finger acts as a ring dish center | 3.5" x 2.68" x 8.89"
I can't go a day without wearing at least one ring on each hand — I choose the rings even before picking out my underwear in the morning. A ring dish doesn't do it for me, as bands tend to end up in a never-ending heap. This ceramic hand, however, is just the thing for the handful of rings I wear the most often. I stack the smallest first on each finger, working my way to the more statement rings on top. This helps me fit as many rings as possible. (I have around 15 on the holder right now.) It's easy to slide a ring on and off (there are different sizes on mine, too) without scratching any of the ones above or below it. Besides rings, you can add a couple of bracelets to the "wrist" of the holder — but with the pretty, painted-on flower design, I like to leave it bare.
Best stackable jewelry organizer
Tray | 14 different-size compartments with a separate ring section | 12" (expands to 18.75") x 10.25" x 1.5"
The winner of this title was a toss-up between this Stackers tray and this Vlando one. Ultimately, Stackers took the spot because it's expandable, easily fitting into a dresser drawer. Omojola uses hers in a desk drawer, where she adjusts it to fit into place. "I'm a really visual thinker and I have to see everything laid out," she says, explaining that she'd rather have "as much of [her] jewelry as possible visible so that when I'm getting dressed and picking out jewelry, it's right there." You can stack one on top of another for a jewelry-box effect. On the other hand, Maria uses the aforementioned Vlando tray, which comes in a set of four. The top tray has a detachable clear lid that doubles as protection. "When you're running out the door, the last thing you want to do is try to find a piece of jewelry," she says.
If you like the idea of a tray but only need a place for a few essentials, consider a catchall. Maria keeps this Mark & Graham leather one by her bedside, tossing her earrings in before sleeping.
Best travel jewelry case
Case (boxed design) | Tabs for earr