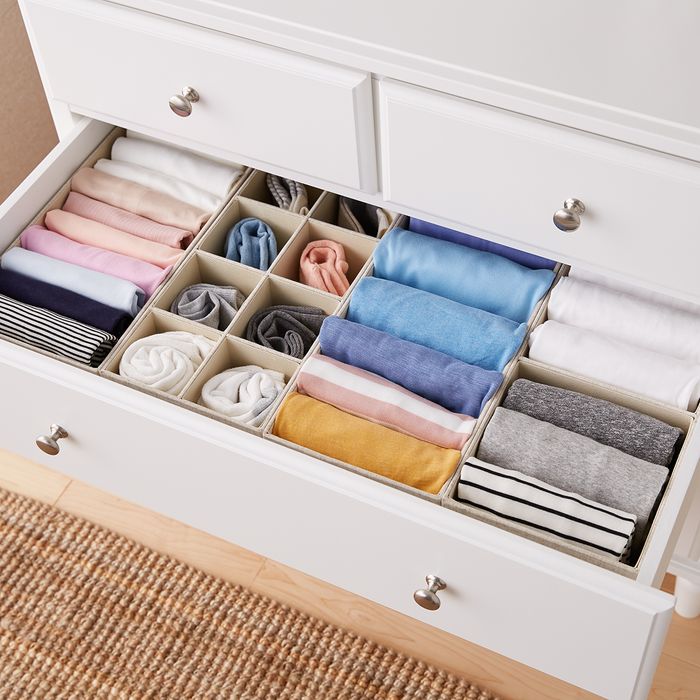 Photo: Courtesy of the retailer
Whether your junk drawer is getting out of control or you're looking to achieve KonMari–level neatness in your sock drawer, professional organizers agree that drawer organizers and dividers are essential for controlling clutter. According to Jamie Hord, the founder of Horderly Professional Organizing, "Drawer organizers help create containment and give everything a proper home," and Nicole Abramovici of Genius Organizing likes that they "allow you to refine a category even further in one easily viewed space," like separating office supplies in a desk drawer.
Before you buy any divider, though, measure the dimensions of your drawer to ensure you get one that fits the space and also accommodates the items you're looking to organize. As Hord says, "Be strategic when it comes to the proper measurements," and take into account any odd-shaped items like kitchen utensils or bulky sweaters. Once you've got your measurements down, read on for a selection of drawer organizers recommended by seven professional organizers (and one very obsessive beauty writer).
Best dresser-drawer organizers
Four organizers we spoke with raved about these adjustable dresser-drawer dividers. Natalie Schrier, founder of Cut the Clutter, says the spring-loaded dividers "provide an exact fit for the entire depth of the drawer, leaving no space wasted, and they stay put." Hord likes that they "can transform a dresser in an instant … by creating specific categories for all of your folded clothes." Corinne Morahan, founder of Grid + Glam, says, "It's a way to give yourself more drawers," as a drawer that was once just for underwear, for example, now has sections for bras, shapewear, and socks. That was the case for Abramovici, who says, "I put these in my underwear drawer 13 years ago, and it has been immaculate ever since!" Dream Drawer also makes a kitchen organizer that experts love.
Lisa Ruff, director of business development at Neat Method, prefers linen organizers, especially for delicates like underwear, since "you don't have to worry about materials snagging" on wood or plastic. Cait Gury, former associate director of interior design and visual content of Common co-living homes, is also a fan of these linen boxes that come in different shapes and sizes. "They eliminate the digging that often accompanied my sock and bra hunt, a search that was adding unnecessary stress to my morning routine," she says, "and, in truth, they just make me feel a little fancy."
Sharon Lowenheim, a.k.a. the Organizing Goddess, turned us onto home organization company Open Spaces, whose storage bins have been previously recommended to us. Lowenheim is particularly impressed with the design of the their adjustable drawer dividers, explaining: "I like the fact that they are made with wood so they blend in the with the wooden drawer," she says. They also feature silicone stoppers for a snug, secure fit.
Best kitchen-drawer organizers
This expandable organizer, a favorite of Morahan, has space for basic utensils as well as larger kitchen gadgets like rolling pins, spatulas, or whisks. Besides being versatile, Morahan likes that the bamboo matches the interior of most kitchen drawers. "They really blend in seamlessly," she says, "so they almost look like they're built-in." Ruff also likes to use bamboo in the kitchen "because it's a natural material that looks nice and wears well."
On the other hand, Jeni Aron, founder of Clutter Cowgirl, makes the case for a plastic kitchen-drawer organizer that's "washable, wipeable, and with a grip for silverware." She likes that this one expands nearly a foot in width so it takes "full advantage of your drawer space without having to buy several small containers."
Photo: Courtesy of the retailer
Multiple organizers mentioned the acrylic dividers (which come in tons of sizes) from iDesign, but Gury is especially fond of their expandable cutlery organizer. She says it's "perfect," because it's "easy to clean, expands to your needs, and creates a place for all [your] miscellaneous kitchen utensils."
Best bathroom-drawer organizers
For corralling skincare, beauty, and other bathroom products, organizers gravitate toward acrylic options, since, as Gury explains, they "wipe clean, dry fast, and allow you to tell easily when they're in need of a wash." She uses the cosmetics stand from Muji, which has recently been discontinued, but this highly rated, eight-compartment organizer tray is a nearly identical alternative.
Hord agrees that "acrylic looks great in the bathroom," and she says that "when space is limited, stacking organizers can come in handy." She recommends these, which stack up neatly while still keeping all of your items visible.
Another acrylic option, this set of trays chosen by Ruff, can be used stacked or on their own in your bathroom drawers. She says these look great in desk or junk drawers as well, because "the transparent material visually falls away to help tone done the business of those drawers."