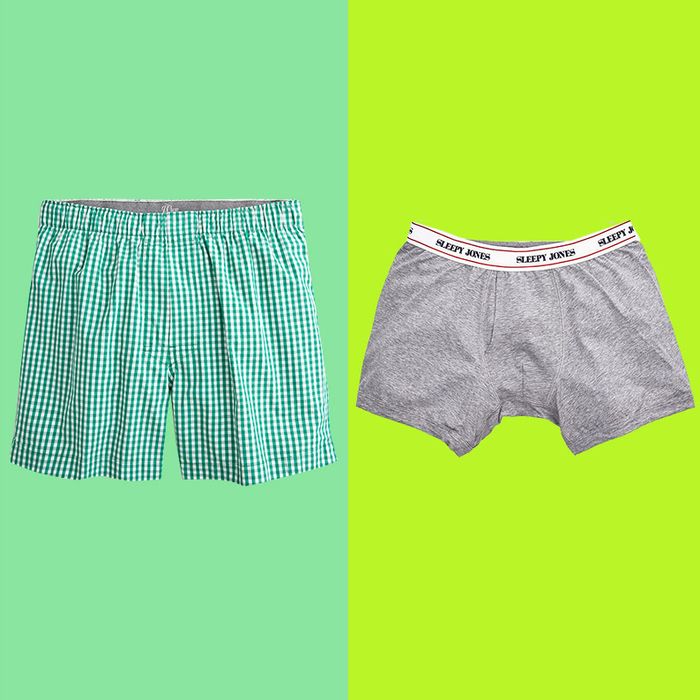 Much like socks, the best underwear should be comfortable, durable, and stylish (either for you or for someone else who might be looking). Unsurprisingly, men are quite picky about their underwear and many have strong opinions about which style and brand is best. Here, we do not set out to resolve the great brief-versus-boxer debate; instead, we're featuring some of the best options recommended to us by stylists, fitness professionals, and other discerning and active men across all categories: briefs, boxer briefs, trunks, boxers, and performance underwear for working out and other active pursuits. Read on for all of the favorite pairs of our 20 cool guys — and, yes, there's a lot of Calvin Klein, but there are plenty of other options too.
Boxer briefs were the most popular underwear style among the men we spoke to. Of all the pairs we heard about, none received more recommendations than Uniqlo's simple and affordable supima-cotton pair, which five guys (or six, if you count our columnist Chris Black) told us they swear by. One of those guys, photographer Sam Schmieg, says these are even superior to Calvins. "I wore Calvin Klein for a minute, but at this price and comfort level, I can't pass up Uniqlo," he says. "They're soft, breathable, and keep their shape well even after many washes." Other fans include Malcolm McNeil, a photographer and the content manager at rare-sneaker dealer Flight Club, street-style photographer Christopher Fenimore, menswear brand 3sixteen founder Andrew Chen, and Elliott Foos, formerly the director of coffee at Daymoves in Williamsburg, who adds that "Uniqlo's basics are unrivaled, and these carry the torch. I've been into these for three-plus years (I've been re-upping, don't stress), and I love them." He personally likes to "keep it classic" with the monochrome black, but notes that "if you feel you need a statement piece, other colors are available."
While certainly more expensive than Uniqlo's boxer briefs, Calvin Klein's are as classic as it gets (and, when bought in a multipack, are actually a pretty good deal). This pair, also featured in our list of the best boxer briefs for men, is "exceptional, not too tight, and very low maintenance," according to Phillip Wong, the co-founder and creative director of men's skin-care and grooming line Hawthorne. While they come in a plethora of colors, style editor Ian Taylor says sticking with darker tones is your best bet. "Grays and blacks have a bit more of a shelf life," he explains. "White looks great when it's photographed on a model with a six-pack, but if you've been wearing them for six months, they won't look quite as pristine."
For something even simpler than the Uniqlo boxer briefs, Tim Melidio, the founder of men's fashion site Stay Classic, likes these cotton boxer briefs from Hanes. At $14 for a five-pack, they're also an even better bulk deal than the above Calvins.
Photo: retailer
Thomas Fortune, the creative director for footwear brand Stubbs & Wootton, also favors Calvin Klein boxer briefs, which he has been "wearing since he's been old enough to remember." His favorite pair is notably made without cotton, but rather a nylon-and-elastane blend. "The microfiber stretch is perfect for preventing the boxer riding up your leg (the worst) and also allows the skin to breathe." They're on the more expensive side, but Fortune promises these are worth it. "They're very much 'quality over quantity' and last for years."
Pretty much everyone we spoke with agreed that Calvin Klein is the undisputed "big name" in underwear, but we heard about plenty of other brands with die-hard fans, too. These all-cotton boxer briefs from Ralph Lauren come recommended by McNeil, who told us that while he likes Uniqlo's pair, this one is actually his favorite. "In terms of underwear I rock loyally, the G.O.A.T., Ralph Lauren, has always been a daily go-to." He adds that these check all the boxes, "from fit to comfort" to "the signature waistband."
Photo: retailer
Saxx underwear was mentioned by a few of the guys we spoke with, many of whom noted how much they like the company's signature supportive pouch. (Celebrities like Chris Carrabba of Dashboard Confessional are also fans of the brand.) Cory Ohlendorf, the editor-in-chief of men's style platform Valet., told us he's swears by these "Platinum" boxer briefs. "I've tried a lot of underwear over the years, but this is the only brand that ticks all the boxes. They're thin, supersoft, and yet extremely durable — I can wear them working out or on a ten-hour flight and be completely comfortable the whole time." That's because, according to Ohlendorf, the underwear is sewn to mold around your body shape. He's also a fan of the aforementioned support pouch, which he says "without getting too graphic, means that readjusting is a thing of the past."
Photo: retailer
These affordable boxer briefs come recommended by Sterling Doyle, a senior sales associate at upmarket men's haberdasher Drake's, who told us he has come across far pricier pairs that aren't as good. First sent to him by his mother, these, according to Doyle, are "kind of like the Crocs of underwear; you love to hate them, but at the same time, everyone should have a pair." That's because the fit of these "kind of knocks it out of the park," he says, describing how they sit above the hip (and have a waistband that keeps them there), don't "cling-wrap anything" lower down, and never ride up on his thighs. They're made from a soft, breathable cotton, adds Doyle, who concludes: "All-around, they're some of the most solid boxer briefs I've ever owned."
Photo: retailer
John Januzzi, a product director at men's clothing brand Bonobos (and the author of How to Wear Socks), told us he's been wearing these retro-looking boxer briefs for a couple of years and that all his pairs have "held up really well through washes." That means everything he likes about them has stayed entirely intact, from the "really soft" waistband, to the comfortable seam around the hemline, to the "pretty much perfect length," which Januzzi says ensures prevents "any of the chafing you might find in a shorter length or a straight-up brief."
In compiling this selection of men's underwear, one thing we noticed from our not-scientific-but-still-quite-thorough survey: Stylists tended to prefer briefs. And the clear favorite among all the briefs recommended to us is what many consider the all-time classic of men's underwear: Calvin Klein's cotton briefs, recommended by celebrity stylist Neil Cohen, fashion and branding consultant Ronny Opong, and stylist Brandon Garr (who prefers Calvin's slightly more revealing Hip Briefs). "I'm a briefs guy," says Cohen, who likes the style because it doesn't "ride up" on the leg or "add any extra bulk" when worn with slimmer pants (something thicker boxer briefs can often do).
Although he's a fan of Calvin Klein briefs, Garr told us that these Jockey ones are so affordable and comfortable that he's thinking of ditching his longtime favorite for them. "I came across these Jockey briefs while recently looking for underwear on Amazon," he says. "They're 100 percent cotton, and the elastic is just right and hugs nicely without pushing in areas you don't want it to."
Cohen also mentioned Tani, a newer "high-end" underwear brand that he likes a lot. He says the brand "plays with performance fabrics" in an interesting way while still maintaining a stylish and fashionable look. These are made with a patented "Micro Modal AIR" fabric that the company describes as "thinner and softer than silk."
Photo: retailer
For a "luxury" brief, Cohen suggests Tom Ford's made-in-Italy pair. You're paying a bit of a premium for the name and the provenance, but you can trust that they're made to the brand's exacting standards. These are 95 percent cotton with 5 percent elastane for stretch, which Cohen calls an ideal blend for breathability and comfort. And then of course there's the sleek design. "They're very sexy, almost a throwback to a 1970s playboy," says Cohen, who especially loves all the color options, which include six "shades of nude."
Trunks are something of a middle-ground between briefs and boxer briefs; they're essentially boxer briefs with shorter legs, and are a good option for guys who maybe want something a little less revealing than briefs but still streamlined and flattering. Foos pointed us to Calvin Klein's cotton trunks, which he says have "a bit more structure, which means a bit more security," adding that "while I'm no Bieber, I certainly feel like I am in these Calvins."
Photo: retailer
Tommy John is another brand that got a lot of love in our roundup of the best boxer briefs for men, with guys praising its underwear's design and high-quality fabrics. Barron Cuadro, the founding editor of Effortless Gent, wears the company's Titanium Trunk, which is made from a blend of micro-modal and Spandex for stretch. "The modal blend is supersoft, comfortable, and relatively quick drying," he says, adding these "just feel great when you have them on." Adding to their comfort is a "nice and wide" waistband, according to Cuadro.
Photo: retailer
The guys we spoke with tend to like cotton boxers for sleep or loungewear (they prefer something slimmer and more supportive for everyday wear while out and about). "I just wear them for sleep, but some guys still wear them [as underwear]," Cohen says of the cotton boxers from J.Crew, which come in a variety of fun prints. "They're really well-priced," he says, adding that the 100 percent cotton fabric "has a nice hand."