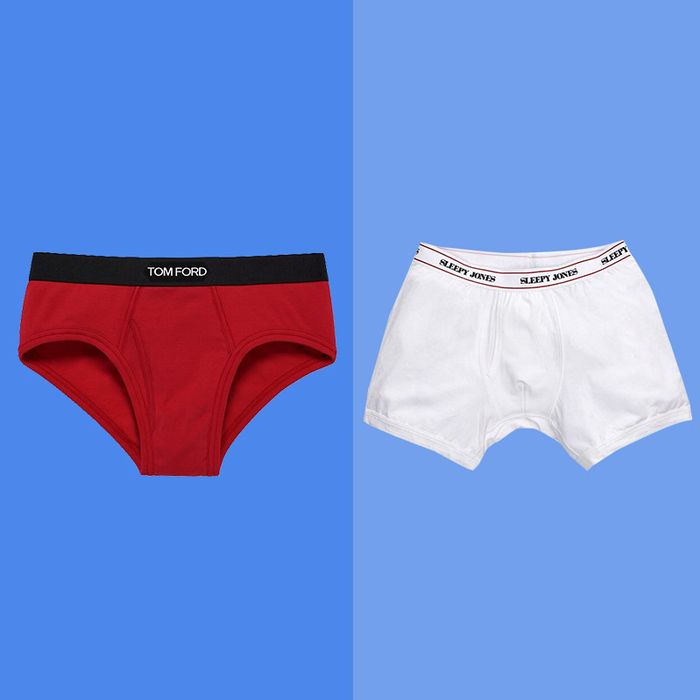 Photo-Illustration: retailers
Much like socks, the best men's underwear should be comfortable, durable, and stylish (either for you or for someone else who might be looking). Unsurprisingly, men are quite picky about their underwear and many have strong opinions about which style and brand is best. Here, we do not set out to resolve the great brief-versus-boxer debate; instead, we're featuring some of the best options recommended to us by stylists, fitness professionals, and other discerning and active men across all categories: briefs, boxer briefs, trunks, boxers, and performance underwear for working out and other active pursuits. Read on for the favorite pairs of our 27 cool guys — and, yes, there's a lot of Calvin Klein, but there are plenty of other options too.
Boxer briefs were the most popular underwear style among the men we spoke to. Of all the pairs we heard about, none received more recommendations than Uniqlo's simple and affordable supima-cotton pair, which five guys (or six, if you count contributor Chris Black) told us they swear by. One of those guys, photographer Sam Schmieg, says these are even superior to Calvins. "I wore Calvin Klein for a minute, but at this price and comfort level, I can't pass up Uniqlo," he says. "They're soft, breathable, and keep their shape well even after many washes." Other fans include Malcolm McNeil, a photographer and the content manager at rare-sneaker dealer Flight Club, street-style photographer Christopher Fenimore, menswear brand 3sixteen founder Andrew Chen, and Elliott Foos, formerly the director of coffee at Daymoves in Williamsburg, who adds that "Uniqlo's basics are unrivaled, and these carry the torch. I've been into these for three-plus years (I've been re-upping, don't stress), and I love them." He personally likes to "keep it classic" with the monochrome black, but notes that "if you feel you need a statement piece, other colors are available."
Photo: retailer
For a pair of Uniqlo boxer briefs that feel even more barely there than those above, two guys recommend this style from the brand's AIRism line. Nicolás Lazaro, a community specialist at menswear resale platform Grailed, says he used to wear cotton boxer briefs like the pair above but has "never looked back" since switching to these. "You'll forget you even have them on," he says, describing the boxer briefs as "ultralightweight, breathable, and moisture-wicking, with enough stretch for comfort while still providing the necessary support." Lazaro adds that the underwear dries so quickly he can just handwash and hang dry it overnight if he's ever in a pinch. Publicist Nick Roberts, the founder of Lawrence & Co., is another fan, telling us they're "extremely comfortable, and, at $15 apiece, I can stock up knowing I'm getting good quality for the price point."
While typically more expensive than Uniqlo's boxer briefs, Calvin Klein's are as classic as it gets (and, when bought in a multipack, are actually a pretty good deal). This pair, also featured in our list of the best boxer briefs for men, is "exceptional, not too tight, and very low maintenance," according to Phillip Wong, the co-founder and creative director of men's skin-care and grooming line Hawthorne. While they come in a plethora of colors, style editor Ian Taylor says sticking with darker tones is your best bet. "Grays and blacks have a bit more of a shelf life," he explains. "White looks great when it's photographed on a model with a six-pack, but if you've been wearing them for six months, they won't look quite as pristine."
Photo: retailer
John Januzzi, a product director at men's clothing brand Bonobos (and the author of How to Wear Socks), told us he's been wearing these retro-looking boxer briefs for a couple of years and that all his pairs have "held up really well through washes." That means everything he likes about them has stayed entirely intact, from the "really soft" waistband, to the comfortable seam around the hemline, to the "pretty much perfect length," which Januzzi says prevents "any of the chafing you might find in a shorter length or a straight-up brief." He's not the only Sleepy Jones fan we spoke to: Writer Timothy Latterner describes their boxer briefs as "incredible" and "not unlike Calvin Klein boxer briefs, except the white band and red stripe read a bit preppier." Latterner adds that he "started off with one pair in black, wore them once, then went and bought 30 more and threw out all the other boxer briefs I had in my dresser." While he acknowledges that $26 for a single pair is pricey, Latterner promises that they're worth it (and most guys probably don't need 30 pairs). "You can't put a price on good underwear: It's like eating supermarket sushi for 20 years and then going to omakase in Tokyo." The fact that we've seen these go in and out of stock suggests that even more guys agree.