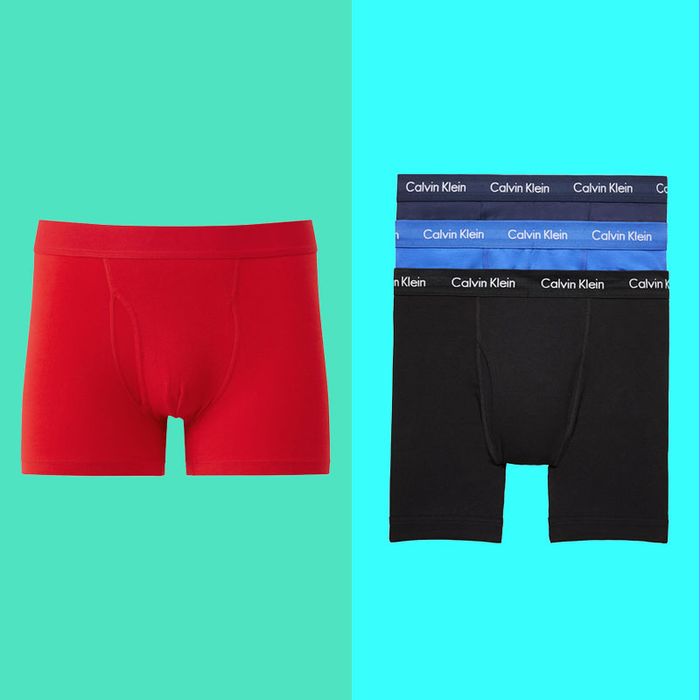 Photo-Illustration: The Strategist; Photos: Retailers
Trying to label a pair of underwear "the best" is a near-impossible task. Much like socks, the best men's underwear should be comfortable, durable, and stylish. But those words mean different things for different people. I'm not here to settle the great brief-versus-boxer debate; which cut you prefer will always be a matter of preference. Because the nature of underwear makes it difficult to return if you don't like how it fits, thinking about which length, style, and level of support you need is key to avoiding wedgies and the urge to constantly adjust your underwear. Below, I've found the best options in all categories based on fit, feel, and style by talking to stylists, fitness professionals, and other discerning and active men about the underwear they like best.
Best overall boxer briefs | Best ultrathin boxer briefs | Best designer multipack boxer briefs | Best less expensive multipack boxer briefs| Best performance boxer briefs | Best overall boxers | Best less expensive boxers | Best overall trunks | Best overall briefs
What we're looking for
Style: There are three main styles of men's underwear, and they are predominantly defined by how each one is designed to fit. Briefs — a.k.a. the "tighty whities" style famously worn by legendary television character Walter White — have a more snug fit and are cut to only cover your butt without extending to your legs. Boxers — which look more like regular shorts, as famously worn by legendary television character Tony Soprano — offer a more generous "boxy" silhouette and an average inseam of four to six inches. And the straightforwardly named boxer briefs are a hybrid style that combines the snug fit of briefs with the longer length of boxers. They were created in the early 1990s by designer John Varvatos, who cut the legs off a pair of long johns, and they went on to become one of the most popular styles of men's underwear. A fourth, less common style is trunks, which are something of a middle ground between briefs and boxer briefs; they're essentially boxer briefs with shorter leg lengths.
Materials and construction: Most men's underwear is made of cotton or a cotton blend. Cotton is sturdy, breathable, and soft, which makes it well suited to everyday wear. Cotton is often blended with spandex or other synthetic fibers to add stretch, and performance underwear that's designed to be worn for sports or during workouts is sometimes made with a mixture of nylon or spandex, which help it keep its shape, regulate body temperature, and dry quickly after exercise.
We also looked at how men's underwear is constructed — inspecting the seams and where they're placed, how the waistband is built, and the style of the fly if there is one. Most of the brands we've recommended below do have a fly, but a few no-fly designs have gained popularity among men who prefer slim-cut or skinny pants. The style of the fly can also vary; the most common versions are a traditional vertical fold-over fly, a button fly, and a horizontal fold-over fly that is supposed to feel more secure. I tend to avoid the button fly, which usually shows up on boxers and which I've mostly found to be a nuisance; despite being secure, it adds a tedious extra step to using the bathroom, and I feel like I'm standing at the urinal for longer than necessary. Briefs and even boxer briefs with the more traditional vertical fold-over fly tend to offer the most easy access in that regard.
Fit and support: Style, materials, and construction are all directly correlated to how a pair of underwear will fit, the level of support it offers, and how well it will stay put as you move. Briefs are the most supportive but can sometimes feel restrictive. Both briefs and boxer briefs provide more support than boxers. Boxers are the loosest and most free-flowing, which can be comfortable but make them likelier to bunch up under your pants.
You should also pay attention to the waistband style, and whether the elastic is bare or covered by cotton, as that can affect whether the underwear rides up or slides down when you move.
The last pieces of the underwear puzzle are the rise and the inseam, and your preferences may depend on what type of pants you like to wear. In my own experience, low-rise underwear sits too far down on my hips, and I find it generally uncomfortable. But for someone who prefers low-rise trousers, a low-rise pair of underwear will be a better fit. Regular-rise underwear sits closer to the waistline and, for me, feels more supportive.
Boxers have the longest inseam at four to six inches. Briefs rarely have any inseam to speak of; instead, they usually have elastic seams around the leg openings. Predictably, boxer briefs fall somewhere between and often have an inseam between three and five inches, depending on the brand.
Best overall boxer briefs
Boxer briefs | Supima cotton | Traditional fly | Regular rise | Sizes S–3XL
Boxer briefs were the most popular underwear style among the men we spoke to. Derek Guy, editor at men's style website Put This On and blogger at Die, Workwear insists, "They're infinitely better than boxers" because he likes the added support and the fact that they don't bunch up in your pants. Uniqlo's Supima Cotton Boxer Briefs were a clear standout among our panel, receiving multiple recommendations. The simple and affordable design has a regular rise and a vertical fold-over fly. "They're soft, breathable, and keep their shape well even after many washes," says photographer Sam Schmieg, who "wore Calvin Klein for a minute but, at this price and comfort level, couldn't pass up Uniqlo." Elliott Foos, formerly the director of coffee at Daymoves in Williamsburg, says, "Uniqlo's basics are unrivaled, and these carry the torch." Foos added that that he's been "into these for three-plus years (I've been reupping, don't stress), and I still love them."
Best ultrathin boxer briefs
Photo: retailer
Boxer briefs | Polyester, spandex, and nylon | Traditional fly | Regular rise or low rise | Sizes S–3XL
Uniqlo's AIRism line is all about performance; Uniqlo promises moisture-wicking technology intended to keep you cool, dry, and feeling fresh. These AIRism boxer briefs are especially lightweight and breathable. Nicolás Lazaro, a community specialist at menswear resale platform Grailed, says he used to wear cotton boxer briefs but has "never looked back" since switching to these. "You'll forget you even have them on," he says, describing them as "ultralightweight, breathable, and moisture-wicking, with enough stretch for comfort while still providing the necessary support." They come in two rises with a traditional fly and a generous inseam of roughly four to five inches depending on the size you wear. During my own testing, these briefs held up well over multiple washes and didn't shrink in the dryer. Lazaro notes that they dry so quickly that he can just hand-wash them and hang them up for a bit if he's ever in a pinch.
Best designer multipack boxer briefs