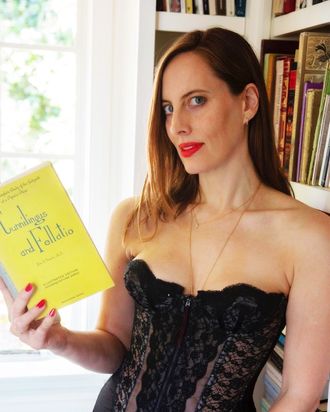 The author in a bustier from her personal lingerie collection.
Photo: Glynnis McDaris
I've spent more than 20 years as a "sex professional," from my first job at Planned Parenthood (at 13 years old) to writing two books on sexual history (Pretty Things: The Last Generation of American Burlesque Queens and Sporting Guide, about 19th-century sex work in L.A.) to directing the HBO documentary Pretty Things (a partner project to my book) to founding The Sex Ed.
I am also lingerie obsessed. It is the most essential element of my wardrobe and the foundation of my life philosophy: Confidence comes from the security of what's underneath. My mother says I started stealing her French knickers and slips when I was 11 or 12 years old; friends from boarding school remember me sleeping in 1930s silks at 15. At 17, I was collecting (and wearing) bullet bras from the 1950s and buying 1960s-era leopard-print underwear on eBay. On my "you wouldn't catch me dead in" list: Spanx, Victoria's Secret, and too-tight panties that leave a mark (I'll often buy a size bigger to avoid such a horror).
In our current climate of uncertainty and isolation, I look to lingerie to lift my spirits and gauge my sense of "normalcy." Last week I had to remind myself, Snap out of it, Liz, and put on a nice bra for goodness sake! When feeling anxious or depressed, organizing my stockings and garters gives me a sense of calm. Going to bed in a delicious silk slip by Agent Provocateur or a treasured 1930s tattered nightgown helps me to look past my dark circles and to feel a bit like Jean Harlow in Dinner at Eight.
My lingerie collection now numbers in the thousands, from brassieres handmade in the 1930s to Queen Anne's lace stockings to burlesque costumes to brand-new pieces. But none of it was purchased with the intention of pleasing someone else: It's for my own enjoyment, fulfillment, and desire. I've become somewhat of a guru to friends and family — whether taking my nieces to buy nice knickers for the first time, gifting glamorous maternity bras to nursing mom friends, or fielding questions on who carries great size-inclusive undergarments (to the latter, I answer: Hips and Curves). Below, some of my favorite brands and the pieces I own from them, along with a few new things I'm looking to add to my wardrobe.
The bra I have in every color
Dita Von Teese's lingerie is chic and truly durable — I would know, as I have this Madame X bra in every color. (It has also been recommended on the Strategist before.) Right now, Bare Necessities has the black available in the most sizes for 25 percent off the full price of $75 (with code FF2020). Other colors like aquamarine are as low as $22 (but in limited sizes) with the code.