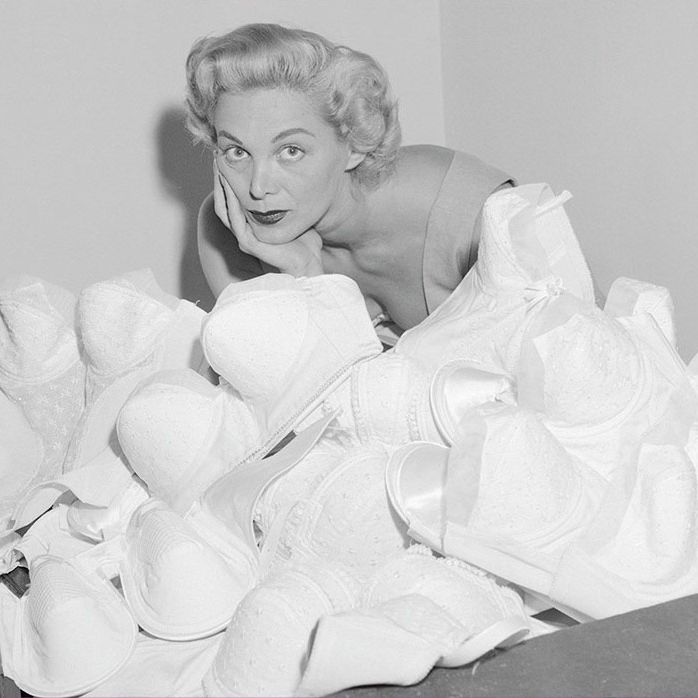 Photo: Bettmann/Contributor/Getty
The bra might just be the most particular item of clothing. It has to fit perfectly and disappear underneath clothes while not cutting into your chest from any angle. It has to lift and support while making you feel sexy and natural. Plus, no two pairs of boobs are alike, which is why shopping for bras often just gets confusing and frustrating. To simplify the process, we've collected opinions from experts as well as real girls who've found bras they love. Below, 23 of the best bras for every type of boob and occasion, according to cool women and professional bra fitters.
Best overall bras
Natori came up a lot among the women we surveyed, who recommended the brand's bras as comfortable, stylish, and supportive options for a wide range of sizes. The Feathers Underwire Contour Bra is the best-selling bra for shoppers with A through G cups at Bra Tenders, according to Lori Kaplan, the founder of the New York City–based store. "It's a very lightweight, seamless, deep-plunge bra with a little lace trim, so it's good for T-shirts, but it still has some feminine effects," she says. Natori recently broadened its selection of skin-tone shades, which Kaplan says her customers appreciate. Writer and personal stylist Molly Lamoureux calls this "the unicorn of undergarments" because it's "comfortable, supportive, and look[s] amazing under clothes." If you want something simpler than the Feathers bra, fashion Instagrammer Emily Catellier likes Natori's very similar Bliss Perfection bra, which limits the lace trim to just the band. "It's impossibly comfortable, fits me like a glove, and hasn't started to break down after several years of wear," she says. "It's also invisible under T-shirts. I hate when the top edges of the cups turn up and you see that line through your shirt, [but] this one is totally invisible." If you like your bras lacy, try Natori's Flora bra, which Mia Leimkuhler, a former Feathers devotee and manager of audience engagement here at the Strategist, wears under everything. "It's really similar to the Feathers, but it's lighter — the cup material is thinner," she says. "I also think it's prettier, like the lace on the cups is a nice touch." Like the other Natori bras, it offers plenty of support.
Best plus-size bras
Two stylish curvy women we spoke with, designer Jasmine Elder of JIBRI and content creator Thamarr Guerrier of Musings of a Curvy Lady, raved about the bras from Lane Bryant's intimates line, Cacique. "I love the size range and colors they offer," says Guerrier. The brand carries cup sizes up to K and band sizes up to 50. Elder wears one of its wireless bras every day. "It doesn't have underwire but supports as if it did," she says. Guerrier wears wireless Cacique bras around the house, but for everyday use she prefers Lane Bryant's underwire balconette bra. "It gives me the support and shape I want and looks great with most of my outfits," she says. "It's a trustworthy style." Along with Elder, she likes that Cacique bras have wide straps and bands that look smooth under clothing and don't pinch into the skin.
For more plus-size choices, fashion blogger Kelly Augustine suggests Elomi bras, which go up to a K cup and 48 band size. "Bra straps must be wide, and they must be comfortable," she says. "My breasts are heavy, and my shoulders need all the support they can get." Elomi bras are one of the few that meet her criteria; she wears one nearly every day. "I feel supported in the cups, the straps, and the sides, and their designs are lovely. I feel like it's a little sexy something just for me while I'm running around all day," she says.
Best T-shirt bras
When you're wearing a thin or formfitting T-shirt, you'll want a bra without any seams or bumps that might show through your top. Lauren Stephens, the CEO and co-founder of fleece clothing line Dudley Stephens, who formerly worked in PR at Calvin Klein, told us she "was won over by [this bra] while working for the brand. It checks all the boxes and is my go-to for a smooth foundation." She's not alone: Lamoureux notes that the bra "has a devoted following" because of its light lining and just-right level of coverage.
Rebecca, a communications professor who blogs about her style at PhD in Clothes, says, "I feel like my body is always on 360-degree display in class," so she needs a bra that feels weightless and disappears under her clothes. This one, from direct-to-consumer brand ThirdLove, fits the bill. "It's light, and it's not overly padded," she says. "I have three friends who have this bra, and we all talk about how the strap has a texture on it so it makes it harder for the strap to slip. I didn't even know I needed that until it existed." Social-media influencer Tyla-Lauren Gilmore wears T-shirt bras every day — "I can wear them with anything because they're supercomfortable," she says — and she keeps this ThirdLove bra in heavy rotation.
Best T-shirt bra for big boobs
For women with larger breasts, Linda Becker, the owner of Linda's bra stores in New York and New Jersey, recommends this full-coverage bra that's also invisible under T-shirts. "It has some lace around the band, but the cup is very smooth," she says. "People buy multiple styles when they buy them, and it comes in great colors, many colors. It's a terrific bra." It's available in sizes up to an H cup, and there's also a wireless version that Becker says gives a lot of support.
Best lacy bras
The elegant, handcrafted bras from Toronto-based Fortnight are a favorite of two women we consulted. Fashion blogger Sara Brown finds that the brand's demi-cup bra provides enough coverage and "the straps are quite wide set, so no matter what I'm wearing, you won't see my bra strap." Alyssa Lau, founder of the online boutique New Classics, typically wears wireless bras but turns to Fortnight when she wants something with a little more shape. She says the wiring in its bras is "exceptionally comfortable and gives my boobs some nice support when it's needed."
Photo: Courtesy of the vendor
One of the most affordable bras on our list, this style is a favorite of Lisa Mayock, co-founder of Monogram. "Wearing this is like winning the bra lottery," she says, adding that the perfectly fitting Ciao Bella bras are "comparable to others in my lingerie drawer that are more than double the price."
Best lacy bra for big boobs
With her narrow back and "large-ish" breasts, designer and illustrator Karen Mabon says "finding the right bra is like hunting for truffles." Fortunately, beauty writer Sali Hughes introduced her to Freya's bras, which meet her requirements of being stylish yet supportive. Since these are available in sizes up to a J cup, they're a great option for larger-breasted women seeking an attractive lace bra.
Best minimizer bra
Not all women with large breasts like the minimizer look, but for those who want a smaller bustline in certain outfits, both Becker and Kaplan swear by this Wacoal style that goes up to an I cup. Becker, who's a G cup, wears it herself. "Minimizers are known to be ugly, [but] this has a pretty all-over lace that's very smooth and gives a lot of support. It makes you look a size smaller," she says. Kaplan adds, "It does what it says it's going to do, and it's got nice wide sides [so] it contains any side pooching."
Best strapless bras
As it's probably the most difficult style to shop for, it's not surprising that we had a few different selections for strapless bras. Depending on your size, the outfit you plan on wearing it under, and what level of support you prefer, you'll likely have to try on more than one strapless style before finding one that's comfortable, stays in place, and holds up your boobs. If you're on the smaller size, consider this minimal bra (available in cup sizes A through D) that Gilmore recommends. "It stays up, and it almost feels like I'm not wearing a bra," she says.
With a wider band and fuller cups, this strapless bra accommodates up to a DDD cup size and would be a good step up from the Maidenform if you want more support. Stephens calls it "the first and only comfortable strapless I've found."
If you're like visual branding strategist Jen Wonders, who told us that "style is the first attraction when I pick a bra," you'll probably gravitate toward this sexy design from Else Lingerie. It goes up only to a D cup, but, according to Wonders, "it supports but still looks very feminine with just the right amount of lace."
Best strapless bras for big boobs
While it was hard to find a consensus on strapless bras for smaller boobs, for larger cup sizes the Wacoal Red Carpet bra was the clear winner. "It's been around for many years, and it's really fantastic," says Becker, who adds that it's often the only strapless bra that w