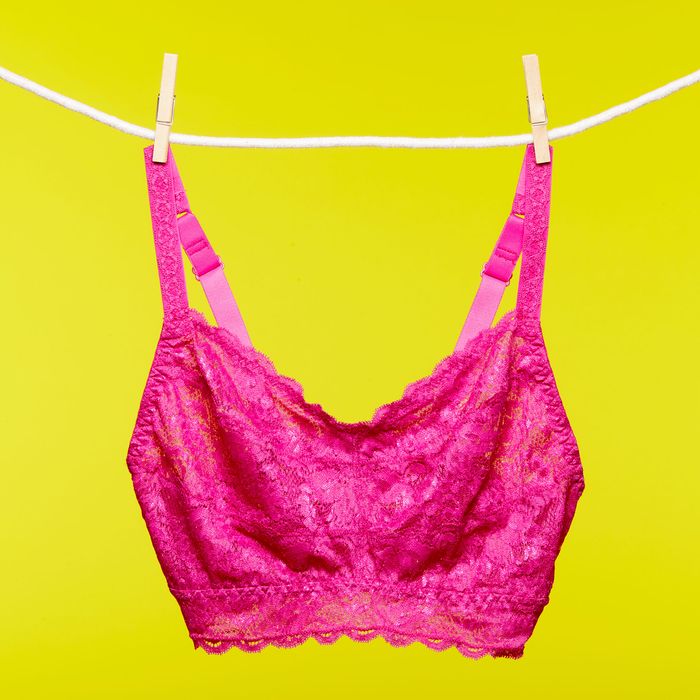 If you're looking to refresh your underwear drawer, you've come to the right place, as that's sort of an obsession of ours — whether you're searching for the best shapewear, on a hunt for the best boxer briefs, or shopping for new bras. Bras in particular are one of my specialties; I've reported on all types, including ones for small breasts and the lingerielike mesh kind if you'd like to bare a little more. If you've sworn off underwires for good (or like to have some variation in your undergarment rotation), the wireless-bra category can be daunting because they are literally built differently, usually with a bigger band since there's no underwire for support.
Those with larger breasts often find the search for the right wireless bra even trickier. That's because many bras don't account for the extra space needed in the cups or they feature a disproportionately big band; without an underwire, the band is essentially responsible for support, so an ill-fitting one can cause your straps to slip and cups to feel loose. The best bras offer as much security as comfort. So I talked to a host of experts — from lingerie-store owners to fashion writers — to ask them about the wireless bras that are among their favorites. Read on for their reviews and mine, as I've tried out several of the styles you'll see below.
Those with large breasts often have trouble finding properly fitting bras in the first place — and brands with limited sizing don't help. Our focus was on highlighting labels that have a lot of sizes to offer for bands and cups, including some that run as large as a J cup. Since having a large cup size doesn't necessarily mean you need a large band, we also tried to include brands that offer an assortment of size combinations to ensure everyone can find the best fit.
Aside from comfort level and proper fit — meaning your straps stay in place, the cup doesn't gap, and the band sits flat against your back — the next most important aspect of a bra is the material it's made of. Larger breasts need fabric that has a lot of stretch so it doesn't feel constricting or binding. Beyond that, there isn't one material that's better than the other; it just comes down to what you're looking for. Cotton and mesh tend to be more breathable, while lace oftentimes looks the prettiest. Mesh and lace are also typically made from nylon with a mix of elastane, which has a lot of stretch and support. For each recommendation below, we noted the material so you can pick the bra that's right for you.
Wireless bras come in a variety of styles like scoop necks and V-necks — so we organized the list based on specific categories such as longline bras, plunge bras, and so on. It was important for us to mention strap widths, too, because they play a huge part in how supportive a bra is. A thin strap can look great, but some people with larger breasts prefer wider straps that are less likely to dig into their shoulders. All the bras below are supportive and comfortable in their own way; the best strap width for you will come down to preference. You'll also see every recommendation denoted as having clasps or no clasps in the back.
Best overall wireless bra for large breasts
Sizes: XS–XL (equivalent to 30DDD–40H, with extended sizes here) | Material: Lace (nylon and elastane) | Style: Scalloped lace along a V-neck with medium adjustable straps and no clasps
Though Cosabella's bras were mentioned the most — including its Dolce Curvy, Curvy Plunge, and Soire Confidence — there wasn't a consensus on which of its bralettes is the best of the best. But the brand's best-selling Never Say Never is a favorite for a reason — coming in an extensive range of band- and cup-size combinations — and after testing it myself, I think it deserves the title of best overall. It's lifting, which is usually more of a promise with wireless bras. You can tell it is designed with bustier folks in mind — the top is cut so you get cleavage and coverage. Because the band is longline-like, you get some smoothing underneath your breasts as well (make sure the band is straightened out, though, or it could roll up slightly). And unlike many of the bras made for larger busts, the Never Say Never doesn't look matronly.
Best plus-size wireless bra for large breasts
Sizes: 38C–46DDD | Material: Nylon and spandex | Style: Crossover back (no clasps) with thick, adjustable straps
When we asked our experts to recommend a truly supportive wireless bra for plus sizes, Lane Bryant came up second to Cosabella — specifically, its intimates line, Cacique. Its fans include Black, who's "practically been living" in styles from the collection; Sarah Chiwaya, a plus-size fashion blogger at Curvily; and food editor Alyse Whitney, who is so devoted to Cacique's Lightly Lined Lounge Bra that she wrote an entire ode to it. It's "the next-best thing to wearing nothing," Whitney says. As a 44DDD, she used to have no choice but to "wear an underwire to hoist the girls up or go commando up top." Then she purchased this bra after reading glowing reviews. "Somehow, magically, the molding of the cups, the thick band underneath the bust (that isn't too tight or constricting), and the supportive straps give real lift and cleavage," she says, without qualifying as "an up-to-your chin push-up bra." Whitney also likes that it's easy to adjust.
Best scoop-neck wireless bra for large breasts
Sizes: XXS–5X | Material: Nylon and elastane | Style: Scoop neck with thin adjustable straps and no clasps
The Fits Everybody bra from Skims counts both Strategist beauty columnist Rio Viera-Newton and Casey Brown, the blogger behind StreetsBeatsEats, as converts. Viera-Newton, who wears a D cup, calls it "superspecial, dreamy, incredibly supportive, and great for loafing around the house." Brown agrees, adding that while the straps are on the narrower side, the band does the hard work of supporting the bust well. The elastic underbust sits flat against your chest without rolling up. Like many of the other bras on this list, it's made from nylon, but it's still breathable because the material is quick drying and lightweight. Skims offers one of the widest size ranges we've seen, from XXS to 5X, with a number of skin-tone shades. The brand also offers a similar fit in a slightly different cotton-jersey number and a thicker band option.
Best (less-expensive) scoop-neck wireless bra for large breasts
Sizes: XS–3XL (equivalent to cups A–D) and 1+ – 3+ (equivalent to cups DD–F) | Material: Recycled yarn | Style: Scoop neck with thin and wider adjustable straps (depending on size), front darts, and back clasps
Parade's scoop-neck bralette comes in at around a third of the price of Skims's — and it's pretty impressive for its $12 price tag. It's sewn from the brand's signature Re:Play fabric; made from recycled manufacturing scraps, it's an ultrastretchy material that snaps back easily. A stripe of mesh lines the back of the bralette, giving it a bit of breathability, and its wider band makes it more supportive than other scoops I've tried, without digging into my rib cage. Parade also offers wider straps on their 1+ to 3+ sizes (which are meant for those with cup sizes DD through F) to add a little lift — the "plus" versions of the bralette also feature a higher gore in the center of the wider band and three hook-and-eye clasps in the back instead of two. I'm a 36D and comfortable in the large, just as the size chart recommended.
Best wide-strap wireless bra for large breasts
Sizes: XS–3X (equivalent to 30A–44D) | Material: Polyester, nylon, and elastane | Style: Scoop neck with wide straps, no clasps, reversible design, removable pads
"The hardest part about wireless bras is finding the sweet spot of coverage for your cups and snugness in the band," explains Brown. But she calls Spanx's Breast of Both Worlds bra (it's reversible, with another color on the other side, hence its punny name) the most comfortable bralette she owns. She has had hers for three years now and says it "doesn't compromise" on "support to provide comfort," which is often what happens with wireless bras. Brown likes to wear it for lounging around. It features a higher cut on the side, sports-bra-like straps, and a stretchy, supportive band. Although it doesn't lift and separate as much as an underwire bra, "I feel like this holds me up enough," Brown says. It also comes with removable pads to provide more coverage, if that's your preference.
Best plunge wireless bra for large breasts
Sizes: 1–3 (equivalent to 30DD–40DD) | Material: Nylon and spandex | Style: Plunge with thin adjustable straps and back clasps
Former Strategist writer Chloe Anello pointed me toward the Busty from Lively. "As someone with larger breasts but a small band size, I find that bralettes typically fit me poorly, but Lively was one of the first brands to make one specifically for people like me," she says. She now owns six of these, having collected them over the years. The band fits snug against her rib cage, giving her "maximum support," and while it's a plunge style, she considers it full coverage. Because of her review, I asked the company to send me one, and I agree with Anello on all counts. There's a "sling" inside of the bra that does the supporting work of an underwire and gives me the rounded, perked-up look that I get with a traditional bra. The Busty is also one of the more affordable recommendations on this list.
Best plunge plus-size wireless bra for large breasts
Sizes: 28D–40J | Material: Lace (nylon and elastane) | Style: Plunge, longline with thick straps and back clasps
Brown describes the Zara from Bravissimo — a lingerie maker specializing in larger bust sizes — as a high-quality "dream" that's "even prettier in person." Madison Alexandra, a fuller-bust model who runs her own "bra school" on TikTok, says the plunge style gives the bra added sex appeal that many bralettes for women with larger busts don't tend to have. (Full disclosure: Bravissimo gifted the bra to her, but she quickly incorporated it into her regular rotation.) She says she feels supported and doesn't even notice she's wearing a bra half the time. Another perk is the clasps in the back. Slipping a bralette over the head sometimes feels impossible with large boobs because the bands are typically very tight in order to provide support — so designing the back similar to a typical bra only contributes to the comfort level.
Best seamless wireless bra for large breasts
Sizes: XS–XL (equivalent to 30B–38D) | Material: Nylon and elastane | Style: Scoop neck with thin adjustable straps and no back clasps
"I have a theory that the less you want someone else to see you in a bra, the more comfortable it is," says Strategist contributor Brodie Lancaster. "The full-coverage, 'long enough to be a crop top' ones that are the color and texture of surgical bandages are exactly what you need when the most travel you're doing is from the couch to the toilet." This minimalist, seamless bra from True & Co. is not only comfortable, it's also one she wouldn't be too bummed about wearing the first time someone saw her in her underwear. She describes it as a second skin, in between a "classic T-shirt bra — with subtly molded cups — and a sports bra but without any of the heft." It's supportive as a bra should be, but because of its supersoft, moldable material with no itchy seams, you hardly know it's there. The cups are also removable.
Best V-neck bralette for large breasts
Sizes: XS–2X (equivalent to 30C–44DD) | Material: Nylon and elastane | Style: V-shape front and back with thick straps and no clasps
Freelance writer Liz Black recommends the True Body Lift V Neck Bra, which she likes because it gives you more cleavage and has a thicker strap. Black says this layers seamlessly under clothes (as does the brand's True Body Lift Scoop Neck Bra). Content creator Sydney Scott says the bra is so thin that you won't see even a hint of its outline through whatever you're wearing. The brand gifted it to her a number of years ago, and she's worn it weekly since ("which is hundreds of times, if you do the math," Scott says). It's pretty forgettable — in the best sense — as Scott even sleeps with it on. "The band is perfect," she adds. "It doesn't roll up, and I find it stays in place." Scott notes that the bra runs true to size as she usually takes a 2X and that's the same size she wears in the bra.
Best lace wireless bra for large breasts
Sizes: 28DD–40J | Material: Lace (polyamide, elastane, and viscose) | Style: Scalloped lace along neckline with medium adjustable straps and back clasps
"The lace cup is pretty, but also it isn't incredibly stretchy, so it provides a lift as good as an underwire bra," Marinelli says of this Panache style. Kimmay Caldwell, a professional undergarment educator who wears a size 32DD, calls out the "seamed construction and an adjustable band and straps," which are pertinent for a good fit. She has recommended the bra to all sorts of customers, including one who was pregnant.
Best mesh wireless bra for large breasts
Sizes: XS–XL | Material: Mesh (nylon and spandex) | Style: V-shape front with sheer panel trim, medium, adjustable straps, and back clasps
The sartorial problem with mesh is the nip-slip situation — you're not getting that much coverage. The Victoire from luxury lingerie company Journelle is an exception. It's fashioned from mesh that's layered over thin-but-opaque spandex in the "cups" of the bralette. I don't feel so bare in it. Even with the double layering, the bralette feels light — and breathable in the way you want mesh to be. It has a smoothing effect too, with no spillage on the sides. And the Victoire, which comes in a few skin-tone shades as well as black and navy, is a pretty little thing to put on. Journelle's underthings have been described as "less highfalutin than the Kiki de Montparnasses of the world" on this very site. It's a fitting description — the ribbon bow and a little peek of lace on this bralette aren't too saccharine.
Best (less expensive) mesh wireless bra for large breasts
Sizes: XS–3X, 1+, 2+, and 3+ (equivalent to 32A–44D) | Material: Mesh (recycled fibers) | Style: Plunge with medium straps, clasps, and a thicker band
Anello replaced most of her bras with mesh ones because she finds them much more comfortable and suitable for a work-from-home wardrobe. You won't be able to wear this one under a white T-shirt — unless that's the vibe you're going for — but for Anello, its comfort outweighs the lack of neutral colors. The plunge style features a thicker band that doesn't budge but isn't so tight she feels constricted. It's available in sizes XS to 3X, plus Parade makes the bra in three additional sizes specifically designed for fuller cups. (Anello is a 32DD and says the 1+ fits perfectly, for reference.) She also approves of the brand's scoop neck, which comes in the same size range, in case you're not quite sold on the plunge style.
Best cotton wireless bra for large breasts
Sizes: S–4XL (equivalent to 28A–46B) | Material: Cotton | Style: Scoop neck with medium adjustable straps and no back clasps
New York–based model Veronica Campos, who wears a 40DD, likes this wireless bra from Pansy, a woman-owned, size-inclusive underwear company. Designed with bigger cup sizes in mind, "there's no strap adjusting or clasp to clip, so it's always zero fuss," she says, adding that you won't have to sacrifice comfort for support because the material is "thick" and has substantial "hold and control." The bras go up to a size G and are so comfortable that she has actually fallen asleep with one on, she adds. It's made from organic cotton, making it a more ecofriendly garment. For another ecofriendly option, Campos suggests a bamboo bra from Hara the Label, whose sizing goes up to a 5XL.
Some more wireless bras for large breasts that we've written about
• Madison Alexandra, model
• Liz Black, freelance writer
• Casey Brown, the blogger behind StreetsBeatsEats
• Kimmay Caldwell, professional undergarment educator
• Veronica Campos, model
• Sarah Chiwaya, plus-size fashion blogger at Curvily
• Jenette Goldstein, owner of Jenette Bras in Los Angeles
• Brodie Lancaster, Strategist contributor
• Gina Marinelli, freelance writer and editor
• Sydney Scott, content creator
• Rio Viera-Newton, Strategist beauty columnist
• Alyse Whitney, food editor
Additional reporting by Chloe Anello, Alexandra Ilysashov, and Dominique Pariso
The Strategist is designed to surface the most useful, expert recommendations for things to buy across the vast e-commerce landscape. Some of our latest conquests include the best acne treatments, rolling luggage, pillows for side sleepers, natural anxiety remedies, and bath towels. We update links when possible, but note that deals can expire and all prices are subject to change.
Every editorial product is independently selected. If you buy something through our links, New York may earn an affiliate commission.