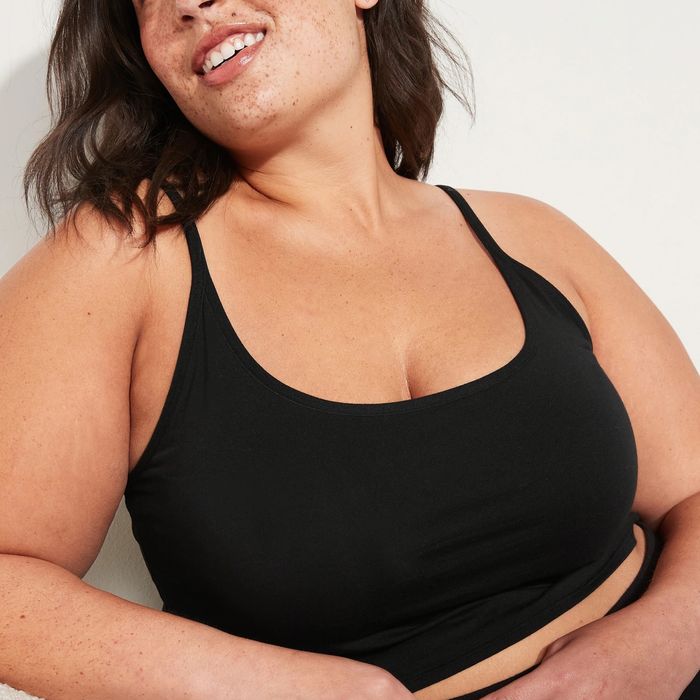 Photo: Courtesy of retailer
It's the band, not underwire, that makes a bra supportive — so for those with D-cups and up, a wireless bra can be just as lifting.
To find the best supportive wireless bras and bralettes for large breasts, we talked to 19 cool people — including lingerie store owners and merchandise managers — about the styles they trust. Then we combed our archives to ensure we did not forget any worthy wireless undergarments we've written about before. The more than 20 wireless bras and bralettes below include seamless options, styles with removable padding, and lacy, longline numbers. To help you shop, we've divided them into bras and bralettes, leading each category with products that got the most recommendations. All the garments on this list are available in at least a size D, with most coming in G and H, and a few even running as big as O.
And if your underwear drawer is in need of an update, we've got you covered with roundups on best bras, backless bras and boob tape, and sports bras.
Best wireless bras for bigger busts


Jenette Goldstein, the owner of Jenette Bras in Los Angeles, is a big fan of Fortnight's stealthily strong mesh options. "Fortnight is a small, woman-owned company in Toronto that has been crafting high-quality wireless bras in-house since long before the current 'bralette' marketing trend," says Goldstein. "They employ every technical trick in the book — architectural seaming, power mesh, reinforced panels — to compensate for the lack of underwire." Goldstein adds that her clients have been pleasantly surprised by the amount of support they get from the Luna, which counts another fan in Gina Marinelli, a freelance writer and editor. "I love the super-wide band, which provides a comfortable fit and extra underboob support," she explains of the bra, which goes up to a size G.
"The lace cup is pretty but also it isn't incredibly stretchy so it provides a lift as good as an underwire bra," Marinelli says of this Panache style. Kimmay Caldwell, a professional undergarment educator who wears a size 32DD, also recommends the Andorra bra, telling us it has a "seamed construction and an adjustable band and straps," which, as she reminds us, "are important for a good fit." Adds Caldwell: "I just helped a pregnant customer with a full, heavy bust into this style — she needed a wire-free option that was still supportive and gorgeous." This bra is available in U.K. sizing — offered up to a size J, which translates to an M cup, according to the brand.
Two women with bigger busts each told us they found their ideal wireless undergarment from Kim Kardashian's underwear line Skims. One is Strategist's very own Rio Viera-Newton (who wears a D-plus cup): She bought this scoop-neck bra, which goes up to a size 3XL, back in October and calls it "superspecial, dreamy, incredibly supportive, and great for loafing around the house." The second is contributor Brodie Lancaster, a freelance writer who wears an F cup. After just a few wears of her preferred wireless style from Skims (a bralette that is currently sold out), Lancaster told us "you understand why the brand's drops sell out so quickly."
Lancaster has another favorite wireless undergarment in this (actual) bra from True & Co. She describes the brand as "a lingerie start-up that you've almost certainly come across on Instagram," noting that its bras, including the True Body Lift Scoop Adjustable Bra (which goes up to a size DDD), "are made from a fabric that's softer than any other bra material I've encountered." That fabric, she adds, "manages to hold my boobs in and up" so well that Lancaster compares it to "a second skin." Freelance writer Liz Black, a blogger at P.S. It's Fashion, wears an H cup and says that this bra — along with the brand's True Body Lift V Neck Bra and True Body Scoop Neck Adjustable Strap Bra — "layer seamlessly under clothes" with enough lift to wear them anywhere. 
Knix, another Toronto-based underwear company, makes this wireless bra that digital content creator Aysha Harun recommends. The seamless style comes in sizes up to G and has light, removable padding. According to Harun, the bra "adds a bit more coverage" than a totally unlined one and its moisture-wicking nylon and Spandex material "really lets the girls breathe." The bra comes in black and four different shades of nude "so that women of color can wear something that actually matches their skin tone," adds Harun (who wears nude No. 3).
Photo: retailer
As we and other exacting shoppers know, sometimes you have to search far and wide for the perfect something. Those big-chested women who've yet to find their ideal wireless bra stateside might consider this tip from contributor Hannah Howard, who notes "I'm a size HH, like my initials." She says the Cami Sleep Bra from Bravissimo — "a shop with locations all over the U.K." — is "ideal for never-leave-the-house COVID days." The bra, which is sized in U.K. measurements, is available from DD–K, which is roughly the equivalent to DD/E–O in U.S. sizing. Should you want to try it, Howard suggests taking your measurements to make sure you get the sizing right.
Photo: retailer
Also sold by Bravissimo, Howard says this wireless bra from Sugar Candy doubles as a nursing-friendly style for those in need of a supportive bra that's also good for breastfeeding. "Last April, I gave birth to a baby girl, and the Sugar Candy Non-Wired Bra quickly became my favorite nursing bra," she says of the style, which is available in up to a size 2XL. "Even though I'm not breastfeeding much anymore these days, it's still in heavy rotation."
New York–based model Veronica Campos, who wears a 40DD, loves the wireless bras made with bamboo fabric from Hara the Label, like this Leo High-Cut Bra. Bamboo, as we've written before, is a more sustainable material and Campos promises that while these are "made with very little material," they still offer a good fit and hold. The bras come in sizes up to 5XL, which she notes is "super hard to find."
Campos also likes this wireless bra from a woman-owned, size-inclusive underwear company, Pansy. Designed with bigger cup sizes in mind, "there's no strap adjusting or clasp to clip on, so it's always zero fuss," she says, adding that you don't sacrifice comfort for support because the material is "thick" and has substantial "hold and control." The bras go up to a size G and are so comfortable that she has actually fallen asleep with one on, she adds.
Girlfriend Collective's Paloma Bra teeters on the line between bra and bralette, but it's so supportive that Lancaster, a longtime remote worker, wears it whether she's working out or not. "The Paloma stays put, is structural, and feels like it's really supporting my chest without compromising comfort," she previously wrote in her guide to the best work-from-home bras. "If anything, it encourages me to sit up straighter, for which my osteopath is grateful."
This bra, which is available up to a DD, comes courtesy of Sapna Palep, the co-CEO of Journelle. Palep describes the bra as smooth, soft, and comfortable "with the right amount of stretch to mold to your curves, yet not lose shape or support." She recommends it more as an everyday T-shirt bra, since it has a slight V-shape neckline that won't leave that unwanted bra outline like other styles do.
Ashby Vose, a social media content creator for Torrid, was a fan of the brand's bras long before she started working for them, as the "busty babes" she knew would always recommend them. She says this is Torrid's best-selling bra. "I've been a fit model for bras, and I can tell you firsthand that the lift that I get with this [one] looks as if I'm wearing one with underwire." She also appreciates how smoothing the back of the bra is.
Best wireless bralettes for bigger busts
According to Danielle Iserlis, a former marketing associate at Journelle, this is Cosabella's classic bralette retooled for fuller busts. The style comes in a whopping 30 colors, sizes from DD–H (there's an Ultra-Curvy version that goes up to a 36L, too), and is both comfortable and supportive. "This stretch-lace pullover-style bralette is lined with power mesh for ultimate support and has wide, non-digging straps for comfort," Iserlis says. If you do need more support, Caldwell, another fan of this bralette, has a tip: "Some of my clients layer this over a supportive bra for that fashionable bralette look, plus support." It has "far and away" become a best seller at Journelle, Palep says. She agrees that the stretchy lace adds more support, explaining that the bra was specifically meant for those with smaller band sizes but fuller busts. Like other popular bralettes at the store, once word got around about this one, customers have come back to buy it in every color, she tells us.