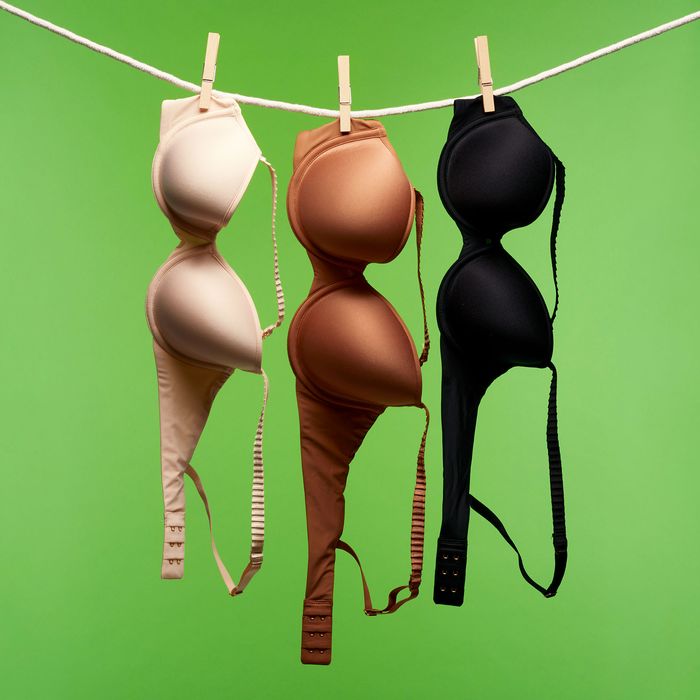 It has taken me years (and a few dressing-room meltdowns) to find a bra that makes me feel okay about my chest — and a couple more tries to find the ever-elusive perfect one. After all the uncomfortable underwire, skintight straps, and cups that floweth over that I've suffered through in the process, here's my theory: A great bra is one you don't have to think about. It does its job of supporting, sculpting, or just defending against unwelcome nip slips without a single pinch.
That's easier said than done. Bra shopping is notoriously stressful, but word of mouth is a good starting point. So to put together this guide on the best bras for small breasts, I spoke with stylish small-chested women and with professionals who fit bras for a living. To make the guide as comprehensive as possible, I also searched through our archives for highly praised styles. Scroll onward for all those recommendations or click on one of the bolded links below to skip ahead. And if you're looking for (wireless) bras for bigger breasts, we've got a guide for that, too.
Best overall | Best less expensive | Best for AAA and AA cups | Best molded | Best push-up | | Best plunge | Best demi | Best spacer | Best sheer | Best overall wireless | Best wide-strap wireless | Best triangle bralette | Best mesh bralette
Size range: While the intimates industry has become more size inclusive, the default range tends to fall between 30A and 40D. If you're in the A to B cup range, there are ostensibly more options, from lacy lingerie and padded push-ups to barely there bralettes. But if you wear a bigger band (like a 48A), it's usually slim pickings. If you're a AAA or AA cup, which are oftentimes rare to spot off the rack, your best bet is to look for brands that specifically design for smaller chests, says Cora Harrington of The Lingerie Addict. A similar sentiment was shared by undergarments educator Kimmay Caldwell and Elisabeth Dale, author of The Breast Life Guide to the Bra Zone, both of whom mentioned shopping at start-ups like Pepper, Lively, and ThirdLove. Although not all three brands are name-checked below, we did focus on retailers offering a range of sizes and noted the sizes each of our bra picks comes in (including if a company uses its own system instead of a traditional band number and cup letter).
And a note about cup sizing in general: "The actual cup changes in size as you move across bra-band sizes," Dale says. That means as you go down a size in a band, you go up a cup size, and as you go down a cup size, you go up a band. So a bra in a size 36AA is the equivalent cup size of 34A, 32B, and 30C bras, which theoretically gives you a few more options to try within a given brand's size range.
Underwire: The war of the wires comes down to comfort (and wireless is winning). But before burning your underwire, it helps to understand why it's there in the first place. "The underwire's job is to shape the base of the cup and thus the rest of the breast," Caldwell explains. Its other responsibilities, as Caldwell lists, include lifting up cups, helping a bra lie flat against the front of the body, and separating your breasts from each other. Sans underwire, it's on the straps to provide all the support — that's why, generally, wire-free bras will have a less lifted shape, Caldwell says. (And speaking of straps, "unattended bra straps" are one of the most common mistakes Christina Viviani, co-founder of the Great Eros, sees during fittings. Adjust accordingly, as they move around over time, and "make sure your back closure sits parallel to the floor and isn't riding up," Viviani says.)
Cup style and coverage: Cups do double duty: Not only do they change your bust's silhouette (see yesteryear's Maidenform Chansonette bullet bra compared to today's French-girl-esque mesh), they also determine coverage. Cue this visual from Caldwell: Imagine a push-up bra versus a full-coverage one — the former is focused on cleavage more than coverage, giving the bust a fuller shape in the middle, while the latter is more about minimizing the bustline, moving "cleavage" from the middle to the sides. Depending on the cup style you go for, the coverage differs. It's all about personal preference, but "figuring out your natural shape helps point you in the right direction of choosing a bra style," Viviani says. A plunge works for those who like a little more cleavage, while a "demi is a great way to give more fullness on top." And then there's the lining to consider: Unlined usually means sheer, while the lined category includes lightly lined and padded bras.
Best overall bra for small breasts
32A–44H with half-cups (like A½) | Underwire | T-shirt style with lightly lined cups
What makes this ThirdLove T-shirt bra stand out from the rest of the contenders we considered is the number of sizes to choose from. The brand offers half-cup sizes for in-betweeners. This bra earned a stamp of approval from three former and current discerning Strategist writers: Karen Iorio Adelson, Lauren Ro, and Liza Corsillo. In Adelson's guide to the best DTC bra brands, it won high marks for invisibility and comfort. Although it's a T-shirt-style bra (which is designed to create a smooth silhouette even under — you guessed it — T-shirts), the memory-foam cups are cut a little lower, making it more of a "fashion-y demi bra." Adelson, a strap-slippage sufferer, says the pleated strap design keeps this bra in place; while Ro isn't particularly fond of the pleats — she believes they don't make a big difference — she agrees that the bra fits and wears really well. Corsillo was initially doubtful of ThirdLove's promise of a perfect fit but became a convert, even breaking her "no underwire" rule. "[The bra] makes my boobs look equal and perky without overly drawing attention to them," she says.
Best (less expensive) bra for small breasts
Sizes 30AA–40B | Underwire | Contoured and lightly lined cups
Pepper caters specifically to small chests — in this case, by offering exclusively AA, A, and B cups. Dale appreciates how the brand's bras have "really pretty details to them." The All You style is one of Pepper's best sellers; it features "specially molded demi-bra cups" that, according to the brand, are "shallower in depth to eliminate annoying bra gaps." The cups are also lightweight and thinly lined. Ro was sent the bra to try out and says it keeps its promise of no gapping. It also keeps the natural shape of her breasts, which she says is of the highest importance to her: "There's nothing worse than when your boobs just look like the cups of the bra."
Best bra for AAA and AA cups
Photo: retailer
30AAA–42A | Underwire | T-shirt style with padded cups
If you fall on the flatter end of the small-chest continuum, Harrington- and Dale-approved brand Lulalu specializes in AAA, AA, and A cups. Interior designer Penelope August used to buy bras only in Asia but now gets all of hers from Lulalu. She counts the Chloe among her favorite offerings from the brand (the Zoe push-up is another). The Chloe comes with microfiber cups, a tagless hook-and-eye closure, and no side boning for a snugger fit. And unlike other bras that have "crazy lace or bows," these designs are streamlined and minimalist.
An honorable mention: The Little Bra Company's Sascha, which comes recommended by professional bra fitter Karima Renee, a.k.a. the Philly Bra Lady. The label, which is petite-specific, also offers AA cups (but they do sell out quickly). Renee praises the Sascha specifically for its "nude" shade range and its flexibility, as you can remove the push-up padding to make it more of an everyday bra. She says those who come into her shop to try it out say it's "what they have been searching for all their bra lives."
Best molded bra for small breasts
32B–36D | Underwire | Unlined, contoured cups
Let's get the caveat of this bra out of the way first: It isn't offered in an A cup. But if you're in the B range, consider trying it out. Sapna Palep, CEO of luxury lingerie retailer Journelle, has heard rave reviews about the bra from customers, who usually describe it as sexy and comfortable in the same sentence. That comes down to its design, which, as Palep explains, features thin, barely there straps; molded cups that create some cleavage; and Cosabella's seamless Soire Confidence sheer mesh. It isn't "too much bra" for smaller chests, if dreaded gaping is a top concern, Palep says, also noting that it doesn't overpower the wearer. The bra comes in more than a dozen colors, including a range of skin tones as well as brighter shades like red, neon yellow, and purple.
Best push-up bra for small breasts
30A–36D | Underwire | Molded cups with push-up padding
Sometimes a little lift isn't enough — enter the Bump-It-Up push-up bra, which features padded underwire cups and a twist in the front for more of a push-up effect. Caldwell says her clients fall for this bra whenever she puts them in it, especially for its plunging neckline to show more cleavage and less cup. Or, if you're in search of something more like lingerie — such as lace peeking through — Harrington mentions Gossard's Superboost bra to enhance décolletage.
Best plunge bra for small breasts
30A–38DD | Underwire | T-shirt style cups, lightly lined and molded with mesh overlay
It would be wrong to call the Feathers bra a cult favorite of the underwear underground. It's just popular, period. If you're an eagle-eyed Strategist reader, you might have noticed the Feathers topping our overall list of the best bras. It was the most mentioned bra for that story and happens to be the most mentioned here, too. Writer Molly Lamoureux previously told us the Feathers is "the unicorn of undergarments." Lori Kaplan, owner of Bra Tenders, says, "It's a very lightweight, deep-plunge bra with a little lace trim, so it's good for T-shirts but it still has some feminine effects." Parsons fashion-marketing student Tammy Lee seconds the plunge point, describing how "its low cut is flattering for A cups because you can see cleavage," but "your boobs also look natural in them while being held up, even though it's not a push-up." Dale, Harrington, and Palep name-checked this Natori style as well. Palep likes the "lovely round shape" the Feathers makes, which is meant to embrace your natural size (especially as other brands seem to "profit off insecurity," she adds).
Best demi bra for small breasts
Sizes 32A–36D | Underwire | Demi-cut cups with unlined lace
If cleavage is the goal, plunge bras like the Feathers will push your breasts in from the sides for a more extreme effect, Dale explains. A demi is different. You'll get a bit of lift (without any padding) that Dale says is "kind of like a pretty muffin top." Her demi recommendation comes from the Dutch company Timpa, and it's low-cut enough to be worn with a dramatic neckline. (Though the scalloped lace trim at the top of the cups could be pretty peeking out if you're so inclined.) Demis like this one are made to hoist your breasts from the bottom and push them up, Dale says. "It doesn't try to squish them together to create cleavage." Keep in mind that the Duet is designed to have deep cups and a snug band — it's suggested you stay with your true cup size for more cleavage or go up for a more subtle look.
Best spacer bra for small breasts
32B–38D | Underwire | T-shirt style with lightly lined spacer cups
Think of spacer bras as alternatives to padded bras (the term has to do with how the fabric is woven, not with how it spaces out your breasts). They have more lightness and breathability — and Skarlett Blue's Spellbound bra features mesh for an even more barely there feel, according to Laura F. Burke, founder of the private bra-fitting studio Fit by Burke. The Spellbound bra is a rising favorite at her studio. The New York City–based Skarlett Blue is known for being more fashion forward, she explains — but this bra combines a classic balconette cut with a full-coverage bra to create a versatile design. You can wear the Spellbound underneath a snug-fitting top without worrying too much about unseemly lines. But the open neckline hits that sweet spot between being too low or too high. As a bonus, this bra is convertible and can crisscross in the back.
Best sheer bra for small breasts
30A–44H | Underwire | Unlined cups designed with a deep V
Sheer is what Cuup is known for. Amanda McMillan, general manager of Nightmoves, first encountered the company through Instagram. Even though she is usually braless or wearing a softer bra, she likes "the idea of the sexy, French-girl-lingerie-under-structured-boxy-menswear look." As an underwire skeptic, McMillan argues that "the structural mission of underwire construction that works for larger breasts just is really often odd-looking for smaller breasts" and can "make your boobs too close together or kind of cross-eyed, which I hate, or push them up too much." This bra, however, does the job of supporting and offering a hint of lift and "subtle cleavage" in a way that doesn't contort her breasts. For another option from Cuup, Beverly Nyugen, fashion stylist and owner of the homewares shop Beverly's, recently told us all about the balconette version of this bra (she modeled for the brand's latest campaign), praising the "perfect half-corset fit" that she always finds flattering. 
Best overall wireless bra for small breasts
30A–38DD (with some AA cups on band sizes 32, 24, and 36 ) | Wireless | Molded, lightly lined cups with V-neck
The Breathe bra kicks off our wireless recommendations. Gap bras are a favorite among small-busted Strategist staffers, but the Breathe beat out other styles mentioned, as it looks just like a wired bra without the actual wiring. When illustrator and ceramicist Whitney Hall isn't wearing her Patagonia bra (more on that below), you can find her in this one that she describes as soft and flattering. It has flexible, molded cups with adjustable straps that can also be converted to a cross-back option. Hall also likes that it still feels feminine, especially compared to sportier wireless options. Those looking for a sports-style wireless option can turn to the Patagonia Barely Everyday Bra. "It's hard to find cups that don't have a space or gap in them — like the bra wished you had bigger boobs," Hall says. Patagonia's isn't like that at all; Hall describes it as convenient enough for everyday, just like its name implies.
Best wide-strap wireless bra for small breasts
XS–2X (or the equivalent of a 24-to 42-inch rib measurement and cup sizes A-F) | Wireless | Scoop design
Wireless bras are all about the straps — and this pullover-style bra has wider ones for more support. It was recommended to us by both Strategist senior editor Simone Kitchens and Stella Blackmon, a filmmaker and former New York photo editor. "They feel like nothing on," Kitchens says. "They're so comfy but still supportive enough that you don't look dowdy." Blackmon agrees, adding that despite the seemingly thick cotton they're made from, the bras are breathable. "Truly, every time I reach for it, compared to my other bra with the same shape, it's a relief," Blackmon explains. And it comes in a range of "such good colors," like cadmium, toffee, and periwinkle, according to Kitchens, who says the bra is "actually cute if it shows." She likes to wear it with a button-down around the house and mixes and matches it with Arq's coordinating tanks and undies. Just remember to size up, per the brand's suggestion. (For a wider underband, Wacoal's B-Smooth bralette is seamless and Kaplan-approved, with "just the right amount of coverage and support." Sizing on the Wacoal bralette goes by your band size.)
Best triangle bralette for small breasts
XS–XL | Wireless | Triangle cut
No underwear guide would be complete without Calvin Klein. Corsillo first spotted this triangle-style bra at Marshalls, and it has since become one of her favorite weekend bras. Despite its lack of an underwire, she says it holds her breasts up and in place. "And it looks good enough (or sporty enough) to wear by itself around the house," she notes. It has adjustable shoulder straps and a back clasp, too, unlike the Arq option above.
Best mesh bralette for small breasts
Sizes 0–5+ (equivalent to sizes 30A to 42D) | Wireless | V-shaped neckline
Someone who wants an even more barely-there bralette should consider the padless and wireless Negative Sieve. Style blogger Frances Kwon is a fan of the mesh construction to wear on its own, while Strategist newsletter editor Mia Leimkuhler says it hits a trifecta of comfort, support, and looks. It's the only bra she needed on a two-week honeymoon in Europe, where it was "comfy enough to sleep in on the red-eye over, supportive enough to get me through long days of walking all over Lyon and Porto, and pretty enough to feel like something I wanted to be wearing on my honeymoon."
Some more bras for small breasts that we've written about
• Penelope August, interior designer
• Stella Blackmon, filmmaker and former New York photo editor
• Laura F. Burke, founder of private bra-fitting studio Fit by Burke
• Kimmay Caldwell, undergarments educator
• Liza Corsillo, senior Strategist writer
• Elisabeth Dale, author of The Breast Life Guide to the Bra Zone
• Whitney Hall, illustrator and ceramicist
• Cora Harrington, founder of The Lingerie Addict
• Karen Iorio Adelson, former senior Strategist writer
• Lori Kaplan, owner of Bra Tenders
• Simone Kitchens, Strategist senior editor
• Frances Kwon, style blogger
• Tammy Lee, a fashion-marketing student at Parsons
• Mia Leimkuhler, Strategist newsletter editor
• Amanda McMillan, general manager of Nightmoves
• Beverly Nyugen, fashion stylist and owner of the homewares shop Beverly's
• Sapna Palep, CEO of luxury-lingerie retailer Journelle
• Karima Renee, professional bra fitter known as the Philly Bra Lady
• Lauren Ro, Strategist writer
• Christina Viviani, co-founder of the Great Eros
The Strategist is designed to surface the most useful, expert recommendations for things to buy across the vast e-commerce landscape. Some of our latest conquests include the best acne treatments, rolling luggage, pillows for side sleepers, natural anxiety remedies, and bath towels. We update links when possible, but note that deals can expire and all prices are subject to change.