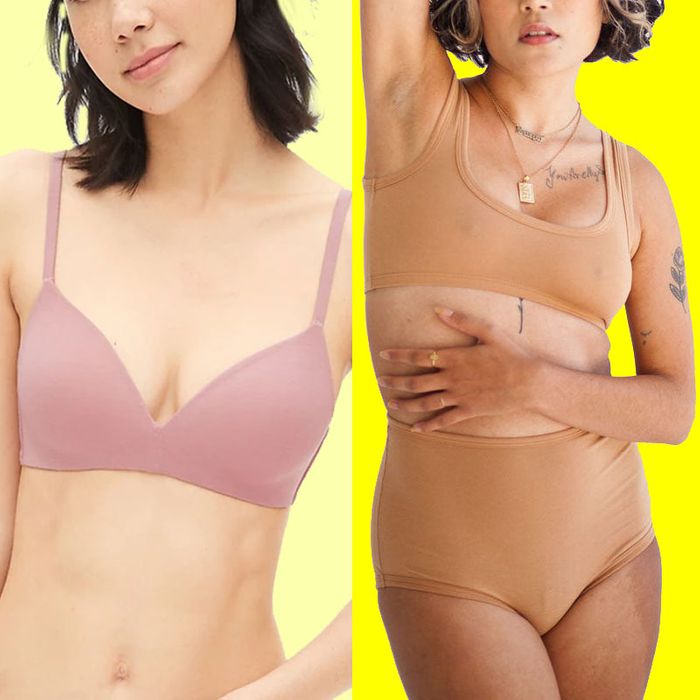 Photo-Illustration: The Strategist; Photos: Retailers
It has taken me years (and a few dressing-room meltdowns) to find a bra that made me feel okay about my chest — and a couple more tries to find the ever-elusive perfect one. After all the uncomfortable underwire, skintight straps, and cups that floweth over it took to get there, here's my theory: A great bra is one you don't have to think about. It does its job of supporting, sculpting, or just defending against unwelcome nip slips without so much as a pinch.
That's easier said than done. Bra shopping is notoriously stressful, but word of mouth is a good starting point. So to put together this guide on the best bras for small breasts, I spoke with stylish small-chested women and professionals who study the inner workings of bras. To make this as comprehensive as possible, I also searched through our archives for highly praised options. Scroll for all those recommendations, or just click on one of the bolded links below.
Best overall | Best for AAA and AA cups | Best push-up | Best plunge | Best sheer | Best overall wireless | Best wide-strap wireless | Best triangle bralette
Size range: While the intimates industry has become more size inclusive, the default range tends to be between 30A to 40D. If you're in the A to B cup range, there are ostensibly more options, from lacy lingerie and padded push-ups to barely-there bralettes. But if you wear a bigger band (like a 48A), it's usually slim pickings. If you're an AAA or AA cup, which are oftentimes rare to spot off the rack, your best bet is to look for brands that specifically design for smaller chests, says Cora Harrington of The Lingerie Addict. That's a similar sentiment shared by undergarments educator Kimmay Caldwell and Elisabeth Dale, author of The Breast Life Guide to the Bra Zone, who both mention shopping at start-ups like Pepper, Lively, and ThirdLove. Although not all three brands are specifically name-checked below, we did focus on retailers offering a range of sizes and noted the sizes that each pick comes in (including if a company opts for its own system instead of a traditional band number and cup letter).
And a note about cup sizing in general: "The actual cup changes in size as you move across bra-band sizes," Dale says. That means as you go down a size in a band, you go up a cup size, and as you go down a cup size, you go up a band. So a bra in a size 36AA is the equivalent of 34A, 32B, and 30C bras, which theoretically gives you a few more options.
Underwire: The war of the wires comes down to comfort (and wireless is winning). But before burning your underwire, it helps to understand why it's there in the first place. "The underwire's job is to shape the base of the cup and thus the rest of the breast," Caldwell explains. Its other responsibilities, as Caldwell lists, include lifting up cups, helping a bra lie flat against the front of the body, and separating your breasts from each other. Sans underwire, it's on the straps to fill in — that's why, generally, wire-free bras will have a less lifted shape, Caldwell says. (And speaking of straps, "unattended bra straps" are one of the most common mistakes Christina Viviani, co-founder of the Great Eros, sees during fittings. Adjust accordingly, as they move around over time, and "make sure your back closure sits parallel to the floor and isn't riding up," Viviani says.)
Cup style and coverage: Cups do double duty: Not only do they change your bust's silhouette (see yesteryear's Maidenform Chansonette bullet bra compared to today's French-girl-esque mesh) but they're in charge of coverage. Cue this visual from Caldwell: Imagine a push-up bra versus a full-coverage one — the former is focused on cleavage more than coverage, giving the bust a fuller shape in the middle, while the latter is more about minimizing the bustline, moving "cleavage" from the middle to the sides. Depending on the cup style you go for, the coverage differs. It's all about personal preference, but "figuring out your natural shape helps point you in the right direction of choosing a bra style," Viviani says. A plunge works for those who like a little more cleavage, while a "demi is a great way to give more fullness on top." And then there's the lining to consider: Unlined usually means sheer, while the lined category includes lightly lined and padded bras.
Best overall bra for small breasts