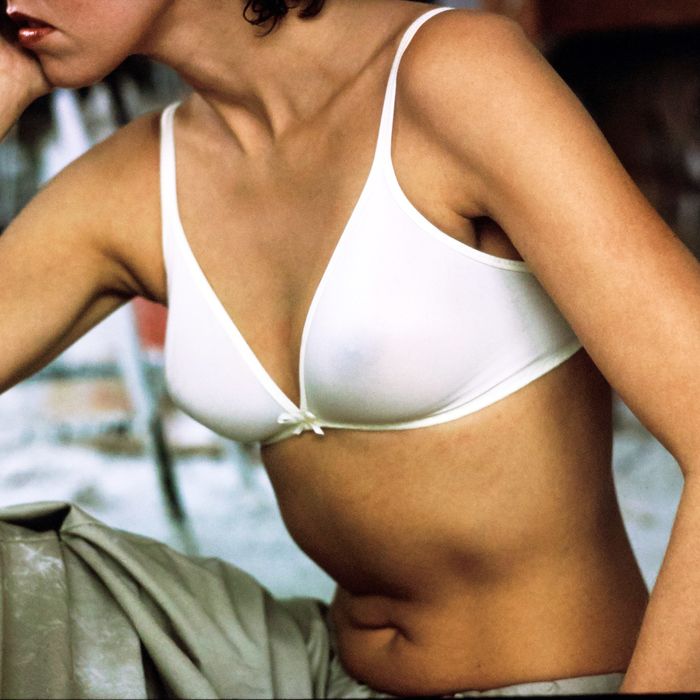 Photo: Deborah Turbeville/Getty/Conde Nast via Getty Images
It's not only busty women who have a hard time finding the right undergarments. If you're in the AA- to B-cup range, you're still faced with a menagerie of styles to choose from — underwired or soft, padded or unlined, bra or bralette. It's hard to know which option will best shape your breasts and achieve your desired effect in clothes. Plus, of course, the sizing runs differently depending on the brand.
So how do exceptionally stylish small-chested types go about their bra-shopping? For starters: "If you're in that A- to B-cup area, a good idea is to look at brands that specifically work with those sizes in mind," says lingerie expert Cora Harrington, author of In Intimate Detail: How to Choose, Wear, and Love Lingerie. You'll find many such brands in the recommendations that follow, which we sourced both from women who study bras for a living and those who just happen to have an enviable way of getting themselves dressed. (A bonus tip is to consider startups like Pepper, Lively, and ThirdLove — although not all of them are specifically name-checked here, all three companies do smaller cup sizes very well, according to author Elisabeth Dale, who wrote The Breast Life Guide to The Bra Zone: How to Find Your Ideal Size, Style, and Support.) Read on to find the triangle cuts racerbacks, and French-girl-esque mesh that will suit you best, whether you're looking for cleavage, seamless coverage, or a little bit of extra comfort during Covid.
Best underwire bras for small breasts
If you fall on the flatter end of the small-chest spectrum, you'll want to check out Lulalu, a brand that specializes in bras for AAA, AA, and A cups. It's recommended by both Harrington and Dale, who calls its offerings "very very gorgeous," as well as interior designer Penelope August. "I used to only buy bras in Asia, but now get them from Lulalu," she says. Her favorite styles are the Chloe, a T-shirt bra, and the Zoe, a push up bra. August loves that the bras are "nice and basic, without crazy lace or bows." A note about cup sizing in general: "The actual cup changes in size as you move across bra band sizes," Dale says. That means as you go down a size in band, you go up a cup size, and as you go down a cup size, you go up a band. So a bra in a size 36AA is the equivalent of 34A, 32B, and 30C bras, which theoretically gives you a few more options.
Pepper is another brand that caters specifically to small boobs — in this case AA, A, and B cups — and Dale says the brand's bras, which are available in both unstructured (soft) and structured (underwired) styles, have "really pretty details to them." The All You underwire bra is Pepper's best-selling bra; its "specially molded demi bra cups," according to the brand, are "shallower in depth to eliminate annoying bra gaps." The cups are also lightweight and thinly lined.
Natori's Feathers bra is one of the company's best-selling styles, and it's another favorite of Harrington and Dale. Tammy Lee, a fashion marketing student at Parsons, also swears by the Feathers bra. "Its low cut is flattering for A cups because you can see cleavage," she says. "Your boobs also look natural in them while being held up, but it's not a push-up." Lee also appreciates the "very soft handfeel compared to other itchy lace bras."
For something a little sexier, consider bras from Cuup, a brand Amanda Spina, a restaurant general manager in Brooklyn, first encountered through Instagram. She decided to give its bras a chance because she liked the colors. "I have small boobs and usually go braless or just wear a soft bra, but I like the idea of the sexy, French-girl-lingerie-under-structured-boxy-menswear [look], so I wanted to try this brand." Spina says she usually stays away from underwire bras because they "make your boobs too close together, or kind of cross-eyed, which I hate, or push them up too much and make them have a weird shape." She adds, "The structural mission of underwire construction that works for larger breasts just is really often odd-looking for smaller breasts." Spina says that the Cuup bra, which she has in the plunge style in moss, "fits me quite well without contorting my breasts in a way that doesn't work for small breasts." She calls the Cuup construction "perfect," giving her breasts "a nice subtle cleavage and a hint of lift." Cuup's color choices, which also include taupe, leopard print, burnt orange, and yellow, are another draw for Spina, who notes that the bras would "look chic peaking out underneath clothing."