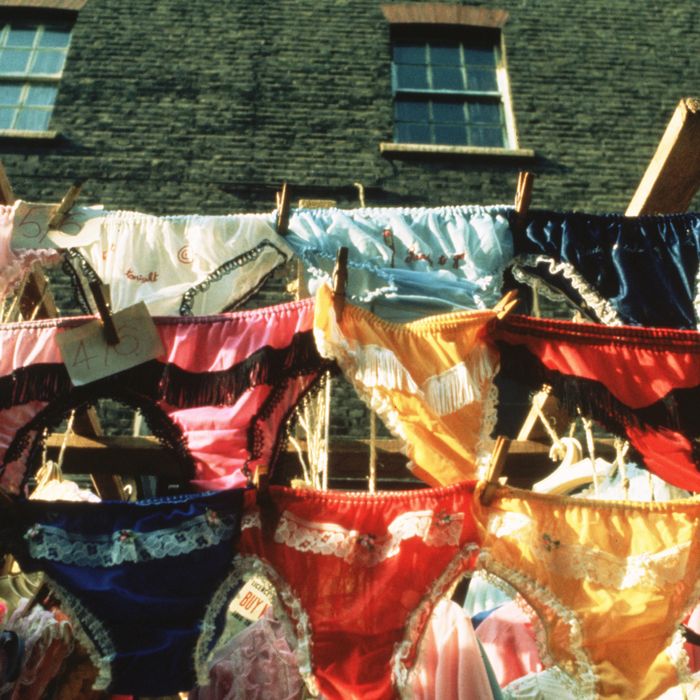 Photo: Courtesy of the retailer
Whether you're into bikinis, briefs, or thongs (or all three), finding the perfect pair of underwear is no easy task. And while we've written a lot about undergarments — including the best underwear according to cool people, the best lingerie, and start-up bra companies — here, we've rounded up the best women's underwear to buy in bulk, according to the most enthusiastic reviewers on Amazon.
Related Articles: Best Women's Underwear | Best High-Waist Briefs | Best Seamless Underwear
Best-rated bulk women's underwear
"Look, I'm a 49 year old mother and baking enthusiast who specializes in bagels and breads," explains one reviewer. "You can read between the lines on that detail. In other words, I'm not looking for thongs or lacy panties. I want cotton underwear. Underwear that stay up, don't bind, don't cut off circulation in my legs or make me feel like they are too snug in the waist." Thankfully, they found this pack of 10 during their search. "Amazon Essentials just won the underwear quest war," she continues. "I've worn them for several days and washed them a few times to determine comfort and durability. They are great. Perfect cotton underwear for normal women who don't want anything fancy, just comfort and proper fit, but not total granny panties either." And more than 1,800 reviewers call this underwear comfortable. "They are so soft, cover everything, zero wedgies, hide under leggings, breathe well, covered my weird post pregnancy belly without harsh criticism, I feel like I finally found THE panties," another customer writes. And another likes them specifically because they don't ride up: "I work 10 hours a day as a dental assistant so I'm up and down a lot then I workout 3 times a week doing Kangoo jumping and I no longer dig out wedgies." And at two dollars a pair, reviewers think they are getting a good deal, but one reviewer likes these panties so much they'll pay extra, just so they never change: "Amazon, don't change this product. Don't add more polyester. Don't mess around trying to save money by making the product cheaper. Just charge more if you have to."
Best-rated (less expensive) bulk women's underwear
"I've been wearing these since I was a child. So comfortable, always so well made," one five-star reviewer writes of these affordable Hanes briefs. Lots of reviewers found them to be a steal for the price, and about 15 percent of reviewers also love that they're made entirely from cotton. One thinks it makes them "comfortable and breathable," while another calls them "just what the gynecologist ordered." And while they are full briefs (a.k.a. granny panties), "I don't care because they're so comfy," says one reviewer who, in fact, appreciates the full coverage. Another praises them for having "a little stretch, soft comfy, and most amazingly, a normal width crotch." They are also "very cool and moisture wicking for those hot days," according to one reviewer.
Best six-pack of women's cotton underwear
"What a drama trying to find 100% cotton undies," one reviewer says, adding, "I was grateful to come across these ones." They praise the fit, writing, "They are very full-fitting - completely covering my rear, and coming to just under my navel at the front." Another adds, "There are no tags, so no irritating scratching or having to rip the tag (and the seam along with it) off." They even praise them for how well they launder: "I washed these in the laundry with the rest of my clothes, and dried them in a hot dryer. They did not shrink at all, and suffered no ill effects from the laundering." And while a dozen reviewers describe these as granny panties, one adds "they 'stay put' the waistband doesn't roll and they are breathable - a TRIPLE win in my book."
Best (less expensive) six-pack of women's cotton underwear
"Yes, just … yes to these," writes one satisfied reviewer about this six-pack of underwear. "They fit great and they're honestly super comfortable." Many other reviewers specifically call out the comfortable waistband, along with the 100 percent cotton content, as major pluses. "The grippy elastic band keeps them securely beneath the waistband of my pants so no worries about wedgies or peek-a-boo panties," one says, while another notes, "The band around the top keeps them from rolling on me (which I hate about most underwear) and the wide leg holes keep me from getting pinched." One thing a few reviewers note is that these "do shrink a bit in the dryer so definitely go up a size," but overall — especially for being one of the most affordable packs on the list — people are happy with the quality. "The quality is consistent and high, with solid construction and no loose ends or unraveling seams," one wearer says, while another, who lives in Hawaii, says that they "love" the breathable, durable cotton. "It gets really humid in Hawaii and these will do the job."
Best six-pack of women's mesh underwear