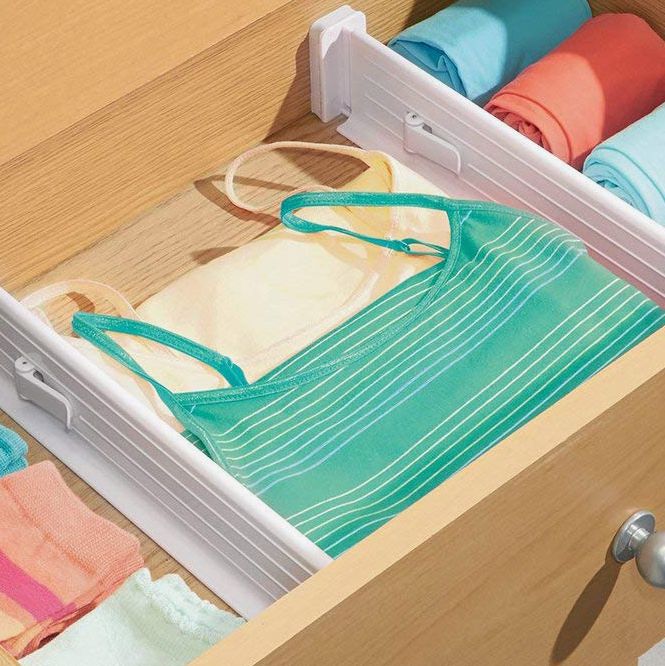 Photo: Courtesy of the Retailer
Here at the Strategist, we like to think of ourselves as crazy (in the good way) about the stuff we buy, but as much as we'd like to, we can't try everything. Which is why we have People's Choice, in which we find the best-reviewed products and single out the most convincing ones. (You can learn more about our rating system and how we pick each item here.)
And while we've written about tons of organizing tools before — including the best makeup organizers, the best drawer organizers, and even the best dorm-room organizers — here, we've rounded up the best underwear organizers, as praised by the most enthusiastic reviewers on Amazon.
Best-rated underwear organizer
"I LOVE LOVE LOVE these organizer," exclaims one reviewer — one of over 700 reviewers who use the word "love" to describe Simple Houseware's underwear organizer and drawer divider. One of those satisfied customers says that before purchasing these organizers she struggled to keep her top drawer from becoming a "big jumble," but that now they "keep everything in place, and you won't forget about the things buried at the back." This mother of a college student says she bought the organizers for her daughter's college dorm "to help her keep the limited dresser drawer space organized." According to her daughter, they're "great for keeping things organized" and help her see when she's running low on underwear or socks and a good sign that she needs to do laundry again.
Best-rated (less expensive) underwear organizer
"This thing is SUPER easy to put together. I mean, completely idiot-proof," says one of nearly a hundred reviewers who called the Whitmor Honeycomb drawer organizer "easy to assemble." In addition to being easy to snap together, one reviewer likes that it, "Does what it needs to for a good price." This reviewer adds, "I don't have to sort through my socks and underwear every day and it looks so nice. The plastic is a solid white color so they match my closet and I don't think of cheap plastic when I look at them." And one reviewer says it's nicer looking than similar diamond-shaped drawer organizers: "Great for keeping my underwear neat and folded. The honeycomb pattern looks super cute and much better than diamond-patterned organizers I've seen similar to this."
And now for some micro-picks of every type of underwear organizer, you might be looking for.
Best hanging organizer for bras
The majority of positive reviewers for this set of Good Cushion closet organizer hangers say they love how it saves space in their dresser drawers and how many bras and sports bras each of the hangers can hold. "I decided to start organizing my home and bought these for my bras. You can hang 8 bras on each hanger." says one reviewer who transferred a total of 16 bras from her dresser to these hangers. One reviewer says she bought these for the closet on her boat since storage space is limited: "I think they would be good for hanging your lingerie to dry, too," she says and finished her review by calling them a "great storage solution at a great price." Another reviewer writes that she uses the hangers to organize her sports bras which were previously "a jumbled mess in the drawer" according to color.
Best hanging organizer for underwear and socks
"Helped me free up a drawer," writes one excited reviewer who uses the Misslo hanging closet organizer for socks, bras, and underwear, explaining that "the whole organizer, when filled, still uses such a minimal amount of room in the closet, that I just keep it between my shirts." Other reviewers gave this hanging organizer high marks for its sturdiness, storage capacity, durability, and ease of use. A reviewer, who loves being able to see through the clear pockets, says, "I got this to organize all of my underwear and socks and so I could see my options easier." Another happy reviewer who loves her newly freed-up underwear drawer says she "While I have a modest undies collection, I do enjoy socks, and I was able to fit the majority of my stash into this."
The most repeated phrases used to describe these mDesign Drawer organizers are "easy to use," like one customer who swears, "My wife loves these so much, she immediately bought more. And, I suspect she will buy yet more before all is said and done." Reviewers also say that they are sturdy and durable. One five-star reviewer calls them "truly a phenomenal product," adding, "They changed my underwear drawer completely." Another reviewer who says they're great for socks and underwear called them "absolutely wonderful and easy to use." And this reviewer says, "I'm very pleased with these drawer dividers. They are super easy to install and are working out just as I had hoped to organize my sock and underwear drawer."