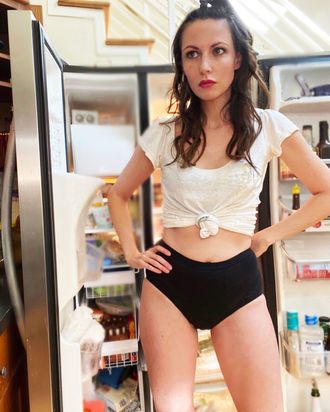 The author in her Period Company underwear.
Photo: Liz Carey
It's been so long since we ladies have been able to share intimate bathroom moments, I am sort of craving them. You know those pre-COVID times when a stranger would hand you a tampon or a wad of toilet paper under the stall door? Women's bathrooms are a sacred space where we stop judging, hand each other tissues, compliment one another, and cry. Occasionally, they will have those old-fashioned vending machines with pads the size of a toddler's diaper. (Can we fix this? No one is carrying change.) I actually had an incident care of one: It was at Six Flags Magic Mountain, in the late '90s, after a water ride, and I was in a bodysuit. I am still traumatized.
If you haven't guessed, I want to talk about periods. Mine comes every 28 days, but somehow, always when I least expect it. I have ruined my best jeans, my best vintage sundress, a couch (it was mine), sheets, and my good underwear. All women have their good underwear, just as we all have some shameful, thinning, ripped-up underwear tucked away for our periods. This underwear is not to be confused with actual period underwear, which is made specifically to be worn during your period in lieu of a tampon or pad.
I wore period underwear for a bit after I gave birth, until one day when a kindly gentleman informed me I had toilet paper sticking out of my pants. I was feeling very good that day, having washed my hair and produced a live human from my body just weeks prior, so his comment took me down a peg. I was never really dying to give period underwear another go after that. While the gentleman's feedback wasn't solicited or correct, it also wasn't wrong: Period underwear, like the tampons and pads it is meant to replace, can be bulky. A lot of it looks even more awkward because it has bizarre paper-towel patterns.
When I learned that celebrity stylist Karla Welch launched her own brand of period underwear called Period Company, the first thing I thought was, Finally, my ass can afford a stylist! Then I played around on its site and saw a high-waisted pair that really just looked like cute high-waisted briefs. I saw no evidence of paper-towel patterns. Most styles of Period Company underwear are only $12 (and none cost more than $24), making all of them affordable, especially when I considered the savings on tampons. (I've paid anywhere from $6 to $16 for tampons, please don't make me do the math.) I decided to take another go at period dressing.
The underwear is super comfortable, not bulky like you might think, and cottony soft. You can throw it in the washer and dryer without affecting the look or feel. There is also zero chance that any kindly gentleman will tell you that you have toilet paper sticking out of your pants while wearing it. (Unless it's sticking to your pants; I'm not a magician!) In fact, the high-waisted briefs are sexy enough to shoot a pandemic thirst-trap photo in, even while they're trapping your flow. The underwear has a seam that makes leaks seem fairly impossible; I have had zero and have been wearing mine for months. I wear them all day long, too, and am not running to the bathroom every few hours. While I haven't really worn mine for full days out of the house — who is spending full days out of the house? — I look forward to doing that, because I will no longer have to be the girl with a purse full of tampons (though I still might carry a couple so I can hand one to you from under the stall).
In addition to the high-waisted pair I like, for the same price, you can get the underwear as a bikini, a mid-rise boxer, and an adaptive bikini with Velcro-and-loop front closures that make it easier to take on and off. (I wish more clothes were adaptive.) For $24, you can get a pair of shorts called the Sleeper, which provide even more coverage than the boxer. There are also three made-for-teen pairs. According to the brand, the underwear's fabric is "free of PFAS toxins," the harmful ingredients that recent reports say were found in other kinds of period underwear. Period Company goes further to soothe skeptics like me by offering what it calls a two-period trial; if over two months you try and don't like anything, you get your money back. And even if you don't have — or get — your period, I'd say the underwear is still worth considering. There are all sorts of reasons that pee can escape, from having a baby, to trampolines, to menopause, to laughing so hard you pee, to those days when you've got to go but are sitting in such bad traffic on the 101 that you think to yourself, Maybe if I just let a teeny bit out, it might buy me some time. Well, presto no chango. (Maybe I am a magician?)
The Strategist is designed to surface the most useful, expert recommendations for things to buy across the vast e-commerce landscape. Some of our latest conquests include the best acne treatments, rolling luggage, pillows for side sleepers, natural anxiety remedies, and bath towels. We update links when possible, but note that deals can expire and all prices are subject to change.