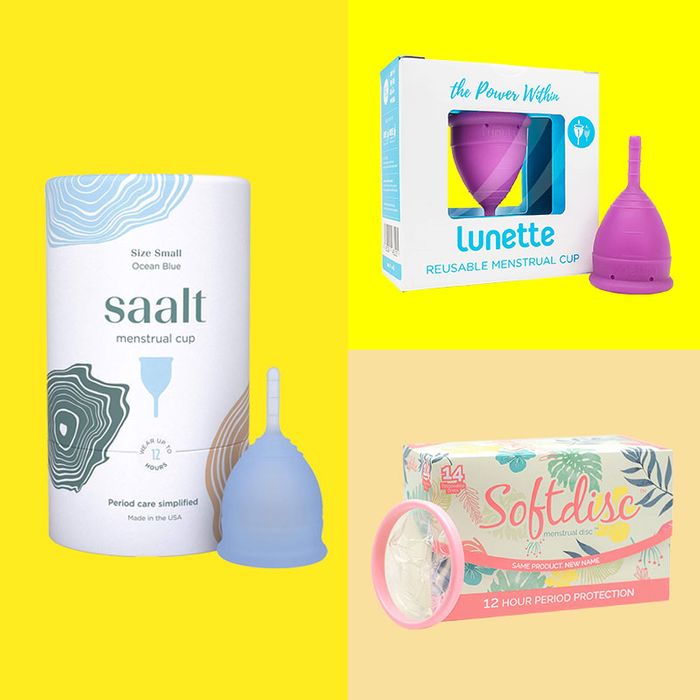 While we might all be curious about the best plunger or probiotic tampon or cold-sore remedy, it can be difficult to discuss these more personal items. That's why we're tackling Things We Don't Talk About, a series in which we track down the best hygiene-, sex-, and bodily function–related things we all need but might be too embarrassed to ask about. In this installment, we consult experts on the best menstrual cups.
For the many women who prefer menstrual cups to tampons and pads, the payoff is undeniable. Reusable menstrual cups are less wasteful; they don't have to be changed as often; and they save a lot of money over time. "Menstrual cups are very durable and can last for months, if not years, if you take care of them properly," says Dr. Lucky Sekhon, a reproductive endocrinologist and board-certified obstetrician and gynecologist who also tells us they're great for women who want to have sex during their period. You've probably heard of the DivaCup — the one so popular women use its name as a catchall, much like Kleenex for tissues — but there are tons of brands these days putting out highly specific period cups in different shapes and sizes in an effort to comfortably fit each of the millions of different vaginas and periods in the world.
If you've never used a menstrual cup before or have questions about where to start, Jennifer Conti, M.D., a clinical assistant professor at Stanford's department of obstetrics and gynecology, recommends consulting the site Put a Cup in It, which offers a quiz asking nine questions about factors like age, whether you've had a baby, your activity level, and cervix to determine which menstrual cup to use. Nicole Bullock, D.O., an OB/GYN based in Abilene, Texas, is even more relaxed: "The vagina's pretty elastic and forgiving. The differences between most models are pretty small, and it doesn't have to be a perfect fit — it just has to fit comfortably." For Bullock, the two main criteria are whether you've had a baby and your age range (which is why many cups come in only two sizes). The rest, she says, is really just research and trial and error. Sekhon agrees, saying "Don't settle. If you can feel or detect it, it probably isn't the right cup for you or it's not positioned right. Try a few different sizes or brands until you're satisfied."
To find the best menstrual-cup options, we spoke to various professionals, enthusiasts, and gynecological experts about their favorites. Of course, everyone's body is different, so your own experience will vary, but the following recommendations are a helpful place to start.
Best overall menstrual cup
The popularity of the DivaCup may have something to do with its availability. Since the company's beginnings in 2003, it has been one of the only name brands widely available in pharmacies and grocery stores. But it has also built a loyal fan base, which includes Bullock. She says, "For me, DivaCup is the one I can find in stores. It's the only one I've ever worked with, and since I loved it immediately, I never looked to try another one." Gabrielle Moss, a former Bustle editor and the author of Paperback Crush, is equally satisfied with hers. She says she started using a DivaCup "when you still had to go to a Portlandia-style feminist bookstore to buy one," adding that she never contemplated trying a different brand because the DivaCup is so reliable. "In my pre-cup life, I was always either dripping blood onto my underpants or pulling out a too-dry tampon. DivaCup introduced me to a life where I don't have to be uncomfortable or splattering blood everywhere. It allows me to actually forget I'm having my period — who wouldn't become loyal?" Writer Beca Grimm has been using the brand for over a decade. She says, "It's super-easy to maintain (just boil between periods — ideally at a time when your roommate isn't home). Although it took a while to master the C-fold insertion tactic, once I did, it was a piece of cake." Grimm loves how much money she saves and how it cuts down on tampon waste.
Best menstrual cup for beginners
The founders of Put a Cup in It, Kim Rosas and Amanda Hearn, have helped thousands of women find the best menstrual cup for their bodies. Their pick for the best place to start is the Lena Cup. They like that it comes in two sizes, making it great for teens and adults, and is made from 100 percent medical-grade silicone (meaning most people won't have allergy concerns). "We feel confident in recommending the Lena Sensitive as a great starter cup that should work well for most people," they say, noting that the shape of the cup and level of firmness make it extremely comfortable.
Jackie Bolen, author of the The Ultimate Guide to Menstrual Cups, is also a fan of the Lena Cup because of the silicone, which is made in the USA. And, according to her, the company sells them for a very reasonable price. "I personally love the 'sensitive' model," says Bolen, "because it doesn't give me cramps like some of the stiffer ones. It's easy to insert and remove and doesn't leak for me."
Best menstrual cup for heavy flow
It's been a year since Strategist writer Tembe Denton-Hurst first tried the Saalt menstrual cup she calls "a perfect fit." For her, the Saalt is so perfect she wrote an ode to it and the ways it has saved her from worrying about bleeding through her clothes, or laughing too hard and ending up in a pool of her own blood. Denton-Hurst describes her periods as heavy and messy with backbreaking cramps. But, she writes, the Saalt cup has made having her period much less of a thing. "I sleep better knowing I won't ruin my clothes and sheets and can do anything during my period, including wearing white pants on day three."
Best menstrual cup for light to medium flow
"It's no a secret that I think menstrual cups are a revolutionary invention. If only they were more accessible — I think they would change so many lives," says Tara Costello, author of Red Moon Gang: An Inclusive Guide to Periods. Costello called out the Lunette cup as one of her personal favorites, and Sekhon mentioned is as a popular product among her patients. Costello loves the Lunette's colors and tells us that she uses it on her heavier days. She also calls this cup "the perfect balance of breathable but solid" and says that it never lets her down.
Best menstrual cup for sensitive users
Strategist newsletter editor Mia Leimkuhler went through a lot of cups before finding the Yuuki. For her, the DivaCup was really easy to use but didn't have the capacity she was looking for to let her go longer between bathroom visits. The next one she tried was the Super Jennie cup, which she says solved the capacity issue but wasn't quite the right shape for her body. The Intimina Lily Cup was a better fit, but she found it hard to get an easy grip on it while removing because of the smooth sides. "The Yuuki cup ended up being my Goldilocks cup," says Leimkuhler, who credits its high capacity, long length, and easy-to-pinch rings at the bottom with making up her mind. She has the "soft" silicone Yuuki in clear and is thinking about getting a second one in the rainbow color. "It also pops open really easily, so I've never had any issues with leaks," she says.
[Editor's note: Yuuki directly sells its menstrual cups through eBay, so rest assured that you're still getting a new-in-the-box product.]
Best less expensive menstrual cup
Writer Thahabu Gordon discovered menstrual cups when she was couch surfing between different friends' places and couldn't always go to a store for pads and tampons. She describes the Blossom Cup as the perfect balance between hard and soft. "A harder cup could snap open before you've inserted it all the way, and a cup that's too soft may not open at all once inserted," she says. Gordon also loves that the Blossom Cup is cheaper than most and says she forgets that she's wearing it "85 percent of the time." She has also noticed that her period is shorter, and her cramps aren't as painful since using the cup.
Best disposable menstrual cup
Graduate student Ansley Hayes has a DivaCup at home and uses it in addition to Softdisc, pads, and tampons. She says the DivaCup can sometimes put too much pressure on her cervix, however, if it happens to be sitting lower in her body. "Whenever that happens, I switch to Softcups," she says. Menstrual discs are much more flexible than menstrual cups, and they sit differently inside the body, which is why many women find them more comfortable. And because they don't have to last a decade, disposable discs like Softdisc don't need to be made out of such firm materials. Menstrual discs are also more comfortable for couples having period sex. Sekhon tells us that, for period sex, choosing something without a stem that sticks down, like a Softdisc, is your best bet.
The Strategist is designed to surface the most useful, expert recommendations for things to buy across the vast e-commerce landscape. Some of our latest conquests include the best women's jeans,