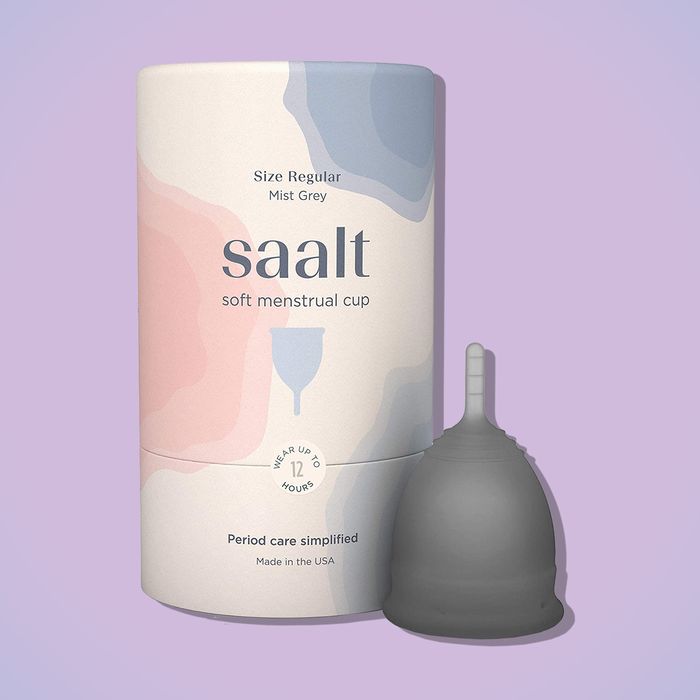 Photo: Courtesy of the vendor
It may be a cliché thing to say about an exceptional product, but I think of my life with my period in two distinct sections: before I used the cup and after. I've had difficult periods since I got my first in the middle of judo practice the summer before eighth grade. They're heavy, messy, and come with backbreaking cramps that often leave me in the fetal position for at least a day or two. With the heavy bleeding came heavy-duty pads — thick, diaper-like things that don't fit neatly in a pocket or small purse, and have to be changed out every few hours. I'd become accustomed to my life revolving around the week of my period, accepting that during that week, I couldn't work out, do much hanging out, or wear anything but black bottoms. After nearly a decade of this restrictive monthly schedule, menstrual cups popped on the scene, promising the ability, for heavy bleeders like myself, to sort of … set it and forget it. At the time, the only option that was readily available was the Diva Cup, but its teeny-tiny size and price ($30 was a lot for college-aged me) wasn't attractive to someone who'd, in moments of desperation, used cut up baby diapers to keep up with my body's demands. I just didn't believe it would really hold up to my flow.
It wasn't until a few years out of college, when I was working as a beauty editor, menstrual cups suddenly became a thing — a bevy of new brands launched, including Saalt, which boasted a largeish cup that was widely lauded for its comfort. Still, I was nervous. I have a slightly tilted, short cervix, so I was concerned about fitting a bell-shaped cup inside of myself, even if everyone claimed it felt like "nothing." When my next period came, though, I decided to give it a shot. Before putting it to the test, I boiled it for the recommended five to seven minutes and let it fully dry and cool before attempting to put it in. To insert, I used the punch-down fold (this means you push one side of the cup toward the bottom, then fold it to create a tulip shape). This, I was told, is the best way to insert it if you're a beginner. I also sat on the toilet and did my best impression of the girl inserting a tampon in The Care and Keeping of You (my childhood bible), pushing toward the back of my spine rather than sticking it directly upward. It took a few tries to get it right, but once inside, I was pleasantly surprised by how not-big it felt. In fact, it sort of disappeared, and after a few minutes, I forgot I was wearing it. As someone with a heavy flow and limited experience, I chose to wear it with a thin pad, as I've heard that it can take a few cycles to get insertion and the "seal" (which ensures it doesn't leak) exactly right. And then, I went about my day. I didn't expect to get the same 12-hour window as someone with a lighter period, and I was right. After about four hours I could feel that the cup was full (it's an indescribable feeling — you just sort of know), and I changed it, washed it, and put it back in for another few hours before doing the same thing again. (At work, of course, this is not an option, but that's not a problem. I just wipe it out with toilet paper and reinsert, then rinse it off when I'm home.)
I got lucky that my first cup was my "Goldilocks" cup (a perfect fit), I and think it has to do with how soft Saalt cup's silicone is. It's firm but flexible and makes insertion and removal easy. The soft version of their original cup is designed for folks with bladder sensitivities or issues with firmer cups. I own the regular-sized one, which holds the equivalent of three to four tampons, and for someone who was frequently changing overnight pads in the middle of the day, I'd say that's pretty good.
I'm no longer ever worried about bleeding through my clothes or laughing too hard and ending up in a pool of my own blood. I sleep better knowing I won't ruin my clothes and sheets. It's been almost a year now since I started wearing cups consistently, and can happily report that I can wear them without a pad (I've gotten it down to a science), and can do anything during my period (including wearing white pants on day three) I like. And in the last couple of weeks, as people have begun to panic-buy pads and tampons, I have taken comfort knowing that I won't need to rush to the store to stock up — the Saalt only needs replacing once a decade.
The Strategist is designed to surface the most useful, expert recommendations for things to buy across the vast e-commerce landscape. Some of our latest conquests include the best acne treatments, rolling luggage, pillows for side sleepers, natural anxiety remedies, and bath towels. We update links when possible, but note that deals can expire and all prices are subject to change.