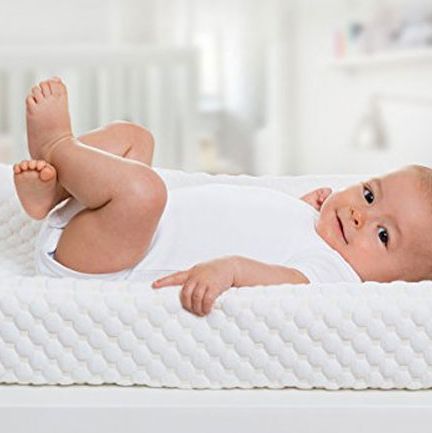 Here at the Strategist, we like to think of ourselves as crazy (in the good way) about the stuff we buy, but as much as we'd like to, we can't try everything. Which is why we have People's Choice, in which we find the best-reviewed products and single out the most convincing ones. (You can learn more about our rating system and how we pick each item here.)
And while we've written before about all sorts of products for babies and toddlers — including changing tables, nice-looking cribs, and expert-recommended baby monitors — here we've rounded up the best changing pads as praised by the most enthusiastic reviewers on Amazon.
Best-rated changing pad
With over 4,000 five-star reviews, this contoured changing pad gets top marks for being secure, practical and durable, all at a great price. "This is hands down one of the best purchases from my registry for my first child," writes one customer, adding, "Nearly three years and another child later this changing pad is still going strong. It's big enough enough to accommodate a toddler, sturdy enough to last for years and light enough to be [easily] stored away." Another describes this changing pad as, "really well made, and the padding is nice compared to some of the other brands we looked at. Our daughter loves doing tummy time after diaper changes!" One purchaser writes that she was tempted to buy a more expensive "name brand" changing pad instead of this one, but she's glad she didn't: "Honestly, I couldn't be happier. It's safe, comfortable and fits perfectly on top of changing table. Zero complaints."
Best-rated (less expensive) changing pad
Though these changing pads are disposable, one reviewer admits, "They're nicer and thicker than I expected, and they don't stick to the baby's bottom like some other brands do." Another purchaser explains that while they "don't love" that these are less eco-friendly than reusables, they find that they're high-quality enough that they can get multiple uses out of each pad, which helps reduce waste. They add, "I've tried the washable kind, but it's just so much nicer to be able to throw the pads away once they get messy." Others agree and cheer how these simplify cleanups, as one purchaser details: "When baby has a 'blow out' in his diaper and it comes out all over the place, these pads make clean-up a breeze. Just roll up the entire mess and dirty diaper, then toss. Before, it was like a haz-mat situation."
And now, some micro-picks for every type of changing pad you might be looking for.
Best changing pad for dresser
Dozens of five-star reviewers mention buying this changing pad to use on top of a dresser. As one purchaser puts it, "I wanted something secure as we were not mounting additional hardware to the dresser. Our bouncing baby boy kicks, attempts to roll around, plays and remains secure on the table. With the non slip pads it wont even scoot around. Best pad for price and safety." Another echoes that sentiment, writing, "It fits perfectly on top of the dresser for the nursery, and the rubber feet ensure it will stay put."
Best contoured changing pad
Like many of the well-reviewed changing pads on Amazon, this one from LA Baby has contoured sides, which purchasers say helps keep babies in place. "I love the contour that helps keep the baby secure," says one purchaser. "My little one is starting to roll over, and if I position him next to the contour it helps keep him in place better than changing on a flat surface." Another writes, "My baby loves this thing so much that we now call the changing table his Happy Place. He'll just about always calm down if we lay him down on this pad. I don't know what it is, but we suspect part of it might be that he feels cocooned a bit because of the contouring. Whatever it is, he loves it, so we love it!" Another reviewer who has been using this changing pad for five months writes that "it's holding up fine. Now that baby is trying to roll over during diaper changes or grab his toes, the contoured sides make total sense and I'm very grateful."
Best four-sided changing pad
This changing pad has four contoured sides, which some reviewers prefer to changing pads with two contoured sides. "We use this for our newborn and it has been wonderful," writes one purchaser, explaining, "The four sides keep our love in one safe spot." Dozens highlight how "secure" this changing pad feels, both for them and for their babies. "I like that all four sides are raised. My newborn loves it too, it's the only thing she will sleep on," one reviewer explains, adding, "We have to put her changing pad in the crib for her to even sleep in there. This was worth every penny." Another reviewer notes that this changing pad "fits perfectly on a smaller dresser and when I put my baby in there, he's cocooned so well."
Best portable changing pad