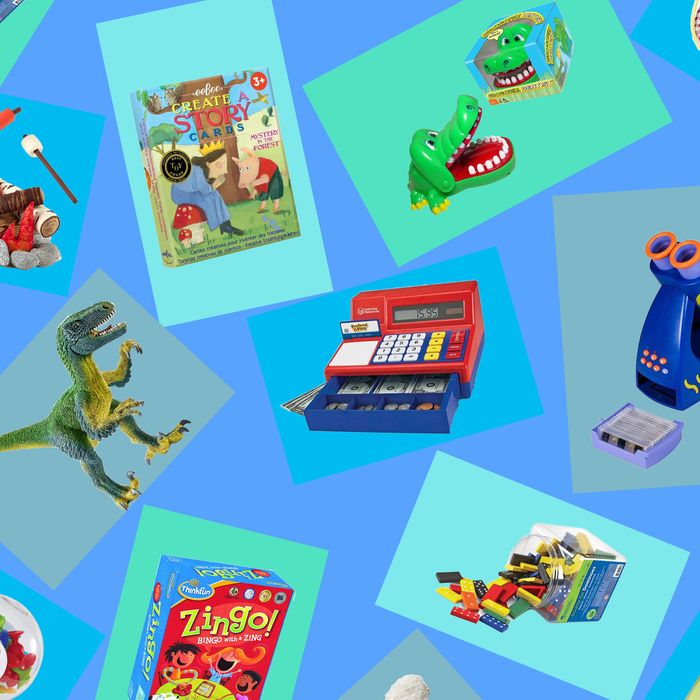 Photo-Illustration: Photo-Illustration: Stevie Remsberg; Photos: Courtesy of the retailers
When looking for a gift that is particularly well suited to a 4-year-old, Dr. Roberta Golinkoff, a professor of child psychology at the University of Delaware and co-author of Becoming Brilliant: What Science Tells Us About Raising Successful Children, says it's useful to think about the "six C's": collaboration, communication, content, creative innovation, critical thinking, and confidence. Whether they are collaborating with playmates to splash around in a mud kitchen or exercising problem-solving skills while building with their first set of LEGOs, the best toys for 4-year-olds will offer both entertainment and educational enrichment.
To help you find gifts that strike this balance for the 4-year-old in your life, we asked child-development specialists like Golinkoff, as well as toy experts and discerning parents, to recommend their favorites. We've organized the 29 toys they mentioned by price range, so if you have a budget in mind, you can use the table of contents to jump right to that section — or read all the way through to get a full picture of the best gifts for 4-year-olds. Whether you're shopping for a birthday or the holidays or any other day, it's a list that keeps on giving.
Meanwhile, if you're also shopping for kids in other age groups, we have gift guides for 1-year-olds, 2-year-olds, 3-year-olds, 5-year-olds, 6-year-olds, 7-year-olds, 8-year-olds, 9-year-olds, 10-year-olds, 11-year-olds, and 12-year-olds plus the meticulously curated Strategist Toy Store, filled with all our greatest hits.
Under $25
"Open the box, and you've got the basics of an auto-body shop," says Jason Feifer, editor-in-chief of Entrepreneur magazine, host of the podcasts Pessimists Archive and Hush Money, and dad of two. "There's a big plastic drill that spins at non-dangerous speeds as well as the disassembled parts of a car — chassis, roof, wheels, bumpers, and a bunch of screws. At first, a very practical parent might just assemble the car and think … That's it? But to kids, it becomes an endless experiment: They'll spend hours mastering their screwing technique, changing the wheels around (or screwing them into the roof or front bumper), and generally just re-pimping this ride over and over and over."
This clay-dinosaur craft kit makes kids feel like one part artist, one part paleontologist: molding their own dinosaurs in a swirl of primary colors; using little tools and the same bright clay to cover up faux fossils. In other words, it's one of those celebrated STEAM-learning toys (science, technology, engineering, arts, and mathematics), whose excellence was even recognized with an Oppenheim Gold Award, which, according to Holly Magelof — toy buyer from the Dolphin Bookshop of Port Washington, New York, and a 20-plus year veteran of the toy-buying industry — is a big deal in her world; "that's something people get excited about," she says. And in the words of an effusive Amazon reviewer: "My 4-year-old did it all by himself, and it was adorable to watch. He was so happy with the finished product, and I wanted to die because it was hilariously cute!"
This endlessly replayable game — where you match 24 different children to their country of origin, referring to the map on the back cover — is great for two reasons: It improves memory skills, and it teaches world geography. "I love that this game offers so many opportunities for discussion and extended learning," says Tammy Bravo-Eby, a kindergarten teacher. "My daughter has memorized the countries from which each child originates and loves to find them on her globe — it's inspired her to learn more about the people and the world around her."
A favorite of longtime Manhattan nanny Kasia Dabrowska, this bingo-esque game is easy to master and a great choice for a group of kids who are at different reading and math levels, namely because it requires zero reading or math; it's all about speed-spotting familiar items like a dog, bird, or baseball bat. In Strategist contributor Steven John's family, Zingo! is usually a shared child and parent activity, but it's also a great game for kids to play without the need for any input from adults.
Face painting is a hallmark of birthday parties for kids this age, and this kit helps you re-create that fun at home. Adrienne Appel, a senior director of communications at the Toy Association, says the set of easy-to-remove temporary face tattoos really looks like professional face painting without the mess of actual paint. Appel's wisdom comes from personal experience: Her kids love using the kit when they're playing dress-up or taking funny photos.
Scissors are a superlative tool for honing fine motor skills and improving hand strength, and wacky scissors like these are fun to use, too. "You want toys that involve the arts," says Golinkoff. The edges on this easy-to-grip, child-safe set cut through anything from construction paper to cardboard to photo film — and come in six different shapes for wavier and more interesting borders.
"Let's be clear about something: This is Russian roulette for kids," says Feifer. "The plastic alligator sits poised, mouth agape. Players take turns pushing down one of the alligator's teeth, until they find the randomized one that triggers the alligator — and then, snap go the jaws! The gator's bite is surprisingly forceful, but kids don't seem to mind. It only heightens the playful tension. Then you pull the gator's mouth back open, the teeth reset, and it's time to play again."
Singer Sarah Gregory's children — twin boys and a girl — love this bead-jewelry kit from B. Toys that comes with 500 unique pieces that easily snap together. Not only are they fun for kids of any gender, but also, Gregory says, they're "great for fine-motor skills." She adds that one of her sons was obsessed with these beads for a long time — and not just as elements for jewelry-making. "He used them to build things, like snakes," she explains. Her daughter, meanwhile, played with the kit more traditionally to design baubles with her friends.
"I love this little gift" for vocabulary and language development, says Dr. Alexandra Figueras-Daniel, an assistant research professor at the National Institute for Early Education Research. The set of 36 illustrated storytelling cards can be arranged and rearranged into different stories and scenarios, allowing kids to create a new narrative every time they play with it. "It's inexpensive," Figueras-Daniel adds, "and great to carry in a bag for waiting at a restaurant or taking on a trip."
Before they actually start to learn to read, children work on pre-reading skills like letter forms, storytelling, and spacing, among other things. According to Lori Caplan-Colon, a speech and language pathologist at Montclair Speech Therapy, this set of wooden letters with corresponding pictures and word guides simplifies the process by letting kids focus on the simple act of building a word. "The directed, goal-oriented play helps children celebrate each "win" as they gain mastery, learning important sight words and improving fine motor skills all the while," says Caplan-Colon
For the animal lover, speech-language pathologist Ellice Kim Lacerda, who has a 4-year-old daughter, recommends adding a figurine from Schleich, the German toy company that's been around since 1935, to every gift. "In general, we love the Schleich figurines. We always add a few different animals to every holiday and birthday wish list," she says. "They are pricier than other figurines, but they look realistic and are very durable." Whether your kid prefers dinosaurs or wild animals, there's something for everyone.
Under $50
This innovative farm-animal board game "challenges kids to really think about each move," says NAPPA Awards director Elena Epstein. It works by creating a layout for a series of cows, pigs, and other animals that must be kept separated using the limited number of fences included with the game; a child must figure out the perfect placement for each challenge, putting to use logic, spatial reasoning, planning, and visualization. "Kids feel a lot of pride as they figure out each level," Epstein says.
A large part of every child's education is social-emotional — learning how to interact with other children and process feelings. For that reason, Caplan-Colon suggests giving this age group a toy that encourages empathy and pretend play, like this pretend veterinarian kit that teaches them to treat and heal a plush kitten and puppy.
This entirely kid-friendly microscope has a dual eyepiece, so there's no need to close one eye to use it. "I love the Geosafari Microscope for my curious preschooler," says Andrea Scalzo Yi — founder of  RaisingDragons.com and author of  100 Easy STEAM Activities. "It allows him to explore the world around him in a unique way and encourages learning through play, which is so important."
"Cash registers are an excellent toy option," says Helen Sadovsky, a pediatric occupational therapist who runs Toy-Ideas.com, a blog focused on helping parents find developmentally appropriate and educational toys for their kids. "They teach counting and money-management skills in a simulated real-world environment." The register can also be a great part of imaginative play as your child sets up his or her very own store or restaurant.
"As parents, we have to be mindful of the subliminal messages we send," says Caitlin Meister, founder of the Greer Meister Group, a private tutoring and educational consulting practice in Brooklyn. If children see only dolls that aren't anatomically correct, she says, they could be getting a message that there's something about those body parts that should be ignored or kept hidden or secret. Instead, she thinks it's important to have a balance of dolls, including some — like this one from Miniland — that accurately represent children's bodies to help counter any unintentional negative messaging. Miniland's inclusive line of dolls represents different races as well as babies with Down syndrome.
Now that they're older, 4-year-olds can graduate from Duplos and move on to playing with LEGOs, which Dr. George Sachs, a child psychologist and founder of the Sachs Center in Manhattan, says "allow children to develop their own creative ideas and foster spatial awareness." They're wildly engaging and will keep kids busy for longer than you'd think possible. And even though most sets include specific pieces like car wheels and windowpanes, LEGOs are still totally open-ended toys. Joanna Faber, co-author of How to Talk So Little Kids Will Listen, recommends them for that reason, saying, "Kids love LEGOs because you can endlessly make wild and crazy things with them."
Not only will this 80-piece building kit engender an interest in space and the stars and planets; it will foster engineering skills. "Kids are fascinated about the inner workings of just about anything," says Laurie Schacht, chief toy officer of The Toy Insider. And in this case, you can acclimate them at an early age to how gears work; the ones you assemble here rotate and become part of the story you're telling in arranging planets and spinning spaceships. In all kinds of configurations. "It's a great introduction to basic STEM skills."
Sachs stresses that "this is the age when kids are doing a lot of pretend play." Even though we're talking Tribeca prices for the sandwiches here, "this picnic play set is wonderful," Sachs says, full of pretending potential using different props.
"What will a kid do with a bucketful of colored blocks?" asks Feifer. "Basically anything, of course. But these dominoes are especially good for domino trails. They're sturdy, brightly colored, and plentiful (because you will lose some to mysterious corners of the house). Lining them up for the big knockdown is a great parent-child activity, and 4-year-olds have just enough focus and motor control to create some basic trails themselves. The hardest part of it all: teaching your kid the willpower to not send the tiles toppling while you're only a handful deep."
Under $100
"Four-year-olds are really beginning to use fine motor skills in a way they couldn't before," says Sachs. He likes these Squigz, which are flexible assorted shapes that stick together by way of suction cups. "It uses their growing fine motor skills without being too frustrating for them." And you can imagine how a little one's eyes would light up when you hand over this gumball-machine-like orb filled with 50 colorful pieces.
"Narrative or story-based play is a critical component of Playmobil's design," says the Toy Guy, Christopher Byrne, an author, a toy historian, and an independent analyst. Indeed, with the bounty of playthings in this horse-and-stable kit — saddles, grooming brushes, feeding troughs, a wheelbarrow, a pitchfork — there's no shortage of scenarios kids can dream up. "The cognitive and creative value of putting the imagination at the center of the experience is invaluable for both child development — and fun," says Byrne.
This cute and cuddly creature, which was voted one of Time magazine's 100 best inventions of 2021, helps children process feelings of stress and anxiety. It's equipped with seven different sensors that respond to touch. When you pick Purrble up, its "heartbeat" speeds up to 135 bpm and slows down to a soft purr the more you pet it. By comforting Purrble and helping it to calm down, kids actually become calmer themselves.
Kids who like playing in a sandbox will have even more fun doing so with this swiveling excavator crane, according to Lacerda. She told us the toy keeps her daughter "very occupied for long stretches of time" and "it is always a hit when friends come over." Simply set it up in the sandbox — or at the playground or the beach — plop your kiddo on the rotating seat, and watch them dig and dump to their heart's content.
Another toy that taps into the fun of make-believe is this plush campfire set from Crate & Barrel's kids' line. "Although my kids got it for Christmas years ago, they still play with it to this day," says marketing manager and mom of three Irene Kwon, who notes it makes for a particularly good cold-weather activity. "During wintertime, when we're mostly indoors, my kids rely on their creativity to get them through those long hours at home. This toy really sets the stage for a cozy, relaxing, warm winter's night — sans fireplace." To make it even more like the real deal, Kwon suggests giving your child a cup of hot cocoa "to enjoy with their faux marshmallows." (And real ones — if they're lucky.)
This master workbench comes with a working vise, a tool rack, tools, and hardware. "Kids can play for hours making up imaginary scenarios," says Golinkoff. "Also, this will encourage collaboration and communication because the kids are going to talk to each other if they're playing here together." In another household, it just might be a legitimized excuse to bang at things loudly.
$100 and up
If you're willing to let your little one get a bit messy, Lacerda loves how this mud kitchen from TP Toys "encourages creative play." Her daughter enjoys grabbing "sticks and leaves from the garden" and adding them to the removable sink, where she also likes to "wash and clean her toys." The kitchen comes with a burner, oven, shelving, and a set of stainless-steel pots, pans, and whisk, making it easy to whip up mud pies — or whatever else is on the menu.
James Zahn, a senior editor at the the Toy Insider, introduced us to this very cool ride-on recycling truck from KidTrax. It has 100 sound effects, responds when you insert one of the included toy cans or boxes into a shape-sorting slot, and lets kids drive around to pick up the trash and dump out their recycling haul with the pull of a lever.
The Strategist is a new site designed to surface the most useful, expert recommendations for things to buy across the vast e-commerce landscape. Some of our latest conquests include the best notebook, black T-shirts, fashion-editor-approved jeans, toothbrush, and apartment décor. Note that all prices are subject to change.

Every editorial product is independently selected. If you buy something through our links, New York may earn an affiliate commission.