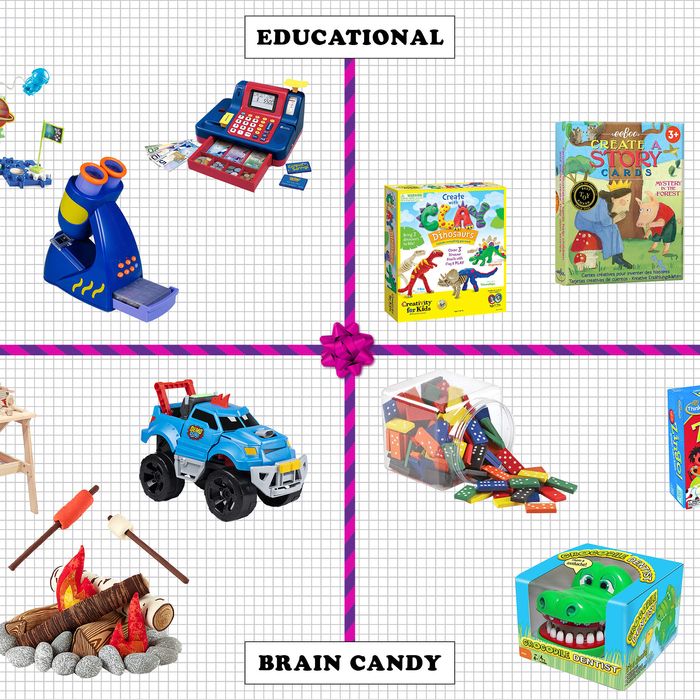 Photo-Illustration: Photo-Illustration: Stevie Remsberg; Photos: Courtesy of the retailers
You know about New York Magazine's "Approval Matrix." Now, the Strategist has taken that model of what falls where on our taste hierarchies and applied it to toys. In this case, the four sides of the grid are "Educational" (say, a talking microscope), "Brain Candy" (singing Elsa), "Reasonably Priced," and "Splurgy." Each toy in every quadrant comes highly recommended — click here to learn more about our sourcing process and the dozens of experts involved — and every age up to double digits is covered, all of which you can see by also clicking here.
Here, we take on age 4. According to Dr. Roberta Golinkoff, a professor of child psychology at the University of Delaware and co-author of Becoming Brilliant: What Science Tells Us About Raising Successful Children, it's useful to think about the "six C's" when it comes to gifting for this group: collaboration, communication, content, creative innovation, critical thinking, and confidence. You can find all that and more in the recommendations that follow from not only professionals like Golinkoff but also some highly discerning parents, nannies, and toy buyers. Jump directly to the section that interests you most — "Educational/Reasonably Priced," "Educational/Splurgy," "Brain Candy/Reasonably Priced," or "Brain Candy/Splurgy" — or read all the way through to get the full picture of what kids these days are into. Whether you're shopping for a birthday or a holiday or any other day, it's a list that keeps on giving.
Educational/Reasonably Priced
"I love this little gift" for vocabulary and language development, says Dr. Alexandra Figueras-Daniel, the associate director of Bank Street College of Education's Straus Center for Young Children & Families. The set of 36 illustrated storytelling cards can be arranged and rearranged into different stories and scenarios, allowing kids to create a new narrative every time they play with it. "It's inexpensive," Figueras-Daniel adds, "and great to carry in a bag for waiting at a restaurant or taking on a trip."
This endlessly replayable game — where you match 24 different children to their country of origin, referring to the map on the back cover — is great for two reasons: It improves memory skills, and it teaches world geography. "I love that this game offers so many opportunities for discussion and extended learning," says Tammy Bravo-Eby, a kindergarten teacher. "My daughter has memorized the countries from which each child originates and loves to find them on her globe — it's inspired her to learn more about the people and the world around her."
Scissors are a superlative tool for honing fine motor skills and improving hand strength, and wacky scissors like these are fun to use, too. "You want toys that involve the arts," says Golinkoff. The edges on this easy-to-grip, child-safe set cut through anything from construction paper to cardboard to photo film — and come in six different shapes for wavier and more interesting borders.
Before they actually start to learn to read, children work on pre-reading skills like letter forms, storytelling, and spacing, among other things. According to Lori Caplan-Colon, a speech and language pathologist at Montclair Speech Therapy, this set of wooden letters with corresponding pictures and word guides simplifies the process by letting kids focus on the simple act of building a word. "The directed, goal-oriented play helps children celebrate each "win" as they gain mastery, learning important sight words and improving fine motor skills all the while," says Caplan-Colon.
This clay-dinosaur craft kit makes kids feel like one part artist, one part paleontologist: molding their own dinosaurs in a swirl of primary colors; using little tools and the same bright clay to cover up faux fossils. In other words, it's one of those celebrated STEAM-learning toys (science, technology, engineering, arts, and mathematics), whose excellence was even recognized with an Oppenheim Gold Award, which, according to Holly Magelof — toy buyer from the Dolphin Bookshop of Port Washington, New York, and a 20-plus year veteran of the toy-buying industry — is a big deal in her world. ("That's something people get excited about," she says). And in the words of an effusive Amazon reviewer: "My 4-year-old did it all by himself, and it was adorable to watch. He was so happy with the finished product, and I wanted to die because it was hilariously cute!"
"As parents, we have to be mindful of the subliminal messages we send," says Caitlin Meister, founder of the Greer Meister Group, a private tutoring and educational consulting practice in Brooklyn. If children see only dolls that aren't anatomically correct, she says, they could be getting a message that there's something about those body parts that should be ignored or kept hidden or secret. Instead, she thinks it's important to have a balance of dolls, including some — like this one from Miniland — that accurately represent children's bodies to help counter any unintentional negative messaging. Miniland's inclusive line of dolls represents different races as well as babies with Down syndrome.