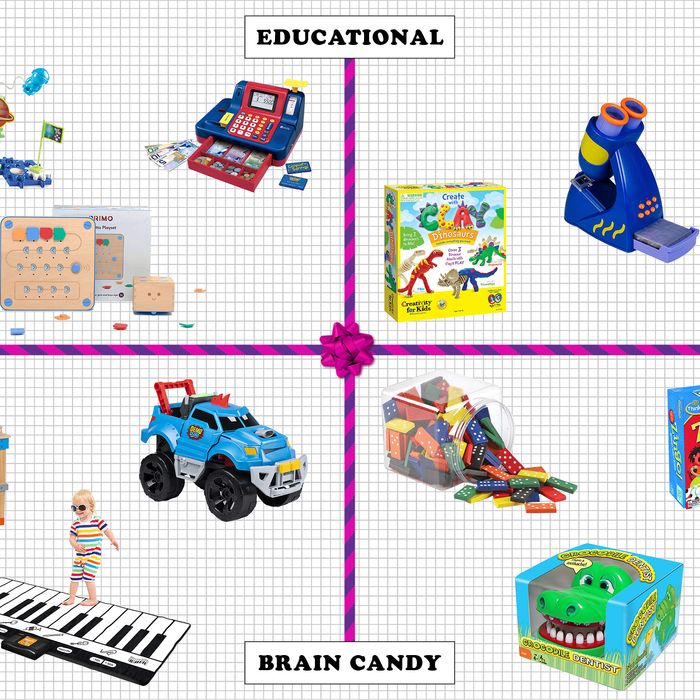 Photo: Photo-Illustration: Stevie Remsberg; Photos: Courtesy of the retailers
You know about New York Magazine's "Approval Matrix." Now, the Strategist has taken that model of what falls where on our taste hierarchies and applied it to toys. In this case, the four sides of the grid are "Educational" (say, a talking microscope), "Brain Candy" (singing Elsa), "Reasonably Priced," and "Splurgy." Each toy in every quadrant comes highly recommended — click here to learn more about our sourcing process and the dozens of experts involved — and every age up to double digits is covered, all of which you can see by also clicking here.
Here, we take on age 4. According to Dr. Roberta Golinkoff, a professor of child psychology at the University of Delaware and co-author of Becoming Brilliant: What Science Tells Us About Raising Successful Children, it's useful to think about the "six C's" when it comes to gifting for this group: collaboration, communication, content, creative innovation, critical thinking, and confidence. You can find all that and more in the recommendations that follow from not only professionals like Dr. Golinkoff but also some highly discerning parents, nannies, and toy buyers. Jump directly to the section that interests you most — "Educational/Reasonably Priced," "Educational/Splurgy," "Brain Candy/Reasonably Priced," or "Brain Candy/Splurgy" — or read all the way through to get the full picture of what kids these days are into. Whether you're shopping for a birthday or a holiday or any other day, it's a list that keeps on giving.
Educational/Reasonably Priced
This endlessly replayable game — where you match 24 different children to their country of origin, referring to the map on the back cover — is great for two reasons: It improves memory skills, and it teaches world geography. "I love that this game offers so many opportunities for discussion and extended learning," says Tammy Bravo-Eby, a kindergarten teacher. "My daughter has memorized the countries from which each child originates and loves to find them on her globe — it's inspired her to learn more about the people and the world around her."
Scissors are a superlative tool for honing fine motor skills and improving hand strength, and wacky scissors like these are fun to use, too. "You want toys that involve the arts," says Dr. Golinkoff. The edges on this easy-to-grip, child-safe set cut through anything from construction paper to cardboard to photo film — and come in six different shapes for wavier and more interesting borders.
This clay-dinosaur craft kit makes kids feel like one part artist, one part paleontologist: molding their own dinosaurs in a swirl of primary colors; using little tools and the same bright clay to cover up faux fossils. In other words, it's one of those celebrated STEAM-learning toys (science, technology, engineering, arts, and mathematics), whose excellence was even recognized with an Oppenheim Gold Award, which, according to Holly Magelof — toy buyer from the Dolphin Bookshop of Port Washington, New York, and a 20-plus year veteran of the toy-buying industry — is a big deal in her world. ("That's something people get excited about," she says). And in the words of an effusive Amazon reviewer: "My 4-year-old did it all by himself, and it was adorable to watch. He was so happy with the finished product, and I wanted to die because it was hilariously cute!"
This innovative farm-animal scenario "challenges kids to really think about each move," says NAPPA Awards director Elena Epstein. It works by creating a layout for a series of cows and pigs and such that must be kept separated using the limited number of fences included with the game; a child must figure out the perfect placement for each challenge, putting to use logic, spatial reasoning, planning, and visualization. "Kids feel a lot of pride as they figure out each level of the game," Epstein says.
"Open the box, and you've got the basics of an auto-body shop," says Jason Feifer, editor-in-chief of Entrepreneur magazine (and host of the podcasts Pessimists Archive and Hush Money), and dad of two under the age of 5. "There's a big plastic drill that spins at non-dangerous speeds as well as the disassembled parts of a car — chassis, roof, wheels, bumpers, and a bunch of screws. At first, a very practical parent might just assemble the car and think … That's it? But to kids, it becomes an endless experiment: They'll spend hours mastering their screwing technique, changing the wheels around (or screwing them into the roof or front bumper), and generally just re-pimping this ride over and over and over."
It may look like nothing but an aesthetically pleasing wooden produce display (maybe even worthy of an adult dining table), but it's also "the perfect way for little ones to learn about their fruits and vegetables," says Ashley Tyrner, a single mom and the founder and CEO of Farmbox Direct, the subscription-based organic-produce service (she also leads her now-8-year-old daughter's healthy-meal-kit company, Harlow's Harvest). Everything in the set — apple, pear, lemon, orange, banana, cucumber, mushroom, carrot — is made from sustainably harvested rubberwood trees, with a velcro mechanism within, so kids can actually develop their knife skills by sliding through the velcro with the wooden blade included. The sculptural cutting board is a nice touch, too.
Educational/Splurgy
This entirely kid-friendly microscope has a dual eyepiece, so there's no need for closing one eye to use it. "I love the Geosafari Microscope for my curious preschooler," says Andrea Scalzo Yi — founder of RaisingDragons.com and author of 100 Easy STEAM Activities. "It allows him to explore the world around him in a unique way and encourages learning through play, which is so important." Some versions of the microscope cost more than $40, but the premium-priced units are usually in languages other than English and are worth the spend if English is not the household's first language.
Not only will this 80-piece building kit engender an interest in space and the stars and planets; it will foster engineering skills. "Kids are fascinated about the inner workings of just about anything," says Laurie Schacht, chief toy officer of The Toy Insider. And in this case, you can acclimate them at an early age to how gears work; the ones you assemble here rotate and become part of the story you're telling in arranging planets and spinning spaceships. In all kinds of configurations. "It's a great introduction to basic STEM skills."
Kids as young as age 1 love marble runs, though they often inadvertently destroy them, but around age 4 is when a child can really start playing with this classic toy independently. And this version is a superlative take: It has no fewer than eight bases, so kids can build a sturdy foundation, and all the many chutes, tubes, turns, and tables challenge the brain to think about cause-and-effect, sequential planning, spatial relationships, and more.
"Cash registers are an excellent toy option," says Helen Sadovsky, a pediatric occupational therapist who runs Toy-Ideas.com, a blog focused on helping parents find developmentally appropriate and educational toys for their kids. "They teach counting and money-management skills in a simulated real-world environment." The register can also be a great part of imaginative play as your child sets up his or her very own store or restaurant; this one comes complete with a scale in addition to the coin slots and scanner. And as for that scanner, says an Amazon reviewer: "We often joke that this register must be from Whole Foods, since it randomizes prices — and they always seem to be ridiculously high!" The same reviewer also noted: "All of the sounds are very realistic — all that's missing is a 'Please place your items in the bagging area' line."
This screen-free block-coding toy is actually rated for use by 3-year-olds, but in the hands of a 4-year-old it can be a totally independent STEM activity. By physically manipulating the different pieces that control the little wooden robot's movement, Cubetto makes the concepts of block coding tangible and appreciable. Then, when a kid starts doing more advanced coding on a tablet or computer, the process will be much more intuitive and approachable. As this writer can vouch: You are paying for a high-quality and gorgeous toy that has surprising replay value and won't go out of style, so siblings, cousins, or nieces and nephews who show up years down the line can enjoy Cubetto, too.
"Four-year-olds are really beginning to use fine motor skills in a way they couldn't before," says Dr. George Sachs, a child psychologist and founder of the Sachs Center in Manhattan. He likes these Squigz, which are flexible assorted shapes that stick together by way of suction cups. "It uses their growing fine motor skills without being too frustrating for them." And you can imagine how a little one's eyes would light up when you hand over this gumball-machine like orb filled with 50 colorful pieces.
By age 4, most kids have the fine motor skills to build endlessly with these magnetic tiles, the simple version of which already appear on our 3-year-old list. And by now, these preschoolers have rapidly developing pre-reading skills (or actual reading skills for the precocious 4-year-old) and math abilities. Which is where The Very Hungry Caterpillar iteration of Magna-Tiles comes in. The 16-piece set is designed with images, mini-excerpts, and numbers from the beloved Eric Carle book, encouraging kids to start decoding the writing and to make one-to-one correspondence with the numbers and objects on the various tiles. They can also work on their logic skills, sequencing out the events in which the story unfolds. And in general, if you have a kid around this age, we probably don't have to tell you how much the Hungry Caterpillar story in any form will hold their attention — so just imagine the hours of absorption that they'll find here.
Brain Candy/Reasonably Priced
"Let's be clear about something: This is Russian roulette for kids," says Entrepreneur's Fiefer. "The plastic alligator sits poised, mouth agape. Players take turns pushing down one of the alligator's teeth, until they find the randomized one that triggers the alligator — and then, snap go the jaws! The gator's bite is surprisingly forceful, but kids don't seem to mind. It only heightens the playful tension. Then you pull the gator's mouth back open, the teeth reset, and it's time to play again."
A favorite of longtime Manhattan nanny Kasia Dabrowska, this bingo-esque game is easy to master and a great choice for a group of kids who are at different reading and math levels, namely because it requires zero reading or math; it's all about speed-spotting familiar items like a dog, bird, or baseball bat. In the author's own family, Zingo! is usually a shared child and parent activity, but it's also a great game for kids to play without the need for any input from adults.
"This kit comes with two basic superhero masks, four Velcro-attaching cuffs, and an array of stick-on decorations" says Feifer. "It's funny to see what happens next: Some kids treat it like a wearable arts-and-crafts project, diligently decorating their crusader costumes. Others will slap a few stickers on and cut straight to the wearing, running around making pew-pew laser noises. The masks and cuffs are bound to rip at some point, but what does it matter? There's no Marvel or DC Comics trademarks to jack up the price, so at $5, it's easily replaceable. (Or better yet, just start with two.)"