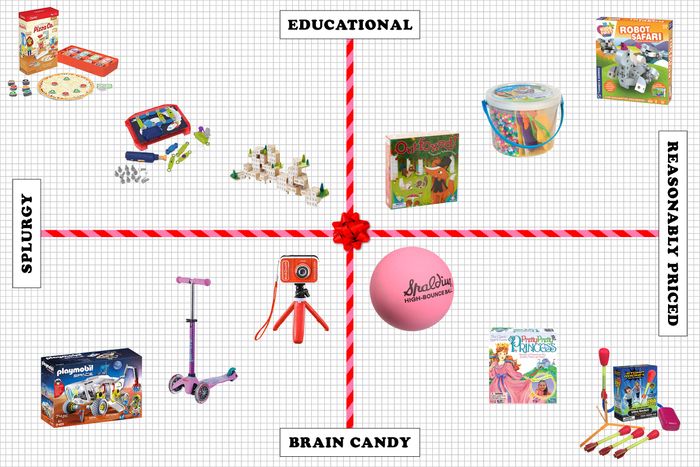 Photo-Illustration: Photo-Illustration: Stevie Remsberg; Photos: Courtesy of the retailers
As children turn the corner from 4 to 5 years old, they begin to have a better handle on their emotions and they're better equipped to work through problems and conflicts, says George Sachs, a child psychologist and founder of the Sachs Center in Manhattan. But how does that help you pick a gift for the kindergartner in your life? The child-development experts we've consulted suggest buying toys that encourage problem-solving, like Kiwi Crate building kits and coding robots as well as board games that teach children about competition and collaboration. The list of ideas below contains lots of great gifts that meet those criteria, as well as creative toys, toys that challenge a 5-year-old's fine motor skills, and toys that will help them expend some of their seemingly endless energy stores.
To put it all together, we asked professionals like Sachs as well as highly discerning parents, nannies, and toy buyers to offer gift ideas for the 5-year-olds in your life. Then we mapped their suggestions onto a handy grid whose four sides are "Educational" (say, a a robot safari), "Brain Candy" (a step-on rocket launcher), "Reasonably Priced" (under $50), and "Splurgy" ($50 and up). The result is this 5-year-olds edition of the Strategist's Toy Matrix, which applies the model of New York Magazine's "Approval Matrix" to the infinitely expanding toy universe. Each toy in every quadrant is expert-vetted and highly recommended — click here to learn more about our sourcing process and the dozens of experts involved — and every age up to double digits is covered, all of which you can see by also clicking here.
If you already know what you're looking for, you can jump directly to the section that interests you most in the table of contents or read all the way through to get the full picture of what kids are into these days. Whether you're shopping for a birthday or the holidays or any other day, it's a list that keeps on giving.
Educational/Reasonably Priced
Perler Beads are great for honing the already advanced fine motor control of a 5-year-old, while also allowing for open-ended artistic creation — the rainbow colors can be put in endless combinations onto pegboards in all kinds of shapes. "These beads are fun and very creative, that's for sure," says Dr. Roberta Golinkoff, a professor of child psychology at the University of Delaware and author of Becoming Brilliant: What Science Tells Us About Raising Successful Children. "By this age, they're not going to eat the small pieces, so you don't have to worry about that. My grandkids have a lot of fun with these," Golinkoff says.
Kiwi Crates, which are made for kids of all ages, were included in our 2-year-old guide and earned another spot here as you can subscribe to the monthly kits for the 5-to-8 age range too. Each kit is perfectly suited to the rapidly developing mind of the kindergartner and early-elementary-age child. Kiwi Kits always have hands-on maker and art projects, and they feature reading materials and integration with online activities. "This subscription fosters collaboration, problem solving, and independence," says Halley Loeb Rossler, a special-education teacher from Tulsa, Oklahoma. In her own home, Rossler says, her young boys look forward to the deliveries of their boxes every month, and she even says that the ongoing series of activities, and the discussions and engagement they foster, have "played a role in our family story." The price shown is for a monthly subscription, but the brand also sells three-month, six-month, and annual subscriptions that cost more upfront but break down to less per month over time.
"Kids don't fully understand how the veggies and fruits make it to their plates," says Ashley Tyrner, a single mom and the founder and CEO of Farmbox Direct, a subscription-based organic-produce service. (Tyrner also leads her now-9-year-old daughter's healthy-meal-kit company, Harlow's Harvest). That's where this 16-piece gardening set comes in. Everything in the box is recyclable, compostable, and BPA- and phthalate-free. It's a 100 percent zero-waste gift comprised of all the essentials for growing organic tomatoes and watermelon right on the windowsill: two garden pots, a watering can, hand rake, shovel, organic seed packets, expandable soil pucks, and two ecofriendly seed starter pots. "You can teach your kids how to plant and garden in your own home," Tyrner says.
With this kit, kids are building robots of a variety of animals and then actually getting to watch them move, explains Laurie Schacht, chief toy officer of The Toy Insider. A step-by-step manual makes the projects manageable with minimal adult assistance and involves steps like assembling LEGO-like blocks into the shape of, say, a sea otter or a fox, and then connecting them to a ready-made motor. Of course, Schacht suspects that more often than not, kids will be going for the unicorn and narwhal options — "the most popular creatures these days."
"Outfoxed has more replay value than I have ever experienced in a child's board game," says Steven John, a Strategist contributor, tech writer, father of two, and one of the writers of this story. Months after first getting the game, rarely did a single day go by without his 5-and-a-half-year-old requesting at least one round. The game is easy for kids to understand — you uncover a series of clues and a group of suspects, zeroing in on the guilty fox through a process of elimination — yet the choices to be made during each turn require critical thinking, planning, and teamwork. The collaborative nature of play minimizes conflict between siblings or friends, and allows parents to get in on the action as well.
"The best toys are those with an educational component that are so much fun, kids never know they are learning," says Schacht. She recommends this 10x magnification telescope, which kids can use to see close-ups of things like the moon (with it, you'll get a guide to the lunar phases) or a backyard bird building a nest.
This Plus Plus set — which has won all kinds of awards and develops engineering, design, and fine-motor skills — is the all-time favorite of New York psychiatrist and mother of twin boys Vanessa Carroll, who says it's held her kids' attention more than any other toy. "Normally, when the boys get home from school, the first thing they want to do is eat a snack," Carroll says. "Then they got this as a birthday gift. All of a sudden, I'd be waiting and waiting for them in the kitchen, calling their names to come eat, and 30 minutes later they were still on the floor of the playroom, making these intricate mosaic designs and building 3-D shapes like UFOs. The pieces require hand-eye coordination," Carroll explains, "so 5 is definitely a good starting age; I wish we'd had them in our lives a little sooner."
Educational/Splurgy
When selecting a doll for any child, Kristin Morency Goldman, senior adviser of strategic communications at The Toy Association, says representation is key and helps children of all races understand and feel included in the world around them. Goldman recommends this 18-inch Zoe doll, whose textured hair can be washed and styled.
This microscope helps kids learn about the world around them, from the ants in their backyard to the snowflakes on their front stoop. "It's a microscope, but it's also a camera, so you can take it on the go and magnify objects indoors and outdoors," says Adrienne Appel, senior director of communications at the Toy Association. If you turn off the zoom, it also works as a standard camera, letting kids take pictures and videos that they can upload to the computer.
"I usually give people blocks because I think it's kind of like a lost art," says Dr. Alexandra Figueras-Daniel, an assistant research professor at the National Institute for Early Education Research. She notes that blocks continue to be powerful educational tools for children as old as 9. The open-ended nature of the blocks allows them to grow with a child, teaching cause and effect, spatial awareness, and fine-motor skills while preparing them for learning math. This set from Areaware will inspire conversations about city life and let kids build block versions of their own cities.
"Dramatic play at this age can be more sophisticated," says Figueras-Daniel, who adds that "having detailed accessories" like those in this riding-center set "adds to the play." (Schleich, we should add, is a brand beloved by parents for its high-quality, realistic-looking animal toys). The set comes with a horse stable, an Arabian mare and foal, a rider, and accessories like a saddle, bridle, blanket, hay feeder, drinking trough — in other words, everything a 5-year-old might need to recreate a true-to-life scene. "Given the vast selection of options from the brand, which is among my favorites because of the toys' detail, it is also a gift that can be built upon over time," Figueras-Daniel adds. Playing with an adult or friend can do even more to grow young minds: As she explains, it will "help build vocabulary as children create scenarios and dialogue among the animals." Plus, because "the detailed pieces are tiny, that can also encourage fine motor development as they set up the play scenarios."
This space-themed circuit-building kit has more than 50 pieces and comes with 20 activities to challenge young makers, plus the possibility for endless self-directed activities. It is "a new take on a classic from Educational Insights," says Holly Magelof, veteran toy buyer of the Dolphin Bookshop. (The classic to which she refers is a simpler albeit beloved kit in which kids merely drill colorful plastic screws into a board.) "It takes the fine motor practice up a level and incorporates STEM."
This game manages the all but impossible: It makes learning math genuinely fun. It requires an iPad and the Osmo base kit (not included), so, yes, definitely a splurge, but the payoff is big. "It's a favorite in my classroom," says Heidi J. Trudel, an elementary-school teacher from Seattle. "The game incorporates math concepts" — there is counting out change, measuring ingredients, saving up for purchases, and more — "and you can adjust the level of complexity to match a child's needs. They love working for the customers and setting goals for their work."
If you're willing to spend a bit more money on a STEM toy, Eater's editor-in-chief, Amanda Kludt, recommends this screenless coding set, which she calls "the best kid gift I've received." As she explains it, "Basically, you're a robot on a grid, and you have to program where you want it to go. It's a very rudimentary introduction to coding with some bonus lessons on learning to tell your left from your right in a way that's special and fun." While it's designed for children 3 and up, it wasn't until her son turned 5 that it started to click. "There's a lot of trial and error. Right now, he does one to two moves at a time (turn right, move one step forward), but as he learns he'll be able to do more complex 'codes' (turn right, move one step forward, turn left, go four steps forward, etc.)." In addition to the rolling robot cube and control board, the kit comes with a storybook, a world map, and colorful blocks that act as the "codes."
Brain Candy/Reasonably Priced
Here's a brilliant idea from Lesley Suter, travel editor at Eater and mom of two. "The best gift my daughter ever received (and one which I've copied a lot) was this mini waffle maker," she says. Her daughter received it when she turned 5, and now, three years later, it's still a hit. "It requires help, but it's the one thing she actually cared about long after her birthday." And the fact that the waffles are heart-shaped — and mini — "added cuteness": "Regular round or square waffles would be fine, but the shape put it over the edge." When Suter gives it as a gift, she likes to include syrup, a jar of "magic" waffle mix, and a handwritten recipe to make it extra special. As far as the waffle maker itself goes, Suter says it's easy to clean and convenient to store since it's small. But she cautions that it gets really hot, so adult supervision is definitely required.
Parents these days tend to appreciate being able to keep in touch with their kids when they're down the street or off in the woods, and these high-quality walkie-talkies — one Amazon reviewer who bought them for 5- and 6-year-old kids wrote, "I'd recommend them for grown-ups, too" — might just put off the inevitable first cell phone. They have three different channels, allowing for multiple lines of communication, and have a range of nearly two miles, making them ideal for use during visits to the zoo or amusement park (the quite-crisp audio quality is especially helpful in such noisy environments). And, in general, Golinkoff likes how walkie-talkies encourage "collaboration, communication, and creativity." Figueras-Daniel is also a fan of walkie talkies because they "encourage turn-taking" and are a "really fun way to practice and develop language and communication skills."
This is the "safe, gluten-free Play-Doh substitute" of choice for mother of four and noted Instagrammer Coral Barajas. "But it is not just a substitute; it's an upgrade," according to Barajas. "We love the texture, it's not as messy as Play-Doh or kinetic sand, and it's just magical that it doesn't dry out." For these reasons, Mad Mattr is not only great for imaginative play, but also helping with dexterity and fine motor control. It's also a toy that lets kids of varied ages play together. This activity set comes with four colors of the stuff plus seven molds to create cookies, cupcakes, and doughnuts.
Though less flashy than the preferred Mad Mattr molding clay of Barajas, longtime Manhattan nanny Kasia Dabrowska swears by the Sago Brothers version (which is also a top pick on Amazon). "I like this Magic Clay better than Play-Doh," she says. "It's not as messy; it's nontoxic and unscented. And it's soft — it has a nice feeling to it when you squeeze it." The set comes with an array of 24 different shades, along with cutting tools and little accessories like googly eyes and key chains. There's also an idea book included for making specific shapes, but, Dabrowska adds, "the boys and girls I've worked with like to make their own things, like planets, mixing together different colors. Five is a really creative age."
Most 5-year-olds probably already own several Pop Its, but this extra-large tie-dyed fidget toy is guaranteed to wow them no matter how much experience they have. Jennifer Lynch, a content developer at the Toy Association, says the silicone-bubble-based toys are fun for people of all ages, from babies to grown adults, and likes this gamified version that encourages kids to race each other to pop 'em all.
Kids go wild for stomp rockets — a fact well acknowledged by both Sachs and John, who saw his own son take to them as early as age 2. At that age, he was more of a spectator than a rocket launcher, though, and by age 5, kids have the balance and strength to send a rocket soaring skyward, something they will do repeatedly. John has watched with gratitude as his son and his cousins of a similar age take turns blasting them off for the better part of an hour, leaving dad and the other adults to actually talk for a bit.
You may recall this pile-on-the-jewels dress-up game from the '90s — and now it's been rereleased. "Everyone who sees it remembers it so positively," says Magelof, who is now witnessing its magnetism to the current generation of kids. While definitely oriented toward girls, any 5-year-old can enjoy the game play, which requires no reading and is cooperative rather than competitive. It involves using the included spinner, board, and costume pieces like cocktail rings, sorbet-colored necklaces, and an understated tiara.
Even if you're unaware of the 1970s Brooklyn nostalgia surrounding the pink Spaldeen, don't let the simplicity of this rubber bouncing ball fool you — possibilities abound, according to Golinkoff: "There are all kinds of things you can do with a small pink bouncing ball and hand-clapping. I played with those for a long time when I was a kid." And now, she adds, if you don't know any such game off-hand, "look them up on YouTube." After teaching your kids, "they'll go and teach the other kids, which is really great."
No one can deny the joy of jumping up and down — especially if it's on a super-bouncy pogo stick, like this one that Figueras-Daniel recommends. "The pogo stick is a great balancing toy that will definitely require a bit of practice," she says. But that's a good thing: "I think toys that are just slightly above ability levels are great as they encourage persistence and also avoid becoming boring too quickly." This model, which comes in a bunch of colors including blue, red, and yellow, features non-slip pedals and a safety foam handle. As with any other playthings they could potentially fall off of, it's recommended that children wear a helmet and other protective gear when using pogo sticks.
Brain Candy/Splurgy
One of the most essential toys for any kid is a scooter, and Carrie Wren of Two Wheeling Tots agrees with most of the parents and experts we have talked to that Micro Kickboard makes the best scooters on the market. "Their attention to detail, quality of design, and precision of build just can't be beat," she says. "No one really comes close, even though everyone tries to copy them." The brand's scooters are known for being lightweight and easy to use for toddlers all the way up to tweens. While this one is designed for children from 2 to 5 years old, it can support up to 110 pounds (the average 5-year-old weighs less than 50 pounds). Plus the handlebars are adjustable so it can grow with your child. Note that this scooter comes in a larger Maxi size that is rated for kids from 5 to 12 years old, if you want it to last even longer (and this wonderfully thorough guide from the brand can help you determine which size to choose).
The Vtech Kidizoom creator cam might look more like a toy than a real camera, and in some ways it is, thanks to its 20-plus animated backgrounds and special effects. But it is indeed a genuine camera with a built-in microphone that records videos that kids can upload to a computer via the included USB cable. Golinkoff calls using a kid's camera "so fun," especially when you take the time to teach the child about moviemaking and photography.
"Major building blocks of productive, immersive play" is how Christopher Byrne, an author, toy historian, and independent industry analyst defines toys from Playmobil. This kit includes a whole lot of stuff that'll allow kids to revel in self-directed, open-ended engagement: The fire truck has moving parts, an extendable hose and water-dart sprayer, and includes two firefighters, traffic cones, flames, a gas can, storage containers, a fire axe, and lots of other accessories they can use to enact all sorts of scenarios.
After John's son got a Crazy Forts kit for Christmas one year, few days that went by for the following months without a fort built or played in. As a base toy, these tubes and balls make fun tunnels, cubes, and other structures, but when you add the included blanket and light the fun goes up a notch or three. Dr. Sachs thinks the free-building involved here is pretty instructive, but your 5-year-old will just think it's cool.
Jackie Delamatre, an educator and curriculum writer focusing in the arts, suggested this set of tools and connectors that'll let kids build castles, vehicles, and rocket ships out of cardboard boxes you may have laying around. The set comes with child-safe cutters, special screwdrivers, and connectors that can hold up to six pieces of cardboard together.
The Strategist is designed to surface the most useful, expert recommendations for things to buy across the vast e-commerce landscape. Some of our latest conquests include the best women's jeans, rolling luggage, pillows for side sleepers, ultra-flattering pants, and bath towels. We update links when possible, but note that deals can expire and all prices are subject to change.
Every editorial product is independently selected. If you buy something through our links, New York may earn an affiliate commission.