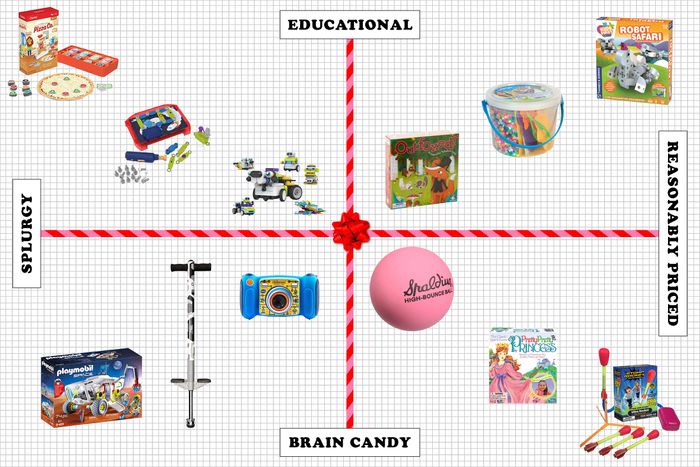 Photo-Illustration: Photo-Illustration: Stevie Remsberg; Photos: Courtesy of the retailers
You know about New York Magazine's "Approval Matrix." Now, the Strategist has taken that model of what falls where on our taste hierarchies and applied it to toys. In this case, the four sides of the grid are "Educational" (say, a robot safari), "Brain Candy" (a step-on rocket launcher), "Reasonably Priced," and "Splurgy." Each toy in every quadrant comes highly recommended — click here to learn more about our sourcing process and the dozens of experts involved — and every age up to double digits is covered.
Here, we home in on the 5-year-olds. As children this age begin to control their emotions, they're better equipped to work through problems and conflicts, according to George Sachs, a child psychologist and founder of the Sachs Center in Manhattan. With this in consideration, we present you with the following assortment of gift ideas, guided by professionals like Sachs as well as toy historians and Instagram parents. You can jump directly to the section that interests you most — "Educational/Reasonably Priced," "Educational/Splurgy," "Brain Candy/Reasonably Priced," or "Brain Candy/Splurgy" — or read all the way through to get the full picture of what kids these days are into. Whether you're shopping for a birthday or a holiday or any other day, it's a list that keeps on giving.
Educational/Reasonably Priced
"Outfoxed has more replay value than I have ever experienced in a child's board game," says Steven John, a Strategist contributor, tech writer, father of two, and one of the writers of this story. Months after first getting the game, rarely did a single day go by without his 5-and-a-half-year-old requesting at least one round. The game is easy for kids to understand — you uncover a series of clues and a group of suspects, zeroing in on the guilty fox through a process of elimination — yet the choices to be made during each turn require critical thinking, planning, and teamwork. The collaborative nature of play minimizes conflict between siblings or friends, and allows parents to get in on the action as well.
Perler Beads are great for honing the already advanced fine motor control of a 5-year-old, while also allowing for open-ended artistic creation — the thousands of rainbow colors can be put in endless combinations onto pegboards in all kinds of shapes. "These beads are fun and very creative, that's for sure," says Dr. Roberta Golinkoff, a professor of child psychology at the University of Delaware and co-author of Becoming Brilliant: What Science Tells Us About Raising Successful Children. "By this age, they're not going to eat the small pieces, so you don't have to worry about that. My grandkids have a lot of fun with these," Golinkoff says.
For kids frustrated by social distancing, quarantine, or both, Lori Caplan-Colon, a speech/language pathologist at Montclair Speech Therapy, recommends this set of six emojilike wooden eggs that helps children express their emotions when words fail them. The eggs are stackable and come with a storybook. "It encourages the development of emotional maturity and communication skills," she says.
"Kids don't fully understand how the veggies and fruits make it to their plates," says Ashley Tyrner, a single mom and the founder and CEO of Farmbox Direct, a subscription-based organic-produce service. (Tyrner also leads her now-9-year-old daughter's healthy-meal-kit company, Harlow's Harvest). That's where this nine-piece gardening set comes in. Made from 100-percent-recycled plastic milk jugs, the pieces comprise all the essentials for growing produce right on the windowsill: three planting pots, soil pods, trowel, and different kinds of organic seeds. "You can teach your kids how to plant and garden in your own home," Tyrner says.
With this kit, kids are building robots of a variety of animals and then actually getting to watch them move, explains Laurie Schacht, chief toy officer of The Toy Insider. A step-by-step manual makes the projects manageable with minimal adult assistance and involves steps like assembling LEGO-like blocks into the shape of, say, a sea otter or a fox, and then connecting them to a ready-made motor. Of course, Schacht suspects that more often than not, kids will be going for the unicorn and narwhal options — "the most popular creatures these days."
This Plus Plus set — which has won all kinds of awards and develops engineering, design, and fine-motor skills — is the all-time favorite of New York psychiatrist and mother of twin boys Vanessa Carroll, who says it's held her kids' attention more than any other toy. "Normally, when the boys get home from school, the first thing they want to do is eat a snack," Carroll says. "Then they got this as a birthday gift. All of a sudden, I'd be waiting and waiting for them in the kitchen, calling their names to come eat, and 30 minutes later they were still on the floor of the playroom, making these intricate mosaic designs and building 3-D shapes like UFOs. The pieces require hand-eye coordination," Carroll explains, "so 5 is definitely a good starting age; I wish we'd had them in our lives a little sooner."