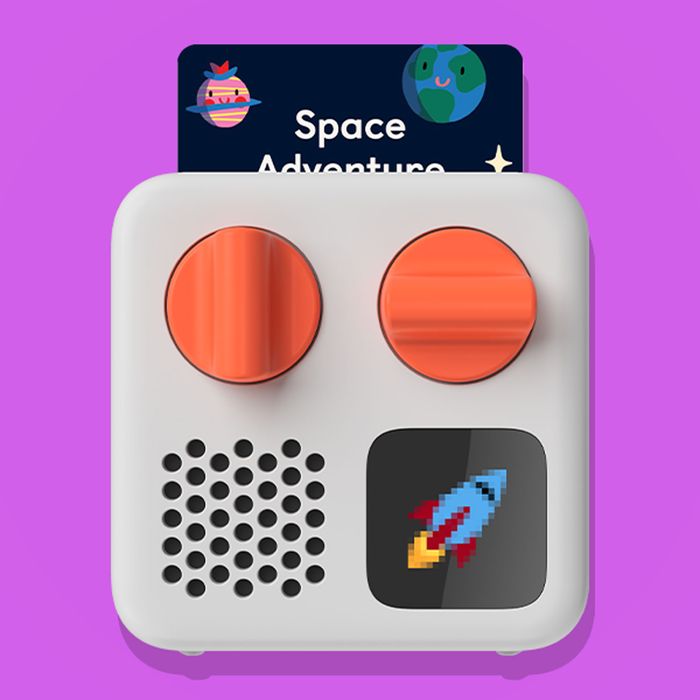 Photo-Illustration: The Strategist; Photo: Retailer
There is a very, very short list of kid-centric things I would instantly repurchase if one of them got left behind in a hotel room or dropped in a lake or destroyed through some other unforeseeable chaos. A couple particularly beloved stuffed animals. One or two pairs of shoes and a few specific items of clothing that've been improbably reliable. And, with no hesitation — like, I am loading up the website to buy a replacement the instant I realize it's gone — the Yoto Mini.
We own two Yoto Minis, actually, one for each of my children (who are currently 5 and 8). The device solves a specific problem for our family: It's an audio player my kids can control entirely by themselves. Other than a small pixelated window the Mini uses to display a digital clock and information about what track is playing, it has no screen. Because of that, my kids have unlimited access to it — at bedtime, in the mornings, or at any other part of their day when they want music or podcasts or stories. It is small enough to be comfortably portable, for car rides or walks or hanging around in the backyard. It's chunky enough that we're not constantly losing it. My 5-year-old can use it fluidly even though she can't read yet. My 8-year-old can plug headphones into it and listen to any audiobook in her library without me needing to hand over my own devices or worry about locking down other apps on her iPad.
The basic mechanism is an internet-connected speaker with a card slot. Yoto's audio cards are similar to credit cards in size and feel, and each one contains a chip that links your player to specific audio files — Yoto has a big library of its own content, so you can buy all kinds of audiobooks and music and educational Yoto cards that come printed with their own artwork (and have cute pixelated images that show up on the tiny display for each track listing). My kids listen to and love many of the titles from the in-house Yoto library — both Yoto original content, like music collections and biographies of inventors, and licensed audiobooks like Disney novelizations, Junie B. Jones, Paw Patrol, and The Boxcar Children. But because my kids are podcast obsessed, the real game-changer is the Make Your Own card option. You can purchase blank cards and then use the Yoto website or app to wirelessly upload any mp3 file you want. The warm-and-fuzzy vision is you get Grandma to record herself reading their favorite book. The actual version is me googling "best kid podcasts we haven't already listened to oh god please we have such a long car ride tomorrow" and then uploading six hours of Smash Boom Best onto one of the blank cards.
There are two Yoto options: the full-size Yoto Player and the smaller Mini. We've played with the big one, and it is very nice. There's a nightlight option, which is very cannily designed so that it only works when the kid isn't also staring at the display, and the speaker quality is better than the little speaker on the Mini. But the essential functions are otherwise exactly the same, and the Mini has 20 hours of battery life compared to the full size's ten. That alone would give the Mini the edge for our house. (But the Mini is also $30 cheaper, which does not hurt.)
For our family, at least, the Yoto has exactly the right balance of parental oversight and kid freedom. I set up whatever podcast or book or music options I like (and they want). Then it's completely up to them. You want to fall asleep to the kids' mythology podcast Greeking Out every night for a month? Knock yourself out! You want the Story Pirates podcast but your sister wants an audiobook novelization of The Muppets? No problem. You want to put on headphones and listen to Imagine Dragons' "Believer," a song I truly can never voluntarily listen to again? I will purchase an mp3 file, load it onto a Yoto card for you (wirelessly via the Yoto iPhone app or a web browser), and we can both walk away with joy in our hearts.
When my kids were a few years younger, we were huge proponents of a competitor product, the Toniebox — another Strat-recommended device with essentially the same screen-free audio player idea, but instead of cards, the Toniebox plays audio associated with little figurines that attach via a magnet. It also has an in-house selection of (mostly licensed) figurines as well as blank ones for uploading your own audio. The box is squishy like a toy, the magnetic connection is satisfying, and the concreteness of having, say, an Elsa figurine that plays Frozen songs (which you can then swap for a Daniel Tiger that tells a Daniel Tiger story) is much more accessible for preschoolers.
After months of use, though, we had two major annoyances with the Toniebox. First, there's no way to see what track is playing or skip quickly to a later one — you have to shuffle through every single track to get to the one you want, and that becomes pretty obnoxious when your kid wants The One Where They Talk About The Frog Prince and you have no idea which one that is. Second and more importantly, though, Tonies only save up to 90 minutes of audio per figurine. That's no problem for a 3-year-old who wants to listen to the same 12-minute story ad infinitum. But for older kids with longer attention spans, or kids who want access to tons of podcast tracks, or for portability and travel, it gets really annoying. Within a month or two of use, I was stuck in a loop of trying to Tetris as many Circle Round episodes into that 90-minute limit as I possibly could.
The Yoto Mini solved all of that. Blank Yoto cards hold up to 100 tracks or six hours of audio, and there are so many additional features that the Tonie doesn't even touch: an okay-to-wake function and a new alarm option; a daily Yoto podcast with kid-submitted jokes; a bigger library with more options for older kids; free audio the company releases as a seasonal advent calendar. Sure, it's not without issues — it can be hard to figure out how to actually download podcast mp3s, for instance (which is not Yoto's fault but is sometimes an obstacle in how we use it). And it's vastly easier to choose an individual track on the Yoto than it is on the Tonie, but there's no way to fast-forward through that track (my kids do not care, but I can imagine a scenario where that's frustrating). These are trivial complaints. My entire social circle is tired of me evangelizing about this thing, but honestly? I just want every parent to be as happy as I am when my kindergartener wakes up at 6:30 a.m. on a Saturday and then just … stays in her room for an hour, listening to Terrestrials. I sleep more. I want that for us all.
The Strategist is designed to surface the most useful, expert recommendations for things to buy across the vast e-commerce landscape. Some of our latest conquests include the best acne treatments, rolling luggage, pillows for side sleepers, natural anxiety remedies, and bath towels. We update links when possible, but note that deals can expire and all prices are subject to change.