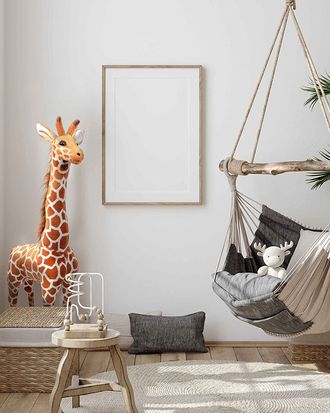 Linzy's more than four-feet-tall Standing Giraffe is one way to get the look for less.
Photo: retailer
Taxidermy, the art of preserving a once-live animal for display, is a trend as old as time. The Museum of Idaho notes that the ancient Egyptians began doing it as early as 2200 BC. Paris taxidermist Deyrolle opened its doors in 1831, 78 years before Teddy Roosevelt, just out of the Oval Office, went on a 1909 expedition in Africa to collect specimens that would later be stuffed for the Smithsonian. Back then it was considered conservation, but nowadays we know better. (Most of us, anyway.) Some folks apparently knew better back then, too: Margarete Steiff founded her eponymous brand of stuffed toys in 1880. According to the company, its first hit was a stuffed elephant. Its stuffed bears, which became known as Teddy Bears thanks to Roosevelt, exploded in popularity decades later.
Stuffed animals have since evolved to take countless forms. Most of them are not meant for display. But some are large and lifelike enough to be décor themselves. In nurseries and kids' rooms, yes, but also spaces for grownups with more whimsical taste. Somewhere between Steiff's elephant and the Teddy Bear came its first giraffe. And sometime after that, the giraffe grew (to 43 inches for $1,200), and grew (to 59 inches for $2,500), and grew (to 100 inches for $4,975).
Maybe you saw them lining the entryway of FAO Schwarz as a kid. I have wanted a jumbo-sized Steiff giraffe ever since I laid eyes on one, as an adult, years ago at a John Derian boutique. And I'm not alone: According to Architectural Digest, the giraffe is having a moment as a must-have among decorators and new parents who can afford it. As someone who simply cannot, I settled on a 44-inch, made-in-Peru stuffed alpaca instead. I bought it last summer at a home-goods store near my parents' house in Delaware and it now flanks a bookshelf in my living room. And as I learned from finding my alpaca, Steiff is not the only game in town when it comes to display-worthy stuffed animals. The menagerie from other brands below ranges from plenty of giraffes to lions and tigers and bears. All are sizable — and none will cost you nearly as much as an actual pet.
Photo: retailer
While it's not nearly as storied as Steiff, Melissa & Doug has become synonymous with good-quality toys that come at not-laughable prices. At 53 inches, its giraffe is close in height to Steiff's mid-size option — but costs roughly $2,400 less.
Photo: retailer
For half the price of the Melissa & Doug giraffe, you could get this 50-inch one that's only three inches shorter.
Photo: retailer
Closest in height to Steiff's mid-size giraffe is this 57-inch tall one from Pottery Barn Kids. It may be the most Steiff-looking, too.
Photo: retailer
This alpaca is made with real alpaca fur and more or less looks like the one I own. (The price shown is for a 40-inch one.) It does cost more than the others on this list, but these are handmade to order and no two are alike. You can choose from four shades for the fur and there are also more sizes (one smaller, two bigger) depending on your budget.
Photo: retailer
While they're at polar opposites of the height spectrum IRL, after the giraffes, this 41-inch penguin is actually one of the next tallest stuffed animals on the list.
Photo: retailer
An almost three-foot-tall zebra (35-inch, to be precise) will make even more of a statement than a rug in the animal's stripes.
Photo: retailer
It may be too austere for the littlest of scaredy cats, but there's something very regal about this cheetah.
Photo: retailer
As anyone who has seen one will tell you, the only thing cuter than a pony is a dwarf pony. Viahart is a Texas-based company that manufactures toys overseas and distributes mostly on Amazon and Walmart, as its founder explained to the New York Times. Its price points are comparable to Melissa & Doug and its stuffed animals, like this 35-inch-tall horse, look of comparable quality — plus, they have the added benefit of coming with names. For Melissa & Doug loyalists, the brand sells a smaller 32-inch horse that looks nearly identical.
Photo: retailer
At 34 inches, Viahart's lion, Laurent, stands two inches taller than Melissa & Doug's (slightly cheaper) standing lion.
Photo: retailer
While it's on the shorter side at 20-inches tall, this polar bear cub is almost three-feet long. Steiff, meanwhile, sells one that stands at more than six feet tall for $4,500.
Photo: retailer
For the black lab fans. This one is 23-inches tall and 31-inches long.
Photo: retailer
Border collies, meanwhile, can stand anywhere from 18 to 22 inches, the AKC says. Melissa & Doug's rather happy seated one measures 27-inches tall.
Photo: retailer
This 16-inch basset hound is actually taller than your average, which the AKC says is 15-inches tall. It's more than two-feet long and would also halfway complete a proper Sherlock Holmes Halloween costume.
Photo: retailer
Also longer — a lot longer — than it is tall is this handsome tiger. The product description measures it at 75 inches (just over six feet) from end to end and 20-inches tall.
Photo: retailer
A bit smaller, the white tiger clocks in at roughly 5-and-a-half-feet long.
Photo: retailer
An Amazon reviewer says they bought the 29-inch-tall Shahnte for their daughter's 21st birthday, suggesting it's a great gift for any age. Steiff's 30-inch one costs $955.
Photo: retailer
For Bambi fans — or those who want to achieve a more rustic look. Reviewers say it's about 39-inches from the floor to the tip of its antlers.
Photo: retailer
Melissa & Doug's moose, at roughly 38-inches tall, would up that rustic factor considerably.
Photo: retailer
The fabric pouch makes the 34-inch mommy kangaroo a bit less lifelike, but the included joey makes it a bit more adorable.
Photo: retailer
Finally, a 46-inch tall — or almost four-foot — standing grizzly bear that we think even Roosevelt himself wouldn't scoff at. If it's too lifelike, you could always opt for a similarly sized teddy bear instead.
The Strategist is designed to surface the most useful, expert recommendations for things to buy across the vast e-commerce landscape. Some of our latest conquests include the best acne treatments, rolling luggage, pillows for side sleepers, natural anxiety remedies, and bath towels. We update links when possible, but note that deals can expire and all prices are subject to change.