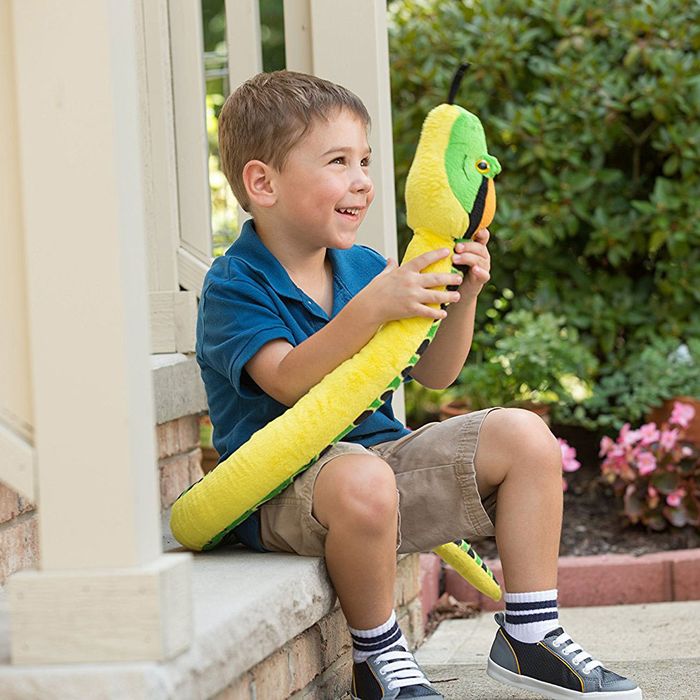 Photo: Courtesy of the retailer
Here at the Strategist, we like to think of ourselves as crazy (in the good way) about the stuff we buy, but as much as we'd like to, we can't try everything. Which is why we have People's Choice, in which we find the best-reviewed products and single out the most convincing ones. (You can learn more about our rating system and how we pick each item here.)
And while we've written about stuffed animals before — including these German-made ones for babies, an investigation into the trendiest animals, and even a roundup of jumbo teddy bears — here we've rounded up the best-reviewed giant stuffed animals, as praised by the most enthusiastic reviewers on Amazon.
Best-rated giant stuffed animal
At over four-feet tall, this plush giraffe towers over little kids, who adore dressing it up or sitting on its back for "rides." Parents are impressed with the quality, too, with one writing, "Rarely do I see a stuffed toy that is this well done and so aesthetically pleasing. The seams are lined up perfectly, which really impresses me." Another reviewer thinks it looks "lifelike, even down to the eyelashes and horns." Many praise the toy's "really fine craftsmanship" and durability. As one reviewer says, "the fur is so soft and inside of his legs there are heavy duty metal wires to keep him standing up straight," and another adds, "after a month of being dragged everywhere in the house, there's still not one single sign of wear and tear."
The impressively sized toy makes for a great gift, with one reviewer reporting that a little one was "smiling from ear to ear and running around the giraffe petting and hugging it," after receiving one as a surprise. For one parent, the giraffe was "the highlight of my 5-year-old daughter's Christmas morning," and a grandparent says, "my 2-year-old granddaughter was overcome with excitement and joy when she received this giraffe for her birthday."
Best-rated (less expensive) giant stuffed animal
Reptile-loving kids flip for this giant snake that reviewers call "well-constructed," "truly plush," and "great quality for the price." For an inexpensive toy, many are impressed with how "amazingly beautiful and colorful" the snake is, and how well it "holds up in the wash," as one explains. Similarly, another parent is thrilled that, so far, it's "stood up to all the roughhousing" her son puts it through: "I thought for sure that by now I would have had to make a few stitch repairs, but nope, good as new." It's a big hit among kids, with one mom saying that her daughter "plays with it constantly and even took it to show her friends at school for show-and-tell."
And now for some micro-picks of every breed of giant stuffed animal you might be looking for.
Best giant stuffed tiger
According to one reviewer, this striped white tiger is "wonderfully lifelike" and "well-made," and perfect for a small child to "lay atop and stretch out comfortably for story time," or "sit on and pretend to ride through the jungle." Kids love that it's "plush and soft enough to cuddle," as one reviewer explained, and many others say their children or grandchildren were "thrilled" to receive one. A parent of two is pleased that after a year of heavy play, the tiger is "taking a beating very nicely, holding its shape, and maintaining its colors."
Best giant stuffed shark
"Our 6-year-old just has a ball with his ginormous shark," raves a happy reviewer. "It actually helps him sleep at night because he thinks the shark will keep him safe." The mom of a 4-year-old agrees that it "has provided many hours of play and I am sure that it will continue to over the next several months if not years." This mom, who bought the shark for her daughter as a birthday gift, writes, "not only did she LOVE it (it is much bigger than her) but all of the other kids at the party loved it and wanted to play with it. Definitely a huge hit with the kids!"
Best giant stuffed crocodile
In the words of one reviewer, this stuffed crocodile "looks adorably ferocious," and another calls it "cute beyond words," making it a fun (and not-too-scary) toy for kids. One little girl "carries it with her all over the house," and for one boy it's the "best pet that he's allowed to keep in his room." A reviewer who has owned one for over a year (and reports that it's seen lots of "heavy use") is impressed that it "has held up VERY well. The stuffing is still fluffy, the color is still vibrant, and the stitching has held up great."
Best giant stuffed cheetah
Standing over four-feet tall, this "giant, regal stuffed animal" is adored by kids, who like to dress it up or keep it by their beds at night for "protection." One reviewer says it "has some of the softest fur I have ever felt on a stuffed (or real) animal before," and another calls it "quite handsome and so real and lifelike." One mom says her daughter "dresses him up in hats and scarves, wrestles him, pushes him around, and then attempts to 'ride him' and he still sits up straight after all her rough play."
Best giant stuffed unicorn
For kids who love unicorns, this "really big, really cute, and super soft" one will certainly be a hit. "The size is perfect for my 5-year-old who can easily drag it around and sleep with it in her twin bed," writes one parent. "It is not too heavy or bulky but the size is still 'huge' as she requested." Another reviewer says her granddaughter "doesn't leave home without this unicorn" and a dad writes that his daughter "loves it, drags it everywhere, and sleeps with it." One purchaser even admits, "Secretly, I wanted to buy myself one because he would make a fantastic body pillow."
Best giant stuffed dog
"Perfect for those who don't need or want to care for a pet," according to one reviewer, this very realistic stuffed German shepherd can be a good substitute for kids begging for the real thing. A reviewer who bought one for her daughter's birthday says, "We got squeals of excitement when she opened it … my daughter has it set up in her room by her bed as her protector. I will say it was realistic enough to startle me when I walked by her room at night!" Another reviewer writes that their little girl called it "the best thing she has ever received," and that it's "well-made and quite lovable."
Best giant stuffed horse
"My daughter absolutely loves the Melissa and Doug horse," writes one reviewer. "She takes it everywhere with her around the house and it easily supports her weight. It is well-made and seems to be holding up great." Many other buyers also say their kids (or grandkids) fell in love with this stuffed horse, like this parent who writes, "My 3-year-old was absolutely over the moon for this. She carries it around, sits on it, snuggles it, and just wrestles with it." A grandparent adds, "This is one of the best gifts I have ever bought my granddaughter. She absolutely loves it."
Best giant stuffed Elmo
Little Sesame Street fans will adore this oversize, plush Elmo that one reviewer says "will be loved to baldness." He's one 2-year-old's "constant nighttime buddy," and a parent writes, "my son will not sleep, eat or read without his friend, Elmo. We took Elmo on vacation with us and he is in every photo." Other parents like that, compared to other stuffed Elmos, this one "isn't animatronic or has annoying sounds coming from it," and one reviewer even says "with all the Elmo toys out there, this has to be the best one."
Best giant stuffed teddy bear for kids
Reviewers say this cuddly bear is "just as fluffy and soft as you'd expect." One parent says, "My 4-year-old twins love their bears. They are almost the same size as them and they are cuddly and soft and perfect snuggle buddies," and another agrees that the bear is "quite cute and huggable." Another reviewer likes that it's "soft enough for little tots to hug and carry around," and more than one parent reports that their child "sleeps with it every night."
Best giant stuffed teddy bear for Valentine's Day
This extra-large (five-foot-tall) bear would be an excellent Valentine's Day gift for a loved one, whether they're young or not so young. One reviewer says it's so big that "if you put it in a bed and lie next to it, it's like lying with a whole other person," and that children will "get so much joy out of cuddling and hugging the bear." It's beloved by adults, too, as this reviewer says "my girlfriend absolutely loves it and uses it to cuddle with when I'm on the road for work." Finally, one reviewer raves, "It is one of the softest and most cuddly teddy bears I've ever bought." Note: Check out more giant Valentine's Day teddy bears here.
The Strategist is designed to surface the most useful, expert recommendations for things to buy across the vast e-commerce landscape. Some of our latest conquests include the best baby lounger, baby onesie, children's books, and kid's furniture for adults. We update links when possible, but note that deals can expire and all prices are subject to change.
Every editorial product is independently selected. If you buy something through our links, New York may earn an affiliate commission.