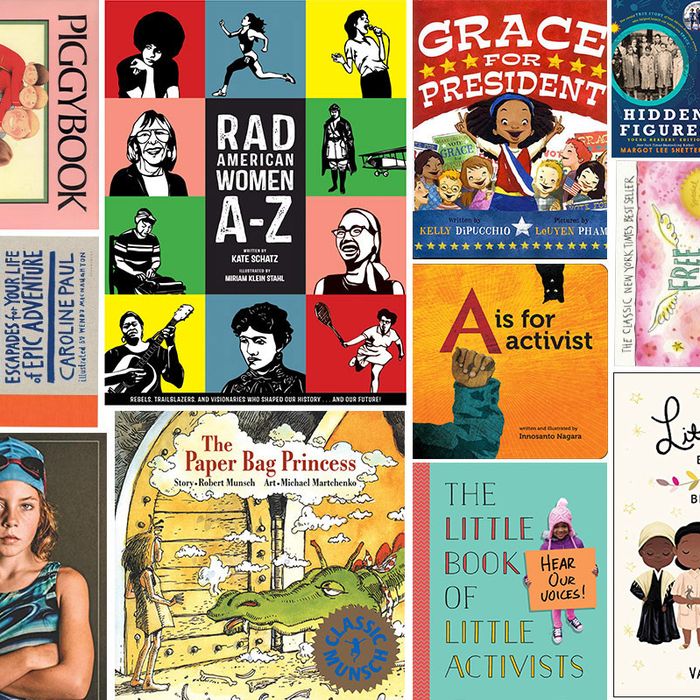 When we first posted this list of feminist kids' books in December last year, my niece was only 14 weeks old. Now she's one, and she's walking, learning to talk, and impressing her family members daily with her feats. (I remain confident that she's going to be pretty much a genius.) And what does any budding genius child need? Books. Particularly, books that can help pave their way into a strong, courageous, patriarchy-defeating, feminist adulthood. Books the adults in their lives can read to them, and maybe even learn from themselves.
Luckily, there's been even more out there in 2017 to help my niece, and the small ones in your life, too, become the brilliant, powerful people they're destined to be. Here are a few of my favorites for her growing collection, and maybe yours — now updated with additional books. (Share widely for a better future.)
Pictures of little kids are cute. Pictures of little kids who care about making the world a better place are even better. In this portable, inspiring book, you'll also find an introduction by Bob Bland, who co-chaired the Women's March on Washington, and an afterword by Lynda Blackmon Lowery, author of Turning 15 on the Road to Freedom, the youngest person to march from Selma to Montgomery in 1965.
This little volume is out just in time for the holidays (on December 5); you'll want to add it to your list for the young readers in your life. Harrison shares the stories of 40 groundbreaking black women (including politician Shirley Chisholm, abolitionist Sojourner Truth, and poet Maya Angelou), pairing them with sweet, kid-friendly illustrations.
Any feminist library should be in possession of Clinton's critically lauded children's book, which imparts the stories of 13 women who didn't give up — from Nellie Bly to Oprah Winfrey. The title, of course, was inspired by Senator Elizabeth Warren, who was silenced as she spoke out against Attorney General nominee Senator Jeff Sessions, and Senate Majority Leader Mitch McConnell's defense of the Republican tactic that shut her down: "Sen. Warren was giving a lengthy speech. She had appeared to violate the rule. She was warned. She was given an explanation. Nevertheless, she persisted." And made history.
This photography collection captures the true power of girls, which, of course, is far more than being "pretty." An array of candid, arresting shots reveal strength and authenticity through joy, confidence, resilience, kindness, wildness, and more. Empowering stories from the girls featured caption the shots: "Being a girl has no limits," says Grace F., age 13. "I can do just about anything."
Shy Rosie loves to invent things, but hides her daring creations away — until her Great-Great-Aunt Rose (you may know her as "the Riveter") comes to visit and teaches her that the only way you can really fail is if you quit. (Also check out Beaty's Ada Twist, Scientist.)
Princess Elizabeth is going to marry Prince Ronald, until the doofus gets himself prince-napped by a dragon. She sets out to save him, but when Good Old Ron is insufficiently grateful, she dumps him like last year's tiara. (Not that she cares about tiaras, she has other important things to do.)
When I asked friends for book suggestions for a little girl, this illustrated, encyclopedic collection of ladies who kicked butt and took names was one of the most-repeated titles. My niece won't be able to read it 'til she's older, but in the meantime, I'm gifting it to all my friend's grade-school-age daughters, too. It also comes with a handy list of ways to be rad. And take note: There's also the global-looking Rad Women Worldwide (by the same author and illustrator).
No kids' library is complete without this '70s classic, with singable, resonating messages of empathy and compassion and being ourselves — whatever that looks like — that we need more than ever right now.
Occupy Wall Street calls this book "like reading Howard Zinn's A People's History of the United States, but for 2-year olds." Think: "C is for Co-op, Cooperating Cultures, Creative Counter to Corporate Vultures. Oh, and Cats."
Um, a confession. I still read this book regularly for inspiration, because Pippi is the original badass who gives no fucks, does what she wants, has a great time, and is smarter than all the adults around her. Plus, she's strong enough to lift men over her head.
This is the young reader's version of Shetterly's best-selling book about four African-American women who worked at NASA and did the math that let John Glenn orbit Earth (among other things). They didn't get the glory then, but they should today (oh, and it's a movie that's out now).
This book came out in 2012, but it's never been more timely — not only does it explain electoral politics, it also pits a well-qualified girl against a boy who barely tries. Luckily, the best candidate wins. (See also: Hillary Rodham Clinton: Some Girls Are Born to Lead, by Michelle Markel.)
This book's premise includes the loveliest message from a parent to a child: "When I look at you, and you look at me, I wonder what wonderful things you will be." Sure, it's sweet, but it's an incredibly powerful starting point for confidence and success, too.
This book came out in 1990, and it might feel dated except, aren't we still fighting to get men to do their fair share of the housework (and, oh yeah, there's that equal-pay thing, too)? Mrs. Piggott takes a stand against the three male chauvinists, a.k.a. pigs, in her house, and everyone learns a valuable lesson.
Be the purchaser of a book about the child Ruth Bader Ginsburg you wish to see in the world. Valuable lessons abound in this one, including that, yes, it's okay to disagree — and life's about way more than just finding a husband.
Described as a "Lean In for young girls, a book about the glorious things that happen when you unshackle from fear and open up to exhilaration." Note: I will be reading this to my niece regularly, I think, not just for her, but for me.
The Strategist is a new site designed to surface the most useful, expert recommendations for things to buy across the vast e-commerce landscape. Some of our latest conquests include the best notebook, black T-shirts, fashion-editor-approved jeans, toothbrush, and apartment décor. Note that all prices are subject to change.

If you buy something through our links, New York may earn an affiliate commission.