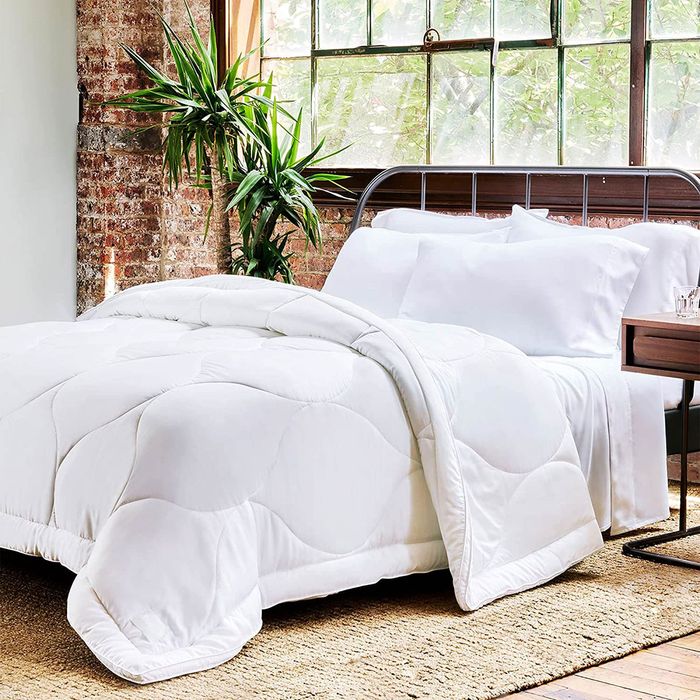 For that peaceful sinking feeling.
Photo: Courtesy Retailer
The comforter is the workhorse of the bed. Sure, the duvet cover gets all the attention because of its bright colors and tasteful designs, and we, of course, treasure our luxurious sheets. But the comforter offers you cozy shelter through cold nights. A bad one can feel meager, clammy, or oppressive, while a great one can make it feel hard to get out of bed. Plus let's not forget the duvet cover would be nothing without a comforter.
Because of the comforter's importance, don't overlook it — choose one actually worthwhile for your bed. To help you find the perfect one, we spoke to interior designers and bedding experts about what they recommend for every type of sleeper from sweaty to chronically freezing and everything in between. Below you'll find down-filled, down-alternative, cooling, and much more. (Just a note: All the prices are listed for a queen size.)
Best overall | Best (less expensive) overall | Best dual temperature | Best down alternative | Best bamboo | Best down | Best (less expensive) down | Best colorful down | Best organic 
What we're looking for
Filling: Sherica Maynard of Interior Design by S&S says the fill should be the quality you pay the most attention to. Not only will it impact how warm the comforter will be, but it will also play a huge role in the comfort of your bed, especially for those who want something exceptionally fluffy. Many of our experts prefer down alternative because it can be more ecofriendly and hypoallergenic and less lumpy than down (which tends to be more expensive anyway). It also won't shed feathers every night. However, interior designer Elizabeth Strianese of her namesake studio thinks nothing compares to high-end goose-down comforters, which she says have "left a mark on my sleeping psyche." It all depends on personal preference.
Shell material: Even though this might not be as important as the filling, if you plan to use your comforter without a duvet cover, the shell should be soft against your skin. Look for materials such as cotton, bamboo, and Tencel for a more comfortable sleep.
Weight: Sweaty sleepers should be able to enjoy the coziness of a comforter without the excessive heat. Interior designer Linda Hayslett of LH.Designs says the weight "can determine how hot or cool you are when sleeping" because, to state the obvious, the heavier it is, the warmer it is. Pick an "all season" or "summer" comforter if you would like something on the cooler side; these are usually more lightweight.
Machine washable: Very few people will want to schlep their comforter to a dry cleaner. We made sure to note which ones are machine washable to spare you the horror of realizing you can't just pop it in the wash when it needs a good clean.
Best overall comforter
Down alternative | Tencel lyocell | Lightweight | Machine washable
We first wrote about this sateen Tencel comforter back in 2018 after former Strategist writer Lori Keong tested it out. She describes the comforter as "tremendously soft, light, and cool to the touch, and sleeping beneath it, you feel nestled in an airy but cozy canopy." With a filling made from recycled PET bottles, the Tencel comforter maintains a silky soft texture that doesn't pill or shed feathers every time you lay down. Keong swears it isn't lumpy and won't create that annoying rustling sound when you shift around during sleep.
Despite how lightweight it is, Keong still warns sweaty sleepers: "On the heat spectrum, it falls in the middle between the heavier down comforters and the thinner summer duvets I've slept under. But I do think it falls short of its temperature-regulating promises." If you sleep hot, you might like the Buffy Breeze, which Keong notes is "even airier than the Cloud" and designed to be cooling.
Best (less expensive) overall comforter
Many of this comforter's more than 50,000 five-star reviewers like that it's light but still has the quality of a heavier (and more expensive) comforter. One such reviewer says the very low price "almost scared me away" as she thought it'd be poorly made, but she ended up loving it: "It's surprisingly light, crisp, and fluffy. Hands down the best 'feel' I've had in years. This is just a steal!" Another reviewer says that the comforter is "super lightweight and soft — perfect for summer and warm nights … I'm in love." And while it may be one of the cheapest comforters on this list, thousands of reviewers say it's durable. One calls it "very well made. The stitching quality is good, the shell fabric seems perfect for the job, and the filling is uniformly distributed and stable — no thin spots. Very pleasant to sleep under."
Best dual-temperature comforter
Down alternative | Long-staple cotton | Light and medium weight | Machine washable
Anyone who shares a bed will understand how annoying it can be when your bedmate has different sleeping preferences than you. (Take it from me: Sleeping temperature is one of the only things my fiancé and I fight about.) That's why Hayslett recommends the Crane & Canopy dual comforter with two different warmth and weight levels. She says it's "perfect to keep both happy and sleeping easy," hopefully limiting any future fights. One side of the hypoallergenic comforter is labeled "all season," which features seven-inch squares packed with down-alternative filling, while the "lightweight" side has ten-inch squares for better airflow. The comforter's corner ties allow it to be secured inside a duvet cover, so it will always stay put.
Best down-alternative comforter
Down alternative | Long-staple cotton sateen | Light, medium, and heavyweight | Dry-clean
We're big fans of Brooklinen here — its linen sheets, towels, and duvet covers have caught our attention time and time again. So it's no surprise that its down-alternative comforter would make this list. Hayslett recommends this one because of the long-staple cotton-sateen shell's softness and the Brooklinen's fluffy looks. The comforter comes in three different weights for summer, winter, or all seasons, depending on what type of sleeper you are. Each is filled with hypoallergenic recycled PET microfiber, which apparently is just as cozy as real down. The one downside: It's dry-clean only.
Best bamboo comforter
Down alternative | Bamboo twill | Lightweight | Machine washable
Sweaty sleepers might find bamboo particularly comfortable because it tends to be more breathable than cotton or synthetic materials. "When you feel the fibers on these sheets, they're just incredibly soft," Anishka Clarke, a co-owner of Ishka Designs, tells us. "Softer than you'd imagine. Supersoft — like, baby soft on your skin." But on top of using airy fabric, the comforter also needs to be lightweight, with a filling that also promotes proper airflow; this Ettitude comforter is just that. We've talked about this brand before — its bamboo duvet cover is one of our favorites — so it's no surprise it makes a just-as-nice comforter made from sustainable hypoallergenic bamboo that offers a cooling effect. The alternative-down filling is made from bamboo blended with recycled water bottles spun together into a unique fiber. It promises to be lightweight, non-clumping, and suitable for any season.
Best down comforter
White goose down | Cambric cotton | Five different weights | Spot-clean
We have a lot of down-alternative comforters on this list, but for die-hard fans of down, there is no alternative. Strianese discovered this Dewoolfson down comforter when she stayed in a luxury hotel in Sweden about five years ago. "I actually called the hotel a month after we returned to find out the maker, so I could purchase one," she says. Dewoolfson makes high-end, authentic white-goose-down comforters. They're expensive — but they cost far less than those made by high-end brands such as Frette and Matouk, which cost upwards of a couple thousand dollars each. Strianese likens the experience of slumbering underneath this comforter to "sleeping under meringue." Some think real down feels lumpy since the filling may shift and clump over time, but Dewoolfson uses a baffled-box design to keep the feathers in place.
The cozy comforter comes in five different weights including the lightest option, "Mountain Air," which is made for hot summers, and "Canadian Winter," obviously made for freezing temperatures. Dewoolfson recommends having your comforter professionally laundered by those who will take special care. But if not possible, just spot-clean it.
Best (less expensive) down comforter
Down, feathers | Cotton sateen | Light and medium weights | Machine washable
Parachute makes some of our favorite linen sheets, bath robes, towels, and other home goods. And we recently praised its down pillows, ranking them the best you can buy. Strategist senior editor Simone Kitchens bought the brand's all-season duvet insert and says it's the best one she's ever owned. "I wanted something super lofty," she says. "Two years later it's as fluffy as when I first unfurled it. And it truly works year-round, keeping me warm in the winter and perfectly comfortable in the warmer months." Because the filling is 85 percent down and 15 percent feathers, it comes in at a lower price than the Dewoolfson. But even so, it has many similar qualities such as a baffled-box design to keep the fill in place, lightweight and all-season options, sturdy seams, and an extra-lofty feel.
Best colorful down comforter
Down, feathers | Cotton twill | Four weights | Machine washable
Strianese knows her beloved Dewoolfson comforter is pricey, so she recommends this option from the Company Store as well. Not only does the brand offer four different weights — light, medium, extra, and ultra — but the comforter also comes in a plethora of colors, making it a good choice for those who can't be bothered with a duvet cover. You can choose between vibrant blues and greens, basic neutrals, and rich reds for your bed. (Just be aware many colors are on back order because of supply-chain issues.) The cotton-twill shell features a hypoallergenic down and feather fill that stays in place thanks to baffle-box stitching. And if you do decide to insert the comforter into a duvet cover, it has corner loops to tie to the inside of the cover.
Best organic comforter
Down alternative, Lyocell | Organic cotton percale | Medium weight | Machine washable
Nowadays, searching for organic bedding seems to be easier than ever. For anyone in the market for an organic comforter to complete their setup, we suggest turning to Saatva, one of our favorite mattress and bedding brands. The hypoallergenic cotton shell ensures proper airflow, and the 3D down-alternative fibers blended with Lyocell regulate your temperature. Like all of the comforters on this list, the box quilting will keep the filling in place, so you never have to worry about the filling shifting all to one side. One caveat: Saatva offers the comforter in only a medium weight, so you unfortunately can't customize your comforter based on your temperature preferences.