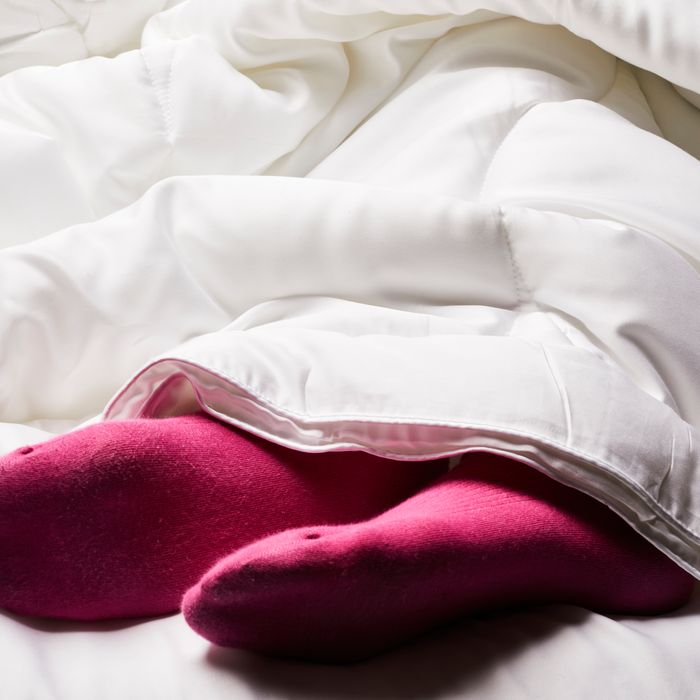 For that peaceful sinking feeling.
Photo: Marcus McDonald
We at the Strategist treasure our luxurious sheets, but, in truth, the comforter is the workhorse of the bed. The comforter offers you cozy shelter through cold nights. A bad one can feel meager, clammy, or oppressive, while a great one can make it feel hard to get out of bed. To help you find the perfect one, we spoke to interior designers, hospitality professionals, and a couple of Strategist staffers about what they actually use in their projects, hotels, and homes. (While the terms duvet and comforter are often used interchangeably, they technically mean different things: A comforter doesn't require a cover, but a duvet does. We've included both here.) Below, you'll find down-filled (and down-alternative) options, plus versions with bamboo shells, dual-temperature control, and more. (All the prices listed are for a queen size.)
What we're looking for
Sheritca Maynard of Interior Design by S&S says the fill of your comforter should be the quality you pay the most attention to, whether you're looking for down or down-alternative options. Not only will it impact how warm the comforter will be, but it will also play a huge role in the comfort of your bed, especially for those who want something exceptionally fluffy. Many of our experts prefer down alternative, which is typically made from synthetic polyester fibers, sometimes derived from recycled plastic, because it can be more ecofriendly, hypoallergenic, and less lumpy than down.
But for a luxury-hotel sleeping experience, nothing, according to interior designer Elizabeth Strianese of Elizabeth Strianese Interiors, compares to high-end goose-down comforters, which she says have "left a mark on my sleeping psyche." Without getting too technical, down comforters are either filled with down (the fluffy insulation beneath the feathers) from geese and ducks or a blend of down and feathers. All-down comforters are more expensive than blended ones. (If you want to learn more about the composition of down, head to our story about the best down pillows.) Most have a baffle-box construction, which means they're made with discrete boxlike pockets that each contain an equal amount of filling, preventing it from moving around the whole comforter or clumping.
As I noted above, a duvet is meant to be used with a cover, while a comforter can be used on its own, though a lot of people opt to use a duvet cover on a comforter to protect it from stains (and to prolong the period between washes). If you plan to use your comforter without a duvet cover, or are worried about breathability, you might want to pay attention to its shell material. Look for cotton, bamboo, and Tencel for a more comfortable sleep.
Sweaty sleepers should be able to enjoy the coziness of a comforter without the excessive heat. Interior designer Linda Hayslett of LH.Designs says the weight "can determine how hot or cool you are when sleeping" since the heavier it is, the warmer it is. Pick an "all season" or "summer" comforter if you would like something on the cooler side; these are usually more lightweight.
Comforters are large and bulky and take a bit of effort to clean, but depending on the manufacturer, they can also be washed in the washing machine (like many on this list). If you think your home laundry machine can't handle the load, take it to a laundromat or even the dry cleaners.
Best overall comforter
Filling: Down alternative (recycled polyester) | Shell: Long-staple cotton sateen | Weight: Light, medium, and heavyweight | Care: Dry-clean
Brooklinen makes some of our favorite bedding and bath items, including its silky smooth sateen sheets, plush towels, and affordable linen sheets, which is why it's no surprise that its down-alternative comforter would also come highly recommended by three of the experts we consulted for this story. Hayslett loves the long-staple cotton-sateen shell's softness and its fluffy looks, while interior designer Lyndsi Lee appreciates that it can be used all year long. (It comes in three different warmth levels — all-season, lightweight, and ultra-warm, depending on what type of sleeper you are.) Courtney Laine, owner of Victorian bed and breakfast Batterby House and cottage in Hudson, New York, calls it a good mid-range option for those looking for that cloud-like feeling of sleeping under a down comforter without the hefty price tag that down bedding usually goes for. The comforter has a baffle box construction and each pocket is filled with hypoallergenic recycled PET microfiber, which experts say is just as cozy as real down. The one downside: It's dry-clean only.
Best (less expensive) overall comforter
Filling: Down alternative (polyester) | Shell: Microfiber | Weight: Medium | Care: Machine washable
Here's a down-alternative comforter that's a fraction of the price of the Brooklinen comforter, and it's recommended by Lee — and nearly 119,000 Amazon reviewers. "It's very comfortable and has so many great features," Lee says. With a smooth microfiber shell that comes in white and five dual-color, reversible options (no duvet cover required), it's appropriate for all seasons. Plus, "it's super easy to maintain since it's filled with a down alternative down. You can throw it in the washing machine with the option to tumble dry low," she says. (This could also work as a duvet insert, if you prefer to go that route.)
Best down comforter
Filling: 650-750 fill power European white goose down | Shell: Cambric cotton | Weight: Five different weights | Care: Spot-clean
We have a lot of down-alternative comforters on this list, but for die-hard fans of down, there is no alternative. Strianese discovered this Dewoolfson down comforter when she stayed in a luxury hotel in Sweden about five years ago. "I actually called the hotel a month after we returned to find out the maker, so I could purchase one," she says. Dewoolfson's high-end, authentic white-goose-down comforters are expensive — but they cost far less than those made by high-end brands such as Frette and Matouk, which are upwards of a couple thousand dollars each. Strianese likens the experience of slumbering underneath hers to "sleeping under meringue." Plus, to minimize feather leakage, it's covered a tightly woven chambray-like fabric. It comes in five different weights including the lightest, "Florida Light," and the heaviest, "Canadian Winter."
Best down duvet insert
Filling: 750 fill power European white down and feathers | Shell: Cotton sateen | Weight: Light and medium weights | Care: Machine washable or dry clean
Parachute makes some of our favorite linen sheets, bath robes, towels, and other home goods. And we recently praised its down pillows, ranking them the best you can buy. Strategist senior editor Simone Kitchens bought the brand's all-season duvet insert and says it's the best one she's ever owned. "I wanted something super lofty," she says. "Two years later it's as fluffy as when I first unfurled it. And it truly works year-round, keeping me warm in the winter and perfectly comfortable in the warmer months." Because the filling is 85 percent down and 15 percent feathers, it comes in at a lower price than the Dewoolfson. But even so, it has many similar qualities such as a baffled-box design to keep the fill in place, lightweight and all-season options, sturdy seams, and an extra-lofty feel.
Best temperature-regulating down duvet insert
Filling: 550 fill power white down and 37.5 fiber | Shell: Cotton and polyester | Weight: Medium | Care: Machine washable
While Laine likes Brooklinen's comforter as a solid everyday option for most folks, she uses this temperature-regulating down duvet insert from Pottery Barn at her inn and rental cottage. It's made of mostly of down but blended with a special fiber that's helps keep sleepers comfortable in both cool and warm temperatures. "Our inn and cottage have 100-plus-year-old radiator heat, which sometimes works too well, so we switched to temperature regulating down duvets," she says. "It has the nice fluff and weight of a classic down duvet, but on cold upstate nights when the radiator is really cranking, you won't wake up sweaty." The insert's shell is made of the the same blend for added temperature regulation. If you want to cop the look (and feel) of the bed and breakfast's setup, Laine covers their duvets in Morrow's linen duvet cover, which she calls "great-looking, soft, and breathable."
Best bamboo comforter
Filling: Down alternative (polyester) | Shell: Bamboo rayon and combed cotton sateen blend | Weight: Medium | Care: Machine washable
Sweaty sleepers might find bamboo particularly comfortable because it tends to be more breathable than cotton or synthetic materials. Devin Shaffer, Decorilla's lead sales designer, recommends this bamboo comforter from Company Store and uses it quite a bit in his projects. Shaffer is a fan of bamboo linens in general for their smooth texture and excellent temperature-regulation properties, characteristics that are also true of this comforter. "Its cotton and bamboo combination is the secret to maintaining the perfect 'under the covers' climate," he says. Filled with polyester, it comes in six colors — "The hottest colors are 'misty blue' and 'tarragon,' which fall into the 'Danish pastel' color palette that's in high demand," Shaffer says — and can be used with or without a duvet cover.
Best dual-temperature comforter
Filling: Down alternative | Shell: Long-staple cotton | Weight: Light and medium weight | Care: Machine washable
If you sleep hot but your bedmate is always cold (or vice versa), finding the right comforter to accommodate both preferences can be challenging. That's why Hayslett recommends the Crane & Canopy dual comforter with two different warmth and weight levels. She says it's "perfect to keep both happy and sleeping easy," hopefully limiting any future arguments. One side of the hypoallergenic comforter is labeled "all season," which features seven-inch squares packed with down-alternative filling, while the "lightweight" side has ten-inch squares for better airflow. As for the comforter's shell, that's made from extra-long-staple cotton for a smooth finish.
More comforters and duvets we like
Filling: Wool batting | Shell: Organic cotton | Weight: Medium | Care: Machine washable
If you don't like the idea of down or polyester fill, consider this duvet made of wool batting. It's recommended by Ray Pirkle, co-founder of Rivertown Lodge in Hudson. It won't have the loft or fluffiness of a down or down-alternative comforter; instead, it's got some weight to it, not unlike a weighted blanket. Plus, "it's hypoallergenic and organic," he says. And because wool is known to be a natural insulator, it will keep you cool on summer nights and warm during the winter.
Filling: Down alternative (recycled polyester) | Shell: Tencel lyocell | Weight: Lightweight | Care: Machine washable
Buffy's Cloud Comforter is another great option for anti-down folks. It's covered in Tencel lyocell (made from eucalyptus trees), a material that's considered to be moisture-wicking and breathable. Strategist junior writer Kitty Guo uses it all year long and says that it "feels lighter and fluffier than other comforters but it's cool in the summer and warm in the winter," though she adds a disclaimer that she prides herself on excellent thermoregulation abilities "so it might be a bit too heavy for others in the thick of summer." Former Strategist writer Lori Keong tested it out back in 2018, too, and described the comforter as "tremendously soft, light, and cool to the touch, and sleeping beneath it, you feel nestled in an airy but cozy canopy." With a filling made from recycled polyester, Keong said it stays fluffy and maintains a silky soft texture that doesn't pill.
Some Strategist-approved sheets to add to your bed, too
Our experts
• Kitty Guo, Strategist junior writer
• Linda Hayslett, founder of LH.Designs
• Lori Keong, former Strategist writer
• Simone Kitchens, Strategist senior editor
• Courtney Laine, Batterby House & Cottage
• Lyndsi Lee, interior designer
• Sherica Maynard, founder of Interior Design by S&S
• Ray Pirkle, Rivertown Lodge
• Devin Shaffer, Decorilla lead sales designer
• Elizabeth Strianese, founder of Elizabeth Strianese Interiors
The Strategist is designed to surface the most useful, expert recommendations for things to buy across the vast e-commerce landscape. Some of our latest conquests include the best notebook, black T-shirts, fashion-editor-approved jeans, toothbrush, and apartment décor. Note that all prices are subject to change.
If you buy something through our links, New York may earn an affiliate commission.