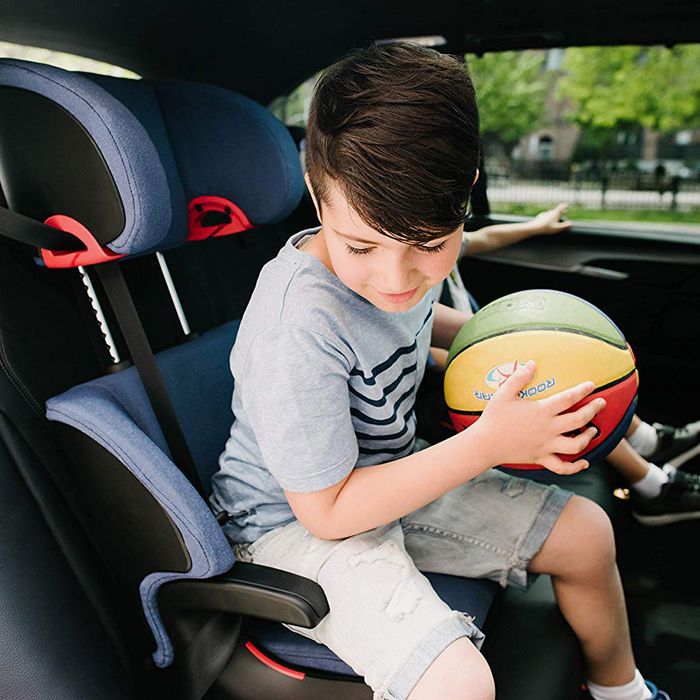 Photo: Photo: Courtesy of the retailer.
Buying the right car seat for your child is maybe one of the most important decisions you can make as a new parent. How tight is tight enough? Front-facing or rear-facing? And how do you install the thing? To find the best car seats, we spoke to car-seat safety-installation experts, including Lorrie Walker, the safety and training adviser at Safe Kids Worldwide; pediatrician Ben Hoffman, who helps write official American Academy of Pediatrics policies on child-passenger safety; Renee McCabe, the Injury Prevention and Safe Kids coordinator for Safe Kids Greater Augusta; Jennifer Saxton, founder of Tot Squad (who is also a child-passenger safety technician); Jennifer LaBracio, gear editor at Babylist; Jonathan Gondek, an expert from New York–based crash-testing site Calspan; Ashlee Neuman, the Bump's deputy editor; and Kecia Healy, a CPS technician-instructor and member of New York State Child Passenger Safety Advisory Board. We also asked a dozen parents across the country.
Each expert pointed out that every car seat on the market has passed the same rigorous safety-testing standards, so they're all — at minimum — equipped to protect your child during a crash. Finding your own best seat depends on the model of your car, your child's age and weight (for more info, the National Highway Traffic Safety Administration provides a guide), and which features make the car seats easier to install correctly (and thus safer). "The best car seat for any child and family is the car seat that fits the child, fits the car, and that the family will be able to use correctly every time," says Hoffman. "From a safety perspective, we recommend that kids stay in the safest car seat until they outgrow it," says Saxton. "Don't try to move your kid too quickly to the next car seat, because you're actually decreasing in safety each step you go through that four car seat process," In other words, children should max out the weight or height limit of their current car seat before moving up to the next stage. Though there's no one-size-fits-all option, we asked experts for car-seat recommendations for each stage that would fit a variety of vehicles and lifestyles, plus make installation smoother and safer.
Best infant car seats
The Uppababy Mesa continues to be a top choice among parents, including Mei Ling Starkey of the blog Family Entourage, as well as LaBracio and Saxton. This one has a no-rethread harness, which is a feature that Walker recommended for ease of installation as your child grows up. "You don't have to rethread your harness when your child gets bigger," she says. "You pull the tabs to tighten it, and the harness slides right down until it's right over the child's shoulder. You can put a tall child in it one day and get a perfect fit, or a tiny, tiny child in it the next day." Parents also love that it simply clicks into Uppababy's Vista and Cruz strollers, as well as into the Minu with adapters. It can accommodate infants from 4 pounds up to 35 and includes an infant insert and wedge to keep the littlest ones snug and secure.
As a side note, our experts recommend buying car seats that match with the stroller you're going to use to form a click-and-go travel system that doesn't require purchasing separate adapters. But if you want to mix and match stroller and car seat brands, here's a handy compatibility chart from Babylist that lists all the most popular car seats and strollers and the required adapters to create the travel system of your choice.
LaBracio, Saxton, and Neuman also recommend Nuna's infant car seats, which they say is another popular choice among parents. The line includes the Nuna Pipa and the Nuna Pipa Lite, which is the lighter version of the regular Pipa. For comparison, the Pipa weighs eight pounds, while the Lite weighs 5.3 and is one of the lightest infant car seats on the market. It should be noted, however, that while the Pipa can be used on the go without a base, the Lite requires one — meaning that it can't be strapped into a vehicle without it. For those who own a car, that isn't a problem, since the base will already be installed. But for city dwellers who don't own a car and rely on taxis instead, it's not a convenient option, as they would have to take the base with them. "I personally prefer the regular Nuna, even if it is a little bit heavier," says LaBracio. "The trade-off of weight is worth it for the convenience of being able to just pop it in without a base and use it in a ride-share."
Nuna also just released a new base called the Relx, which is compatible with the entire Pipa series. While it's more expensive than the regular base, LaBracio says it comes with features that make it even easier to install, including an open belt path and an adjustable stability leg. It also allows for on-the-go recline, a feature that Saxton particularly likes. "You can basically have the baby, when they're newborns, laying really flat, and then as they get bigger, you can get them a little bit more upright, and that's all built into the base," she says. The new Pipa Rx and Pipa Lite R models come with the Relx base, but you can also buy it separately if you'd like to upgrade the base on your older Pipa car seat.
For something slightly more affordable, the Chicco KeyFit has excellent reviews, and was also a favorite among the parents we surveyed for its ease of installation. Says Healy, "It's so darn easy to install." Allyson Downey, who runs a consumer review site for child and baby essentials called WeeSpring, says that for her first child, she bought the Chicco KeyFit after doing extensive research. "It had outstanding reviews," she says. Lauren Brown, Mt. Washington Pediatric Hospital's lead car-seat-safety specialist, says the seat is a popular choice among parents she works with, too, because the brand has a YouTube video that demonstrates exactly how to install it. LaBracio and Saxton like it, too. Saxton calls it a "tried and true, solid car-seat choice." The Chicco Keyfit 35 is an upgrade of the Keyfit 30 and extends the height and weight limits to 32 inches and 35 pounds, respectively. Other notable features include an anti-rebound bar for added stability, a no-rethread harness and easy-extend harness, and the ability to install the seat without the base for on-the-go travel.
If you're looking for an even more budget-friendly infant car seat, LaBracio recommends Evenflo's LiteMax DLX. "It's consistently a top pick among the child-passenger safety technicians for a safe, affordable infant seat," she says. "It has a lot of features that are only found in much more expensive seats, like a load leg, which in a seat that's a hundred dollars is a huge bonus." (A load leg adds stabilization to the car seat.) Other notable features include a no-rethread harness and adjustable headrest, and it's also lightweight, weighing just under nine pounds, which LaBracio says is "really light" for an infant car seat. It can accommodate infants starting at 4 pounds up to 35 pounds.
For a truly innovative infant car seat, consider Maxi-Cosi's Coral XP, which Saxton and LaBracio both say is one of the coolest things they've seen come out of the car seat industry in years. The Coral XP is an integrated car seat and carrier in one, featuring a lightweight inner carrier that nests within the hard shell of the car seat and can then be removed from the outer carrier and slung over the shoulder by way of an attached cross-body strap. This allows you to remove the baby from the car seat without having to disturb it. "Infant car seats in general are a huge pain to carry around, as they're heavy, bulky, and awkward," notes LaBracio. "This allows you to pop the insert right out with your baby in it, sling it over your shoulder and carry it like a weekender bag. It's amazing. It just makes getting around with your little one in an infant car seat so much easier and quicker and faster." LaBracio adds that the Coral XP is great for older caregivers who might not be able to carry a big bulky infant car seat on their own, and for running into the store for ten minutes. "You can literally swing this over your shoulder and carry your baby like a bag," LaBracio says. Saxton agrees, saying, "This is basically like a car seat that you can baby-wear. You can keep the baby close to you and you don't have to disturb them and unhook them and do all of those things."