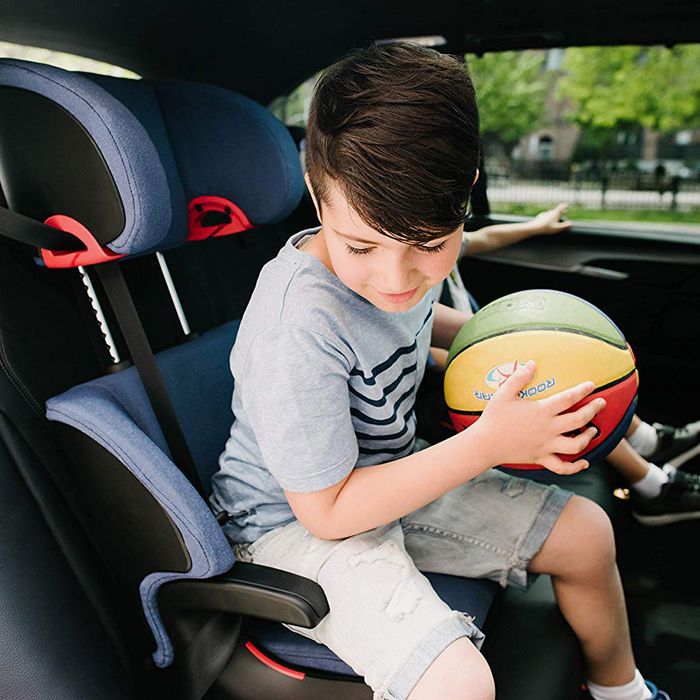 Photo: Photo: Courtesy of the retailer.
Buying the right car seat for your child is maybe one of the most important decisions you can make as a new parent. How tight is tight enough? Front-facing or rear-facing? And how do you install the thing? To find the best car seats, we spoke to car seat safety-installation experts, including Lorrie Walker, the safety and training adviser at Safe Kids Worldwide; pediatrician Ben Hoffman, who helps write official American Academy of Pediatrics policies on child-passenger safety; Jennifer Saxton, founder of car seat cleaning-and-installation service Tot Squad (who is also a child-passenger safety technician); Jennifer LaBracio, gear editor at Babylist; and Jonathan Gondek, an expert from New York–based crash-testing site Calspan. We also asked a dozen parents across the country.
Each expert pointed out that every car seat on the market has passed the same rigorous safety-testing standards, so they're all — at minimum — equipped to protect your child during a crash. Finding your own best seat depends on the model of your car, your child's age and weight (for more info, the National Highway Traffic Safety Administration provides a guide), and which features make the car seats easier to install correctly (and thus safer). "The best car seat for any child and family is the car seat that fits the child, fits the car, and that the family will be able to use correctly every time," says Hoffman. "From a safety perspective, we recommend that kids stay in the safest car seat until they outgrow it," says Saxton. "Don't try to move your kid too quickly to the next car seat, because you're actually decreasing in safety each step you go through that four car seat process," In other words, children should max out the weight limit of their current car seat before moving up to the next stage. Though there's no one-size-fits-all option, we asked experts for car-seat recommendations that would fit a variety of vehicles, plus make installation smoother and safer.
Best infant car seats
Saxton recommends the Nuna Pipa Lite because it's lightweight, simple to use, and safe. (The Pipa Lite is the lighter version of the Pipa, which, at eight pounds instead of 5.7, is another solid choice and costs about $100 less.) "Simple in that it's easy to install because of a rigid latch system that holds the seat in, and safe because of the added load leg," a safety feature exclusive to infant seats that connects down into the floorboards (and a feature also recommended by Hoffman and Gondek). "When you use the stability leg, you're dispersing the crash through the steel frame of the vehicle, and that reduces the forward motion from the crash by 40 percent," says Saxton. LaBracio agrees that the Pipa Lite is a great option for a lightweight infant car seat. As both of them note, however, it can only be used with its base. The car seat alone cannot be strapped into a car, which means you'd need to bring the entire system with you when you travel.
Another infant car seat that came recommended by parents — such as Mei Ling Starkey of the blog Family Entourage — and LaBracio is the Uppababy Mesa. This one has a no-rethread harness, which is a feature that Walker recommended for ease of installation as your child grows up. "You don't have to rethread your harness when your child gets bigger. You pull the tabs to tighten it, and the harness slides right down until it's right over the child's shoulder. You can put a tall child in it one day and get a perfect fit, or a tiny, tiny child in it the next day." Parents also love that it simply clicks into Uppababy's Vista and Cruz strollers, as well as into the Minu with adapters.
As a side note, our experts recommend buying car seats that match with the stroller you're going to use to form a click-and-go travel system that doesn't require purchasing separate adapters. But if you want to mix and match stroller and car seat brands, here's a handy compatibility chart from Babylist that lists all the most popular car seats and strollers and the required adapters to create the travel system of your choice.
For something slightly more affordable, the Chicco KeyFit has excellent reviews, and was also a favorite among the parents we surveyed for its ease of installation. Allyson Downey, who runs a consumer review site for child and baby essentials called WeeSpring, says that for her first child, she bought the Chicco KeyFit after doing extensive research. "It had outstanding reviews," she says. Lauren Brown, Mt. Washington Pediatric Hospital's lead car seat safety specialist, says the seat is a popular choice among parents she works with, too, because the brand has a YouTube video that demonstrates exactly how to install it. LaBracio and Saxton like it, too. Saxton calls it a "tried and true, solid car seat choice."
Saxton also recommends the Britax B-Safe infant car seat, which has added side impact protection, a steel frame, and a safe center LATCH installation system that uses center-pull straps to securely and easily fasten the seat base into the vehicle seat. This particular model comes with an airy mesh fabric Saxton likes. "If you're in a hot climate you can keep your baby from sweating," she says. "I often see sweat stains [in car seats that I'm cleaning]. Their poor babies are roasting, so those airflow seats from Britax are really cool."
Clek is a premium brand out of Canada, and they recently released their first infant car seat, which, according to Saxton, Clek fans have been waiting on for years. "The Liing is absolutely beautiful," she says, adding that the brand brings European safety standards to the United States, making it an appealing choice for parents who are really safety conscious. (Generally speaking, European safety standards are higher than in the U.S.) Saxton likes that it's got a rigid LATCH system, which makes it easier to install for a lot of people.
Best convertible car seats
Convertible car seats, the next step up from an infant car seat, convert from rear-facing to forward-facing modes, and the switch is typically made when your child maxes out of the weight limit of the rear-facing mode. Saxton's favorite seat in this category is the Diono Radian, whose upper weight limit in rear-facing mode is 45 pounds. She loves its steel frame: This means it has a longer expiration date of ten years, compared to an average of four or five years for a plastic-molded seat. "The reason people love this car seat is that it's just like a tank. You feel really secure that your child is riding safely," she says. "But I do not recommend it as a travel car seat because it's very heavy," she adds. It's also narrow-bodied — one of the narrowest car seats on the market, according to Saxton — so it will leave you with enough room to fit three in the backseat, making it ideal for a growing family or for carpooling. "That's Diono's biggest selling point," agrees LaBracio. Because the AAP now recommends that kids be kept rear-facing as long as possible (research suggests that rear-facing kids are at a lower risk for injury in a crash), Saxton also notes that this car seat has a higher weight limit for its rear-facing mode at 45 pounds. When using it as a booster, the weight limit goes all the way up to 120 pounds.
We also suggest the Britax Marathon, which has a ClickTight system that makes it very easy to install in the car. Britax in general was a popular choice among the parents surveyed for this reason. Kenny Fried, the vice-president of Brotman | Winter | Fried tells me, "I swap my car seats from car to minivan, and the extreme simplicity of the ClickTight system is THE feature. Instead of having to thread the seat belt behind the seat and have a pro install it, you lift the inside seat up (like on a hinge) and then pull the seat belt over and click in the seat belt. Takes about 30 seconds to install." This one also has the no-rethread harness Walker suggested, to fit your child as they grow. LaBracio agrees that the no-rethread harness is a plus. If you wanted even more protection in a crash, you could also invest in an attachable anti-rebound bar from Britax that works with its convertible car seats in rear-facing mode: It's another feature Hoffman recommended for decreasing rebound movement in crashes.
"Nuna is really big in the car seat market all of a sudden," says LaBracio." Saxton agrees, saying that Nuna fans are "die hard." They both note that Nuna's convertible car seat, the Rava, is definitely premium, with a price tag of $450 to match, and that it's only sold through specialty stores like Nordstrom. "Nuna is just beautiful," Saxton says. "There's a lot of things about it that are really easy to use, and from a safety perspective, they're bringing in a lot of those European safety standards." LaBracio adds that people love that it has a high rear-facing weight limit of 50 pounds. It also has an extended leg rest, slim profile, a 10-position recline, an easy installation system, and is outfitted in flame-retardant-free fabric, among other features. "It's a really high quality, lovely seat," LaBracio says.
Best combination and all-in-one car seats
A combination car seat is forward-facing only car seat that goes from forward-facing mode with a built-in five-point harness to a booster seat that uses the car's seat belt when the child outgrows the harness weight or height limit. Saxton's favorite in this category is the Britax Grow With You car seat (an update of the Pinnacle) because of the ClickTight system. She adds that this seat also has added side impact and safe-cell impact protection, which are honeycomb compression towers in the base of the car seat that lower the center of gravity and reduce forward motion in a crash. It can support kids up to 120 pounds in booster mode, and has a steel frame.
All-in-one car seats — seats that convert from infant rear-facing to forward-facing to booster mode, allowing a child to use it from birth to 4 years old and older and up to 120 pounds in weight — are gaining in popularity due to their one-and-done quality. (Instead of buying two or three separate car seats (infant, convertible, and booster) over the course of your child's first years, the thinking with an all-in-one is that you can buy just one and save money in the process.) However, it should be noted that one of the experts we spoke to wasn't so keen on them, hypothesizing that the misuse rate of all-in-one car seats is higher than on other car seats, since there are so many features and parts that they're harder to get right. And if you're going to use one car seat over the course of 10 years or so, you should expect to do some work to keep it clean.
Even with those caveats, there are a couple of new models out there that are worth mentioning, like the Nuna Exec, which both Saxton and LaBracio say will most likely be a popular choice among Nuna fans. "One of my colleagues is testing it out right now, and she loves it so far," says LaBracio. "She said that it was really easy to install, that the material is beautiful and wipes clean really easily, and that the padding is really soft." It can be used from birth (starting at five pounds in rear-facing mode) to up to 120 pounds as a booster.
For something a little more affordable, Saxton and LaBracio both mention that Graco's 4Ever all-in-one car seat is gaining in popularity among parents. It's suitable for use for babies starting at 4 pounds (with a 50-pound rear-facing limit) up to 120 pounds in the booster mode. It also has a six-position recline, a feature that LaBracio especially likes.
Best booster car seat
Booster seats are the last stage in car seats, which is typically going to start around the ages of 7 to 10 years old, though the weight limit for them is around 110 pounds. Some booster seats will be high-back-only, backless boosters, or can convert between the two modes: this Clek Oobr one that Saxton recommends is the latter. "What I always recommend is a booster with lower anchors, so it attaches to the car," says Saxton. This model has a rigid latch system, so it's easy to use, has energy-absorbing foam, and she also calls out the fact that it reclines, so your kid can take a nap. "It's got some of the best crash-test results and has a high weight limit, too." LaBracio also likes the Oobr, saying that Clek in general makes very durable, well thought-out products, but notes that it is an expensive brand.
Best car seats for traveling
While the best and safest car seats are typically sturdier, they're usually not lightweight, which is why many parents end up buying a separate one for traveling in cars and planes. Saxton adds that for car travel, rental car seats are a no-go because you never know their history (if they're expired, dirty, or damaged). Here, our experts recommend some popular lightweight, portable car seats, most that comply with Federal Aviation Administration standards (and if not, we've indicated so). Saxton and LaBracio also add that it's always safer for your child to travel on an airplane in a car seat than sitting on your lap (something that the American Association of Pediatrics, Federal Aviation Administration, and National Transportation Safety Board all recommend travelers do) — even if that means buying an extra seat (babies under 2 years old are not legally required to use a car seat in an airplane and usually ride for free.) "They strap down peanuts in a plane, why not your baby?" LaBracio says.
When it comes to car seats for Ubers and planes, Renee McCabe — the Injury Prevention and Safe Kids coordinator for Safe Kids Greater Augusta, with over 20 years of installation experience — says she looks for lightweight ones with narrow bases (so they can fit on airplane seats, which vary by airline. See Seat Guru for exact widths), and have a clip-in stroller. It's why she likes this Graco Snugride, which weighs seven pounds, has a narrow base, and a stroller attachment. Rear-facing, it can support babies up to 35 pounds, and it consistently gets good reviews online.