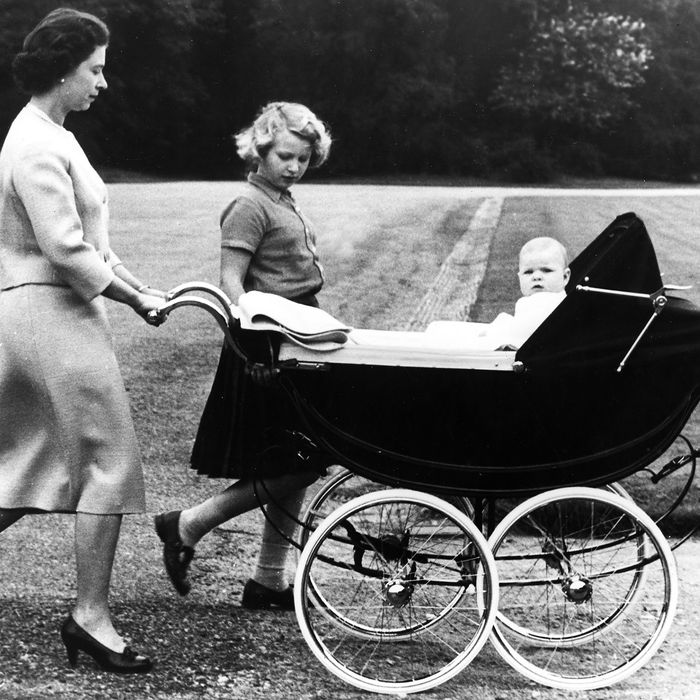 Photo: ullstein bild Dtl./ullstein bild via Getty Images
"There is no such thing as a perfect stroller," says Jennifer Saxton, CEO and founder of the Tot Squad, a baby-gear cleaning and installation service. "Parents that are looking for one perfect stroller are not going to find it because you need different things on different occasions." That's a big reason why many families own multiple strollers, according to our experts. Also, "each person's situation is different," says Mei Ling Nazar, founder of Family Entourage, a website that interviews celebrities about their families. "A stroller that might work for someone that lives in the city may not work for someone who wants to be running every day." Jennifer LaBracio, gear editor at Babylist, agrees: "It's important to really examine where you live, whether it's the city or suburbs, how you're going to use the stroller, and how much you want to spend."
But with hundreds of models on the market, there is a way to make the search a little less daunting. "Start by choosing your car seat, and then find the stroller that goes with it instead of the other way around," says Saxton. "I don't recommend trying to mix and match. Just find a travel system that's the same brand. It's just too many steps." She has one other piece of advice: "No matter what, just get it in black. I own a cleaning company, trust me, over time all of the spills and stains are going to add up even if you do clean it regularly, and black is going to be the best to hide that. It'll just give you more longevity."
To help you choose your baby's first ride, we consulted experts including Saxton, Nazar, and LaBracio, as well as nanny agencies, mommy bloggers, and gear heads for their thoughts on the best strollers in just about every category you can think of, from everyday strollers to double strollers to jogging strollers to travel strollers to new direct-to-consumer entrants and even a nifty wagon stroller. Below, 19 picks for every parent and caregiver.
Best overall stroller
Hands down, the most recommended stroller among our experts was the Uppababy Vista, an adaptable, grow-with-your-family stroller that comes chock full of features and can accommodate up to three children with the proper accessories and adapters (sold separately). It comes with a bassinet, so "it works from day one with an infant," according to LaBracio, and its mattress is aerated, so parents can have peace of mind when their baby is sleeping in it. Motherly co-founders Liz Tenety and Jill Koziol love the Vista "because it allows you to have three kids (kickboard and two seats) at the same time without adding width to the stroller." They also appreciate the option of using it with kids of different ages (in the bassinet, the seat, and kickboard, which is sold separately), or kids of the same age (in two bassinets or two seats). Other features that our experts love about the Vista include the huge sun canopy and one of the biggest storage underbaskets on the market. "The basket is HUGE," says Natasha K., a nanny in the New York City-based child care network SmartSitting. "It easily fits three Trader Joe's paper shopping bag-fulls of groceries. It really is a beast." Others like how maneuverable, smooth, and easy to push the Vista is. SmartSitter Tracy-Lee N. adds that she likes "how easy it is to change the seat to a reclining position; how comfortable the seat appears to be for the child, and solid too, so that the child's back is supported; the stroller never changes direction by itself when one is pushing it along, making it feel safe." SmartSitter Meghan D. also likes its maneuverability and says, "I find this to be the most popular stroller among the families I nanny for." As SmartSitter Michaniya C. puts it: "Once you take it through the streets of New York City in deep snow, you won't buy any other stroller." Jessica Rockowitz, founder of Every Mama Birth Education calls the Vista "a stroller that does it all."
But some of our experts caution that it's not going to work for everyone, as it's a large and heavy stroller that isn't the most convenient for constantly putting in and taking out of a car trunk, for example. And the cost is prohibitive for a lot of people. But if you are planning on having more than one child, the Vista is one of the best tandem-style (not side-by-side), expandable strollers on the market. Plus, as both Saxton and LaBracio pointed out, Uppababy has phenomenal customer service. City dwellers might want to consider the Uppababy Cruz instead, which offers the best of the Vista (durability, smooth ride, great sun canopy and under storage, but only accommodates one child at a time) but on a lighter, smaller frame that folds a little easier. Like the Vista, you can attach a bassinet or infant car seat to it.
Best less-expensive Vista dupe
For parents who like everything about the Uppababy Vista but can't stomach the nearly $1,000 price tag, there's Mockingbird, a new direct-to-consumer stroller brand that launched earlier this year, which, according to Saxton is "just exploding in popularity," in part due to how much it has in common with the Uppababy Vista. Except it's a third of the price. LaBracio agrees the Mockingbird is a worthy Vista dupe: "It looks just like the Vista. It's just cheaper. It has pretty much the same features," including a reversible, reclining seat, large UPF sunshade, and storage basket. Although it doesn't come with a bassinet, you can purchase one separately. But it is single-seat only, so it doesn't come with the expandability that the Vista is known for.
Best everyday stroller
For an affordable, everyday stroller, four of our experts recommend the Baby Jogger City Mini GT stroller. "It's a great all-around stroller at an affordable price point, and has a lot of features that some of the higher-end, much more costly strollers have," says LaBracio. One of the biggest draws of the stroller is the true one-handed fold. "A lot of strollers say they are a one-handed fold stroller, but this is actually one-handed. It works. It's easy and quick and doesn't take 20 times to figure out." Other features include an adjustable handlebar, all-terrain wheels, storage basket, and a nearly flat recline, which LaBracio notes is "huge" if you're on the go and want your baby to nap. She notes that it's also compatible with a lot of infant car seats. "Considering price and overall features, I say this is probably the best. It's not $900, but it's also not $100. It's well-made and holds up really well," she says. She also notes that the City Mini GT works just as well in the suburbs. "It has the easy fold for a suburban person, but for a city person, it still has the durability that you need to walk on the city streets day in and day out." Anna Stanin, the owner and founder of Sudsy Buggy, agrees that the City Mini is "good for urban and suburban riding," making it her "go-to" pick. "It handles beautifully on rough New York streets," she adds. The Nanny League's Nicole Redmond also recommends the City Mini GT as her overall favorite stroller: "The push is lightweight and it glides smoothly. I am able to push with one hand and use my other to either hold another child's hand or walk the dog. The fold is nice and easy as well. The size is quite compact, too, which allows for more trunk space." Saxton also recommends it as her budget pick.
Best (less expensive) everyday stroller
Another solid, slightly less expensive option for an everyday stroller is the Ergobaby 180, which came recommended by Allyson Downey, the CEO of Stellar Reviews and weeSpring. A hybrid between a lightweight umbrella stroller and a full-size, Downey suggests it for "someone who considers themselves a product minimalist, or the Manhattan mom who doesn't want three strollers." It has a one-handed fold and the ability to switch the handlebar position to have the baby sitting either inward or outward facing. She notes that it's city-ready and has great maneuverability.
Best travel stroller
The Baby Zen Yoyo+, a lightweight and compact travel stroller, was the second-most recommended stroller by our experts. (Along with the Uppababy Vista, it's all over Brooklyn, too.) "This one is the best for families who travel frequently," says LaBracio. "It can also work as your everyday city stroller, [especially] for people who live in walk-ups, because it folds so compactly, and you can just toss it over your shoulder." It weighs in at around 14 pounds, depending on the version, and it has a true one-handed fold and unfold capability that Labracio says is a "huge feature," adding that "it seems like maybe it wouldn't be, but when you're trying to hold the baby with one hand and trying to get up your apartment stairs, or trying to board a plane or train, it's so great to be able to just fold it down with one hand." It's also "super compact and fits in overhead bins, fits under the table at a restaurant, fits on a train overhead compartment." It also "steers easily and can be pushed with one hand, which is another plus." Koziol and Tenety also recommend the Yoyo for travel and city parents, noting that "it folds to roughly the size of a gym bag, so it boasts an incredibly small footprint." SmartSitter Natasha K. agrees, calling it the "best lightweight and travel-friendly stroller." She also likes that it is very smooth and easy to turn: "I can open a door and turn it with one hand." Another SmartSitter, Chloe L., says that it's "easy to operate through New York City sidewalks and the subway. It's also really easy to carry up the stairs if a family is in a walk-up building. When our job is to keep kids safe while navigating the city, strollers like the Babyzen Yoyo make the ease of lifting children over steps on our own much easier." The Yoyo is available in newborn and toddler options, and also accommodates a rolling-board attachment for an older child to sit or stand on. "This is one of our best-selling strollers for our customers," says Yossi Rapoport, owner of Lullaby Baby Park Slope.
Another travel stroller
The Uppababy Minu is a good option if you're looking for a compact, lightweight stroller that is a little more robust than the Babyzen Yoyo+. It's one of Saxton's three strollers that she keeps in her cars (she has about 20 strollers in her fleet altogether), and she says that "it is a great option for a compact stroller that still has bigger stroller features like bigger storage and a better sunshade." SmartSitter Michaniya C. agrees, saying that the Minu offers one of the best values when it comes to strollers. "It's about a third of the cost of the Vista, and it has accessories to accommodate a child from birth. Take good care of it and you can use it through the toddler age. It's also great for travel." Strategist editor Alexis Swerdloff can also vouch for it after taking it on a trip to Paris with her baby: "The thing folds incredibly easily (truly with one hand), it's really lightweight (lugging it up the three flights of stairs to our Airbnb was no problem), and substantive enough to handle wobbly, cobblestoned side streets of Paris as well as bumpy Brooklyn sidewalks."
Best jogging stroller
If you want to take your child with you on runs, the Bob Revolution is the standout jogging stroller among our experts. "Bob will unquestionably be the consensus pick in that category, as it's really the Cadillac of jogging strollers," says Saxton (she owns three different strollers; the Bob is one of them). She says it's really comfortable for the baby, and it has a huge sunshade as well as a peekaboo window. But the most attractive feature is its suspension system. "It's got huge wheels, and the ride is really smooth. You can go over a curb with no problem in this stroller. It has great suspension, and it also has multiple modes." A swivel-locking front wheel makes it easy to maneuver and stable when jogging with it. There's also a tracking adjustment knob that helps keep the stroller aligned, a feature that LaBracio particularly likes. She also points out that the Flex model has an adjustable handlebar that offers nine different positions, noting that "if you're going to invest in a jogging stroller, odds are you're going to want as many people using it as possible." Our experts also mentioned how sturdy and durable it is. "You see these on the secondhand market still going for nearly full price because they just last so long," says Saxton. Because the ride is so smooth on the Bob, some families like to use it as their everyday stroller, or for outings to the zoo, for example. SmartSitting's co-owner and director of operations Suzie Zeldin Russell says that while the Bob is not a compact stroller (it's also not very convenient to load into a car trunk), she likes it because "the bigger wheels and smooth ride make it so much easier to use and much less jolting for our son." She notes that her husband is a runner, and their son "happens to be just as comfortable out for a walk as he is on an 8-mile run in the stroller." While they own other strollers that they use for different occasions, their "all-around winner is definitely the Bob."
Another jogging stroller
Thule's Urban Glide 2 is another highly recommended jogging stroller that some people even say offers a smoother ride than the Bob. "It really does glide across the pavement, and the baby seems to never notice the bumps in the road," says Amanda Fellner, head teacher at Rita Gold Early Childhood Center. "The standout on this one is it's handlebar twist break," says LaBracio. "When you're running down a hill, you can twist it and make it easier to keep the stroller in control. It slows it down for you and you don't have to do that with your own body weight, making it easier and safer to go down a hill." According to the Nanny League, the Urban Glide's "large wheels make it great for all types of terrains." They also note that it's lightweight for a jogging stroller (it weighs 25.3 pounds, making it 3.2 pounds lighter than the Bob) and "doesn't add a lot of extra weight to the runner's push." Nazar, who has used both the Bob and Thule, says that she was impressed with the latter's braking system and the way that it folds down.
Best double stroller
If you're looking for a double stroller, the Baby Jogger City Mini GT Double stroller is a good, less expensive option for the Uppababy Vista. This one is side-by-side (whereas the Vista is a tandem with stacked seats, keeping the stroller profile narrow). LaBracio likes it because it has all the features of the single City Mini GT but can accommodate two children at once. She notes that a side-by-side is easier to push and maneuver, especially in a city where you have to go up and down curbs. And parents like the fact that kids can interact with each other when they're sitting next to each other. Of course, doorways can be a little tricky, but double strollers are designed to fit through at least commercial doorways, though it's not a bad idea to measure the doorways you know you'll be going in and out of on a daily basis. Redmond and newborn-care specialist Julia Mitchell also recommend the City Mini GT, saying that it's "easy to push, light weight, and easy to fold."
Best luxury stroller
If you're looking for the most luxurious ride for your little one, consider the Bugaboo Cameleon3 Plus stroller, which was recommended by four of our experts. "I think Bugaboo was the first to really enter this whole luxury-stroller market, so they're sort of the OG when it comes to fancy strollers," says LaBracio. "People love them, and for good reason. They have really big tires and a ton of features and accessories. They steer really well and easily, and you can do a lot of customizing with the fabric, which is really cool and fun. It's just a really pretty stroller that's well made." Saxton is also "partial to the classic, which is the Bugaboo Cameleon," and Mitchell agrees, saying that "it looks great and is one of the best strollers I've ever used." SmartSitter Meghan D. loves that on the Cameleon, "you can very easily switch the handle to have the baby facing front or facing back towards you. I love this option because it allows the baby time to explore the scenery around or relax and nap facing the opposite direction."
Best stroller for newborns and infants
The Doona is a car seat and stroller in one system, and it's Saxton's number-one recommendation. "It is a car seat with wheels and I couldn't stop using it," she says. "It is so convenient. Literally you just lift it out of your car, and you don't even have to set it on the ground. The wheels just release and then it lands as a stroller." Mitchell agrees: "The Doona is the easiest stroller to travel with as a newborn care specialist." As does Tenety, who loves it for its "easy in-and-out of cars and trains" and the fact that "it truly collapses down from a stroller to infant car seat, and back again, with ease." She adds that she finds it particularly helpful as a mom with several young children. "Having only one piece to set up reduces the amount of time I spend getting kids in and out of cars, and that's particularly helpful in dangerous parking lots," Tenety says. Saxton notes that it's not a long-term stroller option, however, as its weight limit goes up to 35 pounds. The Doona was also Strategist freelance editor Jessica Silvester's choice when her baby was young. She says that because of its size, "you can push it with one arm, take sharp turns, lower the handlebar to make it even more compact, and park it next to you in a Cobble Hill restaurant where the Uppababy would never fit. Never has it been easier to get a newborn into an Uber."
Best compact stroller
Saxton's third stroller is the GB Pockit Plus, and it is truly tiny. "This thing is so small it would fit in a backpack the way it folds up. It's great," she says. It weighs 9.5 pounds and is the 2014 Guinness World Record holder for most compact stroller. According to the company, it is the smallest and most compact stroller on the market (when folded up), measuring 11.8 by 7 by 13.8 inches. The Nanny League also recommends it as their choice for best compact and most travel-friendly stroller, as it can easily fit in an overhead bin.
Best umbrella stroller
If you're looking for a true umbrella stroller (one that folds into a stick, like a long umbrella), consider the Uppababy G-Luxe, which LaBracio recommends. Although it's on the higher end price-point wise, it offers a "more stable and more durable frame and a smoother ride" than very inexpensive ones. She notes that it has a great recline and an adjustable footrest, "which is really nice because some babies find it hard to nap with their legs dangling." She adds that its undercarriage storage is nice, and that the stroller can be pushed by taller people. Another key feature is that it stands on its own when folded up. Lindsay Aspell Thomason, founder of the Nanny League, also likes the G-Luxe. "It's lightweight and has great maneuverability. The super comfy seat also reclines (almost) completely flat, which is great for infants (3 months to preschool years). It has amazing UV protection with a sunshade built in for extra protection. Plus, it's easy to fold and carry around."
Best royal-approved stroller
According to British tabloid the Mirror, Meghan Markle is using the Bugaboo Fox for little Archie. It was reportedly gifted to Markle and Prince Harry by a close friend. Motherly's Tenety and Koziol approve of it, too, calling it their favorite luxury stroller: "It's made of sustainable materials, features fashionable textiles, and has an easy, effective fold."
Another royal-approved stroller
If you're obsessed with the British Royal Family and have some money to burn, then what you want is the Silver Cross Balmoral Pram. The elegant style is what Prince William and Princess Kate (and other royals before them) use for their progeny, and it's considered the "Rolls-Royce of Prams." It's highly impractical unless you have your own carriage handler (can you imagine lugging that thing in and out of your apartment?), but there's no denying how gorgeous it is — even if it looks a bit ridiculous. The Silver Cross recently came to the States with a more everyday line that still has the brand's aesthetic, which includes strollers like the Wave, a model that Victoria, a nanny with the Pavillion Agency, recommends for its comfort, longevity, and contemporary aesthetic. "I've been a nanny for ten years, and I live and die by my strollers. The main thing for me is comfort and longevity, but the parents I work with like contemporary strollers and the style is important. The Silver Cross Wave is one of the best; it's amazing. All of the accessories are included, so you don't need to get anything else. It's very high-end."
Best wagon stroller
The stroller wagon is, according to Saxton, a "hot, new up-and-coming category" of stroller that replaces the traditional Radio Flyer wagon. She particularly likes Evenflo's Pivot X-Plore All Terrain Stroller Wagon. "This thing is awesome. It's got two sunshades so you can have two kids facing each other. You could use it for a single kid or as a double stroller. I just think these are really fun for a trip to the farmers market, or if you're going to the fair for the day. I think kids think it's fun."
Two other strollers of note
Another DTC option that's been making the Instagram rounds lately is the Colugo, which LaBracio categorizes as "a lightweight travel stroller that's bigger than an umbrella stroller but smaller than a full-size." It weighs 16 pounds and folds down easily and comes in a bunch of on-trend fabric choices, like the leopard print that was sold out for a while, until recently. This writer was given one to try out and can attest to how easy it is to fold and unfold, its smooth ride, and its portability (it comes with a strap so you can just throw it over your shoulder). Serena Williams loves the Colugo, too (she's an investor).
Another new stroller company we heard about is Larktale. It was started by "stroller-industry veterans," according to Saxton, who says the Chit Chat, which weighs just 14.5 pounds, is "really cool."
The Strategist is designed to surface the most useful, expert recommendations for things to buy across the vast e-commerce landscape. Some of our latest conquests include the best women's jeans, rolling luggage, pillows for side sleepers, ultra-flattering pants, and bath towels. We update links when possible, but note that deals can expire and all prices are subject to change.
Every editorial product is independently selected. If you buy something through our links, New York may earn an affiliate commission.