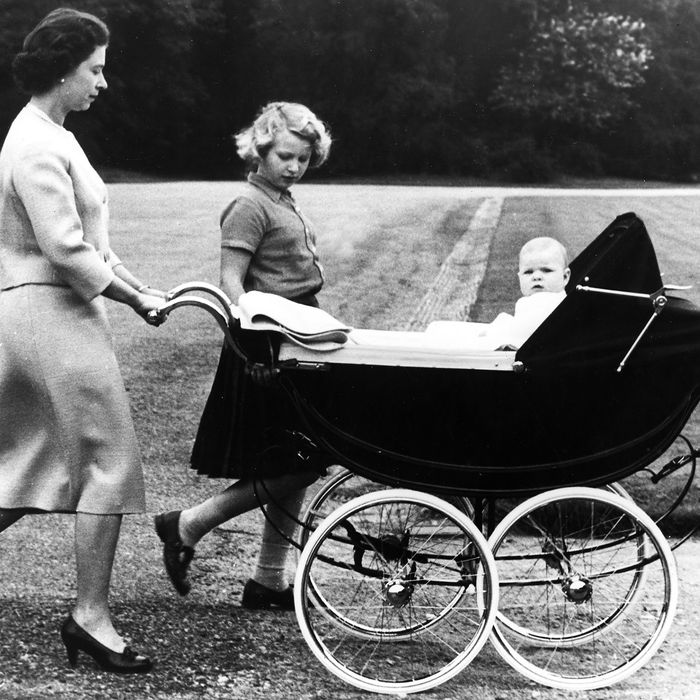 Photo: ullstein bild Dtl./ullstein bild via Getty Images
"There is no such thing as a perfect stroller," says Jennifer Saxton, CEO and founder of the Tot Squad, a baby-gear cleaning and installation service. "Parents that are looking for one perfect stroller are not going to find it because you need different things on different occasions." That's a big reason why many families own multiple strollers, according to our experts. Also, "each person's situation is different," says Mei Ling Nazar, founder of Family Entourage, a website that interviews celebrities about their families. "A stroller that might work for someone that lives in the city may not work for someone who wants to be running every day." Jennifer LaBracio, gear editor at Babylist, agrees: "It's important to really examine where you live, whether it's the city or suburbs, how you're going to use the stroller, and how much you want to spend."
But with hundreds of models on the market, there is a way to make the search a little less daunting. "Start by choosing your car seat, and then find the stroller that goes with it instead of the other way around," says Saxton. "I don't recommend trying to mix and match. Just find a travel system that's the same brand. It's just too many steps." She has one other piece of advice: "No matter what, just get it in black. I own a cleaning company, trust me, over time all of the spills and stains are going to add up even if you do clean it regularly, and black is going to be the best to hide that. It'll just give you more longevity."
To help you choose your baby's first ride, we consulted experts including Saxton, Nazar, and LaBracio, as well as nanny agencies, mommy bloggers, and gear heads for their thoughts on the best strollers in just about every category you can think of, from everyday strollers to double strollers to jogging strollers to travel strollers to new direct-to-consumer entrants and even a nifty wagon stroller. Below, 19 picks for every parent and caregiver.
Best overall stroller
Hands down, the most recommended stroller among our experts was the Uppababy Vista, an adaptable, grow-with-your-family stroller that comes chock full of features and can accommodate up to three children with the proper accessories and adapters (sold separately). It comes with a bassinet, so "it works from day one with an infant," according to LaBracio, and its mattress is aerated, so parents can have peace of mind when their baby is sleeping in it. Motherly co-founders Liz Tenety and Jill Koziol love the Vista "because it allows you to have three kids (kickboard and two seats) at the same time without adding width to the stroller." They also appreciate the option of using it with kids of different ages (in the bassinet, the seat, and kickboard, which is sold separately), or kids of the same age (in two bassinets or two seats). Other features that our experts love about the Vista include the huge sun canopy and one of the biggest storage underbaskets on the market. "The basket is HUGE," says Natasha K., a nanny in the New York City-based child care network SmartSitting. "It easily fits three Trader Joe's paper shopping bag-fulls of groceries. It really is a beast." Others like how maneuverable, smooth, and easy to push the Vista is. SmartSitter Tracy-Lee N. adds that she likes "how easy it is to change the seat to a reclining position; how comfortable the seat appears to be for the child, and solid too, so that the child's back is supported; the stroller never changes direction by itself when one is pushing it along, making it feel safe." SmartSitter Meghan D. also likes its maneuverability and says, "I find this to be the most popular stroller among the families I nanny for." As SmartSitter Michaniya C. puts it: "Once you take it through the streets of New York City in deep snow, you won't buy any other stroller." Jessica Rockowitz, founder of Every Mama Birth Education calls the Vista "a stroller that does it all."
But some of our experts caution that it's not going to work for everyone, as it's a large and heavy stroller that isn't the most convenient for constantly putting in and taking out of a car trunk, for example. And the cost is prohibitive for a lot of people. But if you are planning on having more than one child, the Vista is one of the best tandem-style (not side-by-side), expandable strollers on the market. Plus, as both Saxton and LaBracio pointed out, Uppababy has phenomenal customer service. City dwellers might want to consider the Uppababy Cruz instead, which offers the best of the Vista (durability, smooth ride, great sun canopy and under storage, but only accommodates one child at a time) but on a lighter, smaller frame that folds a little easier. Like the Vista, you can attach a bassinet or infant car seat to it.
Best less-expensive Vista dupe
For parents who like everything about the Uppababy Vista but can't stomach the nearly $1,000 price tag, there's Mockingbird, a new direct-to-consumer stroller brand that launched earlier this year, which, according to Saxton is "just exploding in popularity," in part due to how much it has in common with the Uppababy Vista. Except it's a third of the price. LaBracio agrees the Mockingbird is a worthy Vista dupe: "It looks just like the Vista. It's just cheaper. It has pretty much the same features," including a reversible, reclining seat, large UPF sunshade, and storage basket. Although it doesn't come with a bassinet, you can purchase one separately. But it is single-seat only, so it doesn't come with the expandability that the Vista is known for.
Best everyday stroller
For an affordable, everyday stroller, four of our experts recommend the Baby Jogger City Mini GT stroller. "It's a great all-around stroller at an affordable price point, and has a lot of features that some of the higher-end, much more costly strollers have," says LaBracio. One of the biggest draws of the stroller is the true one-handed fold. "A lot of strollers say they are a one-handed fold stroller, but this is actually one-handed. It works. It's easy and quick and doesn't take 20 times to figure out." Other features include an adjustable handlebar, all-terrain wheels, storage basket, and a nearly flat recline, which LaBracio notes is "huge" if you're on the go and want your baby to nap. She notes that it's also compatible with a lot of infant car seats. "Considering price and overall