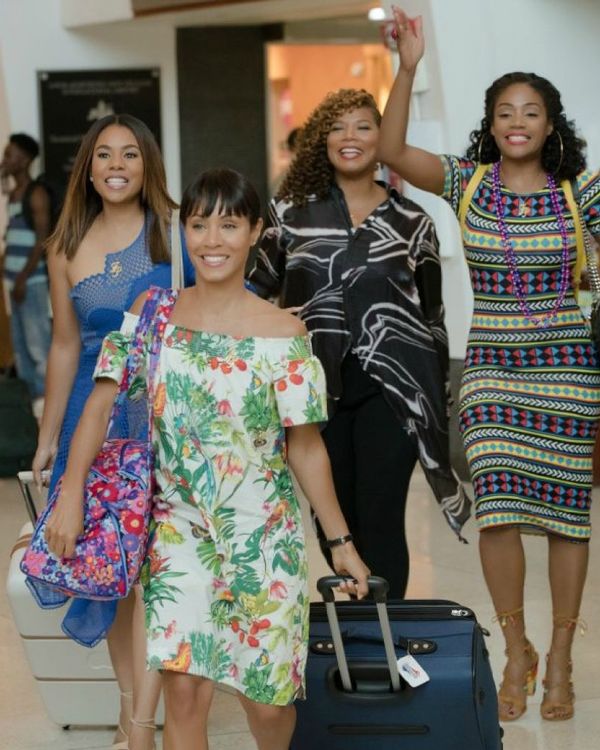 Photo: Universal Pictures
As vaccinated folks plan their first trips since the start of the pandemic (per the CDC's new travel guidelines), it's only right to go all out for it — from new vacation wardrobe to new vacation luggage. We're all a bit rusty as far as jet-setting goes, but you don't have to be a frequent flier to know that, when traveling, there are fewer things more reliable and convenient than a piece of rolling luggage. However, one person's go-to suitcase could be another's nightmare — many travelers can be obsessive and particular about their luggage — and price points for these things vary drastically. So we called upon some of the most well-traveled people we know (who also happen to be smart and stylish), and asked them about their favorite rolling luggage, from hard-shell to soft-case styles in both carry-on and checked sizes.
Best hard-shell carry-on rolling luggage
Lots of our frequent travelers named Away's Bigger Carry-On as their best bet for trips short and long. After a three-week, seven-city business trip abroad with only her Away Bigger Carry-On, Kelly Farber, founder of KF Literary Scouting says, "I am basically a walking advertisement for it. That thing just would not quit." Clémence Polès, founder of the style recommendations site Passerbuys was won over by the Bigger Carry-On's durability, capacity, and streamlined style. "There is a sensibility to its design," she says, "which is something I always seek in all the things I buy." Writer and photographer Nicholas Gill likes the bag, too. "My suitcases get beat to hell so I don't mind paying a bit more for one that will last," he says. "It's sturdy but light, and has a USB charger so I can charge my phone just enough to order an Uber. Plus, inside it has a nylon bag where I can toss in my clothes after getting caught in a sudden jungle downpour, which always seems to happen." James Feess — a.k.a. the Savvy Backpacker, who historically travels with backpacks — is a fan of the carry-on, too, and says that he's liked it for small trips, "especially the battery pack so we can recharge our phones and iPads," he says. Stephanie Be from TravelBreak.net and BUENA also likes Away's "TSA-approved lock, 360-degree wheels, tough hardware, and sleek design."
Jacinta O'Halloran, senior editor at Fodor's Travel, told us that while she's a fan of Away's luggage ("the Everywhere Bag changed my life," she says), she tested the Arlo on a whim and ended up liking it just as much, if not a bit better. "The exterior pocket makes security a breeze; it moves like a dream with silent, smooth wheels, and it packs a lot," she says, noting that one side of the bag has a compression strap and the other side has a zip to hold shoes and other items in place. "And, honestly, it just feels more expensive than Away," she says. "Oh, and not to be all Arlo versus Away, but it seems to be more scuff-resistant, too." For the Love of Travel CEO and founder Tara Cappel likes the Arlo Skye carry-on, as well. "I especially love the front pocket, which gives me quick access to computers, books, or notepads," she says. "The fact that the pocket is still hardshell means valuables are protected throughout the journey, even in rainy weather." The aforementioned front pocket has a built-in, TSA-approved lock for keeping valuables safe, as well as a charger for your phone that can bring you up to half-charged in under half an hour. The lining is part of the appeal for Cappel, too: "Fellow germaphobes can rejoice — the lining is antimicrobial," she says.
This is another larger-than-usual carry-on luggage that is still designed to fit in the overhead compartments of most airlines. "It looks modern, stylish, and minimal," says travel blogger Jessica Ufuomo. "At the airport, it's normal to dress down but this luggage makes it look like you're making an effort and elevates every look." She likes that the details (like the handle and luggage tag) are all in vegan leather, and that it comes with a laundry bag, two shoe bags, and built-in TSA approved lock. She has it in the olive green color, and while the look of the bag drew her to it she's also happy with the way it operates, especially how much it can hold. You might think a carry-on will only suffice for weekend trips, but Ufuoma says it's great for a week-long stay. "I was able to fit in eight dresses, three tops, and some shoes, as well as some of my jewelry and skin care," she adds. It's also durable. This was one of the bags she took on a two-week trip to India and says "it did really well with very few scuffs." Even if your luggage experiences more wear and tear Monos will take care of it. If you're not happy with it in the first 100 days you can return it and after the 100 days if any part breaks they will repair or replace it.
For writer Robin Reetz, carry-ons were a source of stress until she tried this 20-inch spinner from AmazonBasics. "I've never been much of a carry-on gal. Despite traveling regularly for work and play, I've always preferred to check a bag rather than carry it on," she explains. "There's something about the stress of having to bring your luggage to the bathroom when traveling alone, then stressing over finding overhead space on the plane." While she was first drawn to this rolling suitcase for its affordable price, "the compartments and much-better-than-expected functionality are what I can't shut up about," she says. "It's really perfect for a weekend or four-five day trip. I've traveled recently with friends who have Away and Delsey luggage and all are now thinking about getting this bag."
"Most luggage only comes in navy, silver, and black," says Travel + Leisure editor-in-chief Jacqui Gifford. The brighter offerings of Roam, a relatively new company that bills itself as the "first premium, customizable luggage," appealed to Gifford, who wanted something a bit more unique. "Roam lets you customize their lightweight hard-shell pieces in bright, eye-catching colors," she says. "I recently purchased one with an 'Arabian Purple' back (it's a subtle magenta), a 'Pacific Blue' front (a slightly brighter, cooler navy), and a 'Metro Grey' zipper." Plus, she adds, you can have your initials monogrammed on the bag for no extra charge.
If neutrals are more your speed, Laura Ratliff, the editorial director of TripSavvy, recommends something from Béis — whose luggage, she says, "is expandable up to two inches (a rarity in hard-shell bags these days). Plus, it also has a few nice features that you didn't even know you needed, like water-resistant zipper tape — you know, for when your bag is inevitably sitting on the tarmac in the pouring rain — and a weight indicator so you can avoid frantically repacking your stuff at the gate or the check-in counter." The bag also features a cushioned handle with silicone grip, making it particularly comfortable to drag around.
"My favorite rolling suitcase right now is the Horizn Cabin Trolley in the chic navy-blue color," says Pauline Egge, travel journalist and photographer behind the website Petite Passport. "There's a charger inside of the trolley so you can charge your phone while waiting at the airport. "The wheels are really smooth and there's an extra front pocket for my laptop, iPad, magazines, and a thin book," which she finds convenient for easy access when going through security. Egge swears by her Horizn Studios carry-on so much that she told us she's hoping to nab the checkable size soon.
"I first heard about the EO Hard Shell Roller when I worked as an editor at a business magazine and I put it into a gift guide," says Kurt Soller, features director at T Magazine. "I then bought one myself, and it quickly became my carry-on of choice. The most genius part is the polycarbonate hard shell; you tuck your laptop into its sleeve and unzip the top of the bag. It allows you to pass the laptop through TSA machines without having to separate it into a bin. (This video explains it.) The suitcase fits more than my regulation-grade Tumi, and because only one side of the InCase has any structure — the rest is made from handsome, lightweight, wooly fabric — it remains light and easy to lift into an overhead compartment. I also love that it only has two wheels (unpopular opinion, I know) because I'd much rather drag luggage in my wake rather than walk it like a dog beside me."
Photo: 17-09-19 Accessories AM1 B1 audrekrull W
"My favorite rolling travel piece is the Calpak Ambeur carry-on," says Caroline Maguire, fashion director at Shopbop. "I love the aesthetic of this bag: clean minimal lines, Über-chic, and easy to use." She also calls out the compartments and center dividers for how convenient they make for packing. "It's also functional and fashionable — and a find at $165 — so you won't feel guilty," she adds.
"My favorite piece of rolling luggage is without question the Rimowa Classic, and it's accompanied me on many a journey," says Tom Marchant, co-founder of luxury travel and lifestyle brand Black Tomato. "As travel is a constant in my life, my luggage needs durability, function, and an understated design." He loves its timeless and elegant look and the fact that it's waterproof — "a critical factor when traveling." It's also lightweight and can be stored overhead. It's durable, too: "My Rimowa has seen quite a few things around the world, including a tumble off the roof rack of a tiny car while winding down roads in Greece (miraculously intact)." He never has to worry about items he's collected during his travels breaking, either. "As I split my time between New York and L.A., this has become a staple of my life on the go and, I do believe, a lucky talisman of the adventures to come," he says.
"I invested in the Rimowa Salsa Air [rebranded as Essential Lite] the year that I launched Fathom with my business partner, Pavia Rosati," says Jeralyn Gerba, co-founder and editorial director of the travel-guide website. "It's the best travel companion. It's insanely lightweight and sturdy with the smoothest wheels in the game." She's taken it with her to 30 or so countries. "Whether I'm traveling for a weekend or six weeks, it's the only suitcase I need. As a carry-on, it has a more slender silhouette than most — meaning you won't get any side-eye from the flight attendants."
For something less utilitarian and a lot fancier looking, Fathom's Gerba and Rosati recommend Steamline Luggage "for its modern elegance." "It's a flexible hard suitcase that looks retro but has all the technological bells and whistles," they explain.
[Editor's Note: This size is currently sold out, but you can sign up for notifications for when it's back in stock.]
Best soft-shell carry-on rolling luggage
"Travel whisperer" Wendy Perrin uses an expandable soft-shell Travelpro spinner that she says is "fabulous." She likes it because the top is big enough to rest her backpack on, which gives her a free hand as she uses the other to push the suitcase through an airport. The suitcase's expandable sides are key, too, especially since different airlines have different rules on what they consider carry-on size: "I pack everything in the suitcase; put your parka, shawl, and any other stuff you want to grab quickly on top — you can take those things out and wear them on your person if you need to compress it, so you don't need to check your bag." Our own Louis Cheslaw, who joined us from Condé Nast Traveler, is also a self-proclaimed "Travelpro evangelist." He, too, likes that the soft-shell provides "a little more room for stuffing," and finds that the ergonomic leather handles make it easy to carry, and the ultra-sturdy wheels make it easy to roll. It's not the most stylish piece of luggage on this list but, that's also something Cheslaw admires: "I love that isn't trying to be fashionable — good suitcases are expensive, and you want one that you can always use no matter what the trends are."
"For about five years I traveled the world as a travel writer and editor," says David Prior, CEO and co-founder of PRIOR travel club. "This bag contained my whole life then, and I still use it now when I'm traveling for business or leisure." Prior notes that the bag is on the heavier side, but says it's "indestructible" and wears in beautifully. "I could take an ax to it and it would endure," he says. The explorer look is part of the appeal, too. "I respect the hard shells but my heart is with luggage that can get a beautiful patina over years of travel," he says. "You can create a whole set in multiple colors: navy, dark green, and tan — I have navy, which I'm very into."
When travel/wellness blogger Olivia Christine Perez isn't backpacking, she swears by her Skyway carry-on. She's had it for ten years and says it remains in great condition.
Tumi makes fashion personality Joe Zee's rolling luggage of choice. "For most of my trips, I'll use this," he says of the Alpha 2 (which is no longer available, but the newer Alpha 3, pictured here, is). He likes how durable the brand's luggage is in general, saying that he used his last Tumi suitcase for over ten years, traveling for shoots with reference books in tow. Now, he can look everything up on his phone, but he still needs something with room: "I find that I still need the big bag, though, for all of my personal stuff," he says. "I travel with a lot of tech: two laptops and the iPad. And I have chargers for everything, and portable chargers in case they run out of juice on the go. The interior of the bag is really easy too: It just has a separate compartment for dirty laundry, and there are clips for a garment bag on the interior. The only thing is that it's such a basic color. When I was buying it, I kept being like, 'Are there any other colors?' Unfortunately not."
Carpet and furniture designer Madeline Weinrib's luggage of choice is from American heritage brand T. Anthony. "I use the T. Anthony roller in both the carry-on and checked sizes," she says. "I'm always going to Europe or Morocco or Africa, so I generally bring a lot and usually do have to check a bag. I have found that no suitcase really takes the beating of airport baggage-handling well — even the steel one — so I appreciate that, with my T. Anthony, if the wheel falls off or the zipper breaks, the company will repair it for free." Plus, it looks great: "My attachment to the brand is also really aesthetic. They're elegant and chic, especially the black-with-tan-trim versions I own. The contrast makes them easy to spot on the carousel, too. My mother introduced me to the brand, so I like the tradition and history, too."