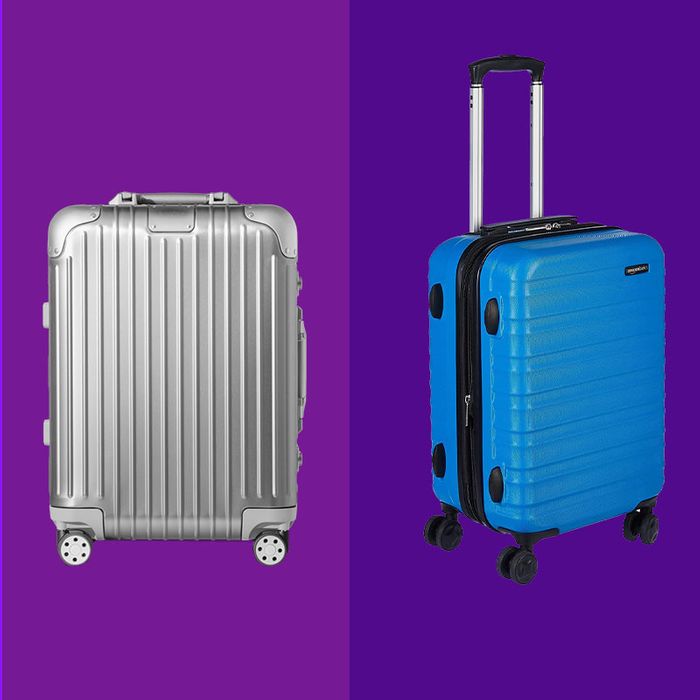 Who, besides baggage handlers, really knows what our suitcases go through when they're out of sight at an airport? At the very least, you'll always want rolling luggage that can handle being tossed around. But beyond that, what makes for a good piece of luggage is highly variable: hard-shell or soft-side? Two wheels or four? Luxury or affordable? Stylish or practical? Ideally, your luggage will be the perfect blend of them all. To find these Goldilocks suitcases, we asked some of the most well-traveled people we know about their favorites, and below, you'll find a suitcase fit for just about every traveler.
Best overall | Best for frequent fliers | Best waterproof | Best less expensive | Best for business travel | Best customizable | Best for the overpacker | Best versatile | Best for kids | Best soft-side 
What we're looking for
Hard-shell vs. soft-side: Based on the recommendations we've received, our experts definitely prefer for hard-shell luggage among our experts. It's durable and easy to clean, it protects your clothes if it rains, and it's harder for bedbugs to penetrate if you encounter any on your trip. The hard-shells on this list are made from either ABS, an inexpensive but less durable plastic; polycarbonate, a more durable but also lightweight material; or aluminum, which is slightly heavier, but the most durable. Most on this list are polycarbonate, but there are a few soft-sided pieces too, for those who haven't made the switch yet. While they aren't as durable, "from a repair standpoint, we always feel that the canvas soft-sided luggage is better than the hard-side luggage because you can repair canvas," Tony Pecorella, president and CEO of Modern Leather Goods, a repair shop in Manhattan, says. He's an authorized repairman for many of the luggage brands below and says someone comes in with a cracked hard-shell every day and "there's no repairing them at all." So in addition to soft-side suitcases being fixable, they are also overpacking-friendly because you can stuff more in them than a rigid polycarbonate case and finesse a larger carry-on to fit in an overhead bin, too.
Compression dividers: A pretty standard feature in all suitcases are the buckled straps that go over your clothes to help keep them in place. In newer hard-shells, they have doubled down on this concept with full dividers that compress your clothes and make it easier to close your suitcase. Unlike the straps, the dividers cover the entire section and usually have an additional zippered pocket on them, addressing a common complaint that polycarbonate cases don't have any smaller compartments.
Wheels: Our experts continuously raved about the wheels on their favorite suitcases, describing them as smooth and sturdy. Most were talking about their four spinner wheels, which make the suitcase much easier to push along as it can glide in all directions. For comfort and ease of use, four wheels is definitely the way to go and is our recommendation, but again, Pecorella says it's not the best choice from a repair standpoint. "It is always stronger to have the case that has the two wheels on it," he says. "Those wheels are encased, so the only thing that can really happen on those wheels is that they wear out eventually like tires on your car." With the four spinners — which Pecorella fully admits to using personally — he says because they aren't encased and just are attached to the bottom of the suitcase, you run the risk of them being banged off. "If you're rolling off a curb or if you hit the escalator too hard, it'll just snap the wheel right off," he says. "That's one of the biggest repairs we do here all day."
Warranty: Almost none of the suitcases on this list go the easy-repair route of being soft-side and having two wheels, and that's because they all have pretty good warranties, which Pecorella says is actually the most important part. "This is what we tell our customers all the time: If you are a regular traveler, really look into the luggage brand's warranty and see what they are covering and what they are not covering," he says. "There is a large disparity between the very good ones that I would recommend if we were off the record and ones I would not recommend." The biggest phrase you want to avoid is "limited to manufacturer's defects," which Pecorella says means they basically cover nothing and will attribute damage to wear and tear, or say it's your fault or the airline's fault. "Lifetime warranty" is ideal, and he says most of them offer it. Others will say they have a "limited lifetime warranty," which means it's only good for so many years or there are restrictions on what it applies to. The bottom line from Pecorella is to do your homework: That way, you'll really know what you're getting.
Best overall rolling luggage
Best rolling luggage for frequent fliers
Best waterproof rolling luggage
Best less-expensive rolling luggage
Best rolling luggage for business travel
Best customizable rolling luggage
Best rolling luggage for the overpacker
Best versatile rolling luggage
Best rolling luggage for kids
Best soft-side rolling luggage
Some more rolling luggage we've written about
Our experts
• Alexandra Baackes, travel blogger and founder of Wander Woman Retreats
• Stephanie Be, founder of BUENA and blog Travel Break
• Kiana Brooks, associate buyer at Dior
• Hillary Eaton, food and travel writer
• Kelly Farber, founder of KF Literary Scouting
• Molly Fergus, former general manager of TripSavvy
• Jacqui Gifford, Travel + Leisure editor-in-chief
• Nicholas Gill, writer and photographer
• Summer Hull, director of travel content at The Points Guy
• Ciara Johnson, travel blogger HeyCiara
• Brian Kelly, The Points Guy
• Tom Marchant, co-founder of luxury travel and lifestyle brand Black Tomato
• Tony Pecorella, president and CEO of Modern Leather Goods
• Laura Ratliff, senior editorial director of TripSavvy
• Robin Reetz, writer and editorial director of Club Monaco
• Lauren Ro, Strategist writer
• Chris Schalkx, co-founder of Rice/Potato
• Christine Wang, founder of TheSkiGirl
The Strategist is a new site designed to surface the most useful, expert recommendations for things to buy across the vast e-commerce landscape. Some of our latest conquests include the best umbrellas, steak knives, white T-shirts, nail clippers, and yoga mats. Note that all prices are subject to change.
If you buy something through our links, New York may earn an affiliate commission.