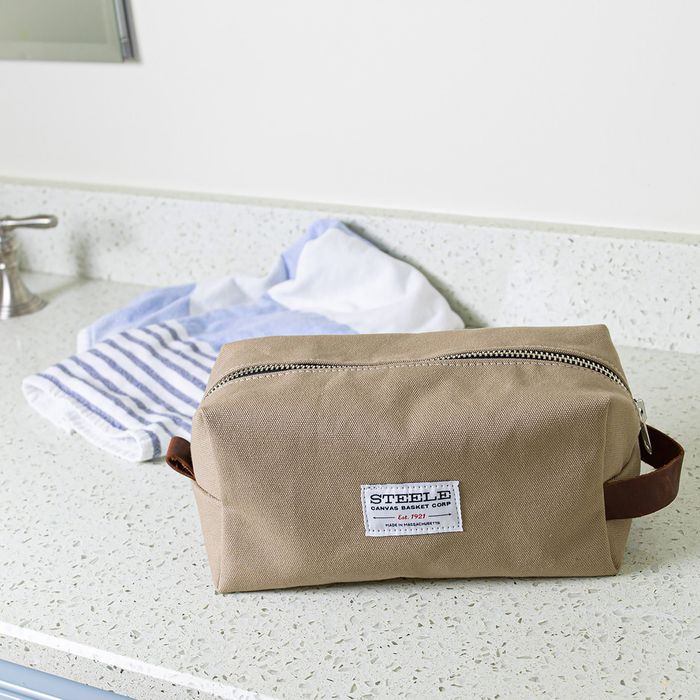 Photo: Courtesy of Steele Canvas
If you're finally getting yourself a real-deal Dopp kit for your toiletries — or just want to replace one that's gotten funky from wear and dried-up toothpaste — it's ideal to find something that's primed for travel, roomy enough to fit all the essentials, and stylish. In pursuit of the best options, we surveyed 25 frequent travelers, men's grooming experts, and generally stylish guys on the Dopp kits and toiletry bags they rely on to carry their precious products. Since it's that time of year when many people are starting to ponder what to get the hard-to-shop-for men in their lives, we might also point out that any of these would make great holiday gifts, too. To help you shop, we've sorted our cool people's 18 favorites below by price, with Dopp kits that received the most recommendations leading each category.
Best under-$30 Dopp kits for men
Photo: Topo Designs
We heard about Dopp kits from Topo Designs (the maker of some cool guys' favorite raincoats) from three folks, two of whom — the Trevor Project's creative director, Thomas Pardee, and Evan Shinn, one-half of the skin-care-obsessed Dewy Dudes — told us they both have this specific model with a convenient handle attached. Both of those guys call out the sporty color-blocking and unconventional silhouette as things they like about it, with Pardee adding that "the triangular shape is deceptively roomy and sits upright on any surface without spilling or tipping over." He also likes that the soft-shell exterior is flexible enough to squish into even the most cramped corner of your bag. Beyond its shape, Shinn says that "the real magic lies in its loop handle, which makes it easy to hang in places without counter-height surfaces."
Barber Mark Miguez (of New York City's Friend of a Barber) is our third Topo Designs fan. Although he's seen the triangular Dopp kit above, he prefers this slightly less expensive style "because it lays flat," adding that he's used "so many Dopp kits for work" and that this is the one he's been happiest with. He explains its other appeals this way: "It's easy to pack, the zipper is hard-core and opens all the way around, and it's simple." Additionally, he likes that it's "easy to clean and lasts forever." This is the first of several larger 10L Dopp kits that appear on our list; while they may take up more room for those who travel light, the size is ideal for those who can't travel without taking a chunk of their bathroom.
Nick Greene, a lifestyle guru and author, told us he's had this "sturdy" hanging Dopp from Muji for a while and it gets the job done. "I'm all about the right containers for the right things and this has all these great pouches and straps. It unfolds like a mini garment bag and has a little hanger so you can keep your stuff out of the sink. It makes you feel grown," Greene summarizes, "without busting your bank."
Canvas Dopp kits came up a lot among our panelists because the thick material is durable and affordable. It can also look more distinguished than other common Dopp kit materials like rubber or nylon. This affordable canvas Dopp kit comes recommended by Tim Melideo, who runs the menswear website Stay Classic. He likes the unique diagonal zipper and the fact that it "opens up wide" to make it easier to access everything inside. "It's hard to get to your stuff with some kits because they don't open enough," he says. It's also designed to have a wide, flat bottom once fully unzipped, meaning it'll be compact in your suitcase but nice and roomy once set on a counter.
Best under-$60 Dopp kits for men
Sometimes you need something with extra weatherproofing, especially if you're taking it camping or on water. Matt Kays, a vice-president at PR Consulting, relies on this Patagonia number for its rip-stop-proof, practically indestructible exterior. (He actually has two: He uses one as a Dopp kit for travel and the other as a wet bag to hold his things when he goes to the beach.) "It's Patagonia, so obviously it's a very extreme and very waterproof kit — nothing gets in or out," he says. Peter Hunsinger, the co-founder of sock brand Kane 11, also uses a 10L Black Hole Cube as his Dopp kit. "You don't need a lot of zippers, pockets, and compartments," he says. "That just makes it more confusing." Instead, "you want to open it and see everything," which is more or less what this is designed for.
Alchemy Goods's eco-friendly Dopp kits are "upcycled" from old car tires. This one is a favorite of both Mike Shim, a software-development manager at Amazon, and Strategist senior editor Anthony Rotunno. Shim says the tough material is perfect for "keeping all spills contained when your SPF decides to pop open mid-flight," adding that the kit is also super-durable and handsome. "All the things you need a Dopp kit to be," he says. plus actually eco-friendly. Rotunno, who also travels with it, has told us that the kit is roomy enough for all his mini-bottles and has an easily washable interior as well.
This hanging Dopp kit comes recommended by Barron Cuadro, the founding editor of Effortless Gent. He loves how it "fully opens so you can see everything inside" and, like the hanging Muji Dopp kit above, it has a "hidden hook so you can save counter space while keeping everything accessible." According to Cuadro, it's "super-compact" when all zipped up, but "it still manages to fit all your necessities." Made from ballistic nylon, he adds it's "crazy durable and super-easy to clean."
Philip Sault, the owner of Boston-based menswear store Sault New England, is partial to "unconstructed canvas" Dopp kits like this because they're very forgiving. "They can fit into any bag and make it through the wash if anything opens up during travel," he says. "Travel is stressful enough; keep it simple and easy with your Dopp kit." His favorite canvas Dopp kit from Steele is American made and constructed from a rugged khaki-colored duck canvas. It has heavy-duty zippers, a leather strap, and a nylon camo lining that should be able to withstand pretty much anything.
Best under-$90 Dopp kits for men
If you're in the market for a Dopp that opens flat and has compartments (for, say, essentials like contact lenses), here's a zip-around toiletry kit from Victorinox that does just that. Leen Bergmann — the co-founder of men's grooming brand Reuzel — says he's cycled through many Dopp kits in his day but that the Victorinox has earned a permanent place in his bathroom (and suitcase) because of its many compartments and dividers.
The other half of the Dewy Dudes, Emilio Quezada, calls this Dopp kit "one of the best investments I've made in my young-adult life thus far." (Folks who travel a lot, like choreographer JaQuel Knight, swear by Briggs & Riley luggage.) He appreciates its compact (but expandable) design and exterior zip pocket, "which provides more than enough room to pack all my heavy hitters and 'once a week' products." Quezada adds that "the washable interior takes the stress out of inevitable spills, and the all-black nylon exterior will always be in style."
"I'll probably keep it for the rest of my life," is what Reuzel's Bert Rietveld had to say about his large, compartment-filled Dopp kit from Samsonite. As you can see, it has several zippered, translucent sections for storing toiletries, plus a cutaway section for holding bigger items like hair dryers and brushes. "It holds everything I need and it's really durable," he adds.