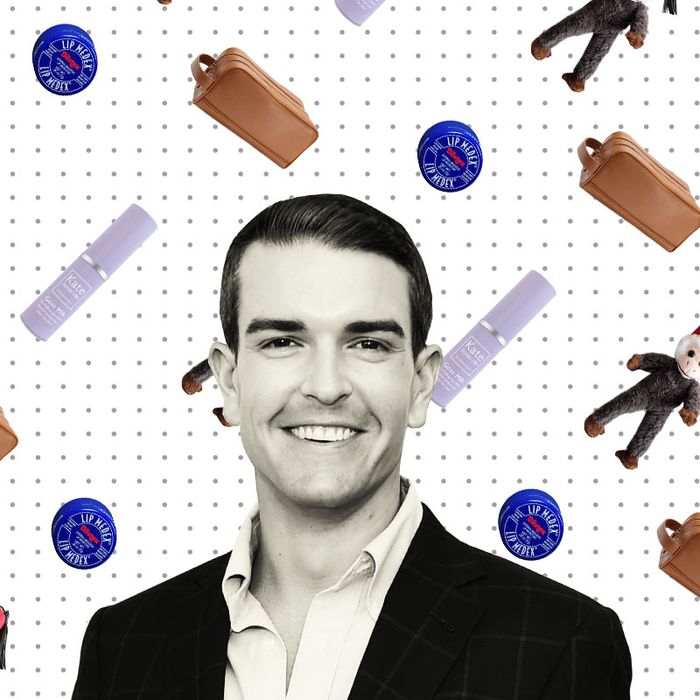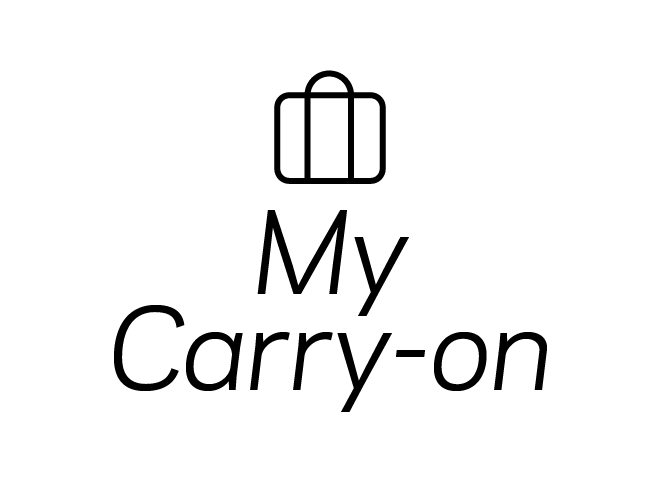 Summer getaway season is almost here, which means that you are going to need to bring some things with you. In a bag. To help us decide what to pack (and what to pack it in), we've enlisted some celebrities to tell us what they're lugging. Today, the travel essentials of photographer Gray Malin, who's known for his vibrant-yet-calming pictures of beautiful places and is currently on tour promoting his first children's book, Be Our Guest! Welcome to My Carry-on.
I'm kind of an addict of this lip balm. It's one of the amenities at the Parker Palm Springs Hotel. They're kind of famous for their over-the-top amenities in the rooms there, and I got one of these at the hotel, and I decided to buy more, and then every time I went to the hotel, I took another. They ended up in my car, on my desk, in my travel bag, and now, I always have one on me.
It comes in a little purple package. You spin it out and you spin it back in, like lipstick. I literally just circle underneath and around my eyes, and after about 15 minutes, it sort of tingles a little bit. It's a really interesting product, and it stays on and is effective for quite some time. I use it when I'm taking off, and I love the way it feels. It's funny, it really tingles 15 minutes after you put it on. I don't know why it takes so long, but it's got a not-immediate effect.
I use these headphones that cancel the noise that are in your ear, not just around your whole ear. They're a lot more comfortable than leaning against big, bulky headphones, especially if you're trying to take a nap on the plane.
I just got this charger as a stocking stuffer, and it's cute. It's a little bit more fun, makes me feel special. The rose gold adds just a little flair. I need to use it. I'm honestly such a photo nerd on my phone, I could drain a battery in five minutes. Sometimes on flights, I literally look at my photographs from trips and old memories. It's fun, sort of like watching a movie.
There's a double-zip one that has two zippers, and it just fits everything. It's structural. Mine has rose-gold initials, and it's a lightish brown, maybe a cognac color. What's great is that it'll last forever, and it holds everything. Even sometimes I put other things in there, like loose cords. It has a side strap, so you can pull it out and hold it easily, instead of having to hold it like a football.
I love them because they're stretchy. Flying is a bit uncomfortable already, so it just makes it a little more comfortable. They're kind of classic, dark. I think I have three of the same pair, and I rotate them. They're great. I'm pretty sure I discovered Frame in Barneys or somewhere that was carrying multiple brands, but I just tried them on and enjoyed them. Then I went into the Frame store from there on out. My husband wanted a pair, and I bought him a gift card. We have the same waist, so I'm always like, "Are you wearing my Frame jeans? Are these yours? Are these mine?" They're really good jeans, I believe in them.
I have the brown, tortoiseshell ones. I like them a lot because I don't personally have a ton of designer items. But I love a little accessory, and they're kind of a nice spinoff on the Ray-Ban Wayfarer. My best friend had them, and I was at my friend's birthday and I tried them on, and he was like, "Oh, my God, they look so good on you, you have to get them." And then I was like, "Are you sure? Because I'm going to go get them." So we went together the next day, and I got some, and now, of course, my husband decided he wanted the black ones, so he has those. There's a pattern here, you're picking up on it? [Laughs.]
I love to shoot images out of the window of planes. So a couple of years ago, I was flying home for the holidays, and I took a Ziploc bag of sprinkles with me in my carry-on bag, as a motivation to bake something at home. In the middle of the flight, I got quite bored, and I ordered a drink, and I ended up asking for another glass, and kind of like a margarita, I started to sugar-coat the rim, and then I dipped it in the sprinkle bag, and I posted a picture of my hand in the window with the drink, and people just loved it. It was like, "What airline are you on?" And I was like, maybe we can do this. So we worked with a company out of Brooklyn and created our very own carry-on sprinkle cocktail kit, where you have the ingredients and the instructions. You just have to get that booze in-flight. So they're always fun to have, and we all know flying can not be so fun.
Sant and Abel, they have the cutest men's pajamas. I basically first fell in love with their boxers. They have these striped, classic, good-looking boxers. There's a bed short with pockets; you can kind of wear them around the house. On an airplane, I travel with the longer men's pajamas. They have a matching top, sometimes I wear that — or just a T-shirt. If it's a long flight, I will often change into them, and if it's shorter, I'll just have them in my carry-on with the rest of my stuff for when I get to where I'm going. They're great, and they have great girl's stuff, too. They're really cute. Everyone should know about them; I feel like they're on the up-and-up.
Be Our Guest! is my first kids' book, and it was a real passion project for me. I was shooting a series for three years of these exotic animals living inside my favorite hotel, the Parker Palm Springs. And halfway through the project, thanks to social media, it became obvious to me that these prints were hanging in a lot of beautiful, wonderful kids' rooms. I started to think about the imagination of a child and how maybe we could create something bigger than just a fine-art project. It's been a three-plus-year journey, and it's a great time to be going around and celebrating it with these different book-launch parties. We created this little stuffed animal of the narrator, the monkey Maurice, and Maurice has been coming with me in my carry-on. We've been taking pics with him all over. It's been fun. He's pretty cute.
Editor's note: If you want to buy just the book, it's available on Amazon for $14.
The Strategist is designed to surface the most useful, expert recommendations for things to buy across the vast e-commerce landscape. Some of our latest conquests include the best women's jeans, rolling luggage, pillows for side sleepers, ultra-flattering pants, and bath towels. We update links when possible, but note that deals can expire and all prices are subject to change.
Every editorial product is independently selected. If you buy something through our links, New York may earn an affiliate commission.