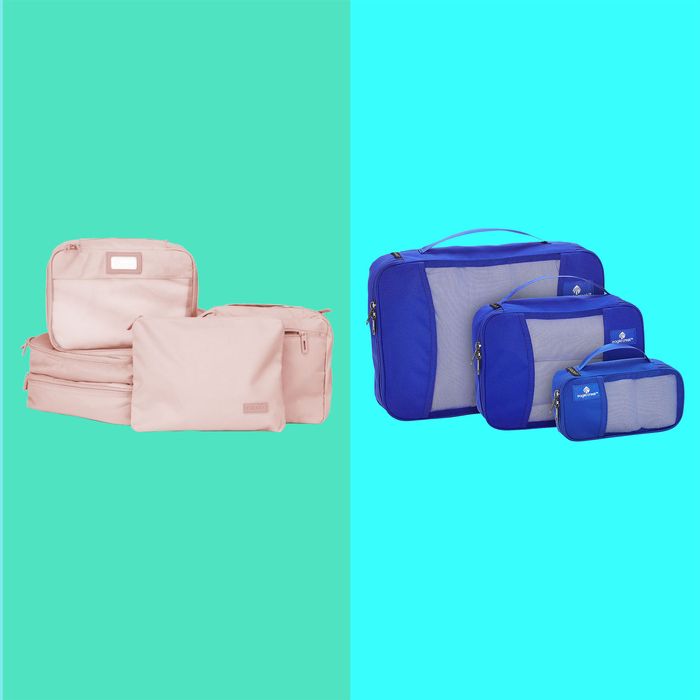 Photo-Illustration: The Strategist; Photos: Retailers
With travel once again possible for lots of folks whose wanderlust has been cramped by the pandemic, if your packing skills are feeling a bit rusty, may we suggest the humble packing cube? Packing cubes are both time-savers and space-savers, says Aly Simmons, a store manager at REI. "Not only do they keep everything super-organized, you can absolutely fit more in your bag or suitcase as a result." She's tried every packing technique she's come across, from tight folding to rolling every single item, but nothing works as well as the cubes. "Cubes kind of work like mini compression sacks … Once you get everything in it, things just fit around each other in the bag perfectly."
She finds them most helpful when large suitcases aren't really practical for a trip but she still wants to pack options. That same desire is why Strategist contributor Foster Kamer, a self-proclaimed overpacker, is also a fan. "The paradox of being stridently carry-on and an overpacker was a frustrating, existential one — until I discovered the Pack-It Cube," he says. More on those later, but as Simmons sums it up, "Packing cubes are magic, and you won't believe it until you try them."
To help convince you, we spoke to Simmons, Kamer, and seven other travel experts and packing enthusiasts about the best packing cubes for every type of traveler — and how to use them. Here are their picks.
Multiple experts called out Eagle Creek's packing cubes. "I now use them on every trip to save space and stay organized," says Christina Guan, a travel blogger for Happy to Wander. She says she's tested six different kinds of packing cubes and "Eagle Creek's Pack-It Cubes have by far been the best, looking like new even after years of traveling. While you'll no doubt find cheaper options out there, they usually succumb to wear and tear. All of them did the job fine but started to rip, or zippers would get jammed after a few uses." Kamer's favorite packing cubes are also from Eagle Creek. With them, he says, "You will become the Frank Gehry of luggage interiors."
Emily Krause, a travel writer and blogger, calls Eagle Creek's compression cubes lifesavers. "My favorite way to use packing cubes is when I'm trying to fly carry-on-only with babies and toddlers," she says. "I fit multiple people's items in one small suitcase by assigning each person a different color cube." She says she can fit an entire week's worth of clothes for kids in a medium-size packing cube, "but I'll typically need a large packing cube for my clothes. One trick I use to fit more clothes into a packing cube is to roll the clothes or fold them accordion-style." Krause says cubes allow her to store one category of clothing for the whole family all in the same place. "I might put all the swimsuits in a cube or all of the rain jackets or pajamas. It makes it easier to quickly locate what you need for the next scheduled activity."
More than the organization they provide, Summer Hull, director of travel content at The Points Guy, loves using packing cubes to avoid bringing bed bugs home. "Ever since getting them in 2019 from a trip, I don't bring our luggage inside," she explains. "Instead, I pack indoors in packing cubes and simply add them to our luggage that is stored in bins in the garage as the final step." She also "heats the cubes in the dryer before bringing them back into our closets to eliminate any bed bugs that may try to ride along." That means she needs packing cubes that will not only hold up to frequent use but also in the dryer. "I've been through some that can't take the (literal) heat and also that have zippers that quickly failed," she says. "But my Calpak cubes have held up well for more than a year — so much so that I just ordered a second set." The set includes four cubes and a water-resistant envelope pouch. The cubes range in size, with the smallest measuring 12 inches long. The largest measures 17 inches long and the rest of the set nests into it for storage. Hull uses the larger sizes for actual clothes and the smaller ones for items like underwear and swimsuits. She recommends the medium size "for just packing everyone's first night's worth of pajamas to pull out at the hotel."
Briona Lamback, the founder of Buoyant, a community for Black travelers, has been using these cubes since 2017 and says they're still going strong. "They've helped me pack more efficiently by maximizing my space," she says. The five-piece set includes four packing cubes and a laundry bag, and Lamback says that "In general, I just feel more organized while traveling because the packing cubes force me to be intentional about what I'm bringing on a trip." Since they are all different sizes, Lamback uses different cubes for different durations of travel. For weekend trips she uses one large cube as well as the smallest size, but for an upcoming three-week long-haul trip, "I'm using all four between my carry-on and checked bag," she says.
Strategist writer Jenna Milliner-Waddell was very skeptical about packing cubes. Her mom gifted one of these sets to everyone in the family one year and hers sat unused for a while. But after moving to New York and only having storage space for a carry-on in her tiny apartment, her needs changed. She was no longer able to pack five pairs of shoes for a three-day trip and spread them out in her checked luggage. So she finally put the packing cubes to use, and says she was shocked at how big of a difference they made. The carry-on-only life has curbed some of her chronic overpacking, but the cubes allow her to still bring a few just-in-case outfits. Milliner-Waddell mainly uses the large, medium, and one of the smaller sizes when she travels. They fit perfectly in her suitcase and the zippers have never failed.
"In my family, packing cubes provide a wonderful way to keep our individual clothes separated in a large shared suitcase," says Micki Kosman, a travel blogger at the Barefoot Nomad. She says cubes "make it a breeze to find small items like electronics chargers and cables, underwear, socks, or scarves in a crowded suitcase," but they are also a great way to organize larger items like pants, tops, and coats. "These cubes come with a mesh top, so you can see the contents easily, and they're lightweight, so they don't add extra weight to your suitcase. I've used mine on almost every trip I've taken over the past three years, and they're still in perfect condition."
"I've found that packing cubes tend to help speed up the packing process, especially when I'm taking trips. I'm essentially packing the same items each time, so it feels like it's getting quicker and quicker," says Matthew Spade, a freelance writer and content creator at Buckets and Spades blog. He says the Muji bag is especially useful for separating dirty clothes from clean clothes while traveling. It also helps Spade collect smaller items together rather than having to pack them into small gaps in between luggage to fill spaces.
[Editor's note: The medium size is currently sold out, but this small size should still prove useful for things like underwear and socks.]