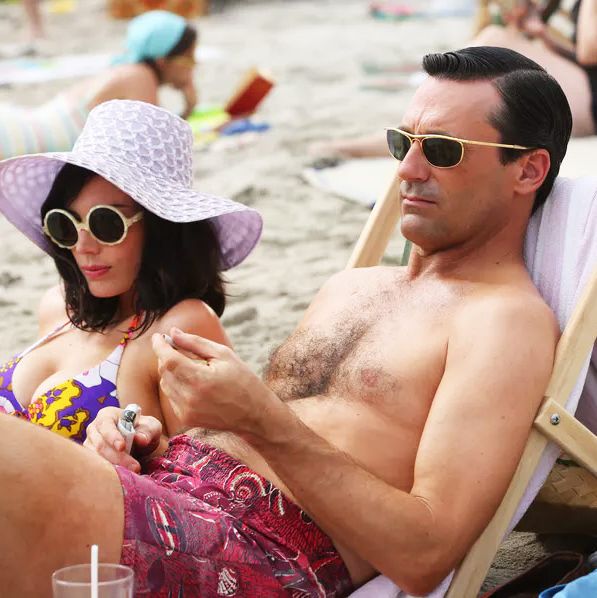 Some vintage-swim-trunk inspiration courtesy of Jon Hamm in
Mad Men
.
Photo: AMC
Whether you're looking for something simple to wear to the local beach, or you're trying to flex at a rooftop pool, now would be a good time to upgrade your swim trunks. "Gone are the days of over-the-top, crazy vacation print board shorts," says stylist Piper Gore, who suggests trying something a bit shorter and more fitted. We spoke with 11 people who would know — influencers, stylists, hotel-pool loungers, beach fanatics, and a surfer, among others — and asked them to recommend the best swim trunks for men.
Best swim trunks for men
After asking 11 experts to name their favorite swim trunks, we heard about this pair from three of them (and it was the only pair mentioned by more than one). Famously worn by Daniel Craig in Skyfall, Orlebar Brown's trunks were called out by Gore for the "flat-front trouser design detail, and the sidepulls to adjust for the perfect fit." Olie Arnold, style director at Mr Porter, is a fan, too: "Orlebar Brown is known for creating swim trunks based on the traditional 17-piece pattern used to tailor a pair of trousers. They're made so you can look sharply dressed while at the pool or at the beach bar." At $245, we know this won't be for everyone, but it is widely considered the best around.
If you like the vintage-inspired look and fit of the Orlebar Browns, you might be interested in these trunks from Reyn Spooner, available at Todd Snyder (who recently launched a collaboration with the Hawaiian brand). Though they have a drawstring waist rather than OB's trouser-like button, they have the same six-inch inseam length as the Orlebar Browns, and while the pattern is definitely on the busier side, it's still pretty subtle.
We also found this pair from Target's Goodfellow & Co. line, and it's a great deal. It has the six-inch inseam and comes in a bold "mint" color you're unlikely to see anyone else wearing. You can use the money you save on a couple day passes to the Standard Hollywood pool.
Best mid-thigh swim trunks for men
"Men are for sure going shorter," says stylist Warren Alfie Baker. The vintage-inspired "mid-thigh" fit is definitely the look of the moment. Image consultant Patrick Kenger likes these trunks from Club Monaco. "They already have that worn-in look, so they keep things casual," he says. "The wider leg and seersucker fabric give off some old-school vibes that I dig."
Along with all things gorpcore, Patagonia swim trunks are back in style, according to our experts. (These are technically sold as "shorts," but they're made from quick-drying nylon, have a mesh liner, and Patagonia says they're "designed for use in and out of the water," so the experts still refer to them as "swim trunks"). With a five-inch inseam, Baggies give you the same mid-thigh fit offered by higher-end brands, but they're more affordable and multipurpose. And they actually have more fashion cred than you might expect (Strategist contributor Chris Black is a fan). "[Baggies] have become something of a summer staple," says Kenger. "They're the perfect length, come in multiple color options, and it's an attractive price point." (Kenger likes the five-inch version, but they come in a longer seven-inch if you want something a little looser).
With an inseam of 4.75 inches, these trunks from Solid & Striped can be seen as a dressier alternative to Baggies. In addition to being a bit shorter, they're more form-fitting, and the shiny fabric makes a statement. In terms of mid-thigh trunks, we have the Orlebar Brown on the "tailored" end of the spectrum and Baggies on the "casual" end. We see these as landing somewhere in the middle.
Best above-knee swim trunks for men
The mid-thigh look isn't for everyone. If you'd rather be less "on trend," or simply prefer not to show so much skin, the more standard "above knee" fit is still a classic. Kenger calls these "an essential in classic navy. Nothing special about this pair, which is what makes it so special." Between the color and the fit, this is for guys who want something foolproof.
If you like that classic, slightly loose, above-knee fit but want something a little less conventional, consider these swim trunks from Saturdays. We love the summery peach color, but there are also a bunch of other options in the same fit.
And if you want to make more of a statement, Arnold recommends these Stüssy trunks. "Channel your inner '90s skater with these abstract leopard-print shorts," he says. "You can wear them to the beach or throw on a long-sleeve tee and a pair of Vans."
Celebrity stylist Okera Banks is also into the vintage look. Banks likes something that combines vintage style with a "modern design sensibility," and she told us that these Nautica Colorblock trunks are one of her favorites.
Best pattern-print swim trunks for men
Image consultant and author of Change Your Clothes, Change Your Life, George Brescia, loves these Bonobos trunks. "People always stop me on the beach and ask where I got them," he says. Brescia is all about "big bold prints" right now, and he says this model, with its elastic waist, is very comfortable and he loves the fit.
"They're fairly fitted but not too tight around the thigh. They still leave room for your legs."