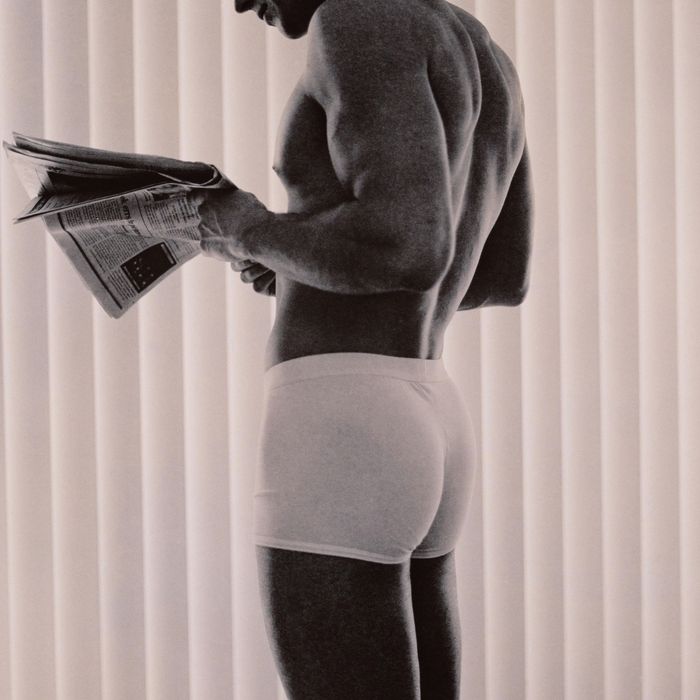 Combining the snug fit of briefs with the coverage of boxers, the boxer brief, for many men, represents the best of both worlds. They were invented in the early 1990s when designer John Varvatos, who was then at Calvin Klein, cut a pair of long johns and managed to create what is now the most popular kind of underwear for men. Or at least the many we've spoken to: Whenever we ask guys what type of underwear they wear, the boxer brief always dominates the conversation.
"They're infinitely better than boxers," says Derek Guy, editor at men's style site Put This On and blogger at Die, Workwear. "They give you support. They don't bunch up in your pants. And when they're made from good materials, they just feel nice." Today, there are hundreds of styles of boxer briefs to choose from, so to sort through all the options, we asked a range of fabric-conscious folks for their favorites. We also looked back through our archives to make sure we weren't missing anything — say, for example, Neil Patrick Harris' favorite "non-squishy" pair. The 10 best styles are below, including a barely-there pair, some classic Calvin Kleins, and one boxer brief that no less than six guys swear by.
Best overall boxer briefs
Of all of the styles we've heard about when reporting on boxer briefs (and underwear in general), not one has received more praise that Uniqlo's Supima Cotton Boxer Briefs. To date, we've heard from no less than six guys who swear by them for both their quality and value. "They're soft, breathable, and keep their shape well even after many washes," says photographer Sam Schmieg, who "wore Calvin Klein for a minute, but at this price and comfort level, couldn't pass up Uniqlo." Other fans include Chris Black; photographer Malcolm McNeil, the content manager at rare-sneaker dealer Flight Club; street-style photographer Christopher Fenimore; Andrew Chen, the founder of menswear brand 3sixteen; and Elliott Foos, formerly the director of coffee at Daymoves in Williamsburg, who told us that "Uniqlo's basics are unrivaled, and these carry the torch." Foos adds that that he's been "into these for three-plus years (I've been re-upping, don't stress), and I still love them."
Best less-expensive boxer briefs
For an even-more-affordable option, Tim Melideo, who runs Stay Classic (a men's fashion website focused on affordable style), says he's long sworn by the cotton boxer briefs from Hanes. (We should note that he isn't the only guy to recommend Hanes's basics to us). "They're simple and inexpensive, and they last," Melideo says of his favorite pair, which break down to an unbeatable (roughly) $3 a piece.
Softest boxer briefs
Photo: retailer
Both Melideo and actor-slash-model Kyle Andrew are fans of MeUndies for the same reason: their feel. Melidio describes them as "SUPER soft" and Andrew agrees that the brand's fabrics are "oddly soft." One of the writers of this piece (Louis Cheslaw) also wears MeUndies boxer briefs, not only because of their aforementioned softness, but also because they "never ride up, fray, or tighten at the waistband, no matter how many NYC-laundromat drying cycles you blast them with," he says. À la carte, they're $24 per pair, which is comparable with most premium brands. But if you sign up for the company's subscription service, that price per pair drops to $16.
Best boxer briefs with a pouch for the family jewels
"I purchased my first pair of Saxx men's underwear six years ago, and I haven't worn anything else since," says Andrew. He appreciates Saxx's "ballpark pouch" design, which he explains "keeps things separated for maximum comfort." Andrew's favorite style is the Ultra, which is made primarily of viscose fabric, a moisture-wicking cotton alternative similar to modal. And he's not the only fan of the Ultra: Dashboard Confessional front man Chris Carrabba also loves the style, for the same reasons. "Things are situated in a more pleasant way than when I wear other brands on the market," Carrabba told us. "Imagine summertime on the road in, say, Texas — that little bit of separation helps a lot." They have another celebrity fan in Neil Patrick Harris, who told us that after doing "some deep dives into men's under britches," he also chose the Ultra boxer briefs because they "provide comfort and stability in a way that no other underpants do. It's all about the pouch." Harris adds: "Neil-y no like-y smashie."
Best longer boxer briefs
Photo: retailer
Tommy John, one of the older underwear start-ups, also makes the favorite boxer brief of several folks we talked to. Guy is a big fan of the micro-modal fabric used in these Second Skin boxer briefs, which have an eight-inch inseam that stops a few inches above the knee. "The non-pilling blend wicks moisture away from the skin better than pure cotton, which means you feel drier and more comfortable throughout the day," he says. Guy went on to tell us that he "bought a pair of boxer briefs from Zimmerli, widely regarded as the best maker in the world, for $150" — and that his Tommy Johns have "proven even better" than those over time. Barron Cuadro, founding editor of Effortless Gent, also wears Tommy John and likes the brand for its fit, wide waistband, and "ultrasoft" fabric that he says hasn't pilled over the course of many years and washes. While she doesn't wear them, Megan Collins, founder of menswear site Style Girlfriend, notes that the company designs its underwear with a unique, horizontal "quick draw" fly. "I was skeptical when I first heard about it," she says. "Like, how much better can that really be? But then I gave a pair to my best friend's husband to try out, and to this day he still will text me saying how much he loves them."
Best even-longer boxer briefs
Photo: retailer
During the colder months, Peter Hunsinger, founder of sock brand Kane 11, says us he wears these even longer 9-inch-inseam boxer briefs from Under Armour "for the extra warmth." He describes them as "supportive, stylish, and super-comfortable, with a fit that's second to none." Andrew also wears Under Armour Boxerjocks and says that on top of their "seamless design," they "also hold their shape" and are great for both daily wear and working out.
Best ultra-thin boxer briefs