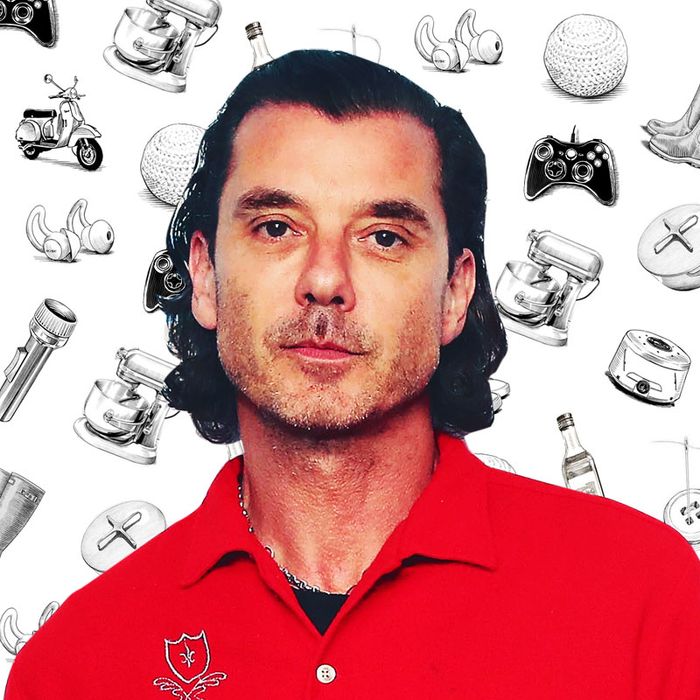 If you're like us, you've probably wondered what famous people add to their carts. Not the JAR brooch and Louis XV chair, but the hairspray and the electric toothbrush. We asked musician Gavin Rossdale — the frontman and rhythm guitarist of Bush, which releases its new album The Kingdom this month — about the toothpaste, tennis shoes, and sauce pan he can't live without.
Photo: retailer
Like your clothes, your scent just sets you up for the day. It gives you that power, that individuality. As a kid, I went through years being into patchouli, then it switched to rose, then cucumber. But whatever it was, it always just felt like part of the armor. This scent is just beautiful. I actually went to Portofino on my honeymoon, and somehow I just connected with it. There isn't a day that doesn't begin with a little squirt to get fresh.
Photo: retailer
I had this girlfriend once, we were in Germany, and she was really sick. She'd been puking all night, and I took her to a doctor to get an IV. That doctor told us that whenever he saw a patient with a cold, he put a few droplets of this oil on his tongue — it acts as an antiseptic for the back of your throat. At the time he'd been using them for 20 years or something. So I now always have the oil. If I feel a little bit off, a little tingly, I bash a bit of it. It's really incredible. As you'll see, I'm obsessed with mouth hygiene. This goes hand in hand with that, really.
Photo: retailer
Plaque on your teeth is plaque on your heart, so it's very good for your health to clean away plaque. I brush my teeth every few hours. I think what most people do — just morning and night — is gross. I've been through a number of toothbrushes and this Sonicare one is what I've landed on. It just zaps around your teeth. Oral B's are too flimsy and don't have enough strength. This Sonicare has a really good, fast spin — I think it's even better than the $300 Sonicare DiamondClean, which I also have in case this one isn't charged. I was once at Bikram Yoga, and a naked dentist saw me brushing in the changing room afterward and told me not to forget soft tissue — so remember to flip the brush around and brush your cheeks, too. That's a free tip!
Photo: retailer
This is my toothpaste. It's French, with a real menthol flavor. I liked the packaging when I first saw it, because it reminded me of one of my favorite wines, Promis by Gaja. You've got to be careful though — the brand also has an anti-plaque toothpaste that's a bit too chalky. I love the regular one. Whenever I find it, I buy 12 at a time because it's hard to find. The toothbrush, toothpaste, Neroli Portofino, and Krauter oil: To me, that's just life.
Photo: retailer
This set me on my path of having the freedom to write. It's just explosive. While I've veered toward different writers in my life, nothing inspires me as a writer as much as Ginsberg's works, especially Howl. It's an endless form of inspiration — you can dive into pieces of it, read the entire thing, start at the back. It just has this emotion and this power behind it that I've always connected to. Howl is the Never Mind the Bollocks of books: Beautiful dreamscapes and landscapes of words come flying out.
Photo: retailer
In September, I took my band to Alinea in Chicago as a thank you for giving me their lives and traveling with me. I do a lot of cooking, so I really connect with chefs and became friends with Grant Achatz. I saw that he was connected to this cookware company, so I bought a few things, and when the big package from Amazon came, I posted it and said, "Look what happened to me today!" The quality is amazing. They've since sent me some more, including this saucepan. When things are beautifully constructed, it's great to be the beneficiary.