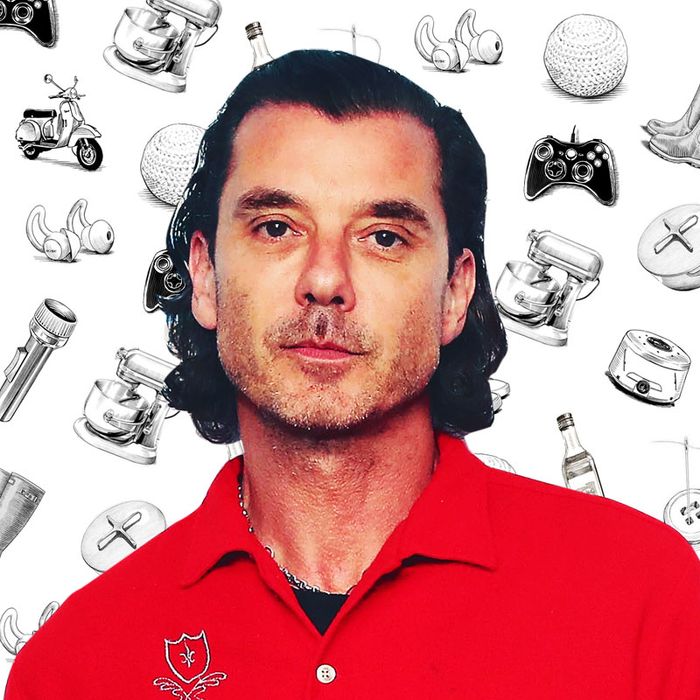 If you're like us, you've probably wondered what famous people add to their carts. Not the JAR brooch and Louis XV chair, but the hairspray and the electric toothbrush. We asked musician Gavin Rossdale — the frontman and rhythm guitarist of Bush, which releases its new album The Kingdom this month — about the toothpaste, tennis shoes, and sauce pan he can't live without.
Photo: retailer
Like your clothes, your scent just sets you up for the day. It gives you that power, that individuality. As a kid, I went through years being into patchouli, then it switched to rose, then cucumber. But whatever it was, it always just felt like part of the armor. This scent is just beautiful. I actually went to Portofino on my honeymoon, and somehow I just connected with it. There isn't a day that doesn't begin with a little squirt to get fresh.
Photo: retailer
I had this girlfriend once, we were in Germany, and she was really sick. She'd been puking all night, and I took her to a doctor to get an IV. That doctor told us that whenever he saw a patient with a cold, he put a few droplets of this oil on his tongue — it acts as an antiseptic for the back of your throat. At the time he'd been using them for 20 years or something. So I now always have the oil. If I feel a little bit off, a little tingly, I bash a bit of it. It's really incredible. As you'll see, I'm obsessed with mouth hygiene. This goes hand in hand with that, really.
Photo: retailer
Plaque on your teeth is plaque on your heart, so it's very good for your health to clean away plaque. I brush my teeth every few hours. I think what most people do — just morning and night — is gross. I've been through a number of toothbrushes and this Sonicare one is what I've landed on. It just zaps around your teeth. Oral B's are too flimsy and don't have enough strength. This Sonicare has a really good, fast spin — I think it's even better than the $300 Sonicare DiamondClean, which I also have in case this one isn't charged. I was once at Bikram Yoga, and a naked dentist saw me brushing in the changing room afterward and told me not to forget soft tissue — so remember to flip the brush around and brush your cheeks, too. That's a free tip!
Photo: retailer
This is my toothpaste. It's French, with a real menthol flavor. I liked the packaging when I first saw it, because it reminded me of one of my favorite wines, Promis by Gaja. You've got to be careful though — the brand also has an anti-plaque toothpaste that's a bit too chalky. I love the regular one. Whenever I find it, I buy 12 at a time because it's hard to find. The toothbrush, toothpaste, Neroli Portofino, and Krauter oil: To me, that's just life.
Photo: retailer
This set me on my path of having the freedom to write. It's just explosive. While I've veered toward different writers in my life, nothing inspires me as a writer as much as Ginsberg's works, especially Howl. It's an endless form of inspiration — you can dive into pieces of it, read the entire thing, start at the back. It just has this emotion and this power behind it that I've always connected to. Howl is the Never Mind the Bollocks of books: Beautiful dreamscapes and landscapes of words come flying out.
Photo: retailer
In September, I took my band to Alinea in Chicago as a thank you for giving me their lives and traveling with me. I do a lot of cooking, so I really connect with chefs and became friends with Grant Achatz. I saw that he was connected to this cookware company, so I bought a few things, and when the big package from Amazon came, I posted it and said, "Look what happened to me today!" The quality is amazing. They've since sent me some more, including this saucepan. When things are beautifully constructed, it's great to be the beneficiary.
Photo: retailer
I was worried about including two pieces of Made In cookware, but I want to be honest about my essentials. This chef's knife is so beautiful, so sharp, so clean. It feels great and it's also red, my favorite color. It's heavy too, which is good. You want a bit of weight in the handle because you want to have that nice control.
Photo: retailer
When I signed a deal for my first record, I thought, I've got to get a real guitar. The store I went to had this Jazzmaster in the window. I loved it — it reminded me of PJ Harvey's guitar. But I thought, I can't get the first one I see, that's bullshit. So I went around the entire store, tried every one, and drove them nuts. I must have been there for three or four hours. Then I tried the Jazzmaster, which was from the 1960s, when guitars were designed with such craftsmanship and care. I bought it and went on to record all my first songs with it. A Jazzmaster is for a certain type of person. It's not the most dominant, like a Les Paul, but not everyone wants to be a brute. It's slightly more vulnerable, built more for a shyer person. When I bought it, they told me it had been Eagles guitarist Joe Walsh's guitar. Ten years later I met Joe Walsh at a festival, he confirmed it, and I asked him, "Is there anything you've played on this that we know?" He said, "Well, I played all the rhythm guitar parts on Hotel California on it." So I now own that guitar. There's a kinship among fellow Jazzmaster players. There's a greater chance I get on with someone because of the guitar they play than because of the country they're from. Milan Kundera said that there are not similarities in nations; there are similarities in professions.
Photo: retailer
Paul Auster is my favorite writer. He can put more into a paragraph than people put into a chapter, and more into a sentence than people put into a paragraph. I like to recommend this book to people I like: If I make a friend, within a little while I'm going to present them with Moon Palace, which is the first book I read of his. When I read Auster, I start to feel more logical, things just fall into place. There's something disarming about someone that can write so clearly and effortlessly; it helps you put your mind in order.
Photo: retailer
I'm an obsessive tennis player. I train as if it was my job, when sadly the truth is no one's ever going to pay me for it. But it's an incredible escape and quite wonderful to be in pursuit of impossible perfection. These are the shoes I wear. They fit my feet really well and they're so comfortable. I've tried lots of different styles and brands — for example, I love Adidas, but they're a little heavier. But these Nike Zoom Vapor X sneakers are more dynamic than previous Nike Zoom models. They're light but have support; I play every day and go through a new pair every six weeks. Here's a tip: Any pro will tell you to only tie your shoelaces when you're playing a game. In between, you untie them so your feet can breathe. If anyone walks onto the court with their laces done up, they're not a tennis player.
Photo: retailer
Ferran Adrià is the chef behind El Bulli, and this book is based on the meals he'd make for the cooks before they all went to work. It's beautiful. Every recipe breaks down the ingredients and the timing of the cooking process, right up until you serve the dish. I have shared custody, and on the days my kids aren't with me, I do a massive cook. The house smells great. I freeze everything, so when I have my kids back it's all ready. Cooking is an act of servitude, and I believe in serving those I love. Tom Waits said that the way you do anything is the way you do everything. In evaluating all these things that mean so much to me, they all have a common thread: They're all technique based. The cooking, the tennis, the guitar, the brushing. It's all to do with the power of technique. Technique is king.
The Strategist is designed to surface the most useful, expert recommendations for things to buy across the vast e-commerce landscape. Some of our latest conquests include the best acne treatments, rolling luggage, pillows for side sleepers, natural anxiety remedies, and bath towels. We update links when possible, but note that deals can expire and all prices are subject to change.