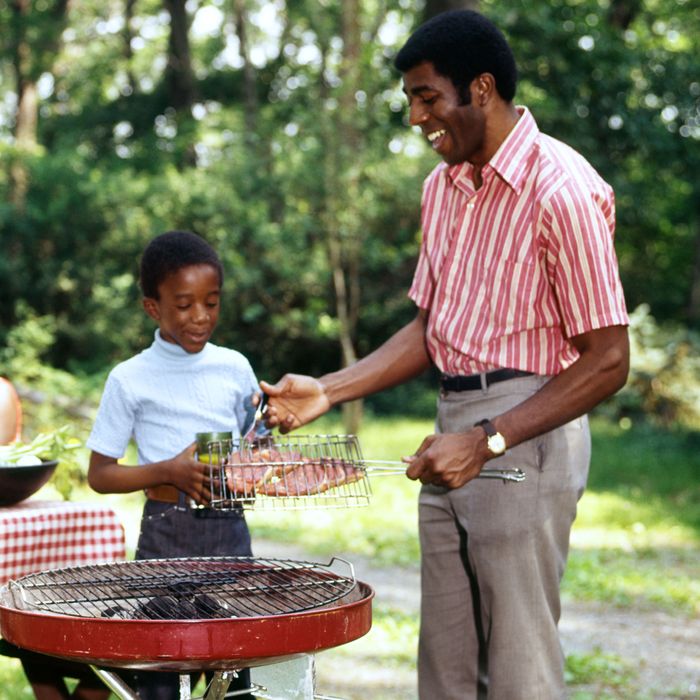 Photo: ClassicStock/Getty Images
At its most basic, grilling is cooking on an open flame, like what our prehistoric ancestors used to do, but if you're not the kind of person who takes pleasure in lighting charcoal on fire and then cooking big slabs of meat on it, you might be struggling to find the best grilling gifts for someone who does. (Though even self-described grill enthusiasts sometimes need help finding an actually useful but still unique grilling gift.) So to make it easy, we rounded up 25 of the best grills and grilling accessories that would be excellent gifts for the person in your life who likes to fire it up.
For the griller who makes entire meals on the grill
With enough determination, entire meals can be made on grills — mains, sides, even dessert. That's why you should give the gift of a carbon-steel pan, which conducts heat beautifully and can easily withstand the high temperatures inside a grill. "I use mine for everything from paella to pressing Cubanos, because they are quite heavy," says chef Jordan Wallace, the culinary director of Denver's Pizzeria Locale. "And over a coal or wood fire, these are clutch."
For the griller who always manages to forget something inside
Ever watched your favorite griller flit between the patio and the kitchen like a mad person? Perhaps it's time to give them a multi-tool. Chefs Elise Kornack and Anna Hieronimus put us on to this ingenious multi-tool that features a cheese grater, small paring knife, fork, spoon, bottle opener, and even a can opener. With this by their side, the recipient will do a lot less flitting.
For the griller who struggles with lighting charcoal
Proudly southern chef Jean-Paul Bourgeois calls the BBQ Dragon, "a fire starter's best friend. This easy-to-use little gadget will clip onto any grill or smoker and assist you in getting those coals burning fast and evenly."
For the griller who mostly cooks with charcoal
If anyone plays a little fast and loose with the disposal of coals, or wants a safer way to do it, this steel ash bucket will help prevent accidents. As Hugh Magnum, pitmaster at Mighty Quinn's Barbecue, explains, "It sometimes takes as long as two days for coals to be completely cold, so you don't put any coals for at least two days into a trash bag, or else that trash bag will go up in flames."
For the griller who's terrified of burns
Writer Caitlin M. O'Shaughnessy was introduced to these pit gloves by her mother, who used them to take a full turkey out of the oven. "The cotton-lined gloves are coated with neoprene rubber and designed for true-blue barbecuers who have to handle hot meat on the smoker — that means they're also waterproof, stainproof, and (most importantly) greaseproof." They also come recommended by Patrick Martin of Martin's Bar-B-Que Joint in Nashville, who actually prefers these heavy-duty gloves to tongs, especially when working with big cuts of meat, like whole hogs.
For the griller who's looking to streamline
Swap out the tool kit for this 7-in-1 grilling tool, recommended by self-described "pretty competent outdoor griller" Steven John, who calls this "the Swiss Army knife of grilling equipment, combining all three tools and even sporting a bottle opener built into its handle."
For the griller who loves steak
For Valentine's Day, writer Leah Bhabha gifted her carnivorous boyfriend a personalized branding iron, purchased on Amazon, and it was an instant hit. "We've now emblazoned his initials on everything from ribs to rib eyes, and even busted out the brander for cast-iron cooked burgers (the patty's initials were covered by the bun, but he liked it so much he branded them anyway)."
For the griller who prefers chicken
Nick Pihakis of Jim 'N Nicks Bar-B-Q in Birmingham, Alabama, calls this chicken-roasting contraption "one of the best ways to cook a chicken. Not only is upright roasting the optimal position to roast a chicken (fat drips away, heat surrounds the chicken 360 degrees, skin crisps up better), this cooking method allows the steam and vapors to flavor the chicken from the inside cavity out, helping it to stay moist."
For the griller who's also a hibachi enthusiast
If dinner has become a bit of a slog recently, consider setting up a hibachi or Korean barbecue night and using this highly rated indoor grill to do it. Reviewers on Amazon say, true to advertising, it's truly non-stick (so feel free to go all in on your marinades) and is just as effective at grilling vegetables as a grilling a sturdy ribeye.
For the griller who's not sure what to do with vegetables
Steven John recommends a grill basket, "that can be placed atop any sort of grill (charcoal, gas, or even wood fire) and filled with loose veggies, shrimp, fries, and so on." It keeps these more delicate ingredients from sticking to the grill's grates, and, as John notes, "the grate's cleaner, too."
For the griller who over-checks their meat
A meat thermometer is a must-have accessory for a barbecue enthusiast to quickly and easily ensure that meat is fully cooked but not overdone. And for my money, there's no meat thermometer better than the Thermapen. As I wrote in my review of this gadget, "What makes the Thermapen stand out from other digital kitchen thermometers is its speed and accuracy. According to the manufacturer's website, this food thermometer can tell the real-time temperature of whatever you're trying to measure within 0.7 degrees Fahrenheit in under three seconds. That speed makes a noticeable difference when you're bala