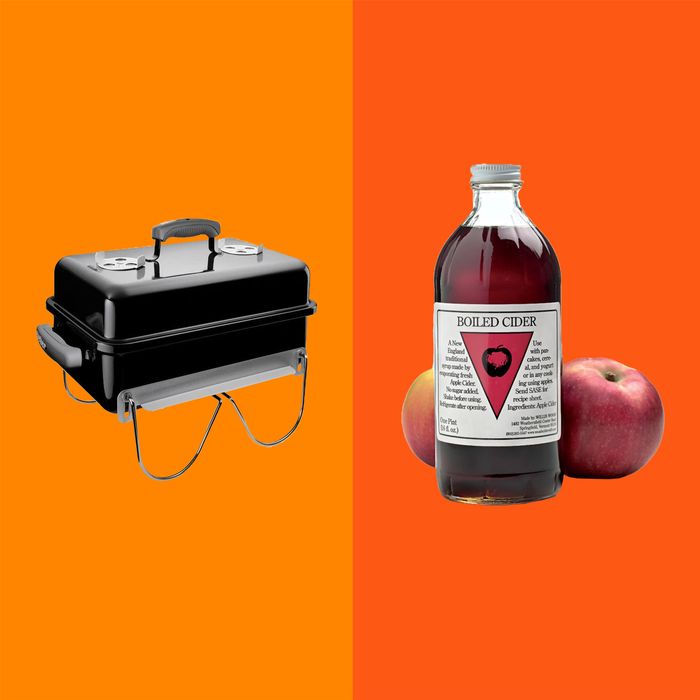 Photo-Illustration: The Strategist; Photos: Retailers
Just because it's not grilling season everywhere doesn't mean the holidays aren't a good time to find the perfect grilling tool for the person in your life who thrives around an outdoor fire. (Besides, who doesn't love a winter barbecue?) The only problem? There are a lot of grilling tools out there. But do you really need those seven-in-one gadgets for flipping and scraping and who knows what else? What about ridiculously long tongs? In short, the answer is no. So to help you find the best gift for the grilling enthusiast in your life — you know, the stuff that's actually super useful and special — we talked to passionate grillers, chefs, and pitmasters about the items they think would be nice to give (or receive), then combed our archives for even more standout stuff. We've picked out pans and cookware, superb charcoal and other handy grilling tools, some standout meats and marinades, and even grills themselves. If you have an idea of the type of gift you seek, you can click on any of the links in the previous sentence to jump straight to that category of products. Otherwise, just start scrolling.
Pans and cookware
With enough determination, entire meals can be made on grills — mains, sides, even dessert. That's why you should give the gift of a carbon-steel pan, which conducts heat beautifully and can easily withstand the high temperatures inside a grill. "I use mine for everything from paella to pressing Cubanos, because they are quite heavy," says chef Jordan Wallace, the culinary director of Denver's Pizzeria Locale. "And over a coal or wood fire, these are clutch."
Strategist contributor Steven John recommends a grill basket, "which can be placed atop any sort of grill (charcoal, gas, or even wood fire) and filled with loose veggies, shrimp, fries, and so on." It keeps these more delicate ingredients from sticking to the grill's grates.
This cast-iron griddle is "the indoor grill that's closest in spirit to firing up the charcoal" and a favorite of professional chefs, including New Orleans–based chef and restaurateur Alon Shaya. Of course, it can be set directly on your grill, too, if you want to turn the grates into a flattop. The shape makes it particularly easy to store.
Marcos Campos, the executive chef at Bonhomme Hospitality Group, put us onto this carbon-steel paella pan for our story on where to buy seafood online. The carbon-steel material — the preferred metal for both paella pans and woks — "heats fast," according to Campos. "And because its surface is bigger than most pans, you can get a nice sear and caramelization. It also retains its temperature so you can use it to serve in, too, and it will keep warm for a long time."
Charcoals and grilling tools
Strategist contributor Regan Stephens discovered these charcoal logs after eating "the most tender, wildly delicious poultry" at Philadelphia-based restaurant Laser Wolf. According to Stephens, chef Andrew Henshaw deemed Thaan the best choice after testing it alongside nearly a dozen other varieties. Charcoal can sometimes overpower meat with smoky flavor, but Thaan, Henshaw told Stephens, imparts "just the right amount of smokiness." The bricks are also the "perfect size and shape, with a thin tunnel through the center of each narrow one that allows for airflow, which in turn allows the bricks to burn evenly," she writes. They're also a more sustainable choice than traditional charcoal, "because they're made with wood from rambutan fruit trees, which are a renewable resource."
If your recipient prefers "long, low, and slow cooking," John told us that "few — if any — things are better than these behemoth charcoal briquettes." They burn for up to eight hours, which he says is plenty of time to grill anything from ribs to brisket to big cuts of pork.
If your recipient tends to start fires with newspaper as kindling, consider this box of firewood starter, recommended by chef and live-fire pro Christina Lecki. "It's fast, it's chemical free, and it smells great too," she says. This would also make a great gift for someone who has a fire pit in their backyard, even if they're not cooking food over it.
Proudly southern chef Jean-Paul Bourgeois calls the BBQ Dragon, "a fire starter's best friend. This easy-to-use little gadget will clip onto any grill or smoker and assist you in getting those coals burning fast and evenly."
If anyone plays a little fast and loose with the disposal of coals, or wants a safer way to do it, this steel ash bucket will help prevent accidents. As Hugh Magnum, pitmaster at Mighty Quinn's Barbecue, explains, "It sometimes takes as long as two days for coals to be completely cold, and if you put them in a trash bag before then, you risk it going up in flames."
Writer Caitlin M. O'Shaughnessy was introduced to these pit gloves by her mother, who used them to take a full turkey out of the oven. "The cotton-lined gloves are coated with neoprene rubber and designed for true-blue barbecuers who have to handle hot meat on the smoker — that means they're waterproof, stainproof, and (most important) greaseproof." They also come recommended by Patrick Martin of Martin's Bar-B-Que Joint in Nashville, who actually prefers these heavy-duty gloves to tongs, especially when working with big cuts of meat, like whole hogs.
Lecki echos the importance of heavy-duty gloves, especially when working with whole animals. She loves this elkskin pair from Danner. Of course, they're useful for when your hands are close to the heat source, but they also "protect your hands from splinters when you're cutting wood," she notes.
For Valentine's Day, writer Leah Bhabha gifted her carnivorous boyfriend a personalized branding iron, purchased on Amazon, and says it was an instant hit. "We've now emblazoned his initials on everything from ribs to rib eyes, and even busted out the brander for cast-iron cooked burgers (the patty's initials were covered by the bun, but he liked it so much he branded them anyway)."
A meat thermometer that quickly and easily detects when meat is properly cooked to temperature is a must-have accessory for any grill enthusiast. As Strategist editor Maxine Builder wrote in her review of the Thermapen, it stands out from other kitchen thermometers for "its speed and accuracy." According to the manufacturer's website, the Thermapen can detect the temperature of whatever you're trying to measure within 0.7 degrees Fahrenheit in under three seconds. That speed makes a noticeable difference when you're hovering over a hot grill. She's not it's only fan: Amy and Mike Mills of 17th St. BBQ in Murphysboro, Illinois, also say that the Thermapen would make a great gift.
Lecki loves this cheap and handy tool for more than encouraging cheese to melt on top of her burgers (though it's excellent for that too). "It captures smoke on vegetables and keeps food warm when it comes off the grill," she says.